The Best NFL Centers of All Time
NFL quarterbacks continue to shatter passing records as they are carried on the shoulders of giant linemen. Centers are the line leaders responsible for reading defensive coverages, communicating with the quarterback, and shuffling the rest of the line when necessary. Only once the center snaps the ball does the action begin. And then it's time to keep their play-caller's face out of the dirt and open up holes for the running backs. There are many reasons why this position is so highly valued.
Who is the best center in the NFL? 
Since joining the Raiders in 2015, Rodney Hudson has cemented himself as the top center in the NFL. In 10 years, he's made the pro-Bowl three times. Playing a full slate of 16 games in 2020, the now-32-year-old was only called for one penalty and gave up one sack. He scored a PFF grade of 73.6 for the season, good for the top five. The top PFF pass-blocking center from 2015-19 took a small step back in 2020 at No. 7. 
Hudson was traded to the Arizona Cardinals as part of an offseason that made fans' expectations soar. He joins fellow pro-Bowlers defensive end J.J. Watt, wide receiver A.J. Green, cornerback Malcolm Butler, and kicker Matt Prater on an Arizona team that finished 8-8 in 2020. Hudson will protect quarterback Kyler Murray in his third season. Murray will have much more time to pass out of the pocket with the option to improvise when necessary.  
With the Seahawks, 49ers, and Rams all facing significant questions, the west is wide open for the taking. After missing the playoffs for the last four years, the best NFL center can expect to return to contention this year.
The best NFL centers of all time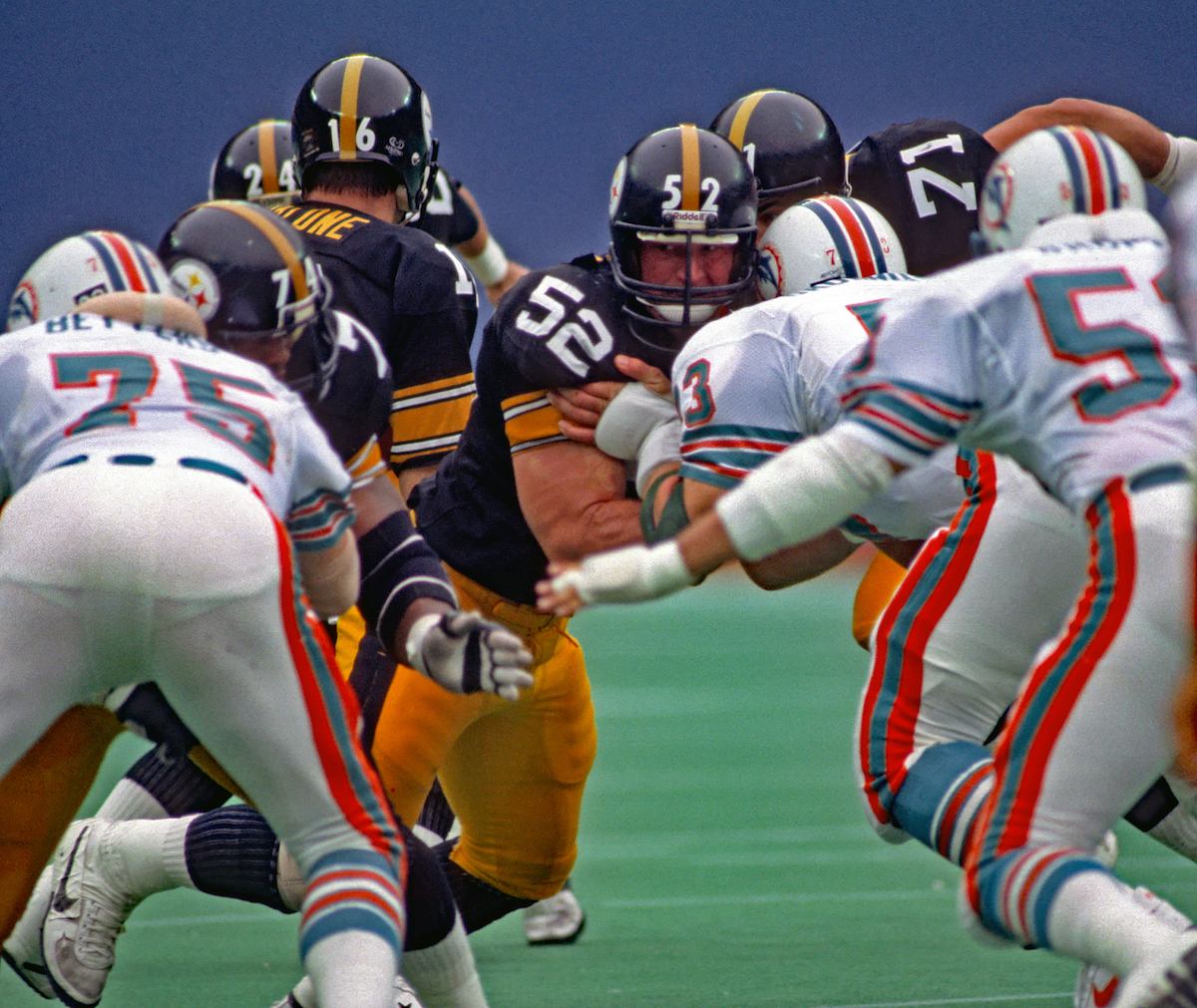 The best NFL centers in history share the same things: toughness, leadership skills, and durability. Honored with bronze busts in the Hall of Fame, the majority of the NFL's greatest centers have long since retired. Centers go about their jobs quietly, as statistical measurements for them are minimal. Their accolades primarily involve team success, with the Pro Bowl and All-Pro votes coming at the end of the year. We chose three of the greatest of all time with help from Twinspires: 
Mike Webster, Pittsburgh Steelers (1974-90)
Nine Pro Bowl selections
Five All-Pro selections
Four Super Bowl wins
"Iron Mike" Webster's 17-year run overlapped with fellow Hall of Famer Franco Harris, and it's no coincidence Harris had plenty of room to gash defenses. Webster was a tremendous run blocker who kept quarterback Terry Bradshaw's jersey clean enough to win four Super Bowls. Bradshaw began his speech at Webster's 1997 Hall of Fame induction ceremony by taking a snap from between the 45-year-old Webster's legs. 
Jim Otto, Oakland Raiders (1960-74)
Three Pro Bowl selection
10-time all-AFL
One AFL Championship win
Jim Otto will forever be "Mr. Raider," embracing the toughness and team-first philosophy that the franchise embraced throughout the '60s and '70s. Raiders opponents targeted Otto with cheap shots, assuming the rest of the team would wilt if the Raiders offensive leader was gone. No such luck.
Otto may have been one of the most heavily operated-on athletes of all time, estimating close to 80 surgeries. But he was also among the most resilient. The Wausau, Wisconsin, native refused to miss downs. The center was the best on a line he shared with Hall of Famers Gene Upshaw and Art Shell. 
Mel Hein, New York Giants (1931-45)
Eight-time NFL All-Pro
Four-time All-Star
One MVP season
Two NFL championship wins
Mel Hein, aka "Old Indestructible," starred at center and linebacker when NFL athletes played on both sides of the field. A true impact player, he won an MVP award in 1938 on the strength of his exceptional two-way play. At a time when players were expected to play full games, Hein's durability and stamina stood out.
The center once said, according to the Pro Football Hall of Fame, "We played 60 minutes in those days. I don't think I would have liked to play just half the time as they do today."
An NFL center's size matters 
On any top 10 NFL centers list, you're bound to find centers that are long since retired. The size of defensive linemen has increased exponentially over the decades, according to Business Insider. And thus, so has the size of the offensive linemen tasked to tangle with them.
Webster and Otto were 6-foot-1 and 6-foot-2 respectively, and neither weighed over 260 pounds, equal in size to today's linebackers. Hein was 6-foot-2 and 220 pounds, about average for a lineman in the 1930s. He'd be the same size as today's average wide receiver. 
Today's average offensive lineman is 6-foot-5, 312 pounds — nearly 3 inches and 100 pounds larger than Webster and Otto, as Business Insider details. The increased mass accounts for explosive edge rushers that can weigh up to 300 pounds and defensive linemen that can weigh up to 330. Some teams blitz relentlessly, and that added mass absorbs these additional hits from massive linemen, explosive edge rushers, and speedy backs. 
While offensive linemen are getting bigger, they're also improving their strength and agility. NFL Draft Combines regularly see linemen running sub-5-second 40-yard dashes, three-cone drills under 7.8 seconds, and doing 26-plus bench press reps. 
The physical specimens we see snapping the ball to quarterbacks are not what centers have always been. Hudson would tower over Webster and Otto, not to mention Hein. But one thing remains the same. Toughness and durability separate the great centers from the good ones. The Arizona Cardinals will be more than pleased if Hudson proves capable of maintaining his current level of excellence for five to six more seasons.
All statistics courtesy of Pro-Football-Reference.com.