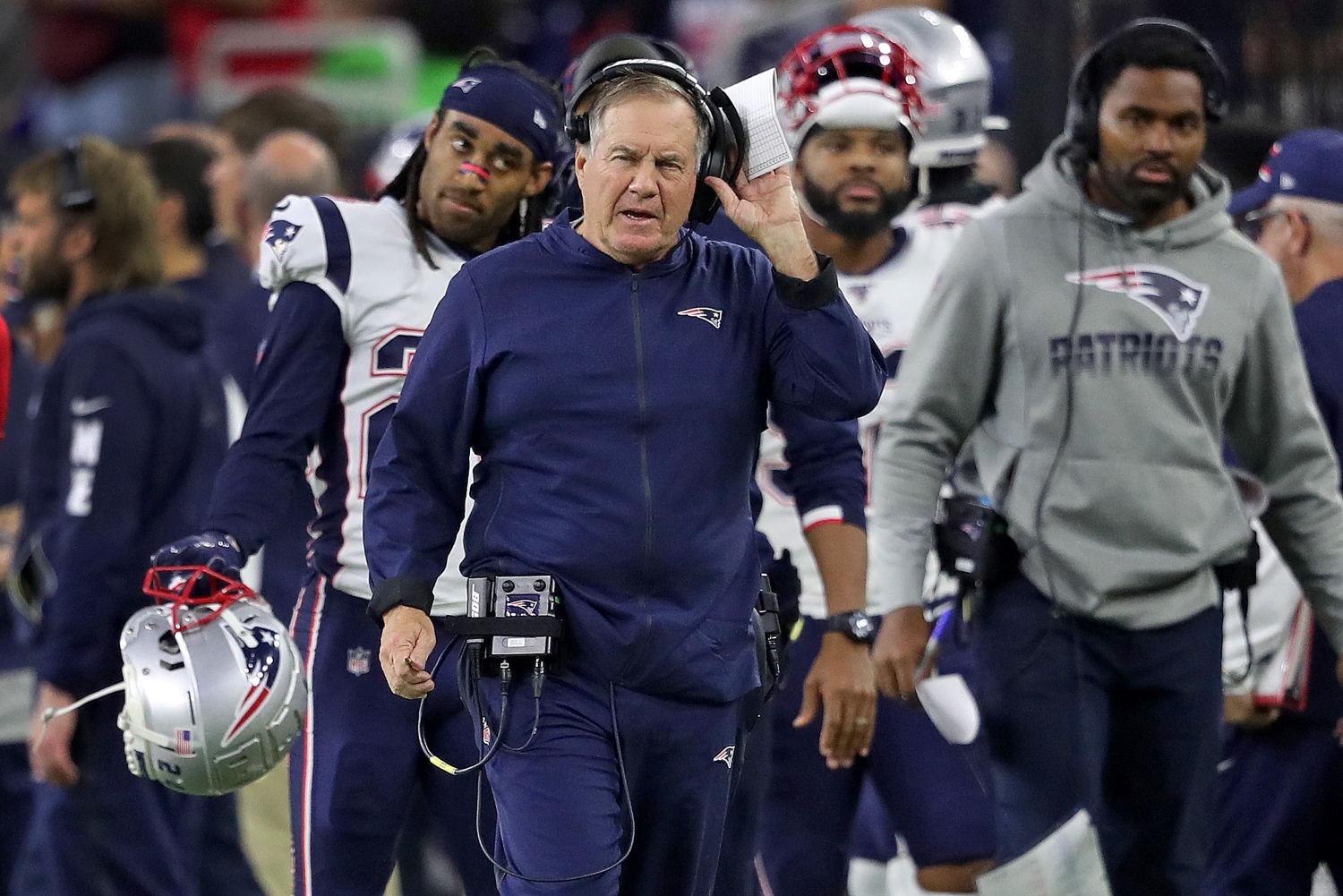 Bill Belichick Officially Has His Own Aaron Rodgers Situation to Worry About
With Stephon Gilmore not at mandatory minicamp, it looks like the star cornerback is taking a page out of Aaron Rodgers' playbook. Will Bill Belichick take care of business to ensure the Patriots have their star corner on the field?
Bill Belichick probably wishes he had Aaron Rodgers right now. After all, it's not like the New England Patriots have a sure thing at the quarterback position.
Unfortunately for Belichick, he does have the drama associated with the reigning NFL MVP. And if the Patriots take a similar approach as the Packers with their own disgruntled star, their Super Bowl aspirations could go up in smoke.
Aaron Rodgers sent a clear message to the Packers by refusing to return to practice
The Packers have a major problem at the moment.
Their franchise quarterback doesn't want to come to work.
Rodgers remains MIA in Green Bay, which doesn't exactly bode well for the Packers' chances of overcoming their postseason woes. Coming off a season that included his third MVP trophy and yet another crushing playoff defeat, Rodgers raised eyebrows by not showing up to voluntary organized team activities. Considering he never skipped the Packers' offseason program before, deciding not to participate seemed like an ominous sign of things to come.
Unfortunately for Green Bay fans, that proved to be true.
Rodgers took things a step further last Tuesday by pulling another unprecedented move. The star quarterback skipped the first day of mandatory minicamp, and he has continued to stay away from the team.
Though Rodgers seems set on never playing for the Packers again, general manager Brian Gutekunst remains equally firm about not trading the future Hall of Famer.
But as the standoff between Rodgers and the Packers wages on, Belichick officially has a similar situation to worry about in New England.
Bill Belichick has a similar situation to worry about with Stephon Gilmore
Stephon Gilmore doesn't play quarterback, but he might be the Patriots' most valuable player. A true lockdown corner who can shadow No. 1 receivers, the 2019 NFL Defensive Player of the Year has more than lived up to the five-year, $65 million deal he signed as a free agent back in 2017.
However, don't expect Gilmore to take the field again anytime soon in a Patriots uniform.
At least, not at his current salary.
Gilmore did not show up to the first day of mandatory minicamp on Monday. According to Karen Guregian of the Boston Herald, he will not attend minicamp because of a "contract dispute."
Although Gilmore carries a $16.2 million cap hit this season, he's scheduled to make only $7.5 million in cash. That discrepancy exists partially because the Patriots advanced $4.5 million of his 2021 salary to ensure he returned for the 2020 season.
Once again, though, Gilmore looks vastly underpaid. A $7 million salary doesn't reflect his status as one of the league's best corners. Plus, seven Patriots players will collect more cash this season than the four-time Pro Bowler.
If Gilmore refuses to return to work without a new contract, Belichick must make a tough decision. Should he take a Packers-like approach and refuse to budge? Or will the Rodgers situation show Belichick the value of making your star player happy?
What should the Patriots do with Gilmore?
What should the Patriots do about Gilmore's contract?
That depends on how much of an increase he wants.
Gilmore turns 31 in September, so he doesn't have Father Time on his side. Plus, he suffered a partially torn quad last season, which means he has to prove he can still play at a high level coming off a major injury. Those factors don't align with the Patriots giving him more guaranteed money.
If he wants a long-term extension that places him among the highest-paid players at his position, Gilmore should start packing his bags. Belichick rarely hands out top-of-the-market contracts to players in their prime. He's not going to give one to an aging defensive back who sustained a significant lower-body injury last season.
In that case, the Patriots should open up the phone lines and trade Gilmore to the highest bidder. It does the team no good to have him sitting at home, and Belichick should be able to fetch at least a third- or fourth-round pick for the All-Pro corner.
Of course, the ideal solution is to get Gilmore to come back for at least one more year. Belichick could offer him a short-term extension that includes a player option. That would allow Gilmore to get more guaranteed money while also providing him with a pathway to hit the open market again. Most importantly, the Patriots would remain a Super Bowl-caliber defense, at least on paper.
Then again, does Belichick want to set a precedent that holding out will lead to a raise?
Only time will tell if he's willing to bend a bit to avoid having a full-scale Aaron Rodgers-Packers situation on his hands. But if he doesn't, Belichick could be forced to make his own team worse in order to take care of a problem.
All contract data courtesy of Spotrac.