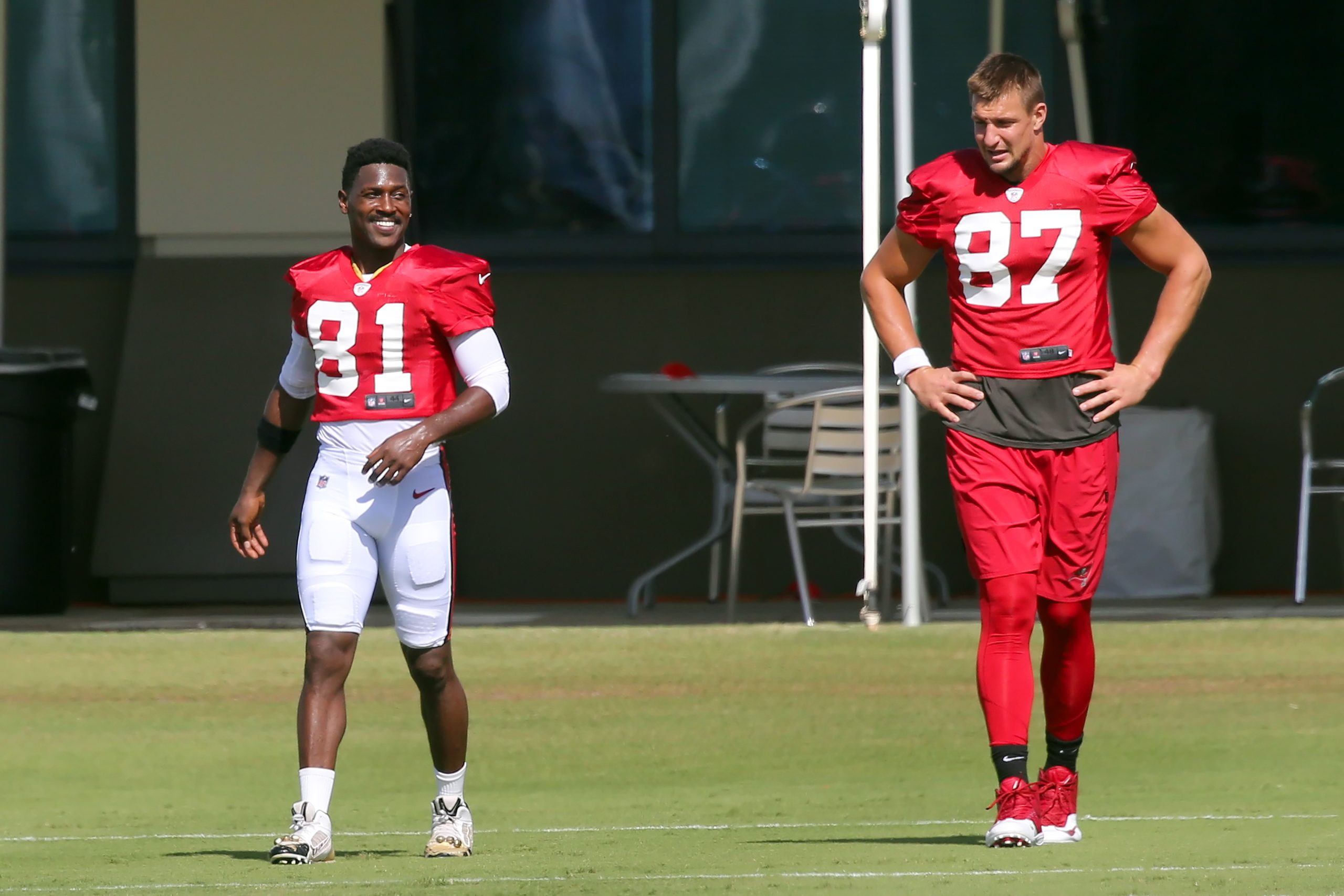 Bill Belichick Played a Role in How Rob Gronkowski Handled the Antonio Brown Drama
Spending nine years with the New England Patriots helped Rob Gronkowski stay focused during the Antonio Brown drama in Tampa.
When Antonio Brown quit midgame and caused a scene at the Meadowlands in Week 17, that incident generated more talk than the Tampa Bay Buccaneers rallying for a 28-24 victory over the New York Jets. For weeks, Brown's breakdown was the talk as the Bucs braced for another postseason run.
After spending nine years with Bill Belichick, Bucs tight end Rob Gronkowski already knew how to handle the situation surrounding Brown and the Bucs.
Antonio Brown's antics took center stage for the Buccaneers at the end of the season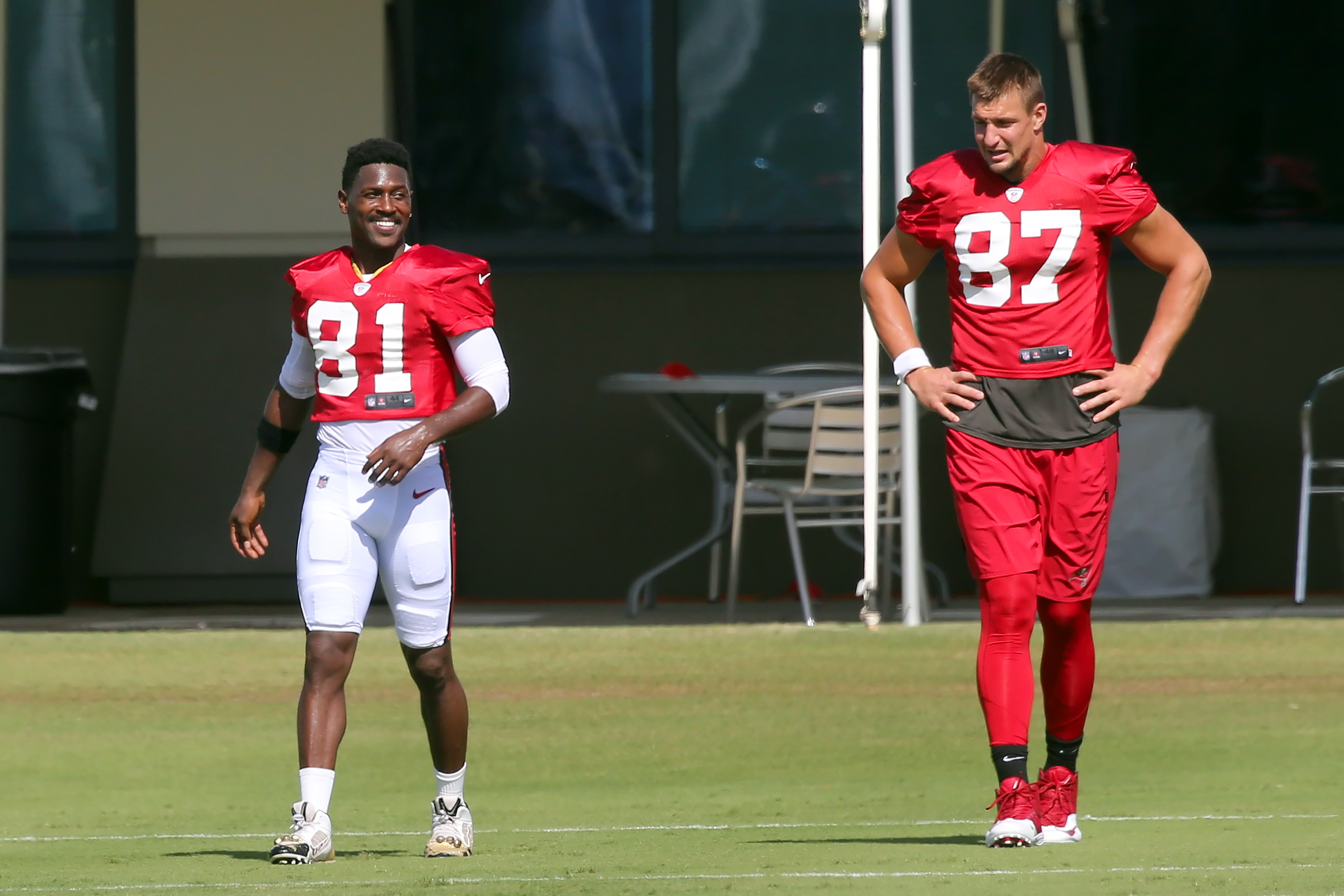 Tom Brady marched the Buccaneers 93 yards on his team's final drive to rally to the four-point win over the lowly Jets in Week 17. It wasn't the victory people talked about when the game was over. A bizarre incident with Brown late in the third quarter was the center of the postgame conversation.
Brown left the sidelines and threw his gloves and shirt into the stands before running shirtless into the locker room while waving to fans. It was a strange scenario even for Brown, who has put himself into the spotlight many times with his antics.
"He is no longer a Buc," Bucs coach Bruce Arians said after the game, per ESPN. "All right? That's the end of the story. Let's talk about the guys who went out there and won the game."
The Brown incident lingered throughout the postseason. He questioned Brady's friendship publicly. He's also threatened legal action against the team.
Jenna Laine of ESPN reported Brown and his attorney, Sean Burstyn, intend to take legal action against the Buccaneers for releasing him after he said he was too injured to return to the game. From Week 17 on, Brown has been in the Buccaneers' news despite not being on the team.
Rob Gronkowski learned from Bill Belichick how to handle distractions like Brown's
During the entire fallout with Brown, Gronkowski went about his business. None of the talk bothered him. The drama was just "noise," and he learned how to deal with all that noise by playing for Belichick for so long.
During an interview with TMZ Sports, Gronkowski said he didn't believe the locker room was negatively impacted by Brown's antics.
"No, I wouldn't say in the locker room it (had any negative impact)," Gronkowski said. "There's so many experienced pros in our locker room. It's not like we have a young locker room or anything like that, where it's just all young guys who've never been in adverse situations before.
"So, we've got Tom (Brady), who's seen many situations in sports before. We've got experienced coaches who've been in a lot of things before."
He then gave credit to Belichick and his time with the New England Patriots for preparing him for situations like this.
"A lot of professionals in the locker room just stayed focused on what you've really got to do, and that's basically what I did, too," Gronk said. "Because that outside noise, it can affect you if you let it get to you.
"But if you just block it out — that's one thing I learned in New England big time in the nine years I was there: Block out the outside noise. And I've got to totally agree with that, man. It's going to stick with my life forever."
Gronkowski's NFL future up in the air
Last week, Gronkowski told TMZ Sports he was unsure of his future NFL plans. He said if he was put on the spot and had to decide right now, he'd lean toward retirement.
"If they're like, 'Rob, you've got to decide right now, right this second if you're playing next year,' I would say no right now. It's two days after the season. I'd be like, 'No, I'm not playing,'" Gronkowski said. "You've got to give it some time, you've got to rest to see how everything goes, to see how everything plays out, how I feel. I just want to heal completely, see where my thoughts are from there then."
With Brady's retirement also up in the air, Gronk isn't in any hurry to make a decision on his future with the Buccaneers or any other NFL team.
"If I had to answer right now, it would be no," Gronkowski said. "But you never know. In three weeks, it might be yes."