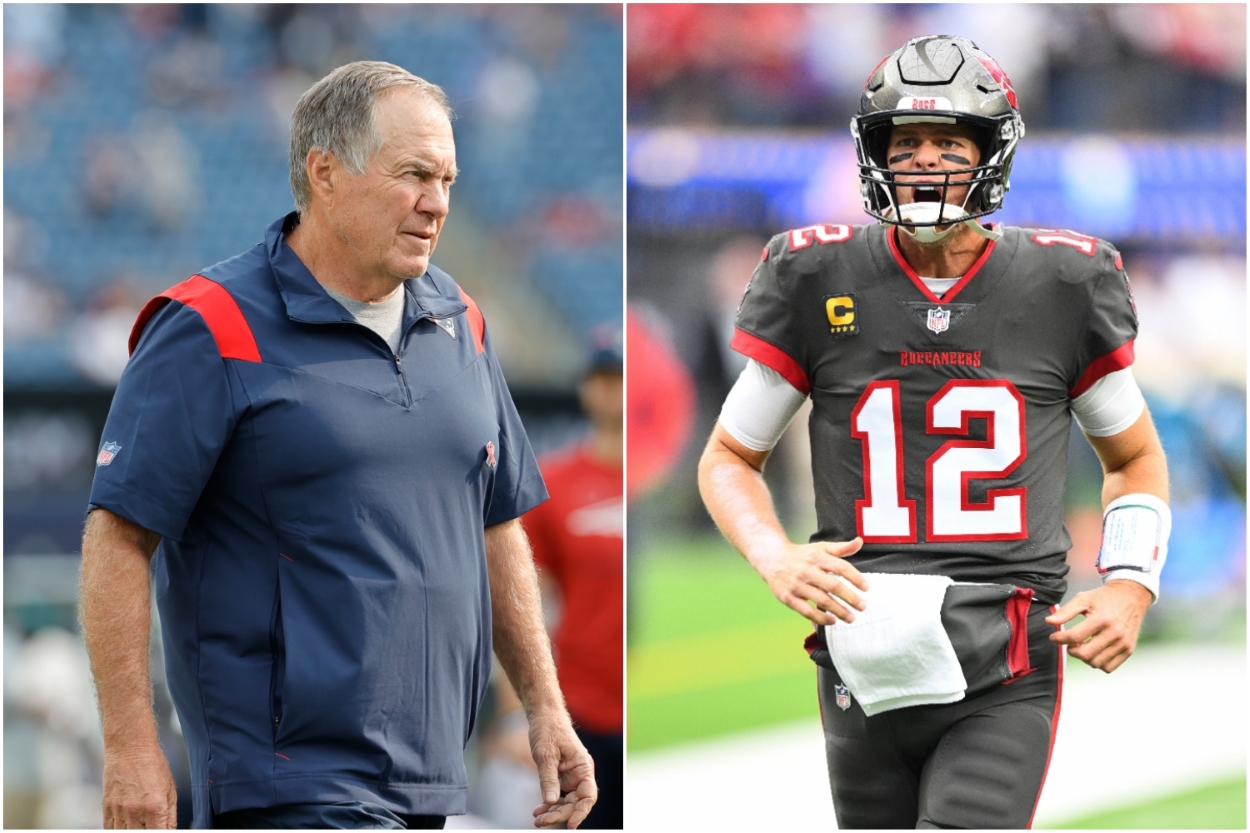 Bill Belichick is Suddenly in a Much Better Position to Ruin Tom Brady's Return to Foxborough
With several Buccaneers players set to miss Sunday's matchup against the Patriots, Bill Belichick suddenly has a much better chance to ruin Tom Brady's return to Foxborough.
Given the way the New England Patriots looked against the New Orleans Saints, it would make sense to view Bill Belichick as a major underdog heading into Sunday's showdown against Tom Brady. Based on pure talent, there's no doubt the Tampa Bay Buccaneers possess more star power than TB12's former team.
However, that doesn't mean they will walk out of Foxborough with their third win of the season. In fact, Belichick is suddenly in an improved position to ruin Brady's return to Gillette Stadium. And if the Patriots manage to pull off a monumental upset at home, they might just make a run at a playoff spot after all.
Football is a game about matchups. And while Belichick understands the importance of putting players in a position to succeed better than anyone else, that doesn't change the fact that Bruce Arians has a better overall roster. And when you pit the Patriots against the Buccaneers, it's easy to see why the betting odds favor the reigning champs.
At wide receiver, Tampa can roll out the talented trio of Mike Evans, Chris Godwin, and Antonio Brown. All three have game-breaking ability, and Evans presents a tough matchup based solely on his 6-foot-5, 230-pound frame. Meanwhile, New England counters with a collection of cornerbacks that features one high-level starter (J.C. Jackson) and a bunch of question marks.
Needless to say, the Buccaneers have weapons on the perimeter who can expose the Patriots' lack of depth at the position.
Moving to the other side of the ball, it's impossible to ignore the protection and blocking problems that have severely hampered Josh McDaniels' unit. Since Mac Jones doesn't have great athleticism, he needs a clean pocket to operate at peak efficiency. But with a struggling offensive line set to face a Buccaneers front seven that features top-flight players like Ndamukong Suh, Shaquil Barrett, Devin White, Lavonte David, and Vita Vea, the Patriots' rookie quarterback could be in serious trouble.
If Belichick wants to avoid a loss to Brady, he has to figure out how to mask his team's deficiencies and take advantage of the few matchups that fall in New England's favor. Luckily for the legendary coach, things finally seem to be trending in his direction for the first time in a while.
Don't dismiss the idea of the Patriots handing the Buccaneers their second loss of the season. With several of Brady's key teammates ruled out for the highly-anticipated game, Belichick is suddenly in a much better position to spoil the future Hall of Famer's first game at Gillette Stadium since the 2019 AFC Divisional Round loss to to Tennessee Titans.
Tampa officially declared Rob Gronkowsk out for Sunday's showdown in Foxborough. According to a tweet from ESPN's Adam Schefter, the 32-year-old tight end suffered multiple fractured ribs against the Los Angeles Rams that "threaten to sideline him for multiple weeks."
In addition, Gio Bernard and Jamel Dean won't suit up because of knee ailments. Their absences could come back to bite the Buccaneers and pave the way for Belichick to secure a much-needed victory.
Gronkowski has played a major role in the offense this season, and he's certainly looked markedly better than he did during his final year with the Patriots. But with the five-time Pro Bowler unable to take the field, Brady won't have his most trusted target available. Not having to worry about Gronkowski should allow Belichick to focus on stopping Tampa's receivers — a job that's definitely easier said than done.
Bernard getting ruled out represents a big loss for Brady, too. Although the longtime Cincinnati Bengal isn't an elite player, he excels as a third-down back. Instead of having a reliable pass protector and sure-handed receiver out of the backfield, the Buccaneers will rely on the inconsistent duo of Leonard Fournette and Ronald Jones II.
Expect Belichick to test their blitz pickup skills by unleashing Matt Judon, Josh Uche, Kyle Van Noy, and Dont'a Hightower off the edge and up the middle. If the Buccaneers' backs struggle to keep Brady out of harm's way, that could lead to turnovers and scoring opportunities for the Patriots' defense.
New England obviously faces a tall task to slow down Tampa's league-leading offense. But if Belichick's re-tooled front seven steps up against a unit missing valuable pieces in Gronkowski and Bernard, don't be surprised if Brady experiences some struggles. That said, the Patriots won't win unless their offense pulls a complete 180.
But based on the state of the Buccaneers' defense, Mac Jones has a legitimate shot to do some damage.
Dean's absence leaves another hole in a secondary that lost starting cornerback Sean Murphy-Bunting to a Week 1 elbow injury. Tampa currently ranks dead-last in passing yards allowed per game (338.3), and much of that has to do with personnel issues. Of course, Richard Sherman will suit up against the Patriots, but the 33-year-old only played five games in 2020 due to injuries, and he literally joined the Buccaneers this week.
Assuming Trent Brown gets the green light from the medical staff, New England should have its top offensive line ready to go. If McDaniels trusts the front five to get the job done, he should consider running an up-tempo, spread attack that's predicated on testing the back end of the Buccaneers' defense.
Let 6-foot-5, 250-pound tight end Hunter Henry and the athletic Jonnu Smith attack the seams and middle of the field. Give Jakobi Meyers and Kendrick Bourne the chance to showcase their run-after-the-catch skills on intermediate routes. Put Nelson Agholor's speed to good use by dialing up some deep balls and big-play opportunities on the perimeter.
Jones may take some shots via this approach, but he could also hit chunk plays that the offense has lacked through three weeks. Belichick knows how to expose an opponent's biggest weaknesses, and there's no doubt Tampa's secondary remains a major question mark.
Perhaps the Patriots will find some answers to their offensive woes this week. Maybe they'll remember how to stop the run and turn the ball over on defense. Then again, none of that may matter if Tom Brady is as determined to defeat his boss as we was to get the last laugh over the Atlanta Falcons in Super Bowl 51.
Rest assured, though, Bill Belichick will treat this game like a do-or-die situation. And he better have a few tricks up his sleeves if he plans on beating the quarterback who wanted to finish his career in Foxborough.
All statistics courtesy of Pro Football Reference.