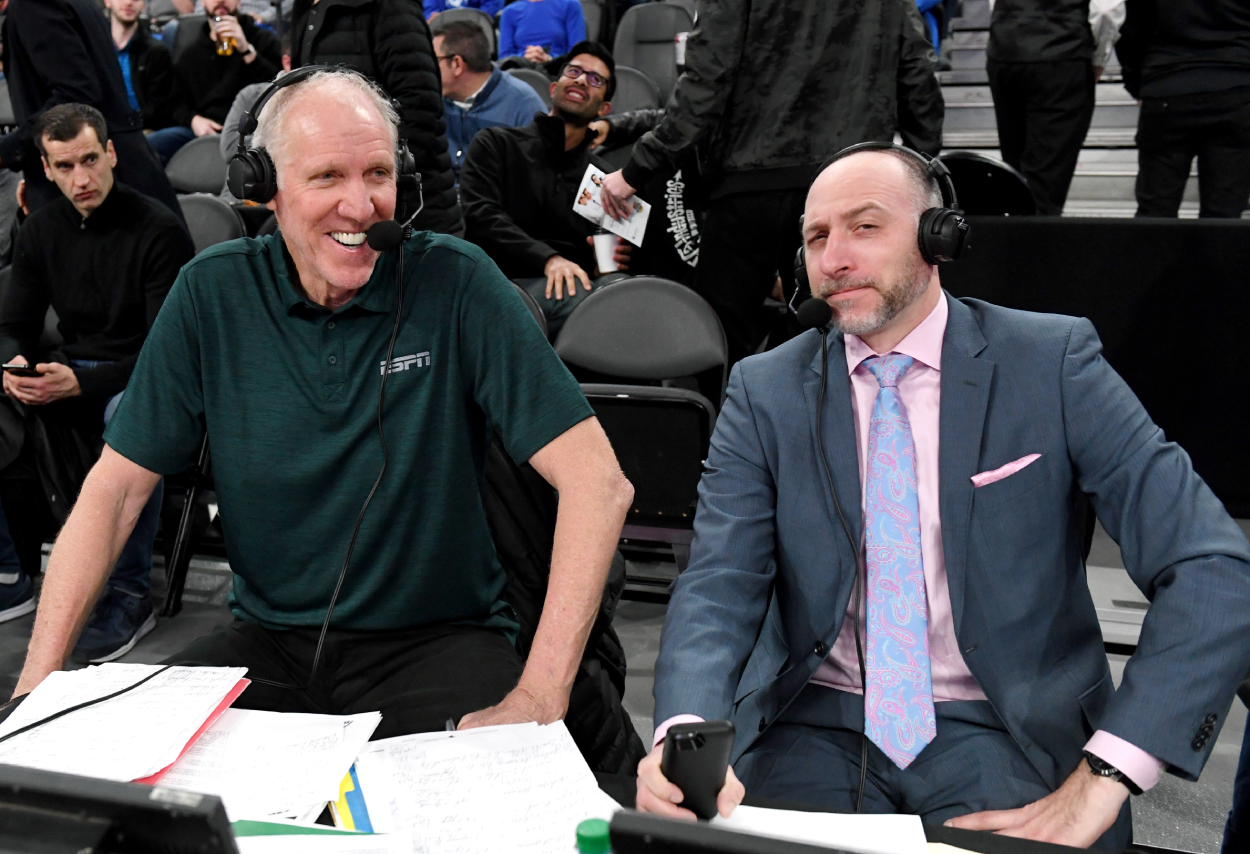 Bill Walton in the Booth: ESPN's Dave Pasch Details Calling a Game With the Affable Hall of Famer
Bill Walton is a treasure behind the microphone when calling basketball games.
Naismith Memorial Basketball Hall of Famer Bill Walton tells it like it is. Sometimes, he goes on and on telling it like it is, but he's a straight shooter nonetheless. Walton is a high-energy guy and takes that with him to the broadcast booth.
Walton calls college basketball games for the Pac-12, and you never know what you're going to get with him behind the microphone. While TV viewers are treated to two hours of Walton chiming in on the game and many other things, ESPN's Dave Pasch gave an inside look at what he faces when working with the big guy.
Bill Walton loves to talk and talk and talk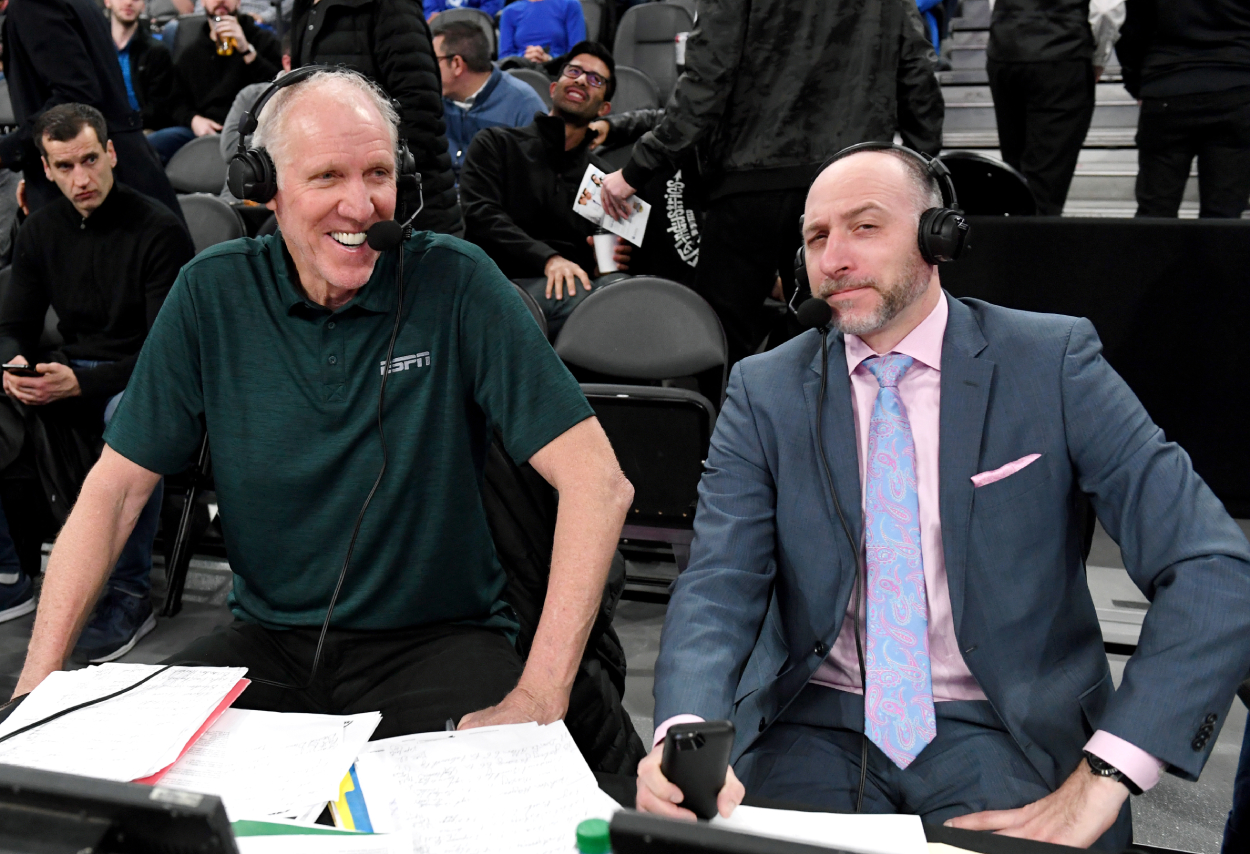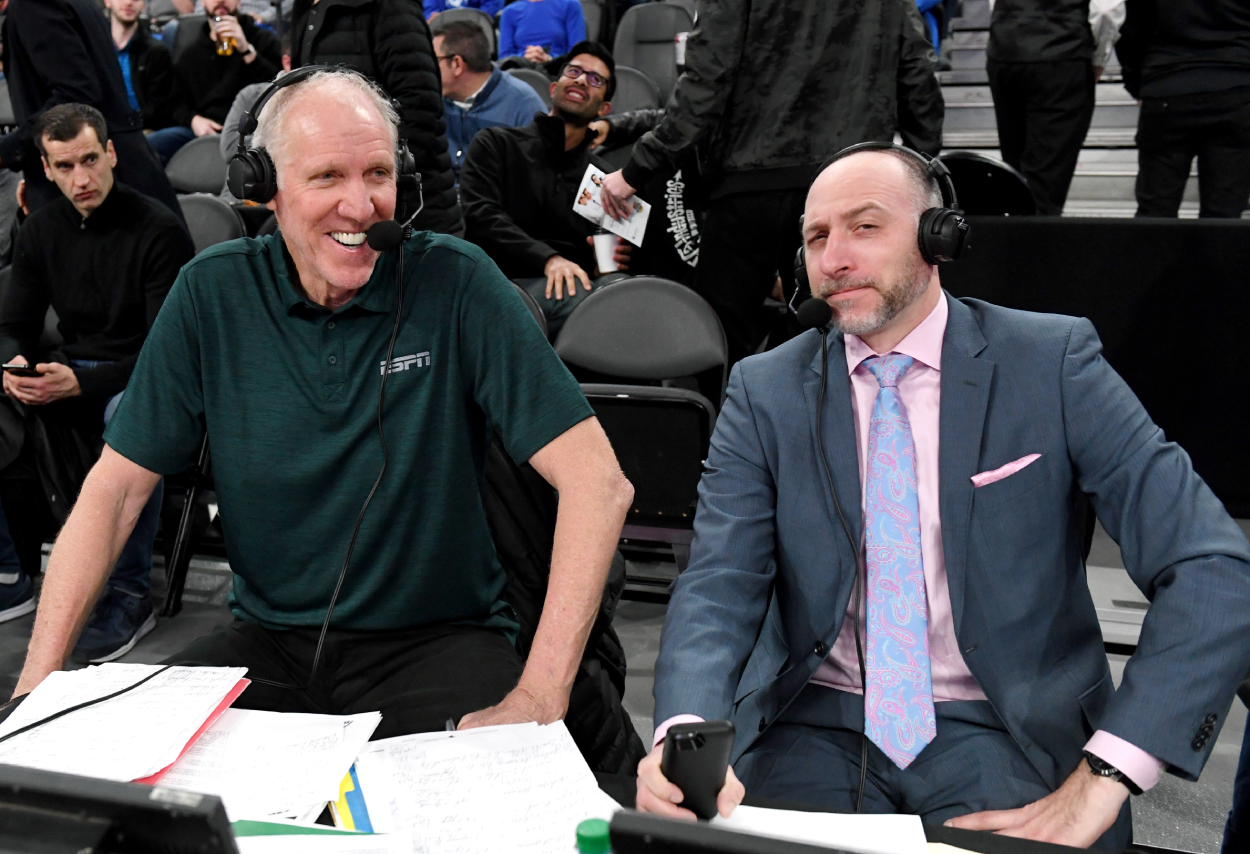 Walton is a lot of fun when he's calling games. He's a refreshing courtside voice that entertains the audience well beyond what's happening on the court. When Walton gets going, he gets going.
It doesn't just happen behind a microphone. Walton's long-winded talks are natural. He has a zest for life, and sometimes his passion for whatever the heck he's talking about takes over. Take, for instance, his recent comments on Denver Nuggets center Nikola Jokic. Jokic is a player Walton loves and certainly loves to talk about. Walton recently caught up with the NBA's reigning MVP during the All-Star break.
"I was thrilled to be able to say hello to him because I'm a huge fan, and I'm so grateful for the way he plays because it represents the best of the human spirit in terms of inclusion, in terms of opportunity, team, sacrifice, discipline," Walton said, per Mike Singer of The Denver Post. "He's just really, really great. He is brilliant.
"The imagination, he is a creative genius, and he sees things that other people don't see. His sense of timing and skill and position and balance and all the things that I love in life, he just represents it. It's a privilege for me to watch him play basketball. He is Colorado. He's a pioneer. He's an innovator. He is a creator of a new and better path to tomorrow."
Just ask Walton one question, and he'll take it from there. He did the same when reminiscing about his 1986 championship with the Boston Celtics.
"We had a great team, and we loved each other," Walton told former Celtics forward Brian Scalabrine on a 2020 podcast. "We loved the way we played and we knew we could get the job done. We'll take our chances. We'll take our chances anywhere against anybody, anytime. We had it all. We had size, strength, power, finesse, skill, discipline, talent."
ESPN's Dave Pasch gave some insight on what Bill Walton is like before and during a broadcast
With college basketball tournaments in full swing, Walton jumps into the spotlight. He knows he's there for basketball, but you'll never know what subject will come out of his mouth as the game goes on. Dave Pasch, who has called games with Walton before on ESPN, recently said Walton's talking sometimes gives viewers the wrong impression.
"One thing that's unfair to Bill is that a lot of people think he doesn't prepare and just talks about whatever he wants," Pasch said, per Jon Wilner of The Mercury News. "He actually has pages and pages of notes. He goes to the shootaround, and even if it's a team we've done many times, he still talks to the coaches and the sports information directors."
Pasch admits Walton is a lot of fun to work with, but he's a little, let's say, unconventional.
"The first time I did a game with Bill was the NBA Finals in 2006," Pasch said. "He claims it never happened."
Walton, Pasch said, preps for a game as if he's getting ready to play in the deciding game of the NBA Finals.
"The thing that's hilarious and heartwarming is that when Bill does a game, it's like he's getting ready for Game 7 of the NBA Finals," he said. "He starts 90 minutes before tipoff and has a stretching routine. He's inhaling energy chews and protein shakes and bars.
"It feels like he's ready to play a game and even though I'm his teammate on the broadcast, in some ways I'm like Kareem (Abdul-Jabbar) — I'm Bill's adversary. That gives you a glimpse into how important it is to him."
Pasch said he prepares the same way for each game but then its a 'free-for-all' with Walton
When Pasch knows he'll be working with Walton, nothing changes on his end when it comes to preparation. It's when the game gets flowing and Walton gets going that Pasch has to find a way to stay focused on the task at hand.
"My preparation is very much the same as with any announcer, but then you get on air with him and it's a free-for-all," Pasch said. "Maybe that's like how he used to play. You prepare and get ready, but once it starts, you don't know the direction the game will go.
"Lionel Hollins (a former teammate of Walton's in the NBA) once told me that broadcasting is like Bill's back in the locker room. I'm either an adversary or a teammate. The broadcast to him is like he's still playing. And he works himself into an altered state to get ready."
The one thing he will do differently when working with Walton is he won't take as many notes before the game.
"I don't take nearly as many notes before a game I'm working with Bill because most of them won't get into the broadcast," he said. "But I have to focus. Bill could be talking about something, and I need to know that a guy is two of his last 15 from three-point range."