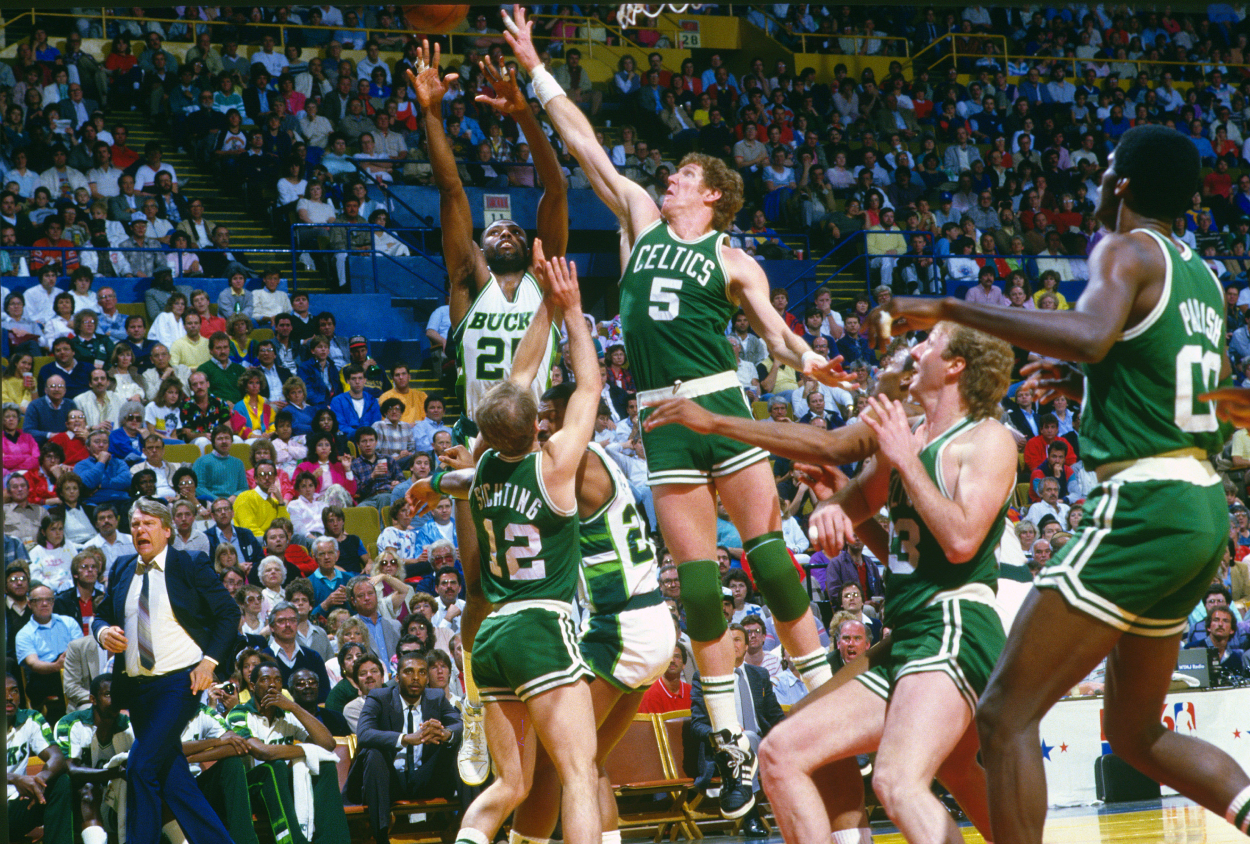 Bill Walton Still Haunted by Larry Bird on a Fast Break at a Boston Celtics Practice
Bill Walton was the missing piece for the Boston Celtics in 1986.
Nearly 35 years later, Naismith Memorial Basketball Hall of Famer Bill Walton still remembers licking his chops at a Boston Celtics practice at Hellenic College. It didn't happen often, but Walton loved being the lone defender on a fast break. He still remembers how excited he was trying to take on Larry Bird, Kevin McHale, and Danny Ainge as they came at him.
Walton was outnumbered, but he loved the challenge. He was ready to go. The ball ended up in the hands of Bird, and suddenly, Walton wasn't smiling anymore.
Bill Walton was the key piece to the 1986 Boston Celtics championship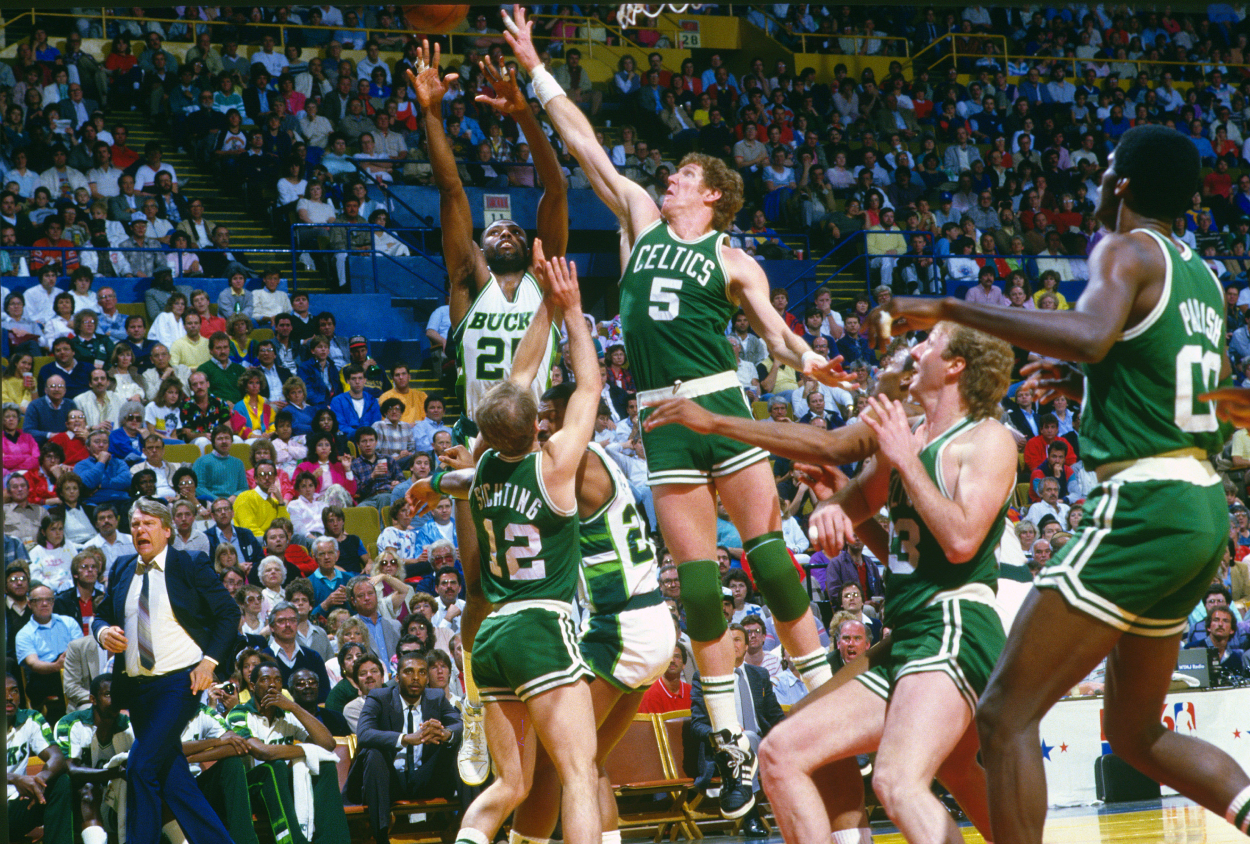 The Celtics came up short to the Los Angeles Lakers in the 1985 NBA Finals after defeating them for the championship in 1984. The biggest weakness on Boston's '85 team was the bench. The Celtics made a quick fix by trading for Walton, the veteran big man who was the league's MVP in 1978.
Walton was oft-injured, missing consecutive full seasons (and three total) with a foot injury. The Celtics already had Bird, McHale, and Robert Parish to make up one of the best frontcourt in league history. Walton didn't have to carry the load. He simply needed to spell the big guys for a few minutes.
Walton played his role to perfection during that 1985-86 season. A big part of that was his health. That year, he played more games (80) than he did in any of his nine other seasons in the NBA. He knew he needed a change of scenery.
"In the summer of 1985, it finally dawned on me," Walton said in a 2020 Boston Celtics video tribute to the '86 team. "It wasn't happening for me any longer and I had to move on from my current circumstances with the Clippers and get on a much better team."
In his first year with the Celtics, Walton averaged 19.3 minutes. He put up 7.6 points and 6.8 rebounds per game.
Bill Walton still bothered by a Larry Bird fast break during a Boston Celtics practice
Walton loved his time in Boston. He still beams when he talks about his NBA title with the Celtics. During a 2020 appearance on the Ryan & Goodman Podcast, longtime Boston Globe reporter Bob Ryan asked Walton what it was like to play with Bird. He specifically asked from a pure basketball standpoint, what was the most fun about playing with Bird?
"There's no one thing," Walton said. "It's endless. The thing that tingled my brain the most, or among the things that tingled my brain, was just how darn smart that guy was. And how he knew where everybody was and what they were doing at all times, on and off the court. One of the things I loved about playing basketball was being the lone defender against the fast break. I used to watch Bill Russell do this all the time.
"Larry, one time in practice at Hellenic College, I was back on defense and I had it. I mean I was guarding the whole staff. The first team was called the white team because they had the white jerseys. The second string was called the green team because we were the green jerseys. The green team would call the white team the "stat team" because we felt like they were only interested in their own statistical accomplishments and selfishness.
"There was a lot of trash-talking going on, and they were coming at me on a fast break. It was Larry and Kevin and Danny and Chief and DJ. They're all coming at me. My guys weren't even coming back, but I had 'em. I had every angle covered. Then, the ball came to Larry, and I knew I had him. I was going to send it the other way. Larry found a guy that I had lost. Man, I was just so mad because I had him smothered, had him covered, and he somehow found a way out of it and got it to a guy who I had lost track of.
"They were able to score. Darn it. I had to take it out of bounds as opposed to send it back and start the fast break the other way."
Walton helped make the '86 Celtics one of the best NBA teams ever
The big pieces were already in place. Walton was the final one, and it may have been what put the Celtics over the top in the 1985-86 season. Not only did the Celtics cruise to the NBA title when they knocked off the Houston Rockets in six games, but some say that team might be the best ever — at least some of the players do.
"We had a great team, and we loved each other," Walton said during an interview with Brian Scalabrine in a video put out by the Boston Celtics. "We loved the way we played, and we knew we could get the job done. We'll take our chances. We'll take our chances anywhere against anybody, anytime. We had it all. We had size, strength, power, finesse, skill, discipline, talent.
"And at the end of the day, we had Red Auerbach, K.C. Jones, Larry Bird, Kevin McHale, and nobody else did."
Robert Parish, the starting center on that team, agreed. He also said Walton proved to be the difference.
"I would put that team against any team that's ever been assembled," Parish said on SiriusXM NBA Radio. "Bill Walton was definitely the difference-maker."