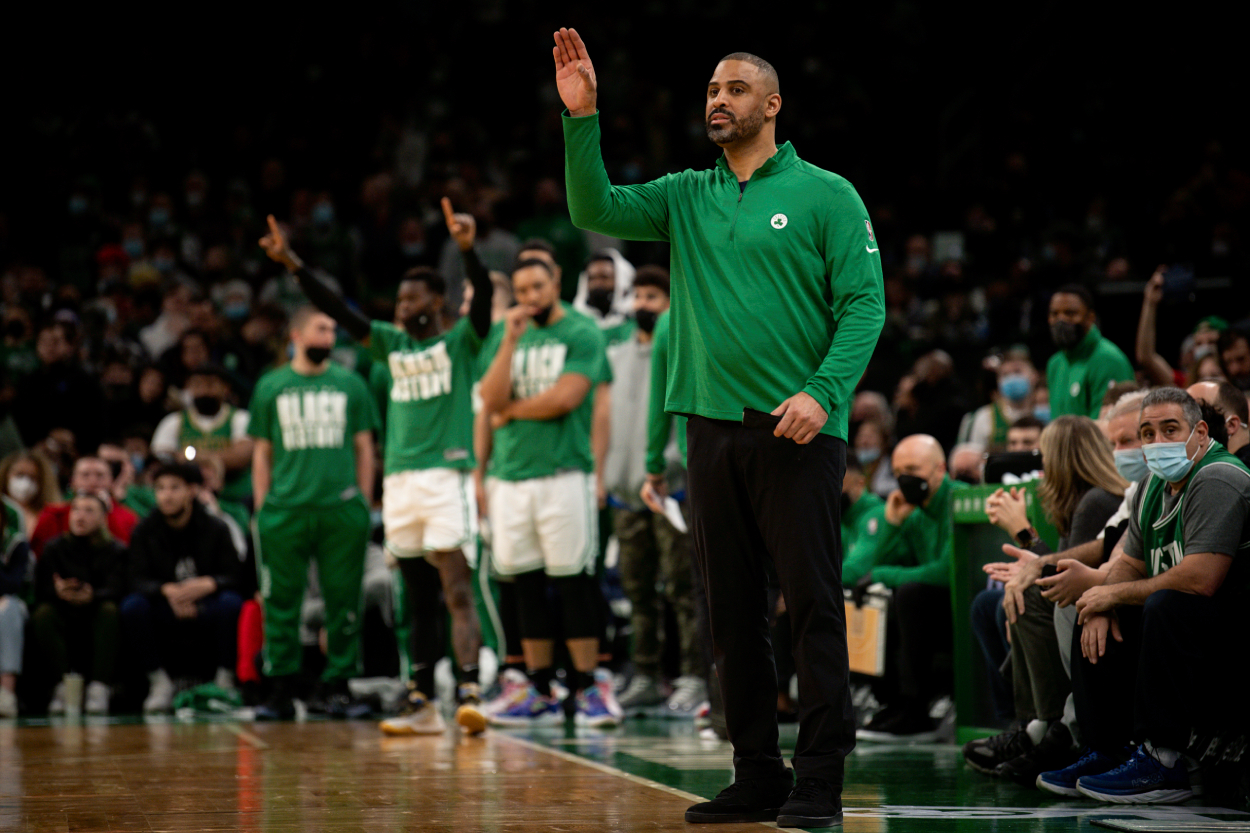 The Boston Celtics Can't Get a False Sense of Hope as the NBA Trade Deadline Draws Near
For the last two years, it's been tough to figure out who the Boston Celtics really are.
The real Boston Celtics are somewhere between that team that's on a five-game win streak and the underachieving squad that's hovered around the .500 mark most of the year. Are they the talented bunch that's finally clicking, or are they simply in a stretch where they are beating up a bunch of bad teams?
With Jayson Tatum and Jaylen Brown as their cornerstones, the Celtics should always be a player in the Eastern Conference. Boston can't get a false sense of hope with this hot streak as the NBA trade deadline lurks.
The Boston Celtics are riding high but…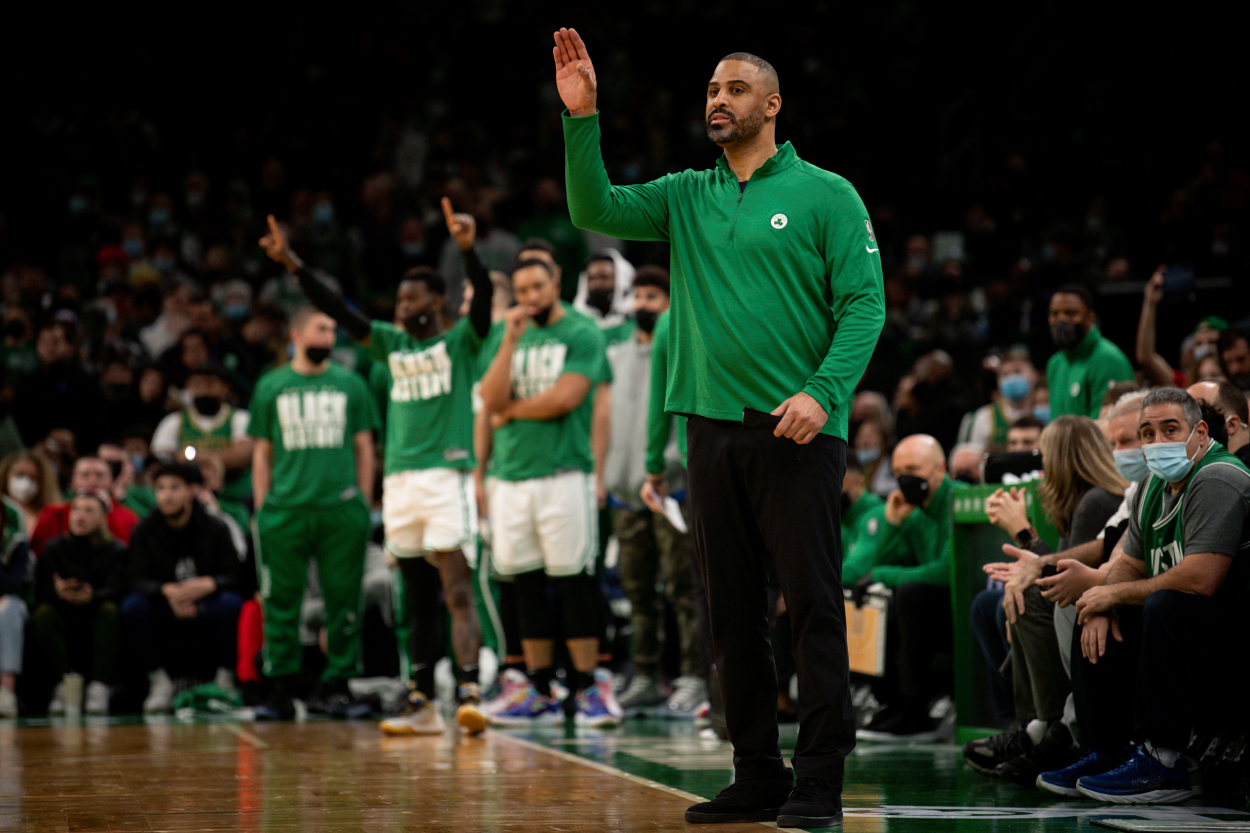 Will the real Boston Celtics please stand up.
Under first-year coach Ime Udoka, the Celtics have struggled to find themselves but may very well be on their way. Maybe.
Winners of five straight games and seven of their last eight, the Celtics are looking like the team most NBA fans expected them to be. Boston has primarily used a stifling defense to generate its hot streak, and it's something Udoka had always believed in from the start.
"It's suffocating, at times, with our size and versatility," Udoka said of the defense, per ESPN. "We've got big wings, versatile bigs, and a pit bull for a point guard (Marcus Smart). There's no real weakness out there or anybody to pick on. This is what we envisioned and it's coming to fruition now that we have some consistency with our lineups."
While Boston's streak has them sitting at 30-25, the Celtics have gotten over the .500 mark by beating up on bad teams. Only two of their last seven wins have come against teams with winning records. One of those is the Charlotte Hornets, who are 28-27. Boston's biggest win during that stretch came against the East-leading Miami Heat.
The Boston Celtics can't get a false sense of hope as the NBA trade deadline approaches
With two days remaining until the NBA trade deadline, the Celtics have decisions to make. Weeks ago, they appeared to be sellers. Now, they might want to keep some of those pieces they may have considered moving.
Boston can't be fooled by the hot stretch. The bigger sample size shows they aren't as good as this recent stretch. Last season, the Celtics finished 36-36 and were ousted by the Brooklyn Nets in the first round of the playoffs. For much of this year, they've managed to hover around that .500 mark with inconsistent play,
Throughout the season, effort was questioned by Udoka, and Smart even publicly singled out Tatum and Brown for not passing the ball enough. Winning seems to cure all ills and the Celtics are riding high at the moment.
Brad Stevens is making his front-office, trade-deadline debut but insists his strategy remains the same whether they are riding high or in a slump.
"Every decision we make has to be focused on, does that decision give us the best chance at the next banner," Stevens said, per Mass Live. "That ultimately is the call. It's not as focused on how your team is necessarily playing in the moment. It's focused on what is the best thing to be able to be in the mix and then hang the next banner."
The Celtics likely will move a player or two but won't make a splash
The Celtics will likely be on the radar of several teams looking to make a move, and they should listen even if someone comes looking for Tatum or Brown. For two years, the team has been the picture of mediocrity, so they should be at least testing the waters.
Stevens has previously said the team wants to build around their two young stars and not break them up. Should that hold true, there will be no big splash. Outside of Smart and center Robert Williams, two other players the Celtics are reluctant to part with, there's not much that will return a key piece.
Dennis Schroder is the likely player the Celtics will send in a deal. He's on a one-year deal and looking for a big payday, and he's not in Boston's future plans. Rather than let him walk for nothing, it appears Schroder's days in Boston are numbered.
Josh Richardson and Grant Williams are also players who could be on the move.
Boston is a tough team to figure out. The talent is there, but the results haven't been — until recently. The Celtics will be in the middle of trade conversations for the next two days, and after 55 games, we still don't know who they really are.