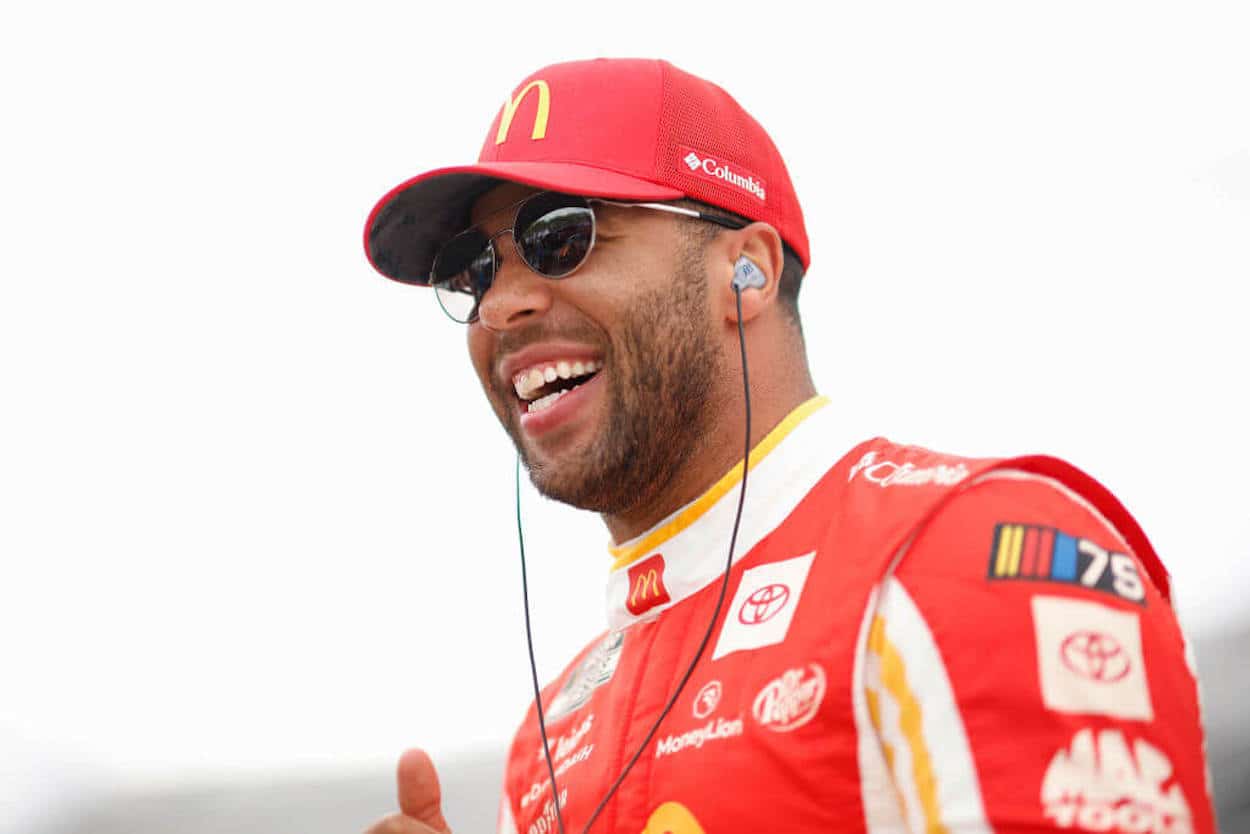 Bubba Wallace Has Proven He Belongs, So Now He Needs To Make The Case That He's Elite
What does Bubba Wallace have to do to join NASCAR's upper echelon? It might be less than you'd think.
With two career NASCAR Cup Series wins and a slew of top-five finishes, Bubba Wallace has proven once and for all that he "belongs" in NASCAR's premier division — regardless of how much hate his hordes of detractors may spew.
Wallace has not, however, made a case that he should be considered one of the sport's elite drivers. Well, not yet, at least.
So, what does the Cup Series' only African American driver and wheelman of the No. 23 Toyota for 23XI Racing have to do to be in the discussion about the sport's top talents?
Simply put: a good bit but perhaps not as much as you might think.
Bubba Wallace has endured growing pains but made significant strides
Like many drivers who go full-time Cup Series racing after honing their skills in NASCAR's lower divisions, Bubba Wallace didn't exactly hit the ground running upon his move to the sport's highest level.
Over three full seasons preceded by four cameo appearances with Richard Petty Motorsports, Wallace scored a total of nine top-10 finishes — including just three top-fives — in 112 starts.
But despite struggling more often than not and being shut out of Victory Lane — a place he's visited six times over 51 starts in the Craftsman Truck Series — Wallace did enough in his first three seasons as a full-time Cup driver to be offered a ride for 2021 with the fledgling 23XI Racing organization co-founded by NBA legend Michael Jordan and three-time Daytona 500 winner Denny Hamlin.

Still needing to prove himself deserving of a Cup ride in the eyes of many, Wallace — an alumnus of NASCAR's Drive for Diversity program — didn't enjoy the smoothest of transitions to his new team but nevertheless went out and earned his first career Cup Series victory in the fall of 2021 at Talladega Superspeedway.
While Wallace's critics were quick to point out that the win came in a rain-shortened race, he threw cold water on any notion he couldn't prevail in a full-distance affair when he won in convincing fashion last September at Kansas Speedway. Even prior to that, though, Wallace managed to secure a multi-year contract extension with 23XI due in no small part to his ability to attract co-primary sponsors with relative ease.
Becoming a reliable frontrunner has been an altogether different matter, however.
Bubba Wallace is knocking on the door of greatness, but he still has work to do
Over nearly six-and-a-half seasons as a full-time NASCAR Cup Series driver, Bubba Wallace has recorded back-to-back top-five finishes just twice.
The first such occasion was last season when he came home fifth at the Indianapolis Motor Speedway road course and took the checkered flag in second place the following weekend at Michigan International Speedway.
As for Wallace's other top-five streak, well, he's currently riding it — courtesy of a fourth-place finish at Kansas Speedway followed by a fifth-place finish two weekends ago at Darlington Raceway. And if you count this past weekend's non-points-paying NASCAR All-Star Race at North Wilkesboro, Wallace is riding a streak of three consecutive top-fives (he finished second at North Wilkesboro, although the result doesn't technically count since the All-Star Race is an exhibition).

Thanks to his recent run of strong outings — which include not just the two top-fives in points races but five finishes of 12th or better in his last six starts — Wallace has moved up to 15th in the standings and sits 23 points ahead of the first driver on the wrong side of the playoff bubble.
With the 26-race regular season at its halfway mark, a lot of racing remains to be done before the 16-driver playoff field is locked in. Wallace is in a good spot, however, and certainly has momentum on his side heading into the Coca-Cola 600 at Charlotte Motor Speedway.
If he can keep the momentum going and not endure a stretch of races like he did earlier in the year when he finished 22nd or worse in three consecutive outings, he'll have an excellent shot of making the playoffs for the first time.
Unfortunately, the timing of Wallace's win in each of the past two years hasn't gained him automatic entry into the playoffs because it came after the regular season commenced. Making the playoffs — and especially doing so in multiple seasons — would undoubtedly go a long way toward Wallace being widely viewed as among the Cup Series' upper-tier of drivers.
Ditto for consistency. For Wallace to be mentioned in the same breath as guys like his boss Denny Hamlin, Joey Logano, Martin Truex Jr., Chase Elliott, Kyle Larson, and Kyle Busch, he must figure out how to run up front and contend for wins on a regular basis. That means more than just one two-race streak of top-fives in a year. It also means leading a decent amount of laps and being counted on to go to Victory Lane at least two or three times every season, with few exceptions, if any.
If Wallace can hit these marks, he'll be an elite Cup Series driver no matter what his most outspoken haters say or think. But for now, he simply belongs — which beats not belonging but leaves room for considerable improvement.