Cade Cunningham Went Vegan After Eating McDonald's Burgers With Team USA in Greece
Cade Cunningham's body is different than most NBA players in a lot of ways. He is the size of a forward at 6-foot-7, 220-pounds, but he has pure point guard skills. The most apt comparison for Cunningham's physical gifts are Magic Johnson and Luka Doncic.
The No. 1 pick in the 2021 NBA draft fuels that body differently than most players in the league as well. He is a vegan who adheres to a strict, plant-based diet. On draft night, he explained how he made that choice.
The Detroit Pistons picked Cade Cunningham No. 1 overall in the 2021 NBA draft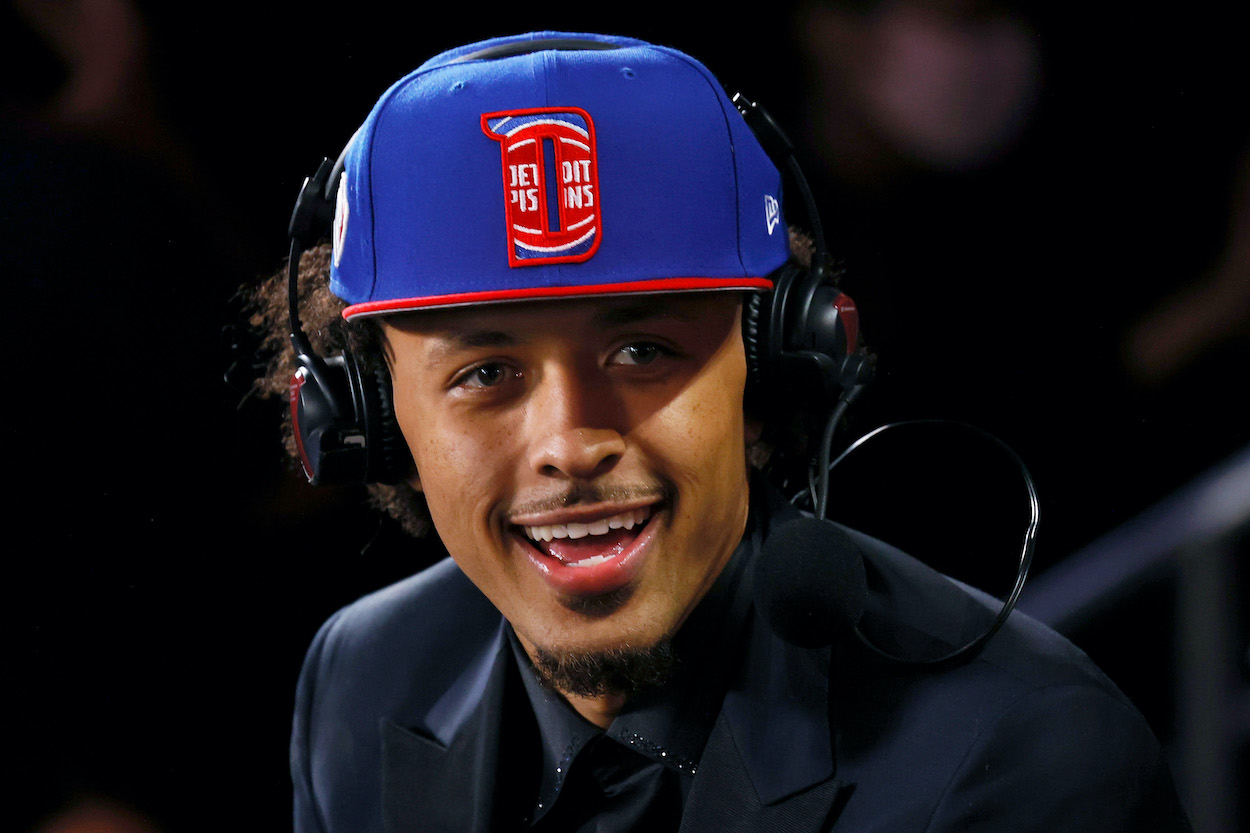 Cade Cunningham was the top prospect on almost all NBA scouts and executives' draft boards. He's been the consensus No. 1 pick for almost the entire basketball season. There was pre-draft speculation that Jalen Green or Evan Mobley were also in play for Detroit, but, in the end, it was always Cunningham.
The reason NBA teams so coveted Cunningham is because of his unique combination of size and skill. As a primary ball-handler and playmaker, his 6-foot-7 frame makes him a matchup nightmare.
As the leader of Montverde Academy in his senior high school season, he guided the team to a 25-0 record and a unanimous No. 1 ranking, per OKState.com. He averaged a stunning +30.8 plus/minus rating that season and posted 13.9 points, 6.4 assists, and 4.2 rebounds per game.
As an Oklahoma State Cowboy, Cunningham continued his stat-stuffing ways. Even in a weird, COVID-19-filled season on a not-so-great team, the big guard still averaged 20.2 points, 5.2 rebounds, and 3.5 assists per game on his way to becoming a First Team All-American.
This combination of size, skills, and production made Cunningham a no-brainer when Detroit stepped up to the podium first at the draft.  
Cunningham explained when he decided to stick with a vegan diet
During his post-draft interview with the ESPN draft crew, analyst and former player Kendrick Perkins asked Cunningham about his vegan diet.
"I wanted to know, what made you go vegan?" Perkins asked. "As a youngster, as far as your nutrition and taking care of your body, I think that was a very mature thing.
Cunningham responded by telling the story of how he started as a vegan and when he committed to it for the long term:
I think, bigger than anything, I just wanted to try something new for my body and see how my body reacted to it. So, once I tried it, I did it for two weeks, and we had to go to Team USA, we had to go out to Greece, where we're eating McDonald's and stuff – McDonald's is a lot better out in Greece – but we weren't accustomed to the food that we had out there. So, I started back eating burgers and things, and on that trip, I told myself, 'I'm back vegan, and I'm sticking to it.'

Cade Cunningham on his vegan diet
Cunningham has stuck to his plant-based diet ever since. While this is somewhat unique in pro sports, more and more top-level athletes are going vegetarian or vegan, even one of the biggest stars Cunningham will join in the NBA.
Other top athletes are vegan
Vegans eat a plant-based diet and steer clear of all meat and animal products. That means, in addition to not eating things like beef, pork, chicken, and fish, vegans also steer clear of other animal products like dairy and eggs.
Cade Cunningham isn't the first high-level athlete to switch to a plant-based diet to help their performance. It is actually becoming more common with some of the best athletes in the world.
The tennis-dominating Williams sisters, Formula 1 superstar Lewis Hamilton, boxer David Haye, UFC fighters Nate Diaz and Abel Trujilo, and soccer stars Jack Wilshire and Fabian Delph all have or currently do subscribe to an entirely plant-based diet, per Business Insider. The same goes for Cunningham's new NBA colleague, Kyrie Irving.
With the advancements in nutrition knowledge and plant-based meat substitutes these days, going vegan is much more feasible for athletes than ever before. We'll see if it helps Cade Cunningham and his body during the long haul of an 82-game NBA season.
Like Sportscasting on Facebook. Follow us on Twitter @sportscasting19