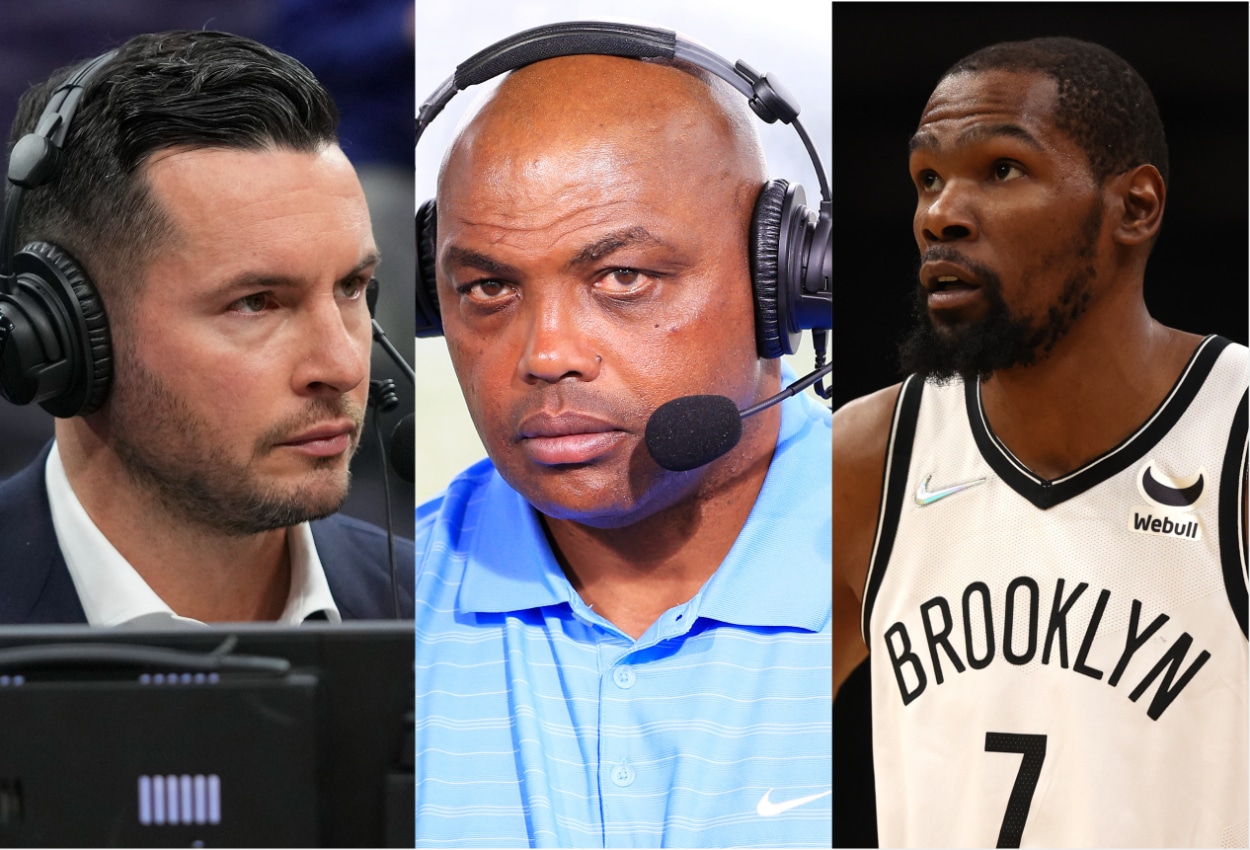 Charles Barkley Called out by JJ Redick for Controversial Kevin Durant Comment
Charles Barkley recently made a controversial comment about Kevin Durant and his legacy. Former NBA player JJ Redick wasn't a fan of Chuck's take.
Kevin Durant isn't afraid to clap back at trolls on Twitter. However, his most recent target happened to be a Twitter-less NBA legend: Charles Barkley.
Barkley took a shot at Durant during an episode of Get Up last week, and Durant responded. Now, it appears KD has a former NBA player on his side.
JJ Redick recently appeared on First Take, and he made his thoughts clear: Barkley was flat-out wrong about Durant.
JJ Redick stood up for Kevin Durant in light of Charles Barkley's comment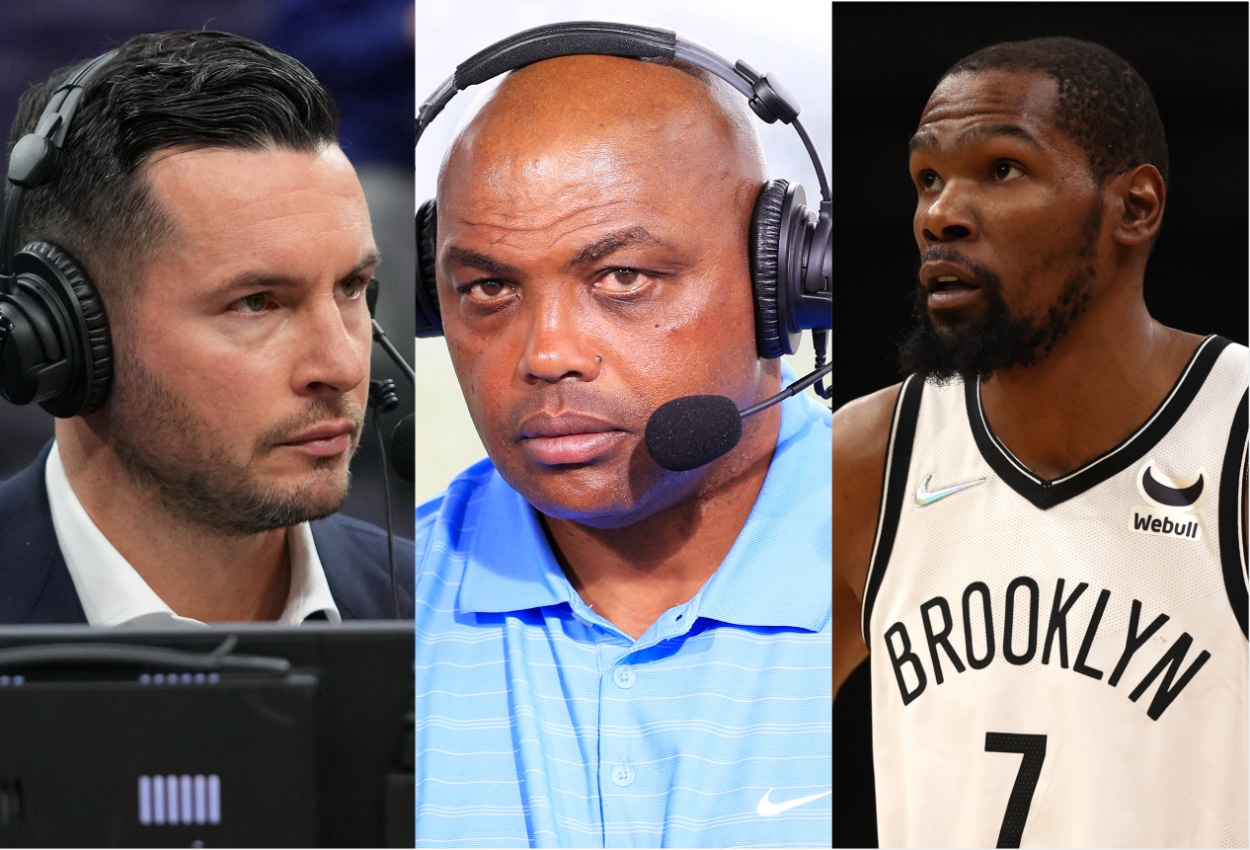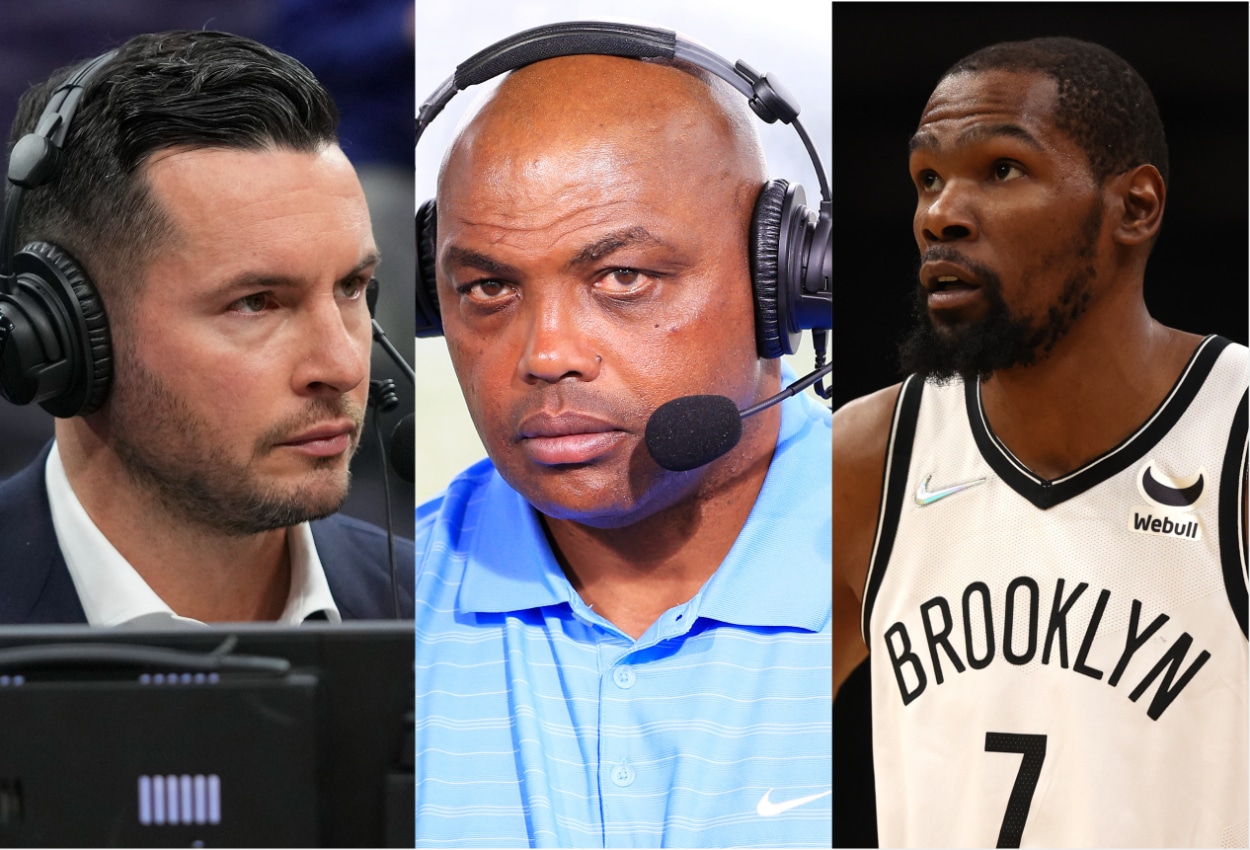 While appearing on the June 17 episode of Get Up, Charles Barkley said Kevin Durant must win a title "as a bus driver" to receive respect "from all the old heads."
Durant is one of the greatest scorers in NBA history, but he won two titles with the Golden State Warriors, a team that went to two NBA Finals and won one championship before signing him. The Dubs also won 73 games in 2015-16 (the season before he moved to The Bay), and they have since won another title following KD's departure after beating the Boston Celtics in the 2022 NBA Finals.
Durant responded to Chuck's comment on Twitter by saying, "All this s**** is nasty, another terrible analogy from a hatin old head that can't accept that we making more bread than them. It's just timing Chucky, don't hate the playa."
On the June 21 episode of First Take, former NBA sharpshooter JJ Redick chose to take Durant's side.
"I love Charles Barkley, and he's been so great for our game. … He's wrong in this; he's just flat-out wrong," Redick said. "To call Kevin Durant anything but the bus driver of those Warriors teams, and that is not, I wanna be clear, that is not a knock on Steph Curry."
Redick then discussed Durant's Finals performances during his two title runs with the Warriors, in which KD won both Finals MVPs. He averaged 35.2 points, 8.2 rebounds, and 5.4 assists in the 2017 series. He also shot 55.6% from the field and 47.4% from long-range. In the 2018 Finals, the 2013-14 NBA MVP recorded 28.8 points, 10.8 rebounds, and 7.5 assists per game, and he shot 52.6% and 40.9%.
"If that's not the bus driver, I don't know what is the bus driver," Redick added.
Redick has a point. Durant was clearly the best player on those championship-winning Warriors teams, and his Finals MVPs prove that. 
However, considering Golden State's success before and after KD's arrival (including their 2022 championship), Durant's legacy isn't as strong as those of LeBron James, Stephen Curry, or Michael Jordan. They didn't need to join squads that had already won titles. Durant won his rings because he moved to Curry's team, and it's now easy to wonder whether he would have any championships had he not signed with the Warriors.
It's definitely an interesting debate. Kevin Durant is incredible, but everyone just cares about championships, and he has yet to win one on his own squad. But he can shut all these haters up by accomplishing one thing: winning a title outside of The Bay.
Stats courtesy of Basketball Reference