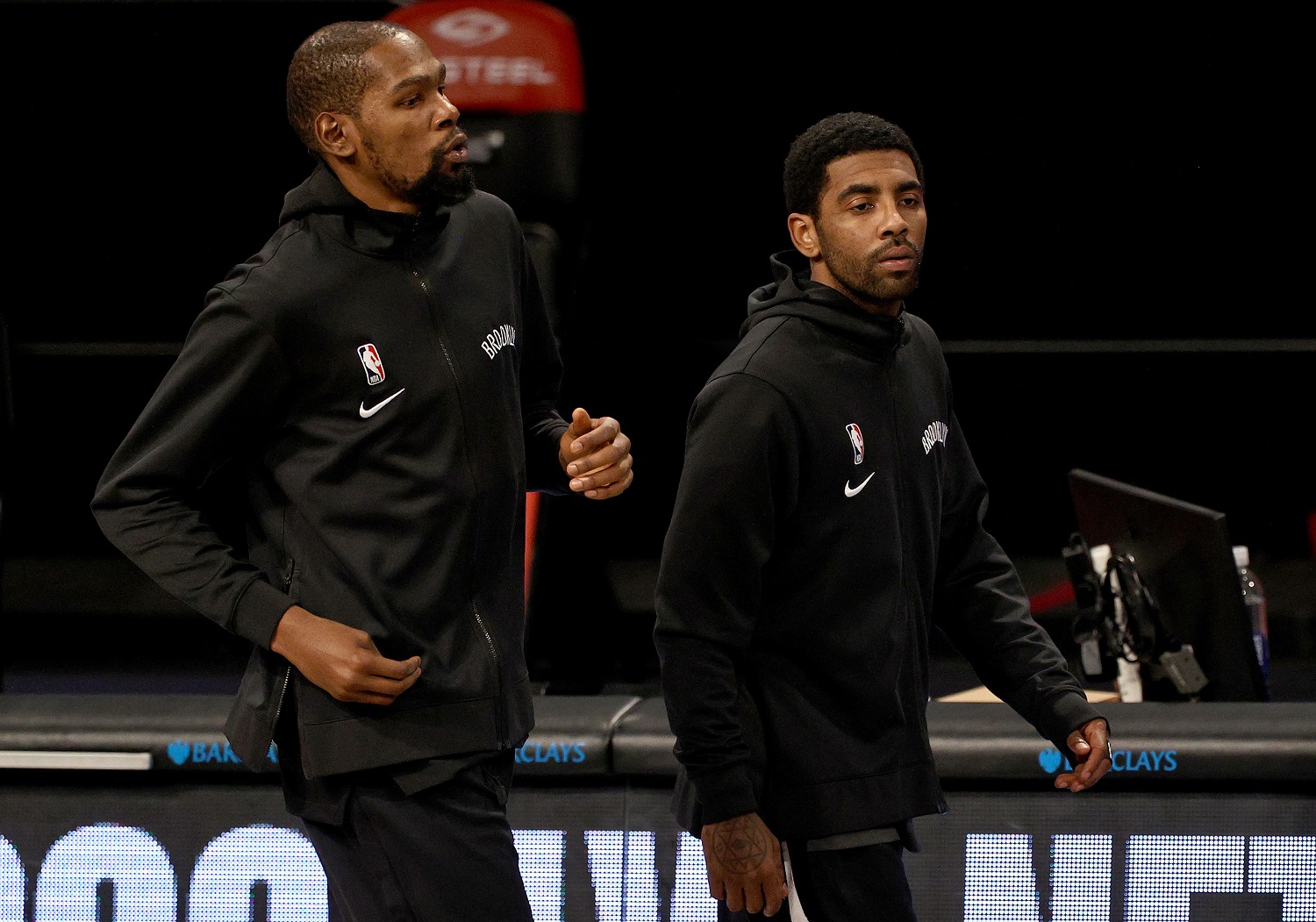 Charles Barkley Isn't Done With Kevin Durant and Kyrie Irving, Not by a Long Shot
Kevin Durant and Kyrie Irving were the first key acquisitions as the Brooklyn Nets eschewed building from within to assemble an NBA contender.
Odds are that Charles Barkley is secretly rooting for the Brooklyn Nets to lose an excruciatingly close Game 7 of the NBA finals that gives the TNT analyst weeks and weeks to beat on Kyrie Irving, James Harden, and Kevin Durant the way John Bonham pounded on the drums during When The Levee Breaks?
Charles Barkley doesn't like the way the Brooklyn Nets were built
Charles Barkley was old school when it came to basketball. Though undersized for a power forward, he rebounded the ball like a fiend. Barkley averaged 11.7 rebounds a game during a career in which he was never surrounded by quite enough talent.
So, when he saw the way the Brooklyn Nets went about taking aim at an NBA championship, Barkley wasn't pleased. He went public with his feelings April 15 in a discussion on TNT after watching the Boston Celtics beat the Los Angeles Lakers, 121-113.
"I'm always going to root against Brooklyn," Barkley announced to the cable TV audience. "I don't like the way they put the team together. You know I'm never going to be a proponent of guys teaming up. Never going to be for it. I'm rooting for anybody to beat Brooklyn."
As Larry Brown Sports points out, Barkley is being consistent as an analyst. He didn't like LeBron James, Dwyane Wade, and Chris Bosh uniting on the Miami Heat. He also wanted NBA commissioner Adam Silver to keep the Lakers from acquiring Anthony Davis.
The Nets, of course, scooped up Kevin Durant, DeAndre Jordan, and Kyrie Irving before last season.  Castoffs LaMarcus Aldridge, forced into retirement by medical concerns this week, and Blake Griffin were newer additions after James Harden demanded a trade and told the Houston Rockets where to send him.
Kevin Durant is a two-time opportunist
Kevin Durant came to the Brooklyn Nets to form a dynamic duo with Kyrie Irving before the 2019-20 season, though Durant knew he would have to sit out the season while rehabbing an injury. But he's also the guy who fled a 55-27 Oklahoma City Thunder team as a free agent in 2016.
Durant and Russell Westbrook had just come off a gut-wrenching playoff elimination. The Thunder held a 3-1 lead in games against the Golden State Warriors in the Western Conference finals before dropping the series in seven games.
So, where did Durant go? He signed with the Warriors after they won the championship. If Barkley is going to flog Durant as the Nets ramp up for a playoff run, he should reconsider. After all, Barkley admits backing the Phoenix Suns into a corner to force a trade to the Houston Rockets in 1996.
Charles Barkley can make a better case against Kyrie Irving
Kyrie Irving rang up fines of $25,000 apiece for himself and the Brooklyn Nets before the 2020-21 NBA season for his refusal to meet with media covering the team and referring to them in condescending fashion – "I do not talk to Pawns," he wrote on social media.
"I wish somebody would get in his ear. I do think there is something wrong with Kyrie, I truly believe that. I'm not joking right now," Barkley said. "I don't understand what his objective is. Yo, man, they're paying you $40 million, you gotta just talk to the press."
Irving also bailed out on the Nets after the chaos at the U.S. Capitol on Jan. 6, 2021, resulting in him missing seven games.
Like Sportscasting on Facebook. Follow us on Twitter @sportscasting19.