Charles Barkley Had Malicious Intent During an Infamous 1997 Encounter With John Stockton
Even at the end of his career, Charles Barkley had plenty of meanness. John Stockton learned that firsthand.
Barkley and Stockton, two-time Olympic teammates, spent most of the 1990s as Western Conference rivals. It came to a head when Chuck's Houston Rockets squared off against Stockton's Utah Jazz in the 1997 Western Conference Finals.
Sir Charles never had much tolerance for what he deemed dirty play. He cultivated a bitter rivalry with Bill Laimbeer because of the physical style exhibited by the former "Bad Boy." Always one to speak his mind, Barkley admitted to having similarly intentional motives during an in-game encounter with Stockton in the '97 playoffs.
Charles Barkley and John Stockton had experience as both rivals and teammates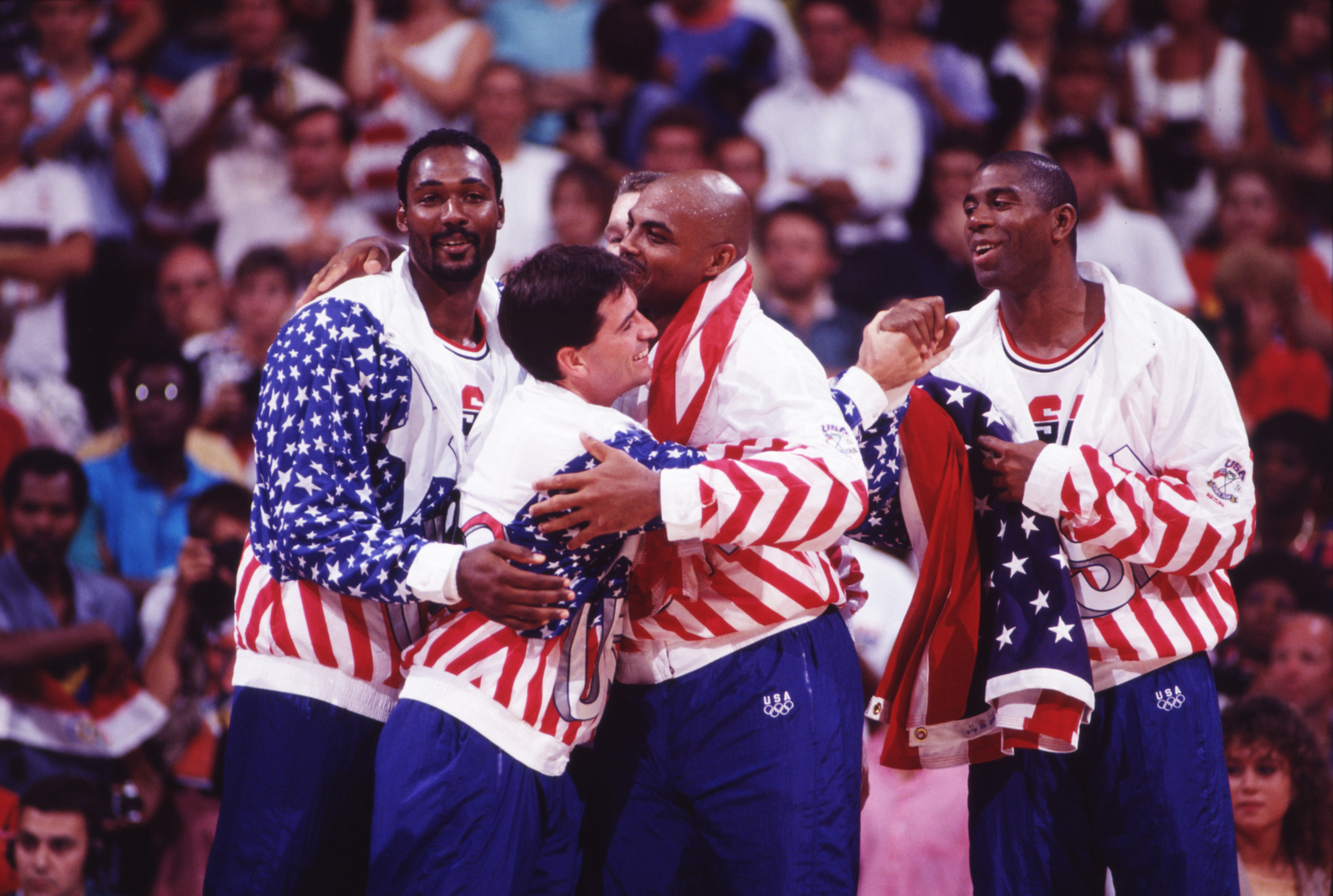 Early in the 1990s, it seemed that Charles Barkley and John Stockton had formed a lasting friendship.
Chuck and Stockton starred on the Dream Team at the 1992 Olympic Games in Barcelona. Barkley's larger-than-life persona and hilarious depictions of time spent drinking beer with teammates like Larry Bird made him a legitimate star. Stockton sort of blended into the crowd. Still, both played a role in helping Team USA capture the gold. It wouldn't be the last time, either.
The two NBA Hall of Famers received the call again in 1996, this time for Dream Team II in Atlanta. Barkley again anchored the squad, but Stockton offered an astute on-ball defensive presence as Team USA repeated as Olympic champions.
Alas, Sir Charles and Stock showed their aptitude for playing together. They also took the floor as rivals.
Barkley frequently did battle with Stockton's Jazz squads as a member of the Phoenix Suns. However, the two did not meet in the playoffs until the Suns traded Chuck to Houston shortly after the Atlanta Olympics in 1996. The first playoff showdown certainly proved memorable, though former friends quickly became foes in more than just the symbolic sense.
Barkley leveled Stockton and admitted to trying to injure the Jazz guard in Game 2
The Houston Rockets of the late 1990s are more renowned for the failed "Big 3" experiment of Barkley, Scottie Pippen, and Hakeem Olajuwon, especially of the fragile dynamic between Chuck and Pip. However, Sir Charles' first season in H-Town proved a massive success.
The Rockets won 57 games during the 1996-97 campaign, when Clyde Drexler took on Pippen's eventual role as a member of Houston's "Big 3." Barkley showed he could still play dominant basketball, averaging 19.2 points, 13.5 rebounds, and 4.7 assists, though he played in just 53 contests.
Houston showed resilience in the playoffs, defeating the reigning Western Conference champion Seattle SuperSonics in seven games to set up a matchup with Stockton and the Jazz in the Conference Finals. Things did not go according to plan early.
Utah took the first two games by a combined 27 points. Barkley believed Stockton and the Jazz kept getting away with all sorts of illegal tactics and chippiness. So, in Game 2, he drilled Stockton when the Jazz point guard came over to set a screen. During his postgame interview, Barkley admitted (h/t YouTube) his desire to maim Stockton.
"Obviously, the refs are not going to do their job. They're going to let [the Jazz] set moving picks out there. So I was trying to separate [Stockton's] shoulder or break a rib."

–Charles Barkley (1997)
The reporters in the room laughed. Barkley did not crack a smile for a single second. He followed by saying he was dead serious in his profession of malicious intent.
Initially, it appeared as though Chuck's actions had galvanized the Rockets. Ultimately, however, Stockton got the last laugh, and he did so in a dramatic fashion.
Stockton hit the series-clinching jumper over Barkley
The Rockets used Barkley's display of brute force as a rallying cry. But they could not close the deal.
Houston won its next two games at home to even the series. Barkley played an enormous role on the glass, and Eddie Johnson's game-winner in Game 4 sent the Rockets back to Utah feeling revitalized.
However, the Jazz refused to give way. Utah won a tightly-contested Game 5 in Salt Lake City. Back in Clutch City, Stockton delivered one of his finest performances.
The NBA's all-time assist leader hit a game-tying jumper with 22 seconds to play. After a Drexler miss, the Jazz called timeout. On the ensuing inbounds play, Utah sprung Stockton for a clean look. He took one dribble a fired a 3-pointer right over Barkley, hitting nothing but net.
Stockton finished the contest with 25 points and 13 assists. More importantly, after years of anguish for himself and Karl Malone, he'd finally sent the Jazz to the Finals.
Incidentally, that series ultimately became Barkley's last great chance to win an NBA championship. Perhaps he should have hit Stockton even harder in Game 2.
Stats courtesy of Basketball Reference.