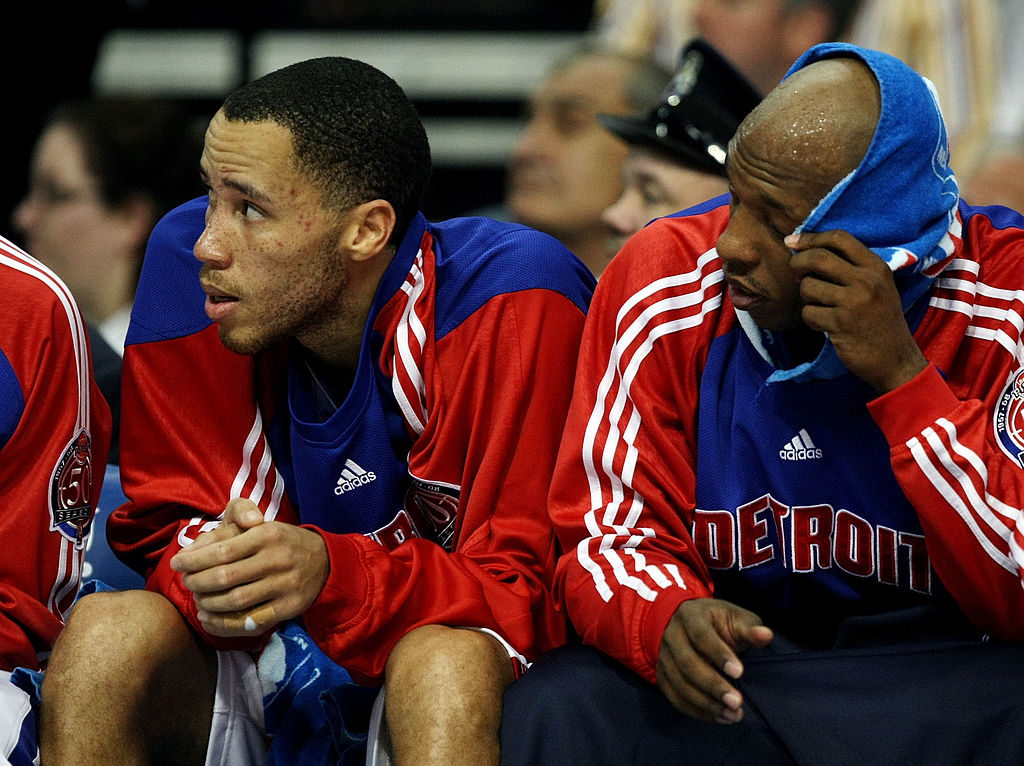 Chauncey Billups and Tayshaun Prince Could Go From Pistons Teammates to Competing for a Job
Chauncey Billups and Tayshaun Prince were once key pieces of a Pistons championship squad. Now, they could be battling for the same job.
For years, Chauncey Billups and Tayshaun Prince took the court as Detroit Pistons teammates. Together, they helped lead the franchise to its first NBA title since Isiah Thomas and the Bad Boys won back-to-back titles nearly 15 years earlier.
Since wrapping up their playing careers, both Billups and Prince have stuck around the game of basketball in different ways. But if the Pistons plan on turning around their franchise, they may have to choose between two former teammates for a coveted power position.
Chauncey Billups and Tayshaun Prince were key members of Pistons' championship squad
Chauncey Billups and Tayshaun Prince played alongside each other for about seven seasons in Detroit. Stylistically, they couldn't have been more different. Billups tipped the scales at 6-foot-3, 202 pounds. Though he played point guard, he carried a bulk of the scoring load alongside Rip Hamilton.
On the other hand, Prince's slithery 6-foot-9, 212-pound frame made him a unique matchup. Playing the small forward position, he did a little bit of everything for the Pistons. Never an elite scorer, he averaged 12.6 points with Detroit while also chipping in 4.7 rebounds and 2.6 assists per game. Prince played an important role as a defensive stopper.
As two franchise cornerstones, Billups and Prince helped transform the Pistons into one of the top teams in the Eastern Conference. After losing in the conference finals in 2002-03, Detroit shocked the NBA world by toppling the Los Angeles Lakers in the 2004 NBA Finals.
During that incredible championship run, Billups averaged 16.4 points and led the team with 5.9 assists per contest. Prince, who was in just his second season, chipped in 9.9 points, 6.0 boards, 1.1 steals and 1.3 blocks while often guarding Kobe Bryant. Incredibly, the Pistons rolled out the same starting lineup for all 23 of their postseason games during that title run.
Former teammates could be candidates for GM role
Unfortunately for Pistons fans, that 2004 title run represented the peak for the franchise. Detroit fell to San Antonio in the 2005 NBA Finals. The Pistons then lost the Eastern Conference Finals in three straight seasons before bowing out in the first round in 2009.
Since then, the Pistons have made the playoffs just twice. On both occasions, they also lost in the first round. Without a real direction, the franchise has slipped dramatically from the days of Chauncey Billups and Tayshaun Prince running the floor. However, based on a Detroit News report, one of those franchise icons could be tasked with turning around his former team.
Detroit needs a new general manager, and both Billups and Prince appear to be viable candidates. The former has been a TV analyst in recent years. However, he doesn't have any front-office experience.
Prince, though, has been working his way up the corporate ladder. He currently serves as the vice president of basketball operations for the Memphis Grizzlies. Given his experience in player personnel evaluation and development, that could make him a highly-suitable candidate for the general manager role in Detroit.
Detroit needs a serious shakeup after years of losing
No matter what GM the Pistons hire, he faces a huge task in turning around a rudderless franchise. For years, the team tried to build around Andre Drummond. That plan never worked out.
Blake Griffin is in the midst of his third year in Detroit, but his best days are long behind him. After averaging 24.5 points and making his first NBA All-Star team since 2015 last season, Griffin's play plummeted this year. In 18 games, he averaged just 15.5 points on 35.2 percent shooting.
Fellow former No. 1 overall pick Derrick Rose had been playing the best basketball of his career before the coronavirus pandemic shut down the NBA season. However, like Griffin, he's injury-prone and certainly doesn't represent the future for the Pistons.
Ultimately, a total overhaul must take place for Detroit to get back to contending for NBA titles. If the Pistons want to at least excite their fanbase, they'd be smart to consider Chauncey Billups and Tayshaun Prince for their GM role.