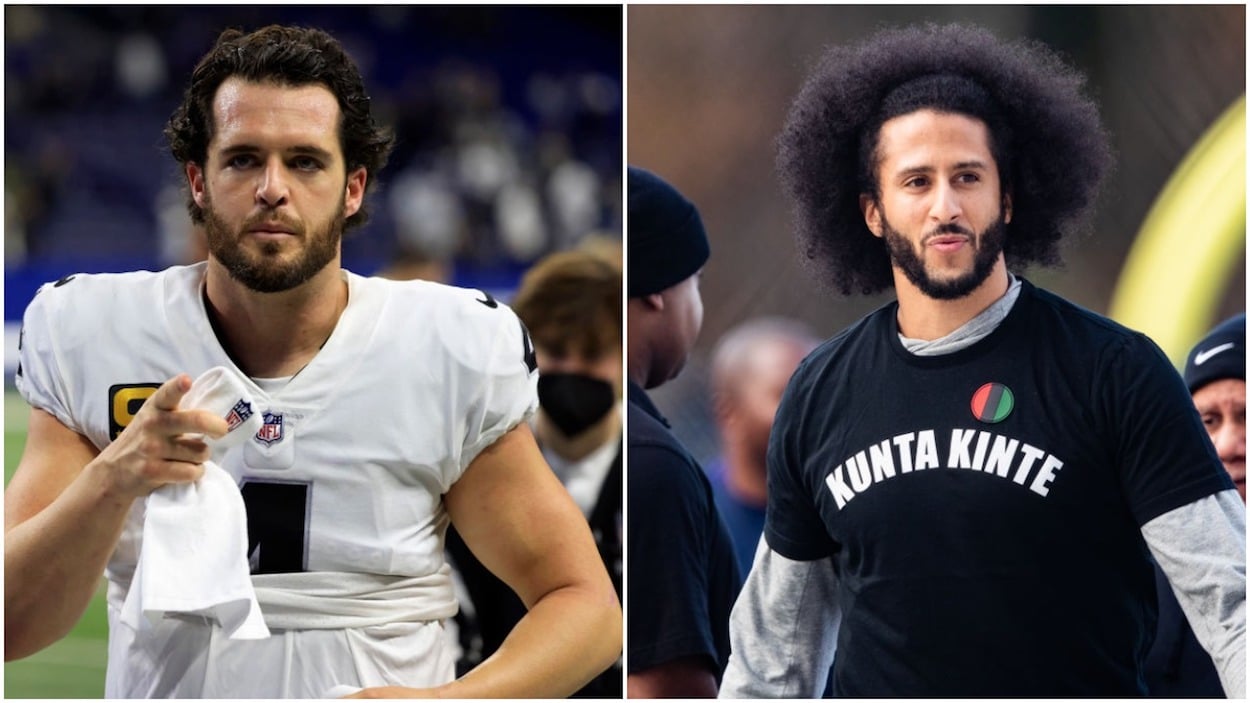 Colin Kaepernick Appears to Have a Potentially Important Las Vegas Raiders Ally in Derek Carr
While nothing has been finalized just yet, Derek Carr seems more than happy to be Colin Kaepernick's teammate on the Las Vegas Raiders.
As you've surely heard, Colin Kaepernick recently worked out for the Las Vegas Raiders. That reality unsurprisingly kicked off a familiar debate all over the Internet. Some felt the former 49er was finally getting a well-deserved look; others argued that he was washed up and only getting any attention due to a larger media narrative. No matter which position you hold, though, we know that Kaepernick has at least two allies in Las Vegas: owner Mark Davis and Derek Carr.
In a recent video, the Raiders starter spoke about his relationship with Kaep and how he loves his fellow quarterback. That could be a positive sign, but it could also be insignificant in the long run.
Derek Carr spoke highly of Colin Kaepernick and even used the word 'love' when speaking about their relationship
In the world of sports, certain relationships are somewhat special. The connection between a starting quarterback and his backup is one of those. Through that lens, Derek Carr's comments about Colin Kaepernick could take on a bit of extra significance.
"Well, I know Colin," Carr explained during his Raiders media availability (h/t ProFootballTalk). "I've known Colin since our days playing in the WAC conference, which is no longer a thing. My gray hairs may start to make a point for that. I remember our days back then, just watching him and what he did in college and getting to know him and talking to him on the phone and things like that. I've loved my time with him. I think he's a great guy. He's been great to be around him. I've enjoyed being around him, talking with him, competing against him."
Beyond that, Carr also took us behind the curtain and explained how he reacted when he found out Kaepernick was working out for the Raiders.
"Josh [McDaniels] told him they were doing it and all that kind of stuff. I literally said the same thing I'm telling you: I was like, 'I've enjoyed my time around him. I love him. Him and I would get along great,'" Carr continued. "My brother [David] knew him a little bit from San Francisco. He's like, 'I love Colin. He's awesome.' I think Colin would just have to answer more questions than all of us would have to: 'Why hasn't it happened? Why this? Why that?' But for me it would have been just fine. I enjoyed my time with him."
It remains to be seen if that endorsement means anything for Kaepernick and his future
If you've heard your share of press conferences, you'll know that plenty of answers are only given for PR purposes. While Carr's does seem genuine, it remains to be seen how much it will actually matter.
On one hand, the Raiders will (theoretically) do what they believe will help the organization win more football games. Thus far, reports have suggested that they'd consider bringing Kaepernick in as a backup to replace either Nick Mullens or Jarrett Stidham. While there's some room for flexibility when it comes to that secondary signal-caller — do you want to develop a future starter or have the best possible player there in case of emergency –the club will hand out contracts based on their aims. A positive quote from Carr probably won't change that organizational thinking.
On the other hand, though, you could argue that Carr's endorsement does serve a valuable purpose. One of the classic objections to signing Kaepernick is that he'll create a distraction and disrupt the locker room. In this case, though, the Raiders' leader has preemptively popped that balloon. If the front office wants to give Kaep a contract, Carr isn't going to object.
While that might seem insignificant, it could be the extra boost that an iffy organization needs. General managers and other execs can play it safe out of fear for their jobs; things could still go wrong, but Carr's comments could assuage some of those concerns.
At this point, though, we'll all have to play the waiting game. Since Kaepernick would be joining the club as a backup, the Raiders will probably want to see how things shake out during the summer.
Like Sportscasting on Facebook. Follow us on Twitter @sportscasting19 and subscribe to our YouTube channel.