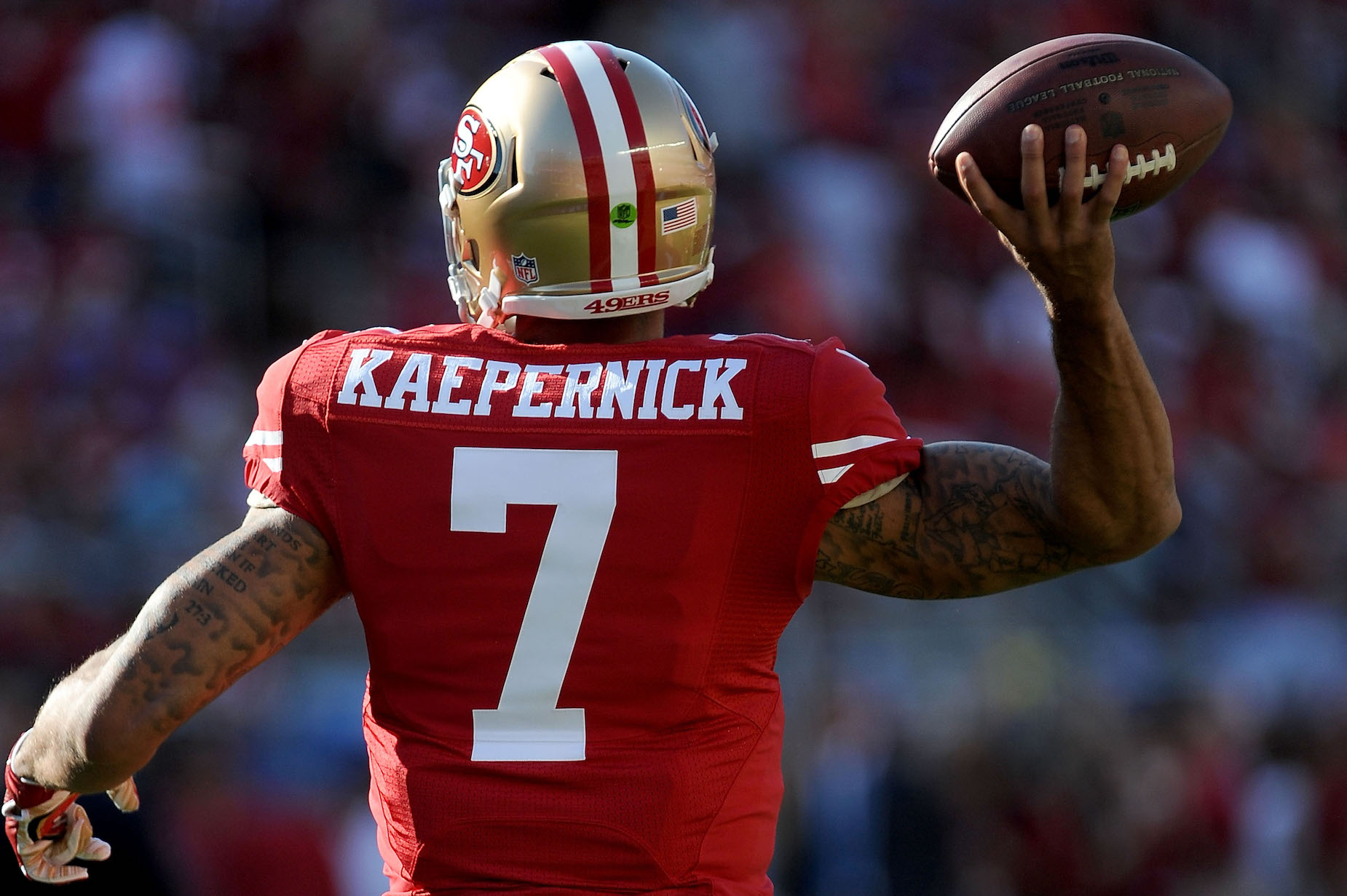 Colin Kaepernick Just Made NFL History, Even Without Taking the Field
While it's been a few years since Colin Kaepernick last saw NFL action, the quarterback is still setting pro football world records.
In the world of professional sports, few names are more divisive than Colin Kaepernick. Whether you believe that the former San Francisco 49ers quarterback is being blackballed or that he's unworthy of an NFL job, there's one thing that almost everyone can agree upon: he's certainly earned a place in NFL history.
While it's been a few years since he last hit the field, that hasn't stopped the quarterback from making history. In fact, Colin Kaepernick recently set another NFL record, even without having a job in the league.
Colin Kaepernick once looked like the NFL's next star quarterback
These days, Colin Kaepernick's name is synonymous with his famous protest. Before he ever took a knee, though, the quarterback seemed destined for NFL stardom.
Coming out of high school, Kaepernick could have gone to college on a baseball scholarship; the pitcher, however, decided that his future was on the football field. That choice brought him to the University of Nevada, where, in four seasons with the Wolfpack, he posted 10,098 passing yards, 4,112 rushing yards, and 141 total touchdowns.
On the back of that success, Kaepernick entered into the 2011 NFL draft; the San Francisco 49ers traded up to select him with the 36th-overall pick. While the quarterback started out on the bench, he'd eventually get his moment in the spotlight.
During Week 10 of the 2012 NFL season, Alex Smith suffered a concussion, and Kaepernick took over the offense. He ended up claiming the starting job and leading the 49ers to the Super Bowl, where they fell to the Baltimore Ravens.
Kaepernick kept the starting job for the 2013 season, leading San Francisco to the NFC title game and earning a six-year contract extension. The quarterback was successful, exciting to watch, and even had his own signature touchdown celebration; he seemed like the NFL's next rising star.
Making history with a famous protest
Heading into the 2014 campaign, Colin Kaepernick looked like a star in the making. His ascendency, however, would soon stall for a variety of reasons.
Without relitigating multiple seasons of San Francisco 49ers history, things turned into a perfect storm. The team cycled through coaches with incredible frequency, creating a less-than-ideal environment; Kaepernick also suffered some injuries and, on an individual level, struggled to find success with a poor offensive unit. All of those factors, however, pale in comparison to what happened during the 2016 season.
As we all know, Kaepernick initially remained seated during the pregame national anthem; after speaking to former Green Beret Nate Boyer, he decided to take a knee instead. That kicked off a firestorm and, at least to some extent, cost the quarterback his job.
While it's been a few years since Kaepernick has taken the field for an NFL game, he's undeniably earned a place in sports history. Whether you agree with his actions or not, no one will forget his protests anytime soon.
Colin Kaepernick just set another NFL record with his jersey
While Colin Kaepernick hasn't seen NFL action since the end of the 2016 campaign, the quarterback is still making professional football history.
According to a Reuters report, the jersey that Kaepernick wore during his San Francisco 49ers debut recently hit the block at Julien's Auctions. It ended up selling for $128,000 which, is the highest price that an NFL jersey has ever gone for.
Earlier this year, Colin Kaepernick added 'Hall of Famer' to his resume; now, he holds the record for the most expensive NFL jersey of all-time. While he'd surely like to still be playing professional football, the former San Francisco 49ers quarterback is still making plenty of history.
Stats courtesy of Sports-Reference