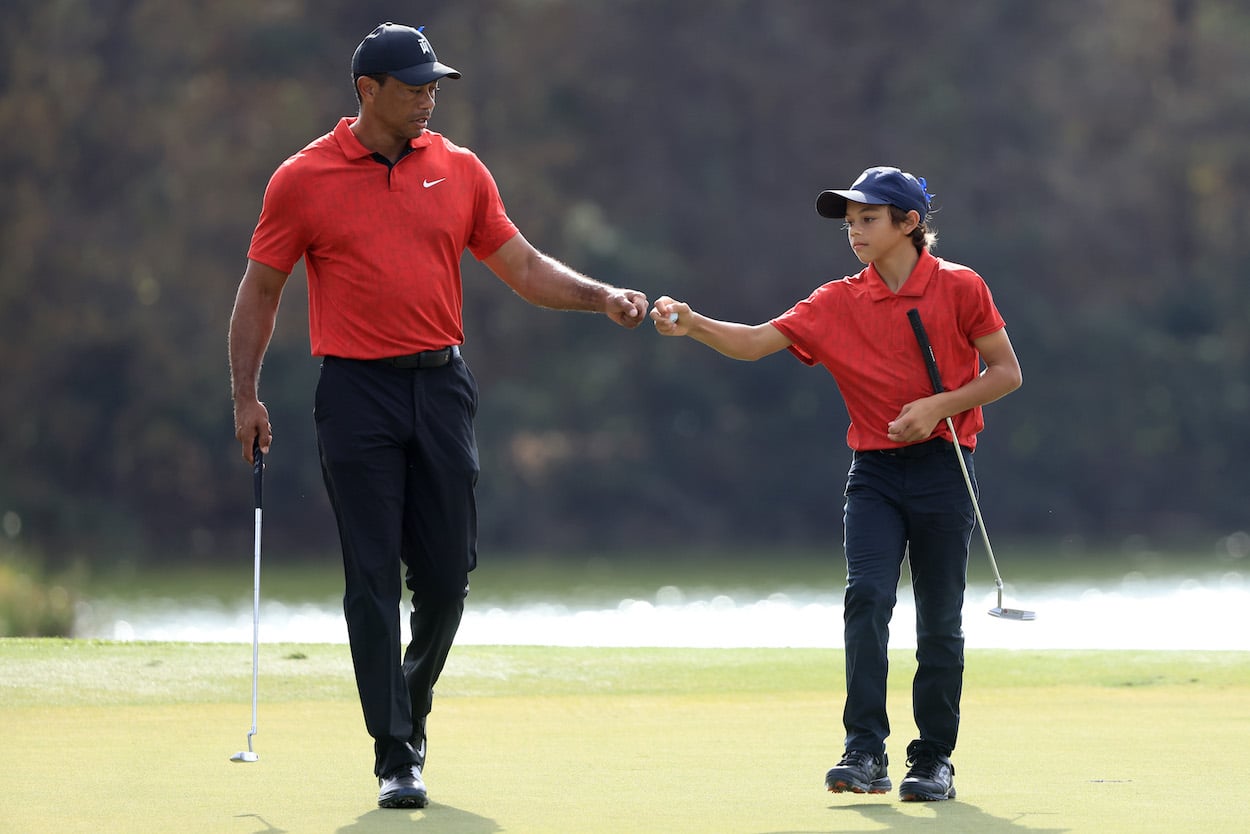 Comparing Tiger and Charlie Woods at 13 Years Old
Is Charlie Woods better than Tiger Woods was at his age?
Tiger Woods, not yet known primarily as the father of Charlie Woods, is widely considered the greatest professional golfer ever, but it's easy to forget he was even more dominant as an amateur. Dubbed a golf prodigy when he was just three years old, Woods cruised through the junior and amateur ranks while winning nearly every event he entered. That's why he was able to turn pro when he was only 20 years old.
Tiger's son, Charlie, is now following in his father's footsteps and hasn't been fazed by the blinding spotlight constantly following his young golf career. The 13-year-old star has strung together some impressive finishes in the junior ranks and has crafted a captivating swing that mimics Rory McIlroy's, but how does his early success compare to his father's at the same age?
How good is Charlie Woods at age 13?
For much of Charlie's young life, golf fans weren't convinced he wanted to follow his father into the world of golf. Tiger appeared on talk shows and magazine covers before he even turned six, but Charlie's golf career didn't come to the limelight until he was 10.
In August 2020, Charlie dusted a field of his peers in a nine-hole event in Florida. At 11 years of age, he shot a 3-under 33 with Tiger on his bag and won the tournament by five strokes. He entered another junior tournament a few months later and finished fifth after a 10-over 77.
Charlie has competed in numerous junior tournaments since then, all while attempting to stay out of the public eye.
This year, he finished fourth in a qualifier for Notah Begay's national junior event in Florida after shooting rounds of 80 and 68. The 4-under 68 he shot in the second round is the lowest score he's recorded in competition.
Last month, Charlie competed in the Notah Begay III Junior Golf National Championship at Koasati Pines Golf Club in Kinder, Louisiana. Again, Tiger served as his caddie. The 13-year-old shot rounds of 72, 69, and 71 in the three-day tournament to finish at 1 under par and in 11th place out of 33 golfers in the 12-13 age group.
In eight recorded events on the South Florida Section Junior Tour since 2020, Charlie has recorded a win, as well as finishes of 5, T15, 16, T22, T23, T28, and T40.
The most impressive display of golf from Charlie, though, came on national television during last year's PNC Championship. Playing alongside a hobbled Tiger, Charlie carried the duo down the stretch with consistent drives down the middle, clutch iron shots, and a smooth putting stroke. Team Woods shot a blistering 57 in the second and final round to finish in second place behind John Daly and his son, John Daly II.
In Charlie's first experience with the entire golf world watching, we saw the same competitive fire in his eyes that made Tiger so unbeatable in his prime.
Tiger Woods was already winning world championships at age 13
Charlie's junior career has been fun to follow over the last few years, and he has the tools to make his way to the PGA Tour eventually, but he isn't even close to his father's level at the same age.
Tiger's father, Earl Woods, first put a golf club in his hand when he was two years old. He started appearing on talk shows when he was three, and he won the Under Age 10 section of the Drive, Pitch, and Putt competition when he was just six.
At age eight, Tiger won the 9-10 age division at the Junior World Golf Championships. He went on to win five more times at the Junior World Golf Championships, and he won the U.S. Junior Amateur at age 15 to become the youngest winner in tournament history.
Incredibly, Tiger won three straight U.S. Junior Amateurs and three straight U.S. Amateurs as a teenager. He's still the only player in history to accomplish that feat in both events.
No matter what Charlie is able to accomplish in the coming years, it's unlikely he'll be able to match his father's success as an amateur player. To be fair, though, that's an impossible standard to set.
Tiger sees a bright future ahead for Charlie Woods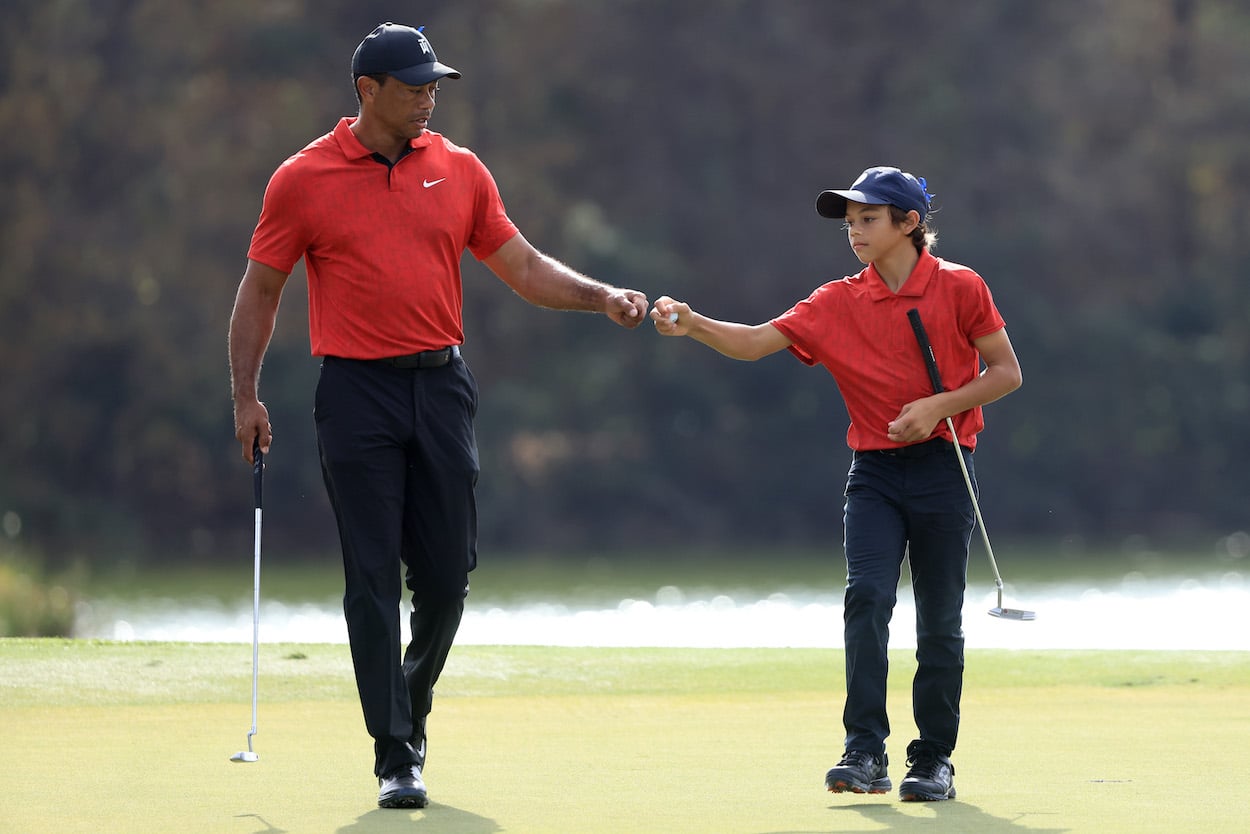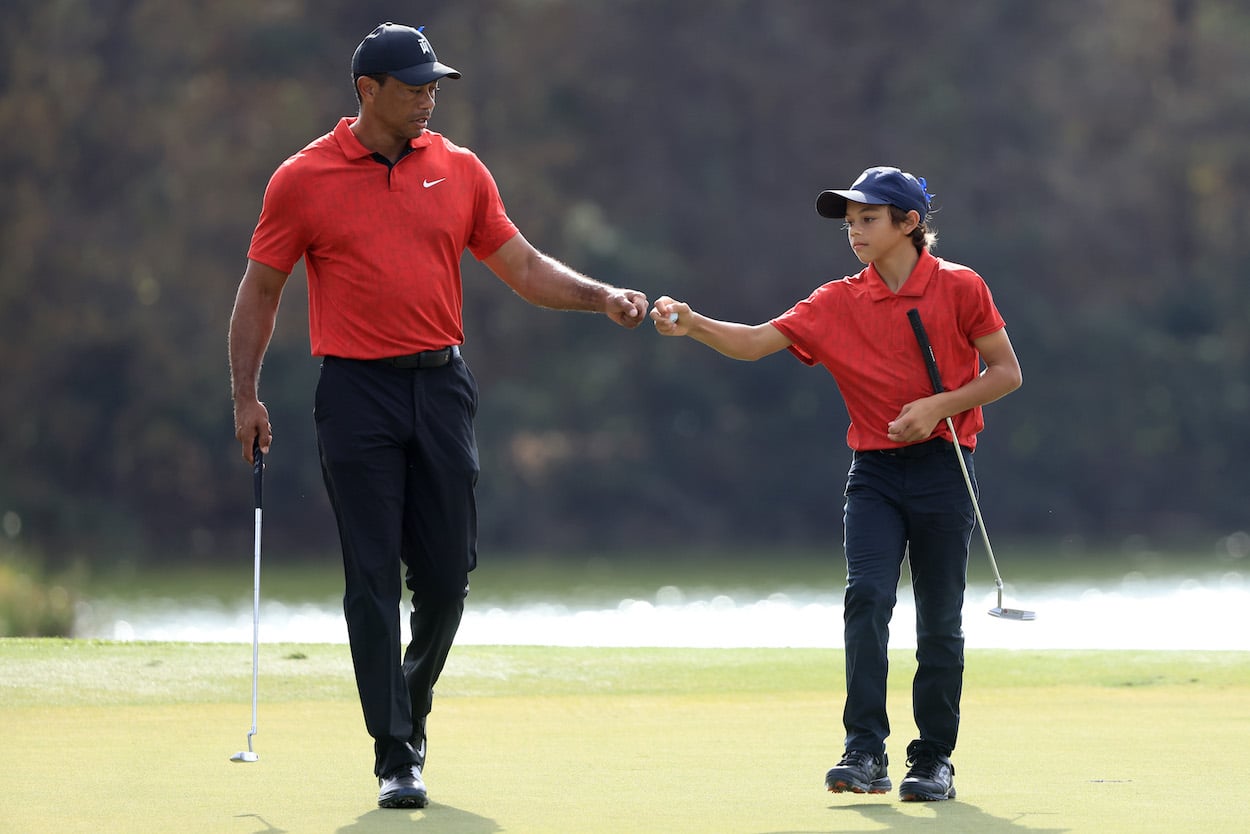 Tiger has been clear that he won't push his son to a professional golf career if his heart isn't truly in it, but Charlie has started to show an interest in chasing the PGA Tour dream on his own accord. In an interview with GolfTV last year, Tiger detailed how impressed he's been with his son's progress.
"He's starting to get into it. He's starting to understand how to play. He's asking me the right questions," he said. "I've kept it competitive with his par, so it's been just an absolute blast to go out there and just, you know, be with him. It reminds me so much of me and my dad growing up."
He's even starting to get a bit jealous of Charlie's picture-perfect swing.
"I wish I had his move. I analyze his swing all the time," Tiger said. "I wish I could rotate like that and turn my head like that and do some of those positions, but those days are long gone, and I have to relive them through him."
If you analyze Charlie's swing, it's not a mirrored copy of his father's. It does look a bit like Rory McIlroy's, though, and that's not a coincidence.
"Don't copy my swing. Copy Rory's," Tiger told Charlie in December of 2022, per PGATour.com. "Have you ever seen Rory off balance on a shot? No. Not ever."
Get a look at Charlie Woods' progress at the 2022 PNC Championship
Team Woods, comprised of Tiger and Charlie Woods, is back for revenge after finishing in second place at last year's PNC Championship. The star-studded duo is expected to tee it up again at the event, which will begin on Thursday, Dec. 15. You'll be able to follow the tournament live on NBC and Golf Channel.
Charlie has shown tremendous improvement since last December, and we might even see him outdrive his old man when he gets a hold of one. In fact, he's already doing just that at 13.
Tiger still doesn't feel healthy enough to compete in PGA Tour events, so he'll be counting on Charlie to carry the team once again in 2022.