Cowboys' Rising Star CeeDee Lamb Reveals He Initially Didn't Want to Wear the Illustrious No. 88 Jersey: 'Wanted to Start My Own Legacy'
Jerry Jones and the Dallas Cowboys landed a gem in CeeDee Lamb. The second-year wide receiver is already establishing himself as one of the NFL's brightest young stars at the position. Lamb plays a position that the franchise has long prioritized.
The 22-year-old revealed his initial thoughts on wearing the jersey number reserved for the best of the best in Cowboys' history.
The history of the No. 88 Cowboys jersey
CeeDee Lamb's No. 88 is one of the most iconic numbers in Dallas Cowboys franchise history.
The Cowboys don't let just anyone wear the No. 88 jersey. Sure, it's just a number, but some of the wideouts who donned that jersey enjoyed tremendous success in Dallas.
The first wide receiver to make a difference in that jersey number was Ron Sellers. He was the first member of the 88 Club to lead the team in receiving yards and touchdowns in a single season. Sellers played just one season in Dallas, though.
Three players have become synonymous with No. 88. You can't mention the jersey without talking about Drew Pearson, Michael Irvin, and Dez Bryant.
Pearson spent his entire 11-year career with the Cowboys. He caught 489 passes for 7,822 yards and 48 touchdowns in 156 games.
Irvin took things up a notch after Dallas drafted him in the first round of the 1988 NFL Draft. He amassed 750 receptions, 11,904 receiving yards, and 65 touchdowns in 12 seasons.
Bryant had the shortest tenure in Dallas of the three receivers but still enjoyed a productive career. He recorded 531 receptions for 7,459 yards and 73 touchdowns in eight seasons with the Cowboys.
They have 11 Pro Bowl selections, four Super Bowls, and two Hall of Fame inductions between them.
Now, CeeDee Lamb is picking up where they left off.
CeeDee Lamb didn't want to wear No. 88 initially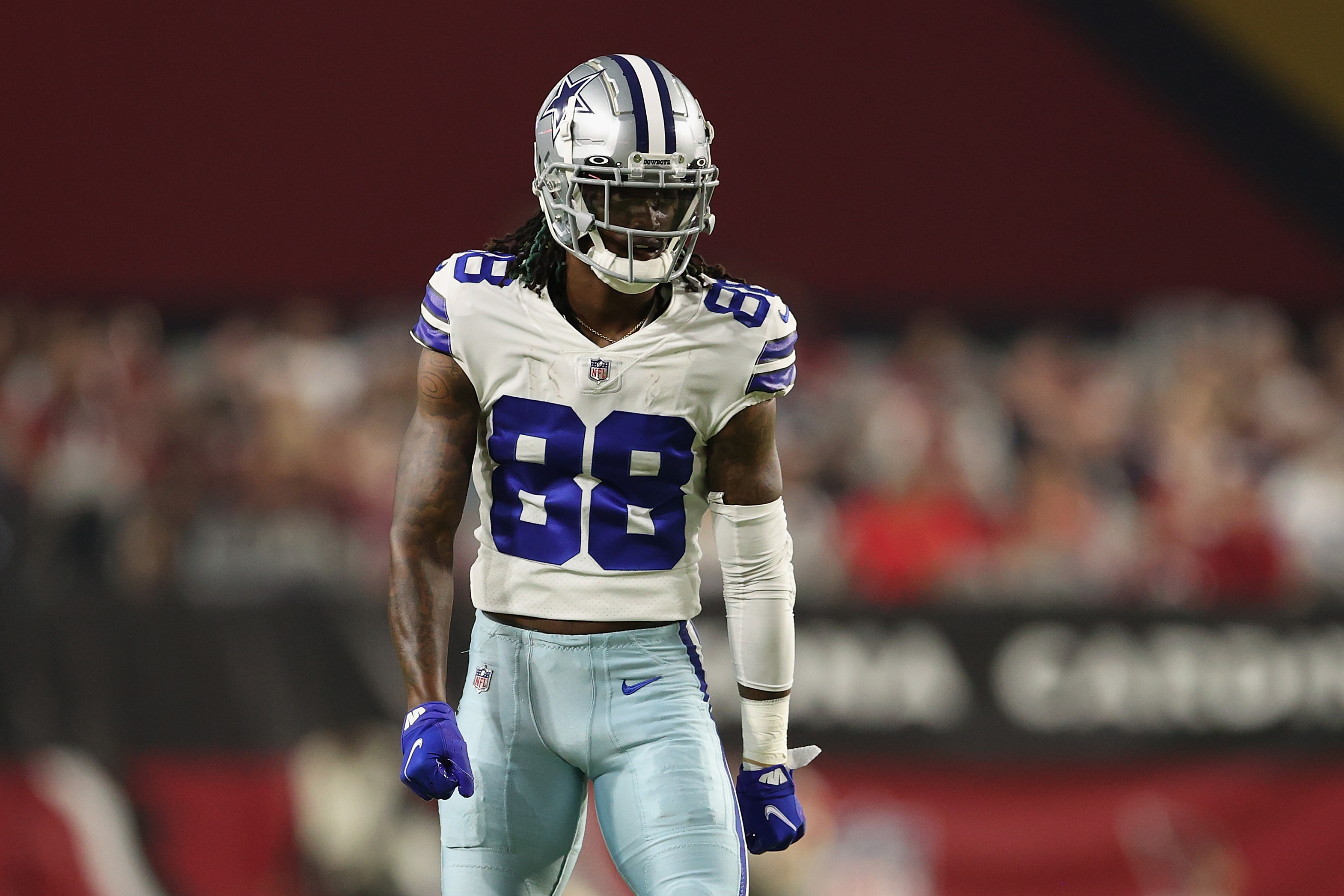 When the Cowboys selected CeeDee Lamb with the No. 17 overall pick in the 2020 NFL Draft, they knew he was going to be special.
Lamb was a consensus All-American as a junior at the University of Oklahoma. He was part of a loaded wide receiver class featuring Justin Jefferson, Jerry Jeudy, and Tee Higgins.
Jerry Jones and the Cowboys turned heads when they allowed the Oklahoma product to wear the No. 88 jersey. In a recent interview for the Dallas Cowboys YouTube page, Lamb revealed he wasn't keen on the idea at first.
"It wasn't my first option," said Lamb. "All the guys and all the things they did in that number, I kind of wanted to start my own legacy."
Lamb's first choice was the No. 10 jersey. After the draft, Michael Irvin reached out to the young receiver and asked him which number he wanted. "I saw 88," said Lamb. "But I was like, you know what, these guys had their time in this jersey number. So I try 10."
The second-year wideout explained that Irvin decided to give him No. 88 anyway. He couldn't tell the Cowboys legend no.
Irvin was excited that Lamb agreed to switch numbers. "In order to get this number, you must be what we call a 'true bred' – that means born, bleed, and bred right here with the Dallas Cowboys," he said per the Cowboys team website. "Drew Pearson was that. Michael Irvin was that. Dez Bryant was that, and now CeeDee Lamb is that. And I love this kid."
Dallas' breakout star is living up to the billing
CeeDee Lamb is only in his second NFL season, but he's already shown flashes of brilliance at wide receiver.
The Opelousas, Louisiana native put together a solid rookie campaign. He caught 74 passes for 935 yards and five touchdowns on 111 targets.
Lamb has taken his game to another level in year two. After garnering preseason hype for an impressive training camp, he entered the 2021 season with high expectations.
No. 88 has recorded 39 receptions for 609 yards and four touchdowns through the first seven games of the season. He currently leads the Cowboys in targets, receptions, and receiving yards.
Lamb and Cooper each can be Dallas' No. 1 receiver on a given week. Considering his raw talent and skill set, it's only a matter of time before he puts a stranglehold on the top spot.
CeeDee Lamb has made Jerry Jones and the Cowboys' front office look really good. He's making the 88 Club proud, too.
All stats courtesy of Pro Football Reference