CeeDee Lamb and Justin Jefferson Face off in Battle for Second-Season Supremacy: 'We're Both Doing Some Tremendous Things, We're Both Some Playmakers'
A great NFL matchup is usually about the quarterbacks, the coaches, or the offense vs. defense. When the Dallas Cowboys take on the Minnesota Vikings on Sunday Night Football in Week 8, second-year wide receivers CeeDee Lamb and Justin Jefferson will be the ones to watch. These two are the best of a deep 2020 wideout draft class and could be the top two pass-catchers in the league for years to come.
CeeDee Lamb is the next great Dallas Cowboys wide receiver
Wearing the No. 88 for the Dallas Cowboys is a big deal. The number has been on the back of some of the best wide receivers in not just Cowboys history but NFL history as well.
Hall of Famers Drew Pearson (1973-1983) and Michael Irvin (1988-1999) have both worn the No. 88 Dallas jersey, as did All-Pro pass-catcher Dez Bryant (2010-2017). That means all-told, this jersey has been named to five All-Pro teams, made 11 Pro Bowls, and won four Super Bowl titles with these three WRs.
Drafted out of Oklahoma No. 15 overall in 2020, CeeDee Lamb picked up the No. 88 mantle and ran with it (both literally and figuratively).
Lamb announced his presence with authority in Week 2 of his rookie season with a six-catch, 106-yard game in a 40-39 win over the Atlanta Falcons. Even though he lost his superstar QB, Dak Prescott, in Week 5, the 6-foot-2 pass-catcher still put together a fantastic first year.
Even opposite Pro Bowler Amari Cooper, Lamb ended the season with a great stat line of 74 catches for 935 yards and five touchdowns.
With Prescott back and looking better than ever in 2021, Lamb is poised for an even more productive sophomore season. So far, he has 33 catches for 497 yards and three touchdowns, including the overtime walk-off game-winner in Week 6 against the New England Patriots.
Justin Jefferson made the Stefon Diggs trade work out for the Minnesota Vikings
Fed up with his coach, his quarterback, his role in the offense, and who knows what else, star Vikings receiver Stefon Diggs pouted his way through the 2019 season.
In the 2020 offseason, Minnesota traded Diggs to the Buffalo Bills for a slew of picks that included the No. 22 overall pick in the 2020 NFL Draft. That pick became former LSU Tigers wideout Justin Jefferson.
Jefferson didn't waste much time in his rookie season trying to make Vikings fans forget about Diggs.
After two relatively quiet games, Jefferson burst onto the scene in a 31-30 Week 3 shootout loss to the Tennessee Titans. The rookie caught seven balls for 175 yards and a touchdown. That was the first of seven 100-plus yard games in his inaugural NFL season that led to him making the Pro Bowl.
Despite the fact that there were four WRs picked ahead of him in the draft — Henry Ruggs III (No. 12), Jerry Jeudy (No. 15), CeeDee Lamb (No. 16), and Jalen Reagor (No. 21) — the 6-foot-1 wideout had the best statistical year of the bunch.
Jefferson finished the year as the Vikings' No. 1 WR, catching 88 balls for 1,400 yards and seven touchdowns. In 2021, he's off to a hot start again. Through six games, he's caught 41 balls for 524 yards and three touchdowns.
Lamb and Jefferson go head-to-head on 'Sunday Night Football'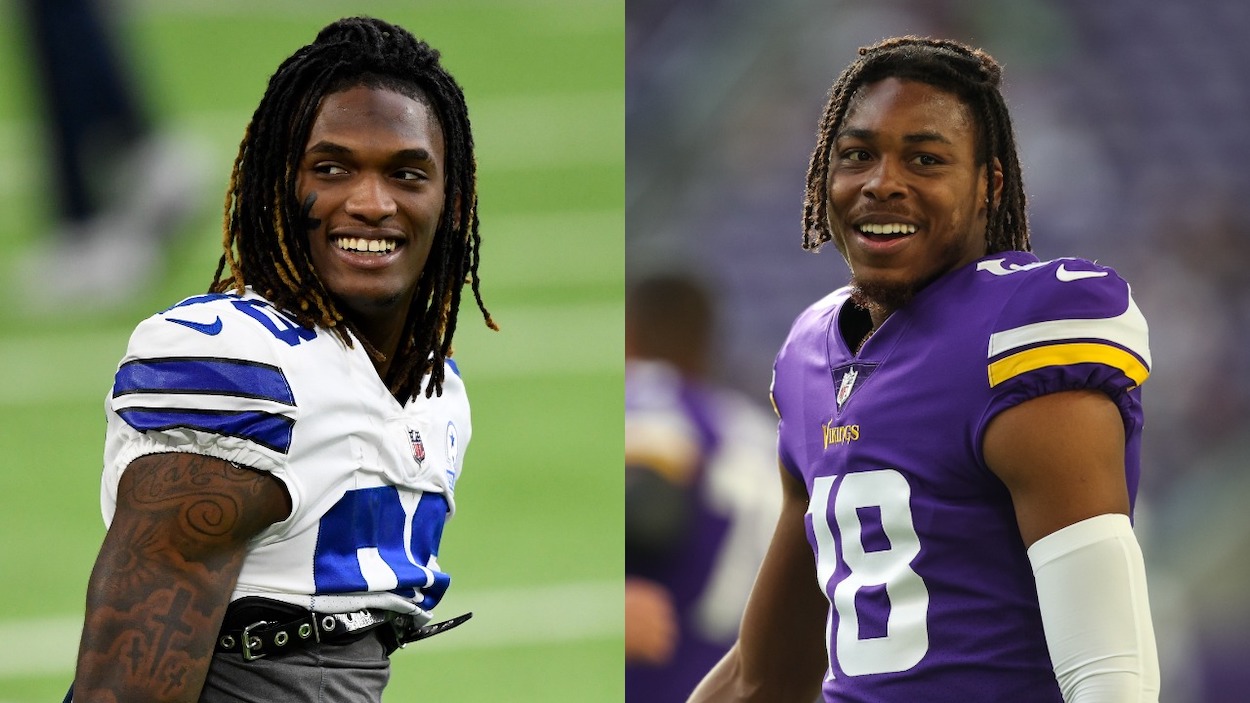 When the Dallas Cowboys visit the Minnesota Vikings in primetime on Sunday Night Football this week, CeeDee Lamb and Justin Jefferson in the same building is the grudge match to watch.
"We're both doing some tremendous things," Jefferson told ESPN. "We're both some playmakers, and we're both doing some big things for our teams. We just have to keep rolling. I'm excited to see him progress and do big things. It's going to be a good matchup going up against him."
On talent alone, the duel should be incredible. The only thing that can stop these two dynamic young players is their own offensive situations.
For Lamb, the issue is that Prescott is questionable for this game with a calf strain he picked up in a Week 6.
If Prescott doesn't play, fourth-year, undrafted free agent Cooper Rush will handle signal-calling duties. The QB has one NFL completion on three career attempts, which means, if he is forced to play, it could seriously limit Lamb's production Sunday Night.
On the other side of the ball, all Minnesota's offensive weapons should be available, which is the problem for Jefferson. QB Kirk Cousins is the definition of an average NFL QB. As such, he is prone to bad games, or games when he falls in love with No. 2 wideout Adam Thielen.
Plus, head coach Mike Zimmer is a running and defense type of guy. So, expect a heavy dose of star running back Delvin Cook. If the Cowboys' D can't stop the run, it could be the Cook Show on Sunday night.
Despite all these possibilities, chances are Lamb and Jefferson will have a say in the outcome of this game. If so, it should be fun to watch.
All stats courtesy of Pro Football Reference
RELATED: Terry Bradshaw and Jimmy Johnson Clash Over the Detroit Lions Prior to Another Heartbreaking Loss: 'They'll Fix the Not Good Part'