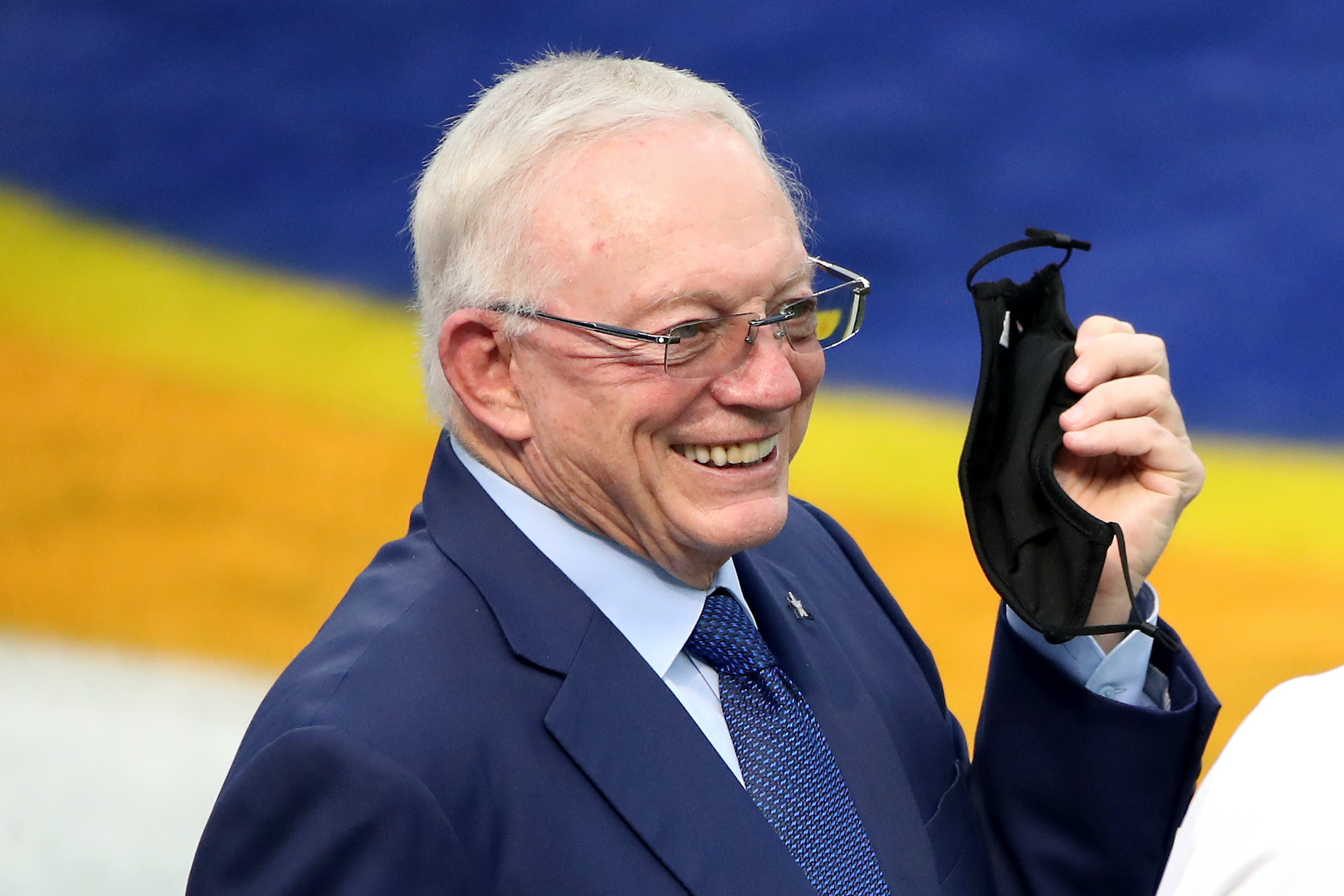 Dallas Cowboys Owner Jerry Jones Might Be a Better General Manager Than You Think, According to a Recent Study
While Dallas Cowboys owner Jerry Jones isn't exactly beloved, he may be a better general manager than you'd think.
Whether you love the Dallas Cowboys or hate America's Team, just about every NFL fan knows Jerry Jones. While the owner loves to talk a big game during the season, he's struggled to back it up on the field in recent years; if anything, Jones has developed a reputation as a pretty bad general manager.
According to a recent ProFootballFocus study, however, Jerry Jones does perform pretty well in at least one aspect of his job. At least in recent years, the Dallas Cowboys general manager has drafted pretty successfully.
Jerry Jones has always been hands-on since the day he bought the Dallas Cowboys
These days, it's almost impossible to imagine Jerry Jones doing anything other than running the Dallas Cowboys. That, of course, wasn't always the case.
Jones played college football at the University of Arkansas and initially tried to buy the AFL's San Diego Chargers. While he couldn't secure the money to close the deal, he never forgot his love of the gridiron; after striking it rich in the oil industry, Jerry was ready to make his move.
In 1989, he got his chance and purchased the Dallas Cowboys for $140 million. From his introductory press conference, he made it clear that he wasn't content to sit in the stands and watch his investment mature. As documented by the New York Times, Jones pledged to handle the details "down to the jocks and socks" and said that he would "be part of every decision."
For better or worse, Jones has done just that.
Developing a reputation as a less-than-ideal general manager
When you're in any job for more than 30 years, there are bound to be some highlights and lowlights. Unfortunately for fans of the Dallas Cowboys, Jerry Jones has produced plenty of lows in recent years.
During Jones' early ownership of the Cowboys, America's Team did grow from cellar dwellers to a modern dynasty. After the owner burned his bridges with Jimmy Johnson, however, things started to crumble.
Since then, the Cowboys have been trapped in limbo. While they're (usually) talented enough to qualify for playoffs, they're also unable to make a true run at the title; that's prevented the team from every properly rebuilding, with Jones simply trying to bring in enough talent each year to try and ensure things are different this time around.
The main issue with Jones, however, is his dual role as both owner and general manager. That creates a lack of accountability; no matter how many bad contracts he dishes out, there won't be a change unless Jerry fires himself. Based on everything we know of Jones, you probably shouldn't hold your breath waiting for that to happen.
Jerry Jones has drafted pretty well in recent years
Depending on who you ask, Jerry Jones' general managerial performance is generally considered to be somewhere mediocre and poor. In recent years, however, the Dallas Cowboys have done pretty well in the draft.
In February 2021, Timo Riske of Pro Football Focus took a look at how each NFL team has fared during recent drafts. By considering the picks made from 2017 through 2020 and looking at their wins-above-replacement (WAR), it seems like Jones and his Cowboys have done pretty well for themselves.
In terms of overall wins above expectation, the Cowboys clocked in as the 10th-best team. That rating, however, can be skewed by one star; the Chiefs, for example, easily claim the top spot due to Patrick Mahomes.
Things got better, though, when the data was considered through other lenses. Dallas was the fourth-ranked team when it came to consistency, the fourth-best when picks were rated by round (working under the idea that a bad first-round pick hurts a team more than a bad fourth-round pick), and third-overall when round and positional weighting were both factored in.
It is worth noting, however, that drafting is only one part of a general manager's job. While bad picks can certainly torpedo a franchise, expensive contracts and questionable free agent signings can also doom a team to a decade of mediocrity.
As Dallas Cowboys fans can tell you, Jerry Jones is far from the perfect general manager. Riske's PFF analysis, however, suggests that, if nothing else, he can hold his own on draft day.