Deandre Ayton Spent More Than $7,000 on New Clothes Before His Phoenix Suns Career Officially Began: 'If That What It Costs to Look Great in the NBA, I'm All In'
While the majority of the action obviously happens on the hardwood, NBA players start making headlines from the moment they enter the arena. In recent years, the walk from the team bus to the locker room has become an impromptu fashion show, giving guys like Russell Westbrook a chance to strut their stuff and flaunt their newest outfit. Even before he played a professional game, Phoenix Suns center Deandre Ayton seemed to grasp that reality.
Ahead of his rookie season, the Phoenix big man appeared on Netflix's Dropping Cash and, as the show's title would suggest, spent a nice chunk of change on clothes. In Ayton's mind, that was simply the cost of becoming an NBA pro.
Deandre Ayton made a name for himself at Arizona and joined the Phoenix Suns as a big-name prospect
These days, Ayton hits the hardwood as a member of the Suns. His rise to stardom, however, started long before he turned pro.
During high school, the big man started making headlines with his dominant interior game. Unsurprisingly, scouts quickly noticed Ayton's potential and, before long, he was ranked as one of the top prospects in the 2017 recruiting class. While big-name colleges around the country would have gladly welcomed him to campus, he eventually chose to stay close to home and enrolled at the University of Arizona.
While the big man's name later surfaced in a recruiting scandal, he still hit the hardwood for the Wildcats and towered over the competition. Ayton averaged 20.1 points and 11.6 rebounds as a freshman, earning a multitude of conference honors and taking home the Karl Malone Award as the country's top collegiate forward. On the back of that success and Arizona's March Madness failure, he announced that he was leaving college after one year and entering into the 2018 NBA draft.
When the big night arrived, Ayton joined the Phoenix Suns as the first overall pick. Even before playing a single professional game, he had established himself as a top-tier talent in the Grand Canyon State.
Dropping $7,000 on clothes ahead of his rookie year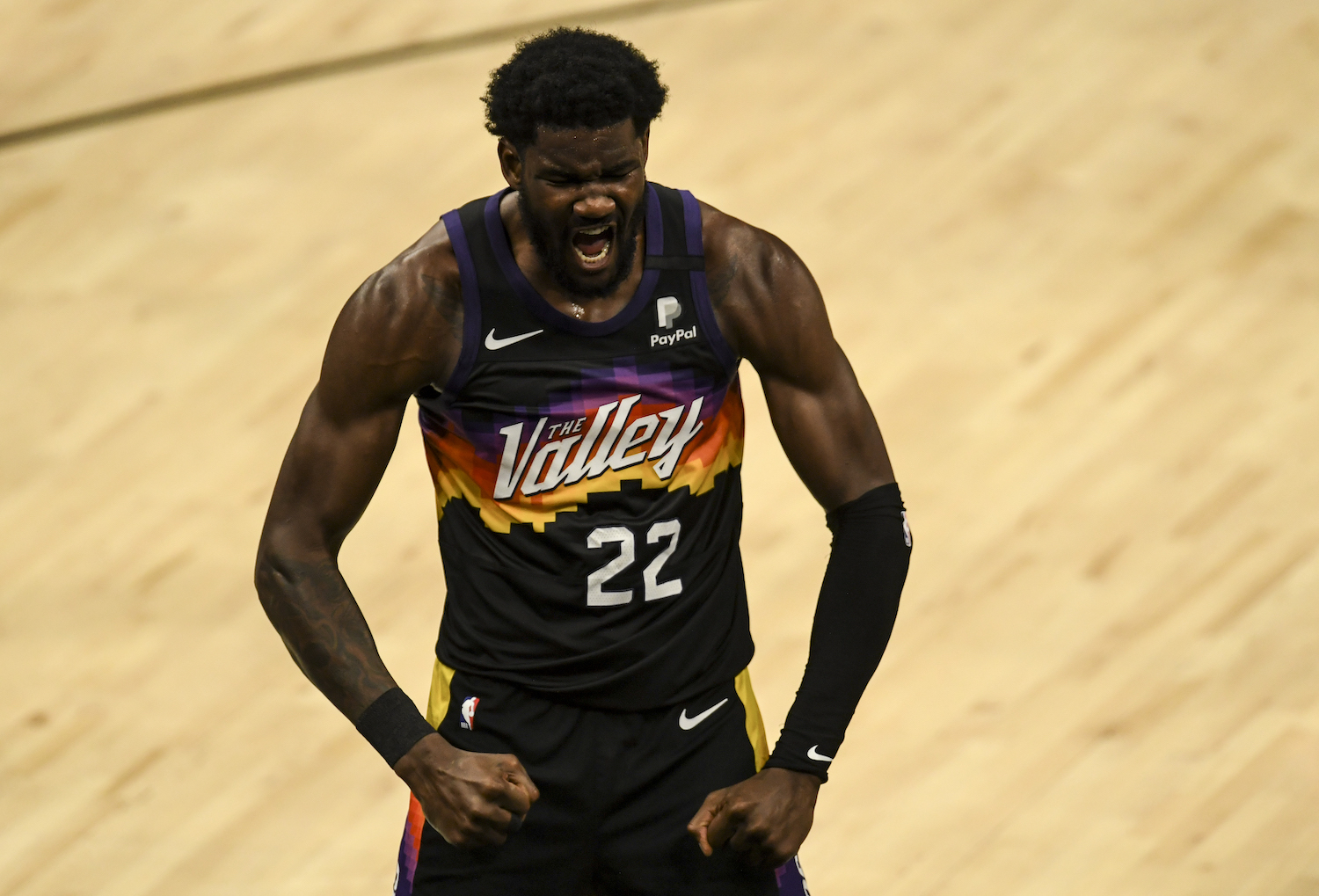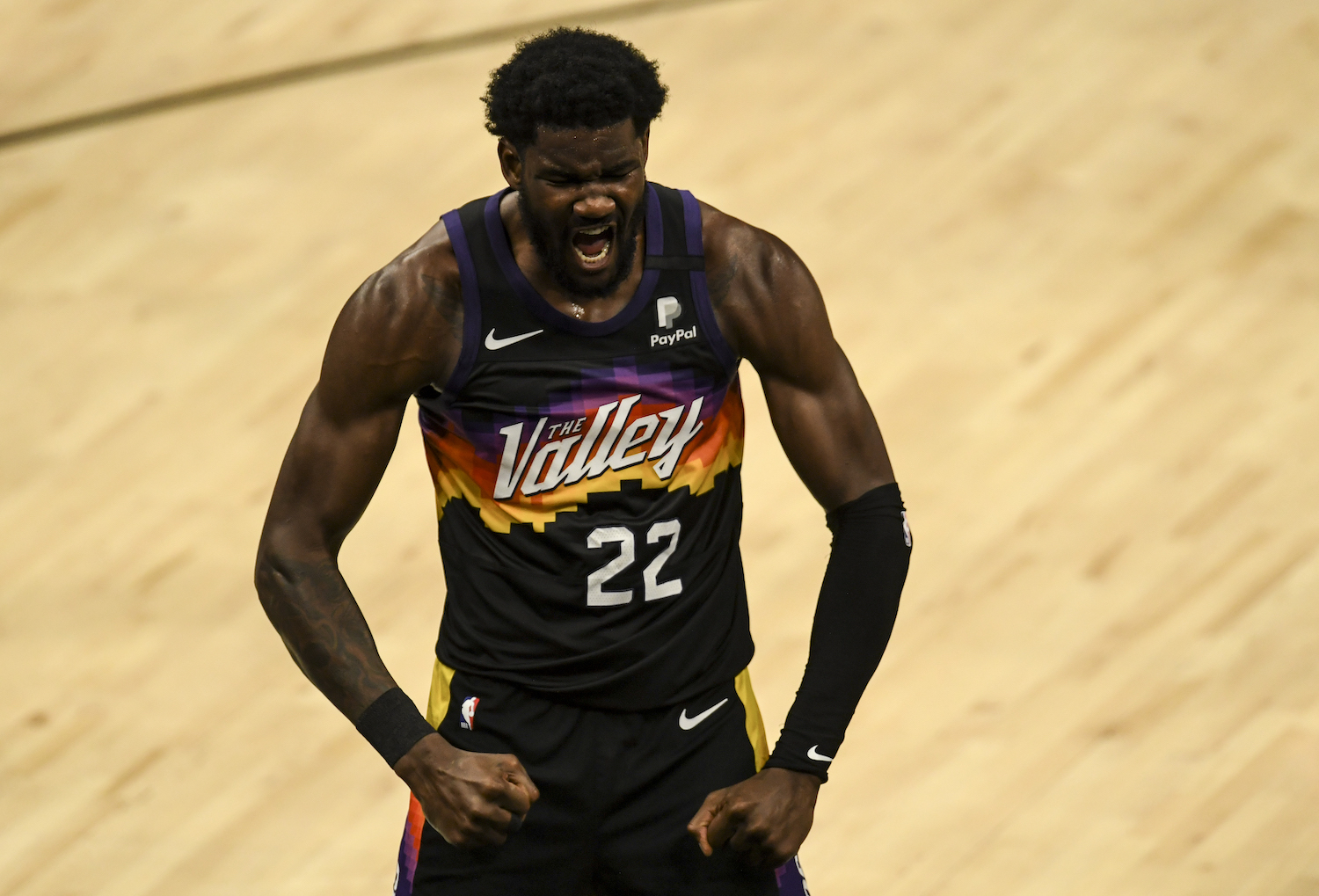 When someone starts a new job, it's reasonable that they might want to buy a few new outfits to make a good first impression. That practice, it seems, even translates to the NBA.
According to a write-up by Duane Rankin of AZ Central, Ayton appeared on Netflix's Dropping Cash ahead of his rookie year and, unsurprisingly, spent a nice chunk of change on clothes. The big man ran up a tab of $7,489.35, buying two custom suits, nine pocket squares, nine ties, four custom shirts, one belt, and one pair of cufflinks.
The center (accurately) noted that he was about to earn a massive amount of money in the NBA, making a $7,500 bill a rather small drop in the bucket. "If that what it costs to look great in the NBA, I'm all in at all costs," Ayton explained.
Deandre Ayton already has a $5 million net worth, and that number will only continue to swell
While spending $7,000 on clothes may seem like a sizable expenditure, Ayton is more than capable of eating the cost. The young big man is already pretty wealthy and, if his early NBA career is any indication, his earning power will only improve.
As the first overall pick of the 2018 draft, Ayton inked a sizable rookie contract. The center took home just over $8 million as a rookie, with that number increasing to a shade over $9.5 million as a sophomore. He earned $10 million during the 2020-21 campaign and will receive another raise for the 2021-22 season.
Given his NBA track record — Ayton is averaging 16.0 points and 10.6 rebounds through his first three professional campaigns and hasn't shown any signs of shrinking during the playoffs — that salary will only continue to swell. The center is eligible to sign a $168 million rookie extension once the 2020-21 season officially ends. While that may seem like a massive investment, the Suns will probably want to get ahead of the curve and tie him down ASAP.
At this point in his career, Celebrity Net Worth already estimates Ayton's fortune at around $5 million. Even if he doesn't sign a massive extension this summer, it's safe to assume that money will only continue to grow with each passing year.
Without knowing the entirety of Ayton's closet, he probably won't be wanting for clothes anytime soon.
Stats courtesy of Basketball-Reference. Financial data courtesy of Sportac.