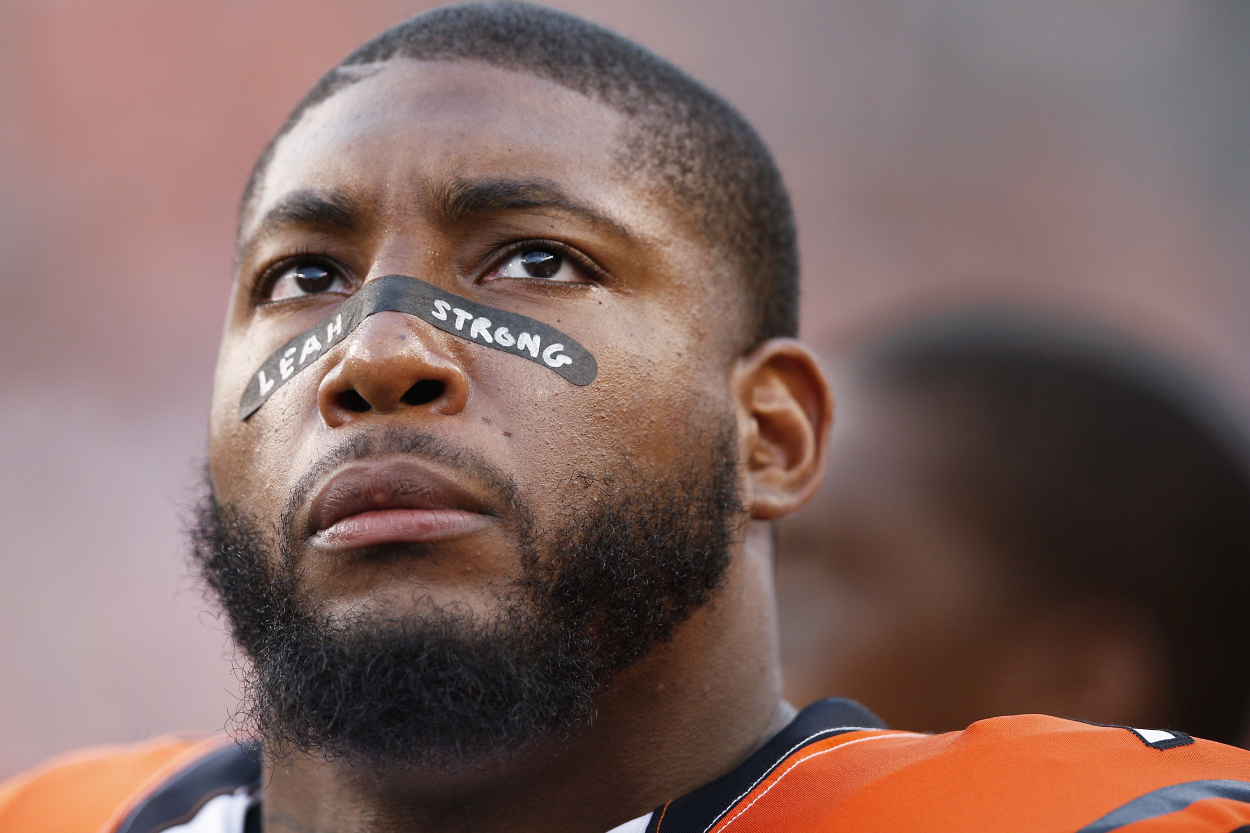 Devon Still Keeps Fighting Well After His Daughter's Devastating Cancer Battle
Former Cincinnati Bengals defensive tackle Devon Still keeps fighting well after his daughter's devastating cancer battle.
In 2014, Devon Still was fighting for a job with the Cincinnati Bengals. His young daughter was fighting for her life. Leah Still was 4 years old when she was diagnosed with Stage 4 neuroblastoma and given a 50–50 chance to survive. Nearly seven years later, Devon Still keeps fighting even though Leah has been deemed cancer-free.
Devon Still struggled with football and his daughter's diagnosis
Devon Still played his college football at Penn State and was selected in the second round of the 2012 NFL draft. The 6-foot-5, 305-pound defensive tackle was taken by the Cincinnati Bengals with the 53rd overall pick. Still played three seasons with the Bengals.
During his second season in the NFL, Still suffered a hamstring injury and was struggling to keep his job. Meanwhile, his 4-year-old daughter received devastating news. Leah Still was diagnosed with Stage 4 neuroblastoma. Between the diagnosis and his hamstring injury, Devon Still's focus wasn't on football and he failed to make the team's 53-man roster.
The Bengals, however, showed some class by putting Still on the practice squad so he could maintain his health insurance to pay for Leah's treatments. In September of 2014, Still was brought back up to the active roster. He was waived by the Bengals in September of 2015.
Leah Still's fight sparked the Still Strong Foundation
In 2020, Leah Still celebrated five years of being cancer-free, according to Sports Illustrated. She had been through a lot. According to the Still Strong Foundation, Leah underwent a seven-hour procedure to remove a tumor. This happened after she had battled through chemotherapy. The procedure didn't have much effect and the cancer was still spreading.
Leah then began a new clinical trial, one that used an antibody treatment to destroy cancer cells. On March 25, 2015, her doctors said she was in remission. "Once you get around the three-year mark (of being in remission), the chances of it coming back drop significantly," said Still in a December article in Sports Illustrated. "But, once you hit that five-year mark, that's where the doctors can actually declare you cancer-free when they believe the chances of it coming back are slim-to-none."
Because of Leah's fight, she and her dad founded the Still Strong Foundation in 2015. The purpose of the foundation is to give grants to families of those affected by childhood cancers. The Still Strong Foundation has helped families with car payments, rent, water bills, heating bills, and much more. The Stills don't want families burdened with finances while struggling to deal with childhood cancer.
Devon Still keeps on fighting
Although Leah Still has been deemed cancer-free, Devon Still knows there are many more children out there fighting the battle. He's still fighting with them. He's still fighting through a pandemic, which makes things much for difficult for both the foundation and the families dealing with cancer who are struggling financially.
"We've had to find creative ways online to try and raise money because these families need this money more now than they ever needed it before," Still said to The Associated Press. "We have to continue this fight against childhood cancer."
The Stills continue to fight. Devon Still has taken the time on social media to let people affected by childhood cancer know he's there for them. In 2018, Leah Still had her own message. "No matter how small or big you are, you can still fight cancer," Leah said, according to Sports Illustrated. "Any child could do exactly what I did and they could just have courage and stay strong."