Did Denny Hamlin Make Good on a Promise to Ty Gibbs' Father and Grandfather?
No winless driver will generate more interest this season than Ty Gibbs. The combination of the family name and an inordinate amount of Cup Series experience despite his rookie status makes Gibbs a focal point every week, beginning Sunday in the Daytona 500.
Among those who'll be watching closely is Denny Hamlin, who was Gibbs' boss last season and is his teammate in 2023.
Ty Gibbs is coming off a whirlwind 2022 season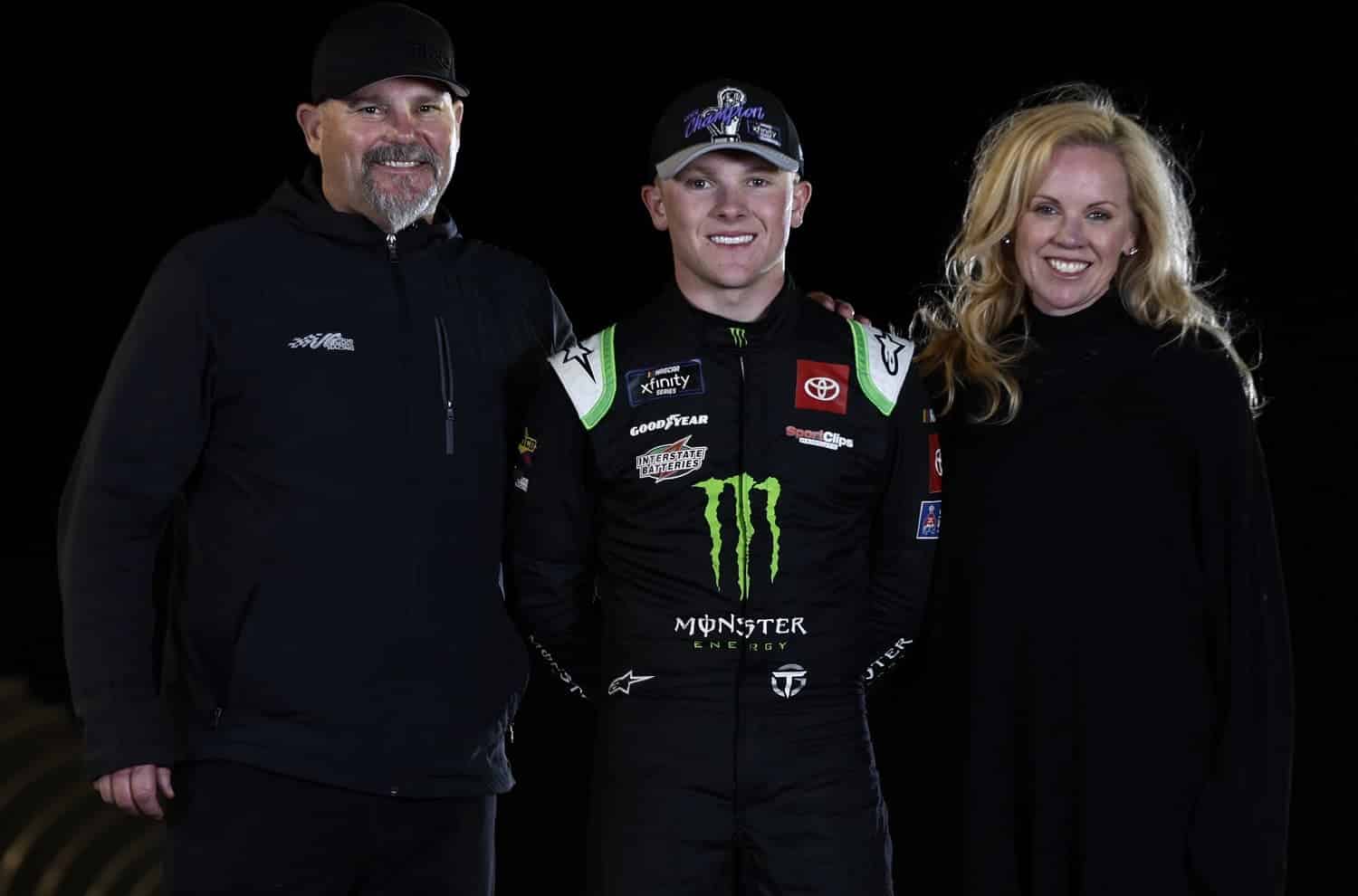 Given his age and NASCAR experience, Ty Gibbs should be finishing preparations for another season of Xfinity Series racing. After all, Gibbs only logged about half a season in NASCAR's second-tier series in 2021. The expectation for many was that he would spend 2022 and '23 in Xfinity cars to make up for experience missed by skipping the Craftsman Truck Series.
That idea blew up quickly. Gibbs, who won his Xfinity Series debut on the Daytona road course in 2021 to kickstart a four-win campaign, faced high expectations last season yet managed to exceed them. It began by winning three races in a five-week span on very different tracks. He then bagged two more regular-season wins and two more in the playoffs, culminating in the Championship 4.
Even that title at the age of 20 might not have prevented him from going through another year of Xfinity competition. Once Gibbs replaced Kurt Busch at midseason, however, there was little sense pretending Gibbs wouldn't have a full-time Cup Series ride beginning this week at Daytona.
Ty Gibbs is back in the family business
Ty Gibbs' did his Xfinity Series for Joe Gibbs Racing, the organization his grandfather operates and where the young star's father, Coy, worked until his death on Championship 4 weekend. His battlefield promotion beginning at Pocono was with 23XI Racing, the other Toyota team in the Cup Series. Now, he's back in the JGR fold, and one of his teammates is Denny Hamlin, the co-owner of 23XI.
Hamlin already had a lot of responsibility as both an active driver and the co-owner of a team headed by Michael Jordan. When Gibbs filled in for Kurt Busch, Hamlin found himself handling another hefty task.
It grows even more complicated his year. Kyle Busch is already gone, Martin Truex Jr. could be on his way out in November, and even Hamlin, 42, has to be thinking about retirement soon. When the makeover at JGR is complete, Christopher Bell, 28, could be the veteran leader.
"I believe that we will make sure that we take care of Ty, take care of Christopher as they're starting to learn things," Hamlin said on Fox's NASCAR Race Hub last week. "I got to work with Ty. He was in my bus every week when he drove for me, just asking questions. I told Coy and Joe that I'd take care of him, make sure he's prepared to get in the Cup Series next year."
Did Denny Hamlin keep his promise to the driver's family?
Ty Gibbs' 15-race apprenticeship may not have been remarkable – 10th place at Michigan in his third start was the best result – but Denny Hamlin and the 23XI Racing team do deserve credit for getting him acclimated to the Cup Series ahead of what NASCAR considers his rookie season.
Of his four DNFs, two stemmed from mechanical issues. The average finish of 22.9 didn't impress, but Gibbs qualified in the top 10 three times and finished on the lead lap nine times. His 3,097 laps completed constituted a better foundation for the future than another season of Xfinity racing could have offered.
What will the 2023 season look like for the driver of the No. 54 Toyota?
Hamlin says there's work to be done on the superspeedways, but the team can help with that. Meanwhile, watching and listening to Martin Truex Jr. on short tracks amounts to a valuable educational tool.
"I think that my expectation for him is probably to contend for a playoff spot," Hamlin said. "I think it will be tough if he doesn't win to get in. It's just so hard, he's so young. We have to really be patient with some of these young guys.
"Some of the best ones, Chase Elliott and these guys, didn't hit their stride till 3-4 years in and 25 years old. He's 20, right? So, let's just all be patient and not try to compare them to who he's stepping in for."
Got a question or observation about racing? Sportscasting's John Moriello does a mailbag column each Friday. Write to him at [email protected]