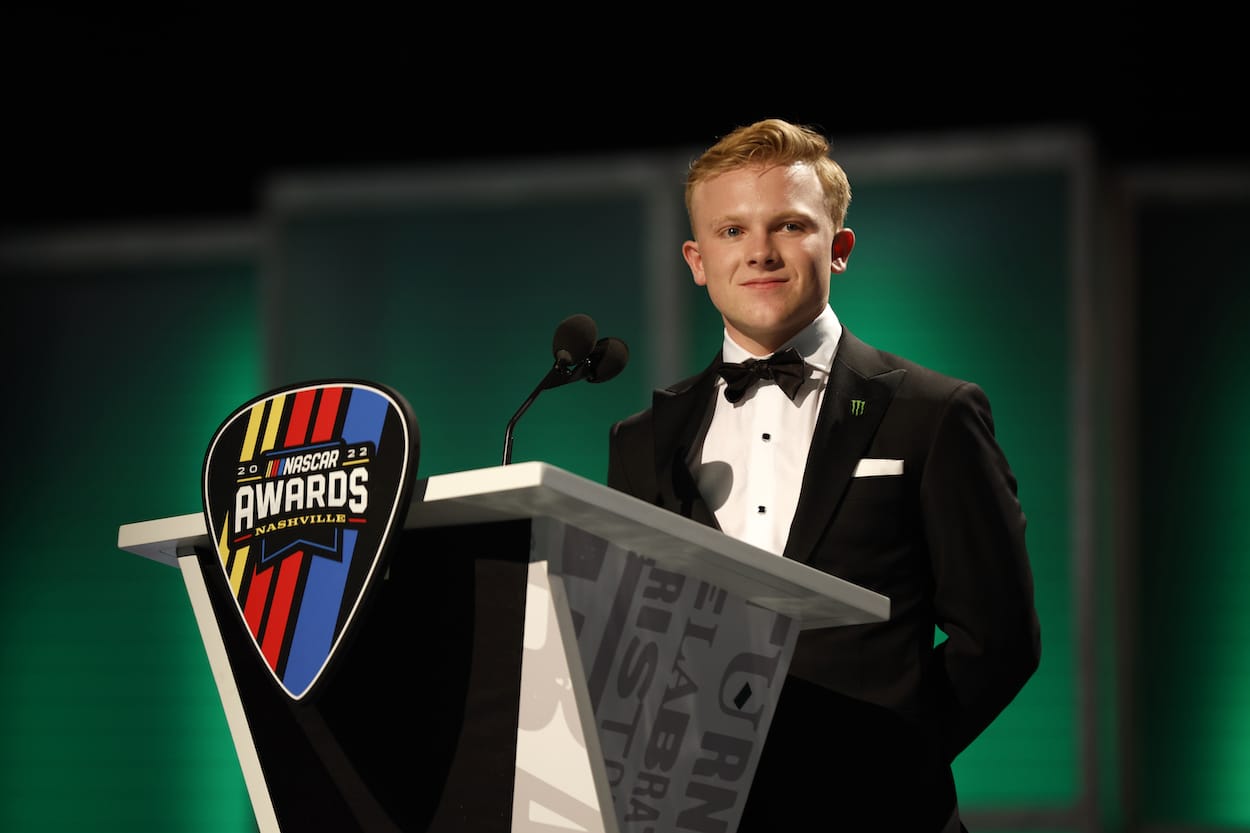 Ty Gibbs and the 5 Dark-Horse Picks to Win the 2023 NASCAR Cup Series Championship
Ty Gibbs leads the drivers ready to make some not-quite-expected noise in the Cup Series title chase.
The 2023 NASCAR Cup Series season, exciting as it should be, will be no different than any other recent campaign in that we know who the championship favorites will be: Joey Logano, Chase Elliott, Kyle Busch, Denny Hamlin, and perhaps a few other perennial frontrunners.
But what about the guys who could win the championship but aren't going to be on hardly anyone's shortlist of favorites? Ty Gibbs headlines that pack, though he's not alone.
Up next are five dark-horse picks to capture NASCAR's most coveted prize in the season to come.
For Ty Gibbs, the sky is the limit in the Cup Series
After scoring 11 wins and a championship in 51 NASCAR Xfinity Series starts, 19-year-old Ty Gibbs is unquestionably ready to move up to the NASCAR Cup Series full-time, which he's doing with the team owned and founded by his NASCAR Hall of Fame grandfather, Joe Gibbs.
How quickly Ty will be able to adjust to life in NASCAR's premier division remains to be seen, especially after the unexpected loss of his father, Coy, in November. However, he got a nice head start last season as a substitute driver for Kurt Busch in 15 Cup Series races.
Helping ease the transition for Gibbs will be a familiar face atop his pit box in the form of Chris Gayle, who served as Gibbs' crew chief for every one of his Xfinity Series starts. If Gibbs and Gayle can continue their magic from their time in the Xfinity ranks, the sky is the limit on what they can accomplish in Year 1 at the Cup level — and that includes winning a championship. 
Tyler Reddick is set to enjoy a fresh start with 23XI Racing
If you think Tyler Reddick doesn't have at least an outside shot at ascending NASCAR's highest mountain in 2023, then you clearly weren't paying attention in 2022.
In his third and final season with Richard Childress Racing, the 26-year-old Californian shocked everyone by winning three races — two of them on road courses — and becoming a highly sought-after talent.
Among those who took notice of Reddick's success was 23XI Racing, which offered the two-time NASCAR Xfinity Series champion an opportunity to leave RCR and become part of the Denny Hamlin-and-Michael Jordan-owned organization.
Reddick accepted the job and will take over the No. 45 Toyota, which was driven primarily last season by Kurt Busch, who earned a win at Kansas Speedway in just his 13th start with the organization but had his time in the car cut short by a season-ending concussion.
While it's impossible to know whether Reddick will undergo any growing pains in his transition to a new team, he proved last season that he's not only a tremendously skilled driver but also mentally tough. How tough? Two of his three wins came after he announced his intentions to leave RCR, angering team owner Richard Childress and creating a rather uncomfortable situation for everyone involved. 
Nevertheless, Reddick managed to thrive in spite of his lame-duck status and being the object of ridicule by Childress, who took issue with the way Reddick went about announcing his plans to leave the company.
Erik Jones is set to soak up knowledge from Jimmie Johnson
While some might wonder how a driver who has made only two playoff appearances in six seasons as a full-time NASCAR Cup Series driver could be a part of this list, Erik Jones' inclusion actually isn't all that farfetched.
For starters, two of his three wins in NASCAR's premier series have come at Darlington Raceway — a place widely considered the sport's toughest track and a venue where only the Cup Series' top drivers tend to make it to Victory Lane even once, much less on multiple occasions.
But Jones' success at Darlington isn't the only reason he deserves to be in the discussion about dark-horse championship contenders.
The other reason is the fact that he's competing for an organization in Petty GMS that's under new management with the addition of seven-time Cup Series champion Jimmie Johnson, who joins fellow seven-time champ Richard Petty and majority owner Maury Gallagher as a co-owner of the now-three-car team.
There's no telling just how much impact Johnson, who's running a part-time schedule for the company along with his ownership role, could have on Jones. But the younger driver will undoubtedly be looking to soak up every ounce of knowledge and information he can from the future NASCAR Hall of Famer.
Christopher Bell still has to prove 2022 wasn't a flash-in-the-pan year
It feels kind of awkward even including Christopher Bell among a list of  "dark-horse championship contenders" after all the Joe Gibbs Racing driver accomplished in 2022.
A winner of three races last season, including two in the playoffs, Bell made it all the way to the Championship 4 and finished third among the quartet of championship finalists. It was an all-around impressive run for the youngster from Oklahoma, who quadruped his number of top-5s from 2021 — a previous career best — and led nearly six times as many laps as he did a year earlier.
Bell still gets tagged with the "dark-horse" label, though, because he has only one multi-win season in three years as a full-time Cup Series driver. 
Assuming 2022 was no flash in the plan, Bell has an excellent chance to once again seriously contend for a title when the 2023 season commences.
Daniel Suarez is preparing to 'reach for the sky' in 2023
Unlike first-year teammate Ross Chastain, who seemed to make headlines almost every week throughout the 2022 season, Daniel Suarez enjoyed a fairly quiet but successful campaign.
The highlight was, without question, his history-making, playoff-clinching victory at Sonoma, where he became the first Mexican-born driver to win a Cup Series race.
But Suarez accomplished much more than that. He finished in the top 10 more than a third of the time and had strong runs on various types of tracks, including road courses, intermediates, and superspeedways.
It all added up to a 10th-place points finish that was by far the best outcome of his six years in NASCAR's premier series.
Suarez's efforts earned him a one-year contract extension with Trackhouse Racing that goes through the end of 2023, so it's possible he will be looking for work again in less than a year's time.
However, if he wins a race or two and makes a deep playoff run, possibly even posing a serious threat for the championship, he'll likely have his choice of rides for 2024 and beyond. 
It's worth noting that although 2022 was Suarez's first appearance in the Cup Series playoffs, he's no stranger to championship battles. As a driver for Joe Gibbs Racing, he claimed the 2016 Xfinity Series title on the strength of a three-win season.