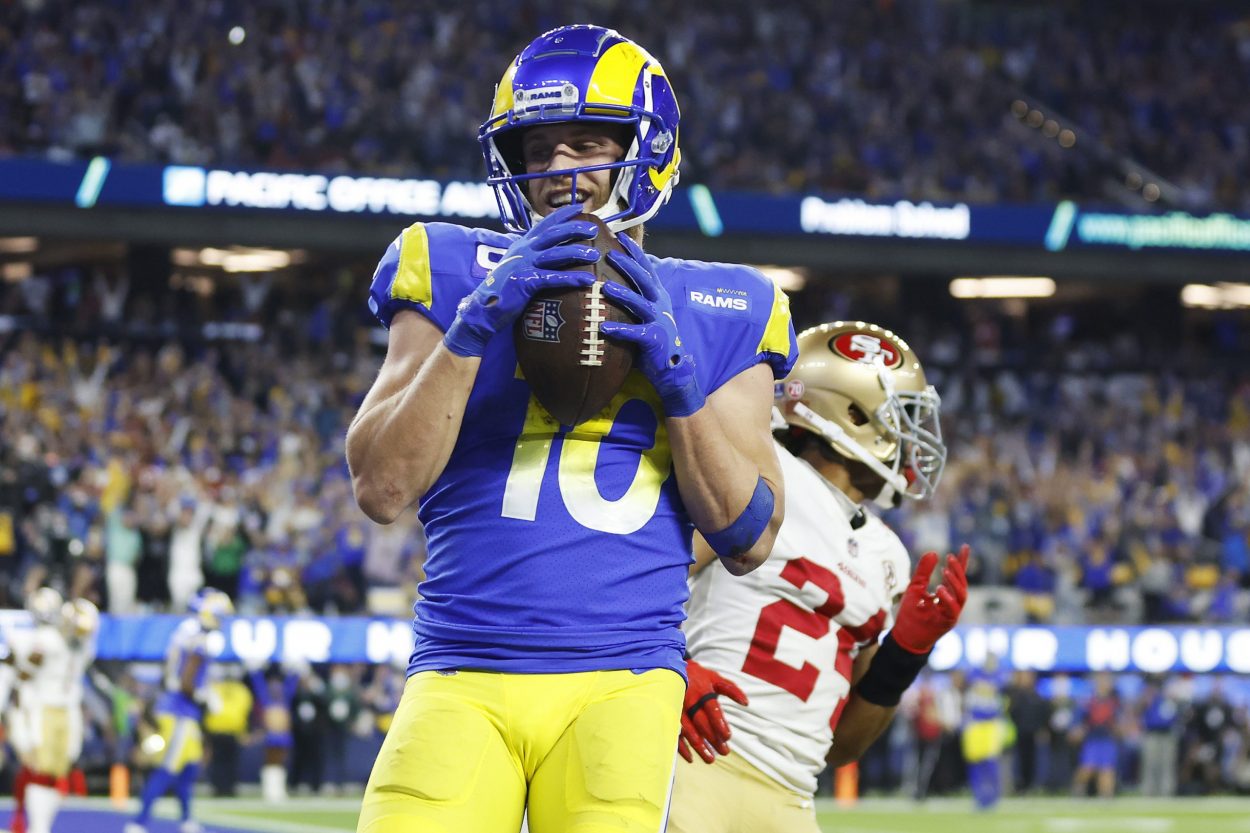 DraftKings' 2022 Super Bowl Showdown: Finding the Winning Captain and Flex Plays
Finding the right Captain play is the key to winning $1 million in DraftKings' Super Bowl Showdown slate.
The Super Bowl is finally upon us and there is certainly no shortage of ways to get in on the action from a betting standpoint. When the Cincinnati Bengals and Los Angeles Rams take the field Sunday, the rooting interest will go far beyond the fan bases of both teams.
In 2018 for Super Bowl 52, DraftKings began offering a way for its Daily Fantasy users to take part in the Super Bowl frenzy by offering a single-game "Showdown" slate, with participants filling out a six-man lineup with the traditional salary cap of $50,000. The wrinkle was the addition of a "Captain" slot, where the player's salary was increased by 50% over the other five selections in "flex" positions. But like the salary, the Captain slot's scoring output was also boosted by 50%, adding a new wrinkle into the strategy of filling out a lineup.
Here, we offer some of the best options for the Captain choice in both cash and tournament lineups. In cash games, we value safety and sure points. In tournaments, or GPPs (Guaranteed prize pools), like the $6 million Super Bowl LVI Millionaire, with a $15 entry and $1 million to the winner, we want the low-owned, high-upside plays that could break the slate.
Let's take a deep dive into the Showdown:
Captains Obvious (Cash game targets and safe plays)
Cooper Kupp, WR, Los Angeles Rams ($17,400): The issue is certainly not whether Kupp is worth the hefty price tag. Of course, he is. The best wide receiver in the regular season has actually stepped his fantasy game up in the first two rounds of the playoffs, with 35.3 points against the Buccaneers and 40 in the NFC Championship Game. Even at his price, he will almost certainly be the highest own player and Captain. With a remaining average salary of $6,520 per flex position, you will have to sacrifice another top-priced player, but there's enough value on the slate to afford Kupp in this spot.
Joe Mixon, RB, Cincinnati Bengals ($14,400): Against most other teams, Ja'Marr Chase would be as close to a no-brainer Captain play as Kupp, but Chase is going to have to deal with Jalen Ramsey and that is not an assignment that works in his favor, not to mention asking a rookie to deliver in a high-pressure spot. It doesn't feel like a Chase game. It does feel like a Mixon game, as the Bengals will probably lean on the running game to keep the defense from locking in on Joe Burrow. Mixon has had a solid postseason so far, so he's proven he can handle the moment, and he offers a bit of salary relief, as well.
Captains Courageous (Tournament plays and salary relief options)
Odell Beckham Jr., Los Angeles Rams ($12,600): We want to ride the Rams' passing game, but we also want to get some leverage off of Kupp. OBJ is the perfect play in this scenario. The idea of fading Kupp entirely is definitely scary, but if for whatever reason Kupp busts, a Beckham-Matthew Stafford stack, with OBJ in the Captain spot, could be the slate-breaking play that puts all the Kupp owners in the rear-view mirror. Beckham only trails Kupp 25-19 in targets this postseason, so a scenario where Beckham smashes and Kupp is just a guy is absolutely on the table. Bold moves win big tournaments.
Evan McPherson, K, Cincinnati Bengals ($6,000): Did we say bold moves? This is really not for the faint of heart, but there is definitely logic behind making this play. McPherson has been a field goal savant this postseason, kicking four field goals in each of the Bengals' three games. He has 15, 18 and 15 DraftKings points in those three games and he costs pennies in the Captain spot, allowing for virtually any combination of stars in the flex positions. At virtually no ownership, he's a tournament-winning play if he delivers one more time.
Flex Men (Value plays and correlations for both cash and tournament lineups)
Matthew Stafford, QB, Los Angeles Rams ($10,800): He doesn't make a lot of sense in the Captain spot because he doesn't provide any meaningful savings off Kupp. But he is essential as a stacking partner, especially in a game where it's likely the Rams are going to need to throw to win.  
Tee Higgins, WR, Cincinnati Bengals ($7,600): As noted above, it doesn't feel like the best scenario to load up on Chase, given that Ramsey will be chasing him. That will likely send Burrow looking elsewhere to move the ball in the air, and Higgins is the main alternative target, especially given the uncertain status of tight end C.J. Uzomah. Higgins has really come on the past two games, with 13 catches on 19 targets for 199 yards. If he has another game in this neighborhood and throws in a touchdown, he's going to look good in your lineup.
Stats courtesy of Pro Football Reference