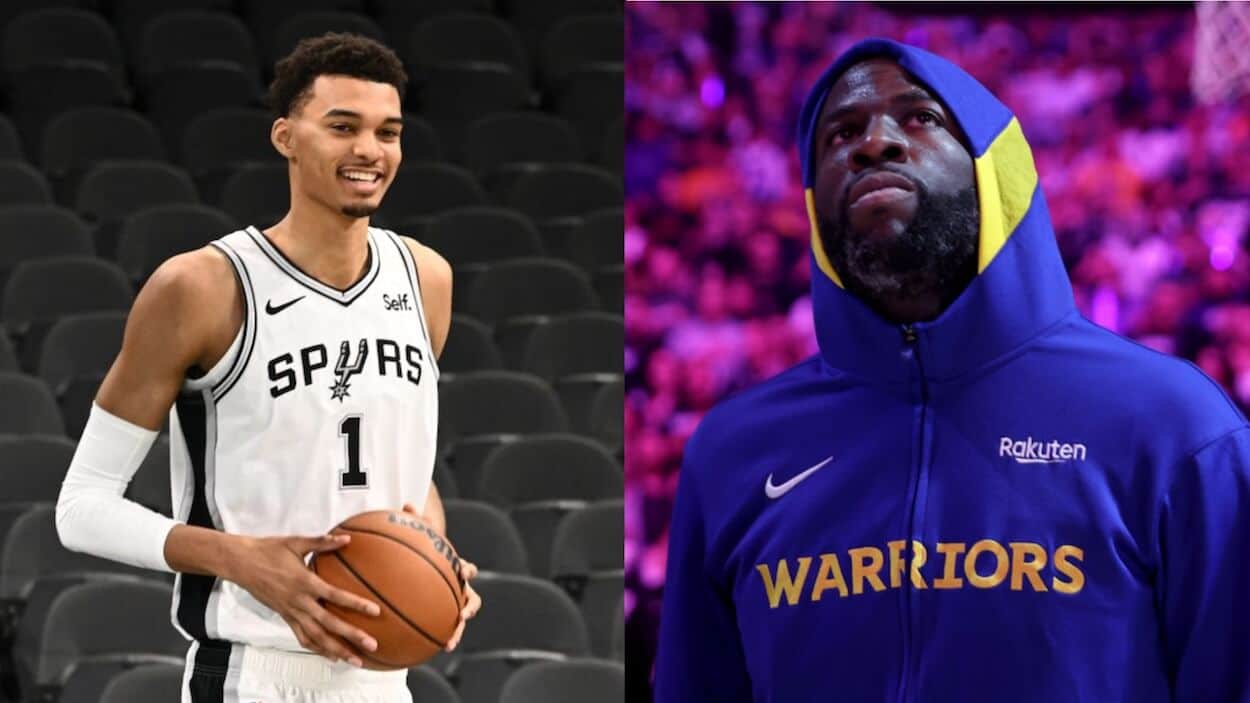 Draymond Green Shares His Grand Plan to Defend Against Victor Wembanyama
How do you stop Victor Wembanyama from scoring? Draymond Green has some early ideas.
In modern basketball, there are two universal truths. First, Victor Wembanyama is the talk of the Association. The French teenager has captured the attention of NBA fans around the world, and we're collectively waiting to see what he'll do each time he steps on the floor.
Secondly, Draymond Green is going to talk about any topic he desires. Whether you love or hate the Golden State Warriors forward, he's never shy about speaking his mind.
So, what happens when you combine those two realities into one package? You get Green sharing his plan to defend Wemby when they eventually meet in NBA action.
And, for all of his confidence, let's just say the Michigan State man seems to be a bit short on actionable ideas, at least as of now. Let's check it out.
Draymond Green believes that the key to slowing down Victor Wembanyama is making him uncomfortable
While he might not be everyone's cup of tea, Draymond Green knows a thing or two about playing hard-nosed NBA defense. Facing off against Victor Wembanyama, however, will even be challenging for him. The French phenom, of course, stands at 7-foot-3.5 and has a wingspan of approximately eight feet across.
With that in mind, Green has another idea for how to affect Wemby's offense. It all comes down to comfort or, in this case, making things uncomfortable.
"You're not just dribbling through me like the Harlem Globetrotters. I'm sorry," Draymond explained on Podcast P (h/t Sports Illustrated). "You can't let him get comfortable. You let him get comfortable you lose, because you can't block his shot. He may not even see your contest. So with a guy like that, you gotta do your work early. I'm crowding him from the time he starts running down the court. When they get the rebound, and they start coming, I'm crowding because I can't let him get to a space where he's comfortable."
Upon first pass, that seems like a relatively reasonable plan; there are plenty of cliches, after all, about defending stars that boil down to "they're going to score regardless, so make them work to score." When we consider Victor Wembanyama and his unique skill set, though, Green's plan starts to fall apart.
The biggest issue is obvious: Wemby's height. Even if you crowd him, it's still easy to lob a pass into the big man; if he extends his arm vertically and jumps, your presence won't really matter.
Beyond that, though, we need to remember that Wembanyama isn't a lumbering big man of old who handles the basketball like it's a hot potato. He can dribble, shoot outside jumpers, and leave the paint without breaking out in a cold sweat.
At the risk of drawing a conclusion from that skill set to his larger attitude on the court, that versatility would suggest that the teenager isn't one to get flustered too easily. If he's pressured on the block, he can dribble out to the perimeter; if he's crowded in transition, he can move through the gears without seeming like he's going to trip over his own feet. And, if all else fails, Wemby can probably pass his way out of any trap. Towering over the defense, after all, does have its advantages.
That's not to say that Victor Wembanyama is unstoppable, though. There have been big men before him, and there have also been plenty of skilled overall athletes. Take someone like Giannis Antetokounmpo, for example. While he might not have quite the same height as the Frenchman, he is incredibly athletic and versatile, meaning that defending against him isn't a piece of cake.
When he arrives in the Association, the teenager will probably be hit with a variety of defensive tests. Some teams will try to bully him; others will probably pack the paint and dare him to become a perimeter player.
And while there will be plenty of adjustments and counter-adjustments, one thing is for sure: We'll be in for a treat watching Wembanyama duel with defenders like Draymond Green night in and night out.