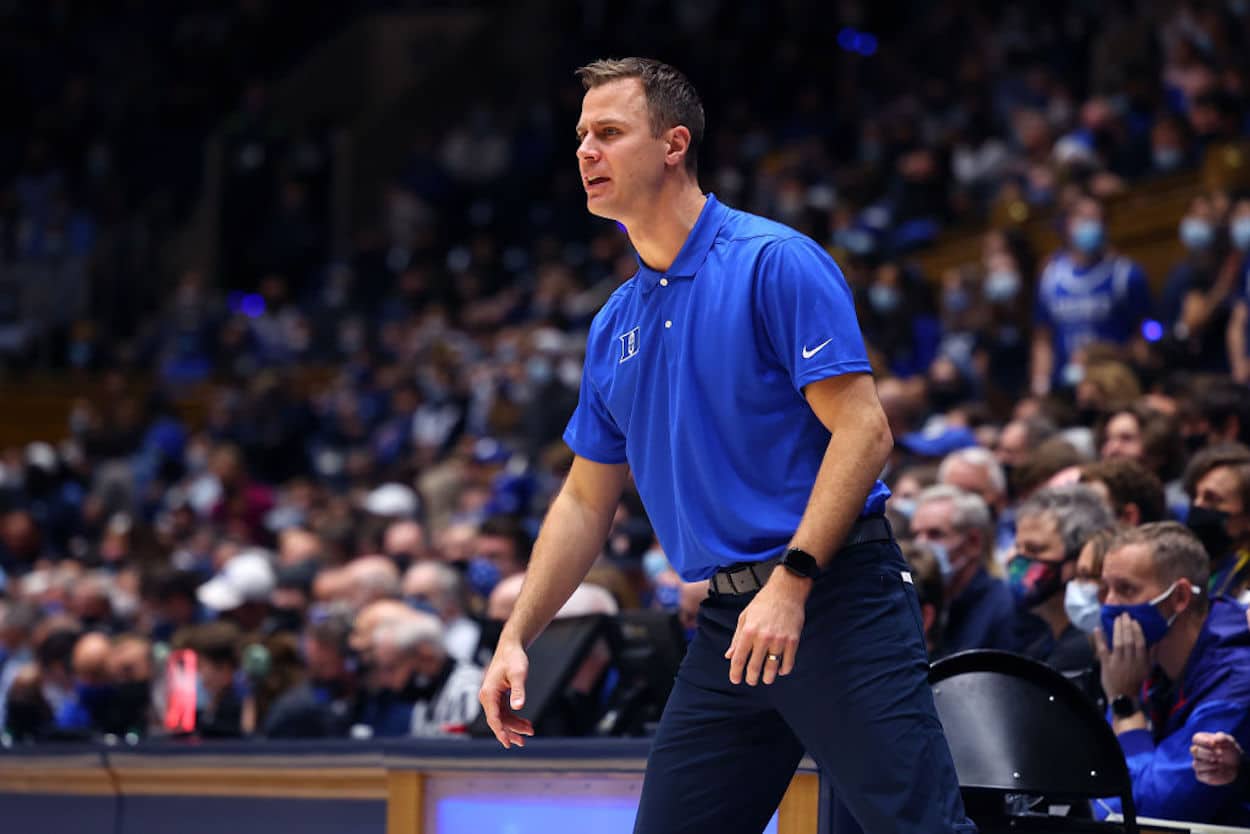 Duke Basketball: Jon Scheyer May Have Another Advantage in the Form of His Peers' Potential Disrespect
While Jon Scheyer has something to prove at Duke, that reality could be an advantage rather than a burden for the new coach.
While Jon Scheyer is yet to take charge of his first game as the Duke Blue Devils' head coach, the former guard has already had a busy offseason. He's brought a top-notch recruiting class to Cameron, built a new-look coaching staff, and even hired a general manager. Although it remains to be seen how everything will pan out, the building blocks appear to be in place for a successful reign.
Taking things outside of Durham, though, Scheyer could have another ace up his sleeve. If an impromptu of some other coaches is to be believed, the new Duke bench boss isn't viewed as much of a recruiting threat. It would be easy to view that as a slap in the face, but Scheyer needs to seize that advantage while he still can.
Jon Scheyer only received a single vote as the 'most feared coach on the recruiting trail'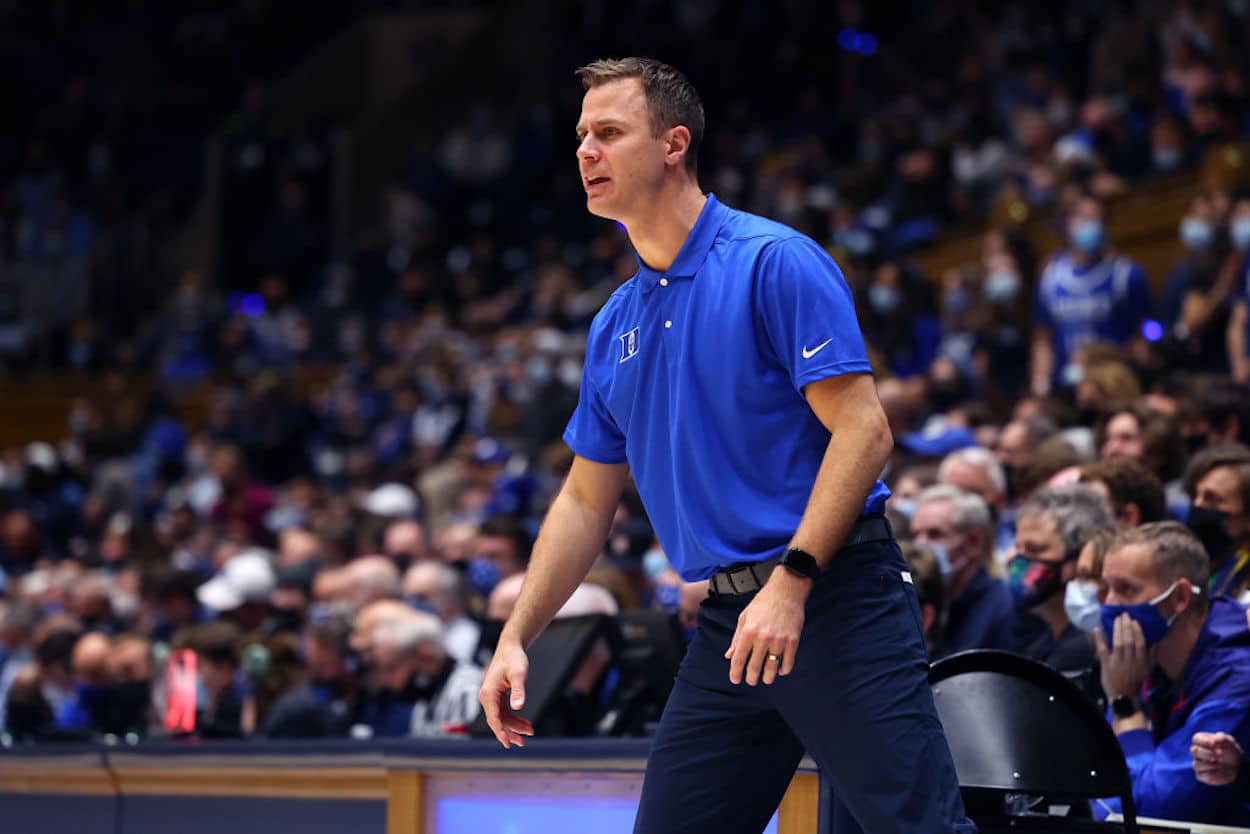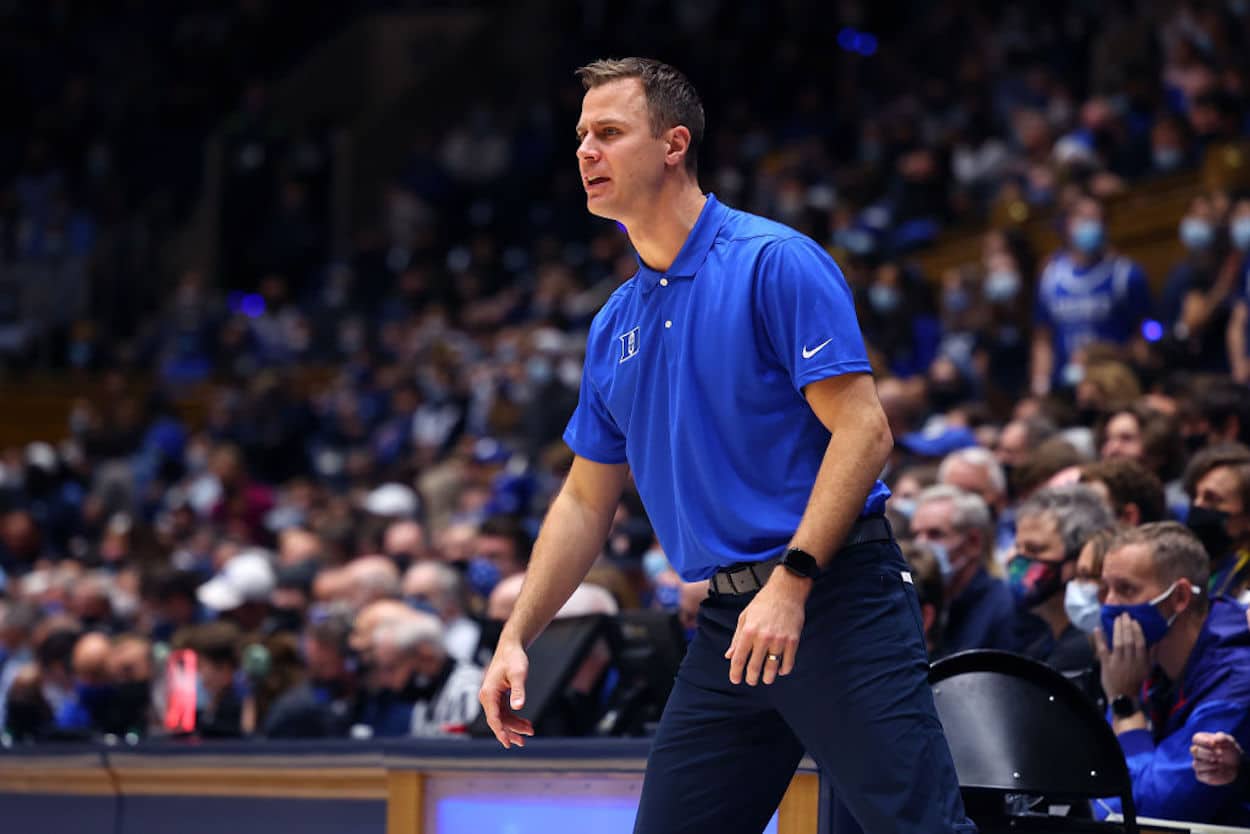 Although Jon Scheyer has only been a head coach for a (metaphorical) minute, he's already done some strong work on the recruiting trail. The Blue Devils have the top-ranked class for 2022 and have four top-25 talents arriving in Durham for the 2023-24 season. It seems that reality, however, hasn't made much of an impact.
Recently, Jamie Shaw of On3 asked 13 NCAA coaches to name their "most feared coach on the recruiting trail." One picked Scheyer, while others named Leonard Hamilton, John Calipari, Juwan Howard, Bruce Pearl, Bill Self, Kenny Payne, Jay Wright, and Tom Izzo. For context, the Kentucky coach received the most mentions of anyone (3).
While you could contend that even being included is quite the accomplishment, some have viewed Scheyer's relative lack of votes as an insult. Kevin Connelly, for example, wrote on FanSided's Ball Durham that "Jon Scheyer was blatantly disrespected by his peers."
Duke needs to use their advantage while they still have it
For a program like Duke, being perceived as anything less than the biggest threat can certainly feel like an insult. With Coach K at the helm, no one would have thought twice about fearing the Blue Devils. This is a new era, however, and that brings new opportunities.
While Scheyer will never be completely without pressure — he is coaching at Duke, after all — he does have somewhat of a free hit right now. The Blue Devils program is undergoing some very obvious changes. There's a new crop of new players who will have to learn (somewhat of) a new system. There are new coaches and, thanks to name, image, and likeness (NIL) money and the arrival of general manager Rachel Baker, somewhat of a new recruiting pitch. For better or worse, Duke has to be different now.
As Scheyer has previously said, albeit about NIL changes, the key is to embrace that challenge rather than fearing it. If Duke isn't viewed as a recruiting juggernaut right now, that can be part of their pitch. Basketball fans know all about 'the class that saved Coach K.' Who wouldn't want to be a part of Scheyer's first famous squad?
By the same token, it can give the new head coach a bit of license to experiment. While he'll obviously go after the top talents, maybe knowing that his peers don't quite fear him yet will give Scheyer to consider a few unconventional recruiting targets or dip into the transfer portal with a bit of subtlety. He, after all, isn't Coach K, who could bring an entire gym to a halt by simply walking through the door.
As the cliche says, "With great power comes great responsibility." While that's certainly true, Jon Scheyer has an opportunity to see the opposite side of that coin. Being overlooked can provide more liberties; those should be enjoyed while it's still possible.
Like Sportscasting on Facebook. Follow us on Twitter @sportscasting19 and subscribe to our YouTube channel.