Eli Manning Taught an Arrogant Rookie a Lesson About Respecting His Elders: 'If I Tell You It's Easter, Go Paint Some Eggs'
When you enter the NFL as a rookie, there are a few things you need to know. First off, don't take any day in the league for granted. You're a part of the small percentage of players who were able to realize their dreams, and those dreams can be taken away at any moment. Secondly, remember that this is now your job. Treat it like one. But lastly, and maybe most importantly, make sure to respect your elders. When Saquon Barkley came into the NFL as a rookie in 2018, Eli Manning taught him that exact lesson with a hilarious Easter quote.
Eli Manning and Saquon Barkley formed an immediate bond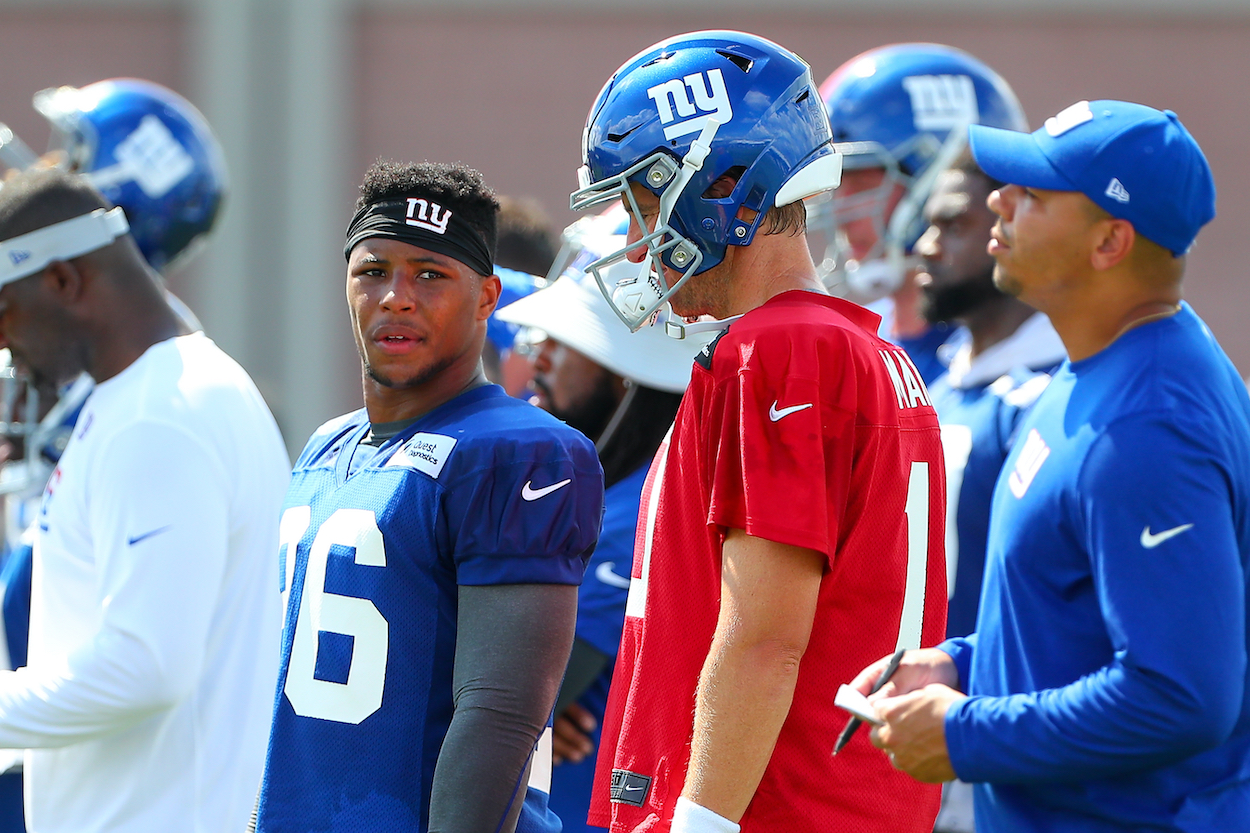 When Saquon Barkley was drafted by the New York Giants with the No. 2 overall pick in 2018, Eli Manning took him under his wing. Manning knew the uber-talented rookie out of Penn State had greatness in store, and he wanted to help him find it.
The two formed an immediate bond in the Giants' backfield. They both liked to poke fun at each other on the practice field and during interviews, like the time Manning jokingly admitted to staring at Barkley's massive quads.
"His quads are the size of my waist and whole upper body. I've never quite seen anything like it," Manning told Bleacher Report's Simms and Lefkoe podcast in 2018. "I don't often stare at another man's legs, but in that case, you just can't quite help it."
But their relationship wasn't just about fun and games. Manning and Barkley had each other's backs throughout New York's disappointing 5-11 season in 2018. Barkley appeared on Bleacher Report's Sneak Peak with Taylor Rooks after his rookie year and defended Manning from the bashing he received all season.
"Yeah, it bothers me. I'm not going to lie because it's not his fault," Barkley said. "He's not the reason why [we've struggled]. We love to put the blame on one person, but it takes 11 men, a team, and an organization all together to win."
The QB-RB relationship was one built on mutual respect, but there was one instance when Manning had to put a rookie Barkley in his place.
Manning taught Barkley a harsh lesson about respecting his elders
Manning and Barkley might've formed a tight bond in New York from the jump, but sometimes you have to assert your dominance as a veteran NFL player. In 2019, Barkley appeared on the Dan Patrick Show and told a hilarious story about the time Manning taught him a lesson about respecting his elders.
"So I was saying something that coach said in a meeting, and [Manning] was like, 'no, coach said this.' And I was like, 'no, coach said THIS.' And he was like, 'listen, if I tell you it's Easter, go paint some eggs.'"
Brilliant, Eli. Just brilliant. Barkley never spoke back to him again after that incident.
Barkley got off easy with his rookie hazing
Many NFL rookies arrive for training camp for the first time and are immediately targeted as hazing victims. Veterans might cut their hair in an embarrassing style of their choosing, make them sing in front of the whole team during a meeting, or even steal their clothes from the locker room.
But Barkley said he was one of the lucky few who were rarely hazed as a rookie. In fact, Barkley admitted Manning's stern Easter message was the worst hazing he received during the 2018 season.
Maybe no one in the Giants' locker room wanted to piss off the No. 2 overall pick and the future of the franchise. Well, no one except Eli Manning, of course.