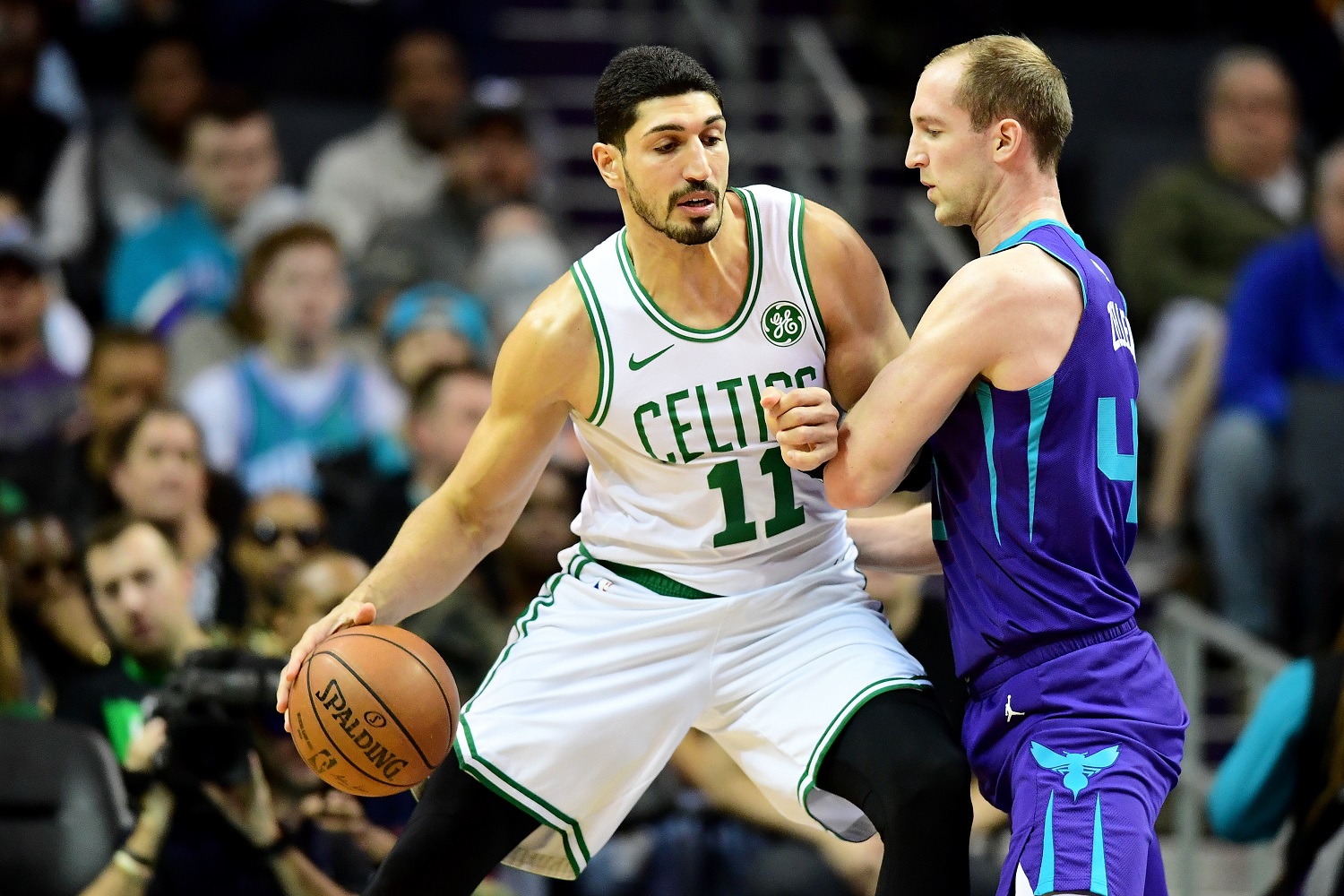 Enes Kanter Shunned by NBA Players for Opposing the 'Hitler of Our Century'
Boston Celtics center Enes Kanter says he has to relationship with fellow Turkish players in the NBA.
As volatile as the political environment is at any given time in the United States, the turmoil is nothing compared to what Boston Celtics center Enes Kanter has been faced with on more fronts than most.
Besides dealing with the strife in the United States, compounded by problems brought on by the COVID-19 pandemic, Kanter finds himself an outcast among the handful of fellow Turkish players in the NBA.
Enes Kanter has had problems with the Turkish government
Boston Celtics center Enes Kanter has been a frequent critic of Recep Tayyip Erdogan, the president of Turkey and a ruler widely regarded as a dictator. A corruption scandal in 2013 was followed by a government crackdown on media and protests, and a failed military coup ensued in July 2016. The government blamed followers of Fethullah Gulen.
Kanter, born in Switzerland but of Turkish heritage, has long been critical of the Erdogan government. The player says that is a significant factor behind why his father was arrested in Turkey in 2013 and accused of being a terrorist.
Kanter, who called Erdogan "the Hitler of our century" after himself being detained on Romania in 2017 when Turkey pulled his passport, remains a supporter of Gulen. The Erdogan government regards him as a terrorist, and Kanter has avoided most international travel to guard against attempts to detain and extradite him to Turkey.
Support is lacking from fellow Turks
Enes Kanter received good news in June when his father was unexpectedly released from a Turkish prison, a development that the player attributed to continued public pressure in Turkey and from the international community.
One source from which the Kanter family isn't receiving support might be surprising. Speaking on The Bill Simmons Podcast, Kanter said he's been frozen out by other Turkish players in the NBA. However, his theory is that it has less to be with his stance on the Turkish government than with fear of retribution.
"What hurts me the most is other Turkish players in the league," Kanter said. "We have Ersan Ilyasova (Milwaukee Bucks), we have Cedi Osman in Cleveland, we have Furkan Korkmaz in Philly. Whenever we go against (them), they don't say a word.
"I actually try to talk to them. I'm like, 'Hey dude, what's up? How are you doing?' No answer. Because they might be scared of the Turkish government that if they see a picture or video us talking, they might be in trouble, whatever.
"I try to cover my mouth with my jersey and try to talk to them. They turn their face the other way."
Enes Kanter is disappointed and yet he understands
It's hurtful for Enes Kanter to not have a relationship with the league's Turkish players because both he and his brother Kerem, a professional player in Spain, have been teammates with many of them either in the NBA or representing Turkey. Enes Kanter and Ilyasova played together on the Oklahoma City Thunder for part of the 2016-17 season.
"That's the thing that hurts me the most. They're just scared. They don't know any better," Kanter said.
Kanter says the animosity doesn't affect his respect for the others.
"Whenever we play against them, I pray for them," he said. "I hope we win the game, but I hope they play good. They are representing their families, their country, their people. I got a lot of respect for them."