Giannis Antetokounmpo May Be a $70 Million Superstar, but He Doesn't Care About Being the Face of the NBA
On paper, Giannis Antetokounmpo has everything it takes to be the top dog on the modern NBA scene. The Milwaukee Bucks man is an incredible on-court talent, capable of doing just about anything he wants each time he steps onto the floor. His life story also sounds like something out of a Disney movie, and, after suffering through some tough defeats, he's finally claimed an NBA championship. In theory, the forward is perfectly poised to become the face of the league.
The Greek Freak, however, isn't interested in any branding exercises. In fact, Antetokounmpo recently told reporters that, despite his fame and fortune, he has no desire to become the NBA's leading man.
Between his talent, trophies, and $70 million fortune, Giannis Antetokounmpo is living a pretty perfect life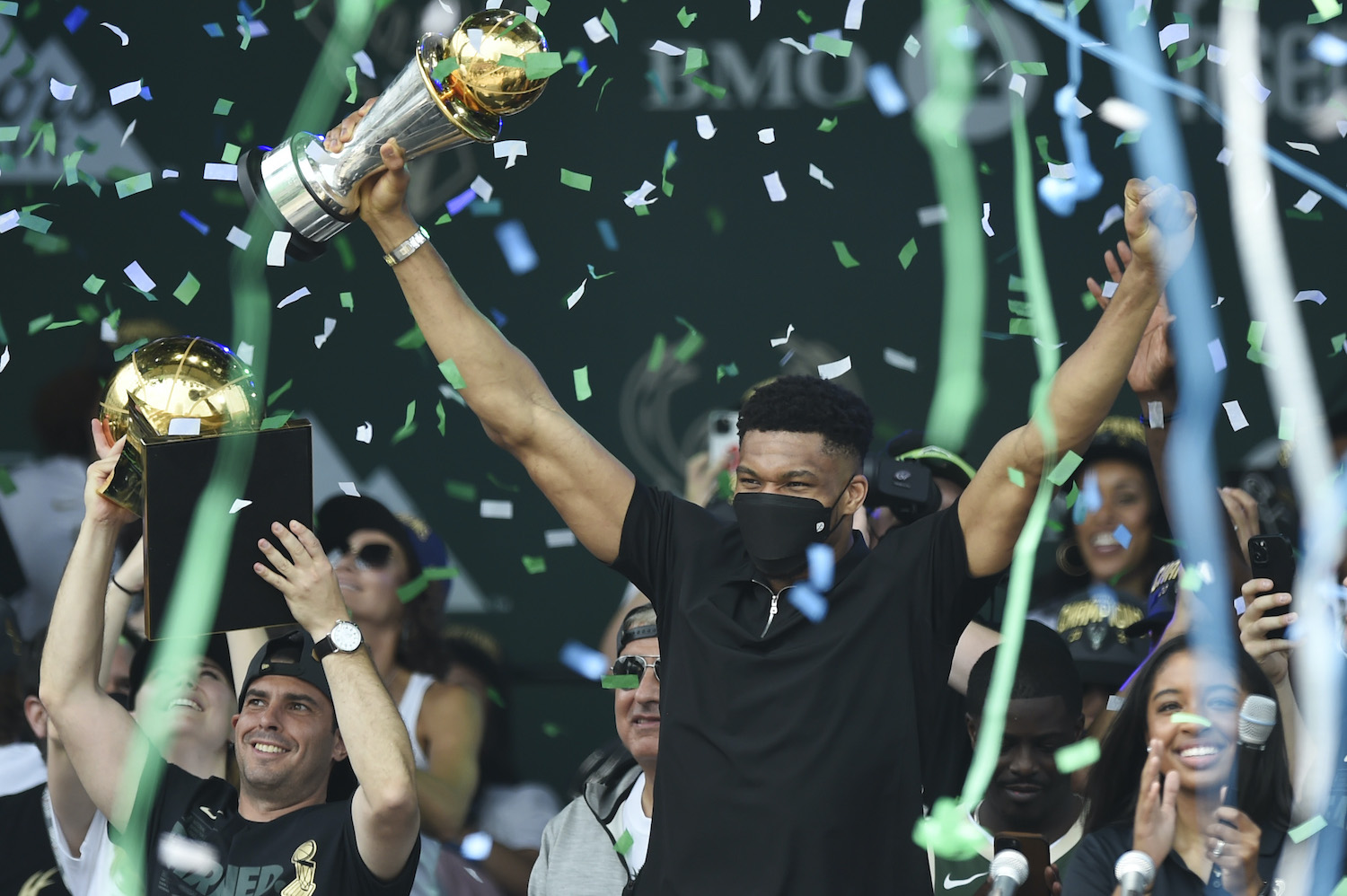 From afar, it's easy to say that virtually every professional athlete is living the dream. Giannis, however, seems to be in a league of his own.
Speaking purely in terms of talent, it's tough to argue with Antetokounmpo's skillset. The forward is perfectly positioned for the modern positionless game. Giannis' size and physicality allow him to thrive in the paint, but he's also athletic enough to run the floor and lead a one-man fast break. Barring an inconsistent shooting touch — both from the floor and the foul line — the Greek Freak can seem pretty unstoppable.
As you might expect, that on-court ability has also led to plenty of financial rewards. When the 2021-22 season begins, Antetokounmpo's historic $228 million contract extension will kick in. Even without that income, though, Giannis is already in a good place. He earned roughly $146 million through the 2020-21 campaign and, based on most estimates, boasts a $70 million net worth. That latter number will obviously continue to swell.
If you combine those two metrics with his NBA resume — Giannis boasts two MVP titles and one Defensive Player of the Year crown, and he recently claimed his first championship — it's easy to see how the Greek Freak could dominate the basketball scene. Once LeBron James retires, the Bucks star will have a legitimate claim to the NBA throne.
The Greek Freak has no desire to be the face of the NBA
No matter your preferred metric, it's easy to see how Giannis stacks up well against his peers. According to the man himself, though, he has no desire to be the face of the NBA.
"I don't care about being the face of the NBA. [Kevin Durant] or [James Harden] can be," Antetokounmpo said in Greek, according to a translation (H/T New York Daily News). "I want to be with my kids and my family. I want to win and enjoy the game."
The Greek Freak also proposed an alternative identity for himself. "I want to be Giannis the hard worker," he added.
While that might sound like a jarring statement — in theory, everyone would want to reap the rewards of being the NBA's top star — it's in line with everything we know of Antetokounmpo. For all of his fame and fortune, the Bucks star hasn't forgotten his humble roots. After inking his massive contract extension, for example, he went shopping for baby supplies rather than picking out a new car.
Comments like that will only continue to make Giannis Antetokounmpo popular, though
As every celebrity knows, Giannis can't entirely control his position in popular culture. He'll always be loved, at least in Wisconsin, and his recent comments seem to have actually helped him win over some new fans.
During the playoffs, Giannis made headlines with a press conference quote about setting aside ego and trying to master humility. That response quickly spread through social media and was held up as an insightful answer amid the sea of pro sports cliches. Rohan Nadkarni of Sports Illustrated, for example, tweeted that the response was "a thesis-level answer" and called the star "a treasure." The quote even reached NFL circles, where Michael Lombardi used Giannis a way into a Substack post about how great players accept tough coaching.
While he already boasts an incredible resume, Giannis Antetoumpo will only continue to get better with each passing season. He might not want to be the face of the NBA, but, at this point, he's well on the way to claiming that title.
Ironically, his humility and humanity have only served to help him climb further up the power rankings.
Financial information courtesy of Spotrac