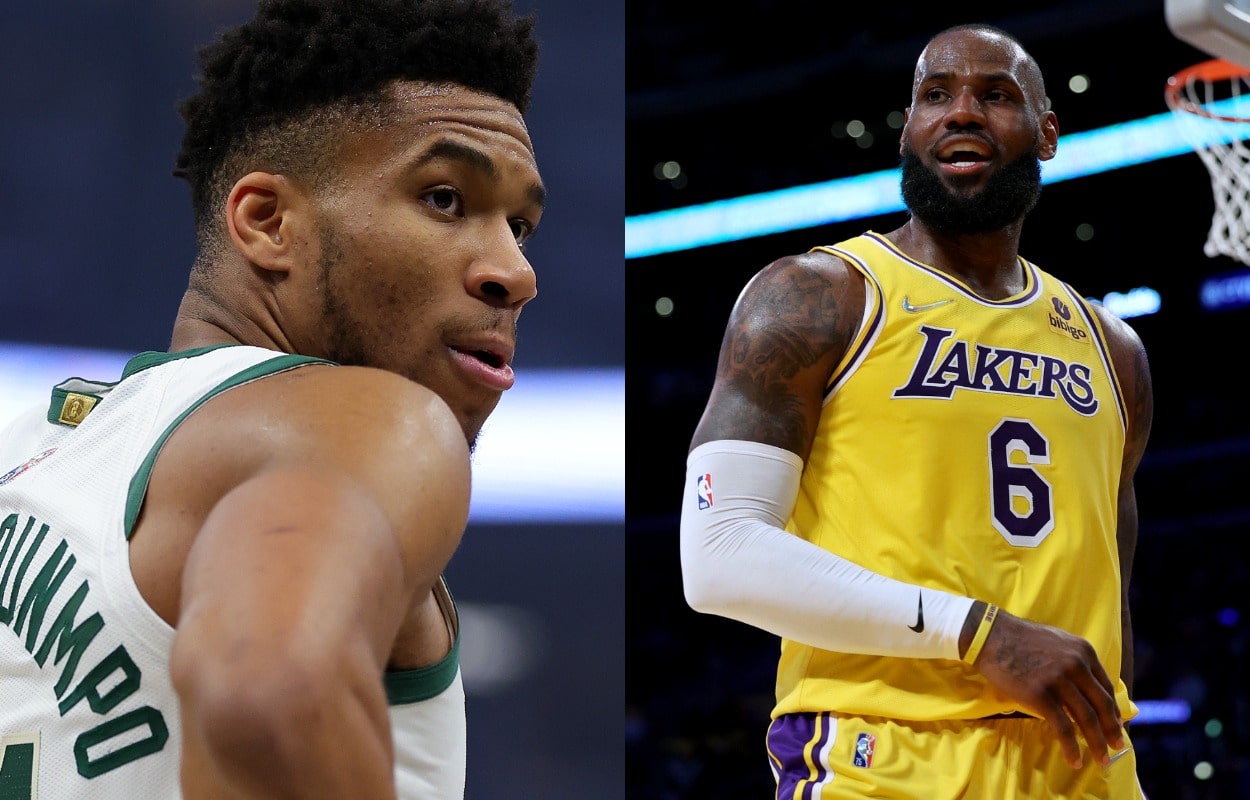 Giannis Antetokounmpo Receives Lofty LeBron James Comparison From Kendrick Perkins
Giannis Antetokounmpo had a magnificent performance in Game 5 against the Boston Celtics, and former NBA player Kendrick Perkins had massive praise for the Greek Freak.
The Milwaukee Bucks needed a superhero-type performance in Game 5 of their Eastern Conference semifinals matchup with the Boston Celtics. Jayson Tatum and Jaylen Brown were unstoppable for Boston, and it looked like the Cs were going to win comfortably.
However, two-time NBA MVP Giannis Antetokounmpo stepped up and saved the day.
The Greek Freak came up big when his team needed him most, scoring 21 second-half points en route to 40 for the game. His efforts helped the Bucks pull off a miraculous fourth-quarter rally to win 110-107 and take a 3-2 series lead.
Antetokounmpo can just add Game 5 to his growing list of incredible playoff performances, but this specific contest reminded someone of LeBron James.
ESPN commentator and former teammate of The King, Kendrick Perkins, took to Twitter after the Bucks' victory, and he gave Antetokounmpo massive praise.
Kendrick Perkins compared Giannis Antetokounmpo to LeBron James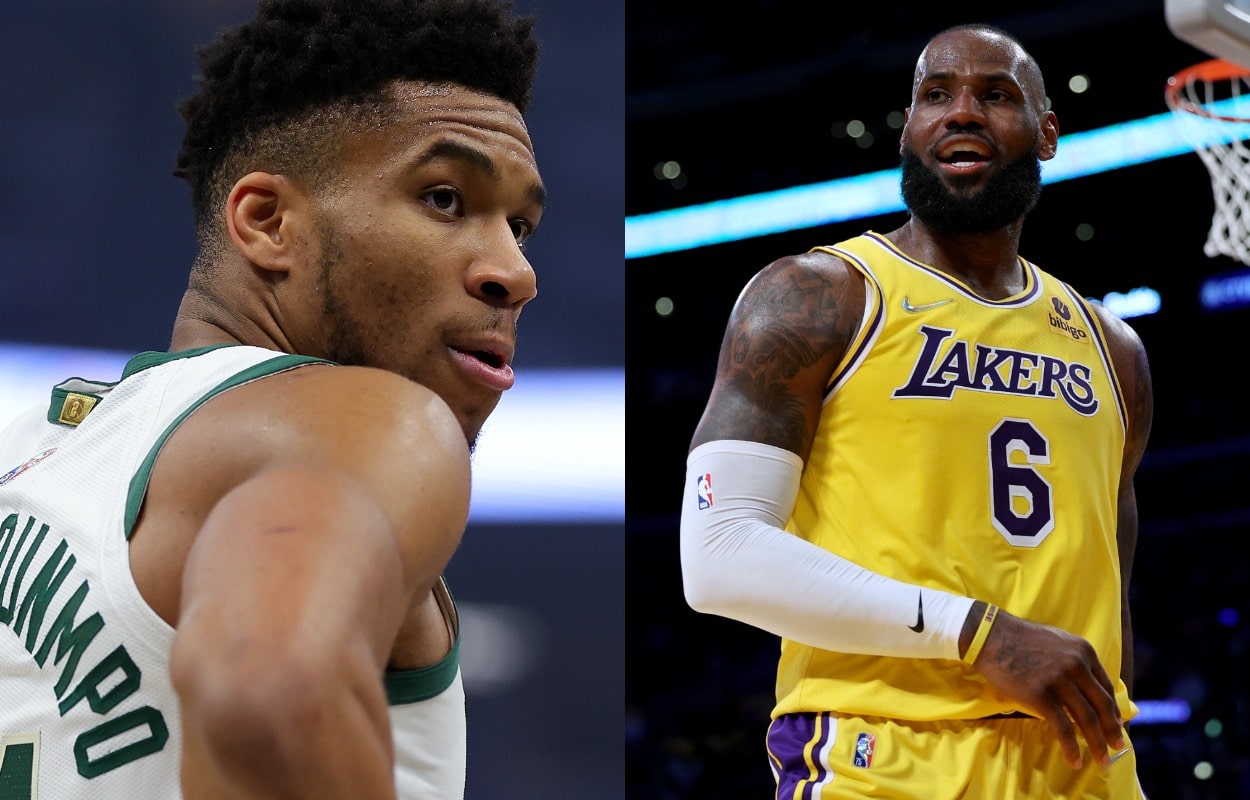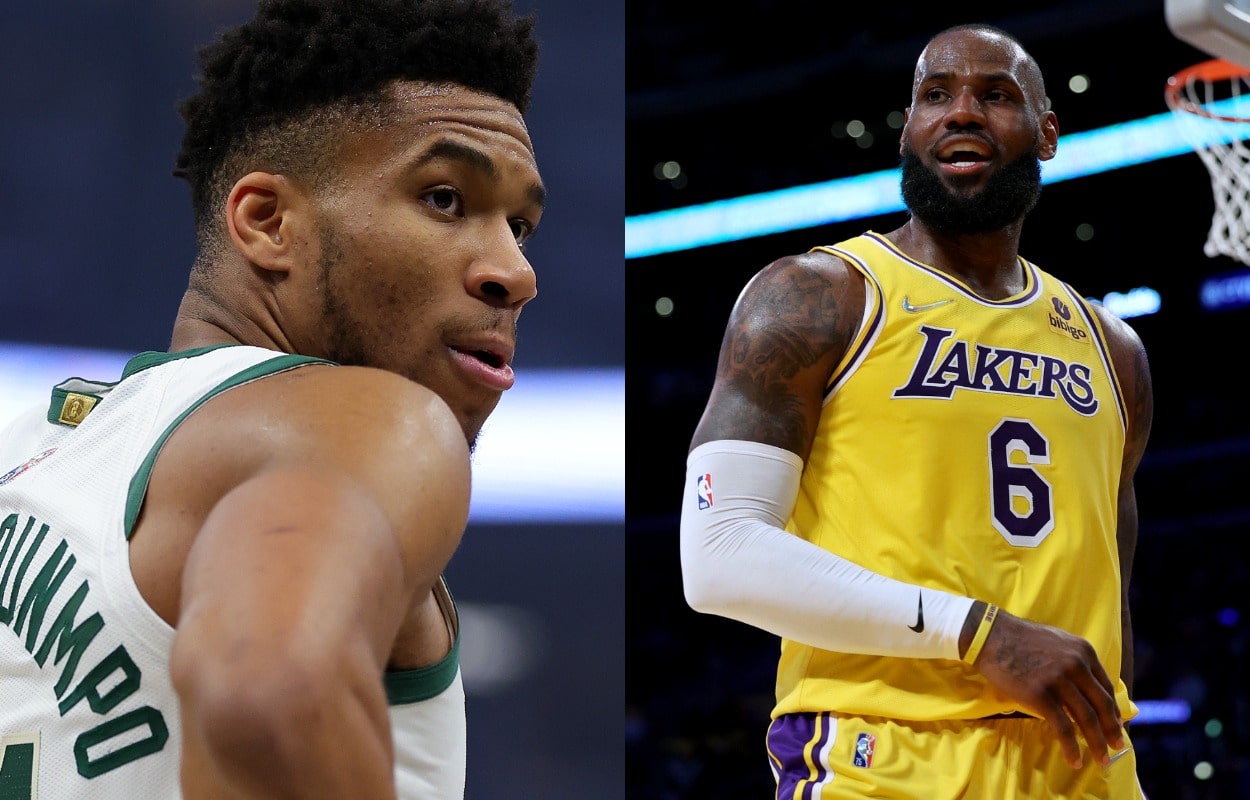 Giannis Antetokounmpo and the Bucks were on the brink of going down 3-2 in their conference semifinals series with the Celtics.
After losing Game 4, 116-108, Milwaukee trailed 93-79 in the fourth quarter. However, Giannis and company then outscored the Celtics 26-12 throughout the next nine-plus minutes to tie it 105-105 with 42 seconds left. They then won 110-107 thanks to a couple of massive defensive plays from Jrue Holiday.
Antetokounmpo was excellent the entire night. He was the Bucks' lone bright spot of the first half, scoring 19 of their 47 points. He then dropped 21 more in the second half and eight in the fourth quarter to finish with 40 points and 11 rebounds. The reigning Finals MVP also made a massive three-pointer with 1:40 left to bring his team within three after an Al Horford dunk had put the Celtics up six.
The clutch performance received significant praise across the basketball world, but Kendrick Perkins made a major statement.
"Giannis just pulled [off] a Lebron James type of performance in [TD] Garden. Carry the hell on," Perkins, who played with James on the Cleveland Cavaliers in 2014-15 and 2017-18, tweeted.
That's massive praise, considering James' unreal performances over the years. He had 41 points, 16 rebounds, and seven assists in a Game 5 win during the 2016 NBA Finals. LeBron also dropped 51 points, eight rebounds, and eight assists in Game 1 of the 2018 Finals. Those are, of course, just two of many iconic games.
But Antetokounmpo didn't have a LeBron-type performance. He had a Giannis-type.
Giannis Antetokounmpo is in his own category
Don't get me wrong. I'm a massive LeBron fan, and I constantly go back and forth about whether he's No. 1 or 2 all-time.
I just don't think Giannis needs to be compared to The King anymore because Antetokounmpo is now a legend in his own right.
Take a look at some of his ridiculous games throughout the last two playoffs alone.
| | | |
| --- | --- | --- |
| Year | Situation | Stats |
| 2021 | Conf. Semifinals Game 7 @ Nets | 40 points, 13 rebounds |
| 2021 | NBA Finals Game 2 @ Suns | 42 points, 12 rebounds |
| 2021 | NBA Finals Game 3 @ home vs. Suns | 41 points, 13 rebounds |
| 2021 | NBA Finals Game 6 @ home vs. Suns | 50 points, 14 rebounds |
| 2022 | Conf. Semifinals Game 3 @ home vs. Celtics | 42 points, 12 rebounds |
| 2022 | Conf. Semifinals Game 5 @ Celtics | 40 points, 11 rebounds |
Giannis is an athletic juggernaut who is unstoppable when going downhill, and he's dominant on the glass. His imposing size combined with his athleticism and guard-like skills make him a problem on both ends of the court. LeBron James is a terrific player, but his game doesn't compare to Antetokounmpo's, and Antetokounmpo's doesn't compare to his.
Giannis Antetokounmpo is only 27 years old, but he's already becoming an all-time great.
Stats courtesy of Basketball Reference