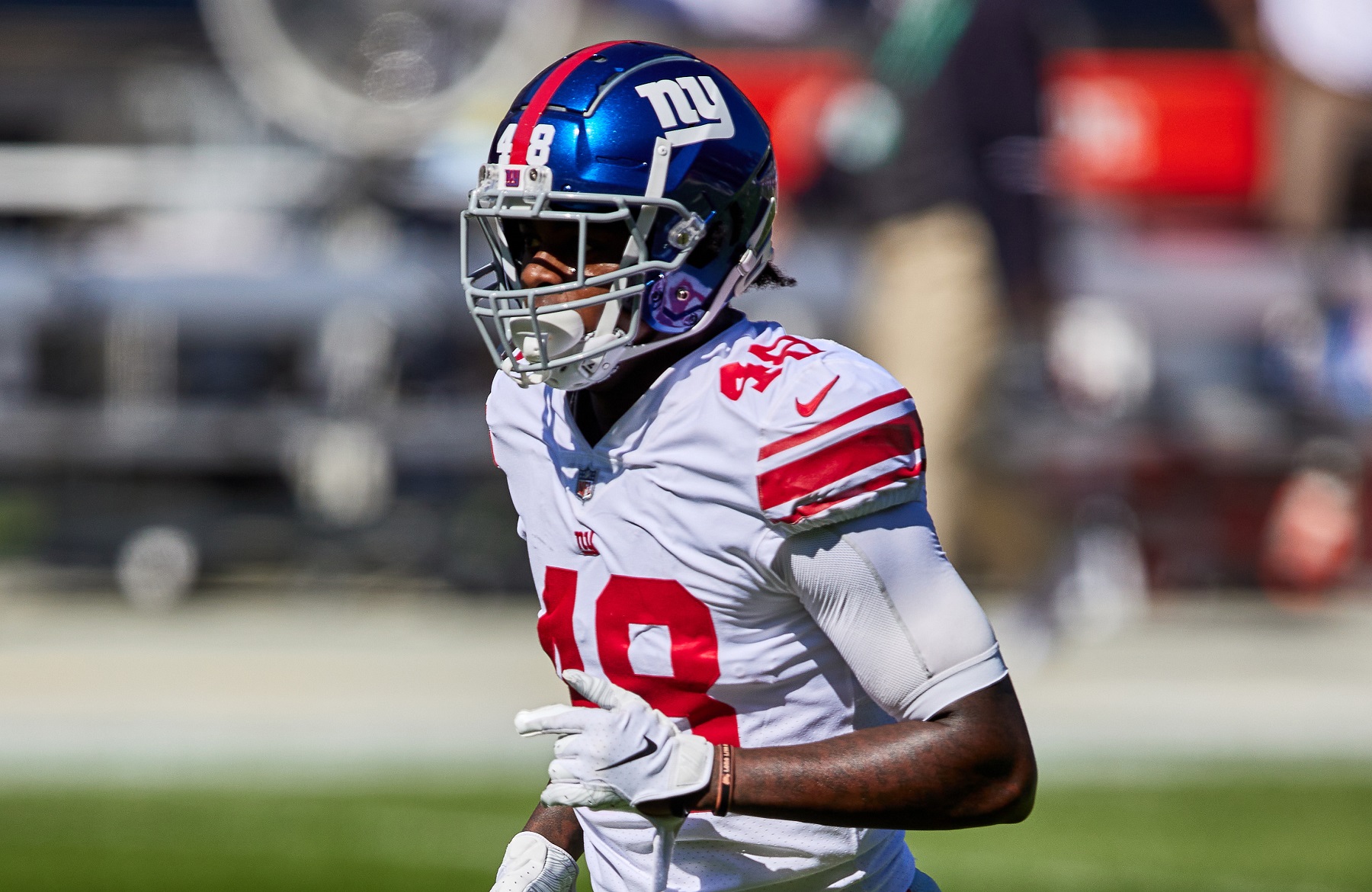 Giants Rookie Tae Crowder Pulled off a Feat No NFL Player Has Matched This Century
New York Giants linebacker Tae Crowder, the Mr. Irrelevant of the 2020 NFL draft, has scored his first pro touchdown on a fumble recovery.
By virtue of being picked 255th in the 2020 NFL draft, Tae Crowder earned something that will last longer than his $75,490 signing bonus and $610,000 rookie salary. The linebacker out of the University of Georgia will forever be known as this year's Mr. Irrelevant. In a rare departure from the norm for last men selected in the draft, Crowder is paying dividends for the New York Giants.
Tae Crowder was the Mr. Irrelevant of the 2020 NFL draft
In a tradition that began in 1976, the final player selected in each year's NFL draft has come to be labeled Mr. Irrelevant, which is disrespectful, but only in a tongue-in-cheek fashion. There are more than 2,000 players a year just from FBS programs who either use up the last of their eligibility or turn pro early.
To be one of the players chosen in the seven rounds of the NFL draft – regardless of how low – is an honor and a confirmation that the player has earned his shot. So, Tae Crowder has no reason to feel embarrassed about being 2020's Mr. Irrelevant.
Crowder played high school football in Hamilton, Georgia, and signed with the University of Georgia as a running back. After redshirting as a freshman and switching to inside linebacker, he got onto the field as a special-teams player in 2017. By his junior year, Crowder was earning regular time at linebacker.
He totaled 122 tackles, included 10 for losses, and two interceptions over his final two seasons with the Bulldogs. The 6-foot-3, 235-pound defender was a finalist for the Butkus Award as a senior.
A Georgia connection may have been responsible for the New York Giants drafting Crowder. Former Georgia linebackers coach Kevin Sherrer joined the Giants' staff this year when Joe Judge was hired as head coach to overhaul a defense-deficient team.
Crowder made the NFL team's roster out of training camp.
Tae Crowder gets the New York Giants into the win column
Rookie linebacker Tae Crowder did not play in the New York Giants' 2020 NFL opener and then appeared primarily on special teams over the next few weeks for a team struggling to show improvement from a 4-12 record a year ago. He started getting some meaningful time on defense in Week 4, and now he might be in line for even more snaps following his heroics on Oct. 18.
The winless Giants wasted a two-score lead in the first half and were struggling with the Washington Football Team, which was driving to break a 13-13 tie with less than four minutes to play.
Defender Kyler Fackrell strip-sacked Washington's Kyle Allen. Crowder was first to the loose ball. He scooped it cleanly and raced to the end zone nearly untouched to put the Giants ahead for good in a 20-19 victory.
That may be the last that football fans hear of the Mr. Irrelevant moniker, but not the last they'll hear from Crowder. He became the first Mr. Irrelevant this century to score a touchdown in one of his first five pro games. Washington receiver Trey Quinn, a 2018 draft pick, is the only other Mr. Irrelevant to have scored a touchdown in the past two decades.
"I took it as motivation," Crowder said of being drafted last in April. "I love the name. I just wanted to get here and get to work."
Few Mr. Irrelevant selections last long
The rules of the NFL draft generally work against the last few picks, like Tae Crowder, making a roster. Teams draft in reverse order of their record from the previous season. So, other than compensatory picks tacked on at the end, the late picks are made by teams that need the least amount of help.
It helps explain why only four Mr. Irrelevants from 1988 to 2006 ever appeared in an NFL game. Only four ever have played more than 100 games – and one of those was a kicker. The Chiefs made Ryan Succop, who now kicks for the Tampa Bay Buccaneers, the last pick in 2009. He came into the 2020 season with 236 field goals and 338 extra points for his career.