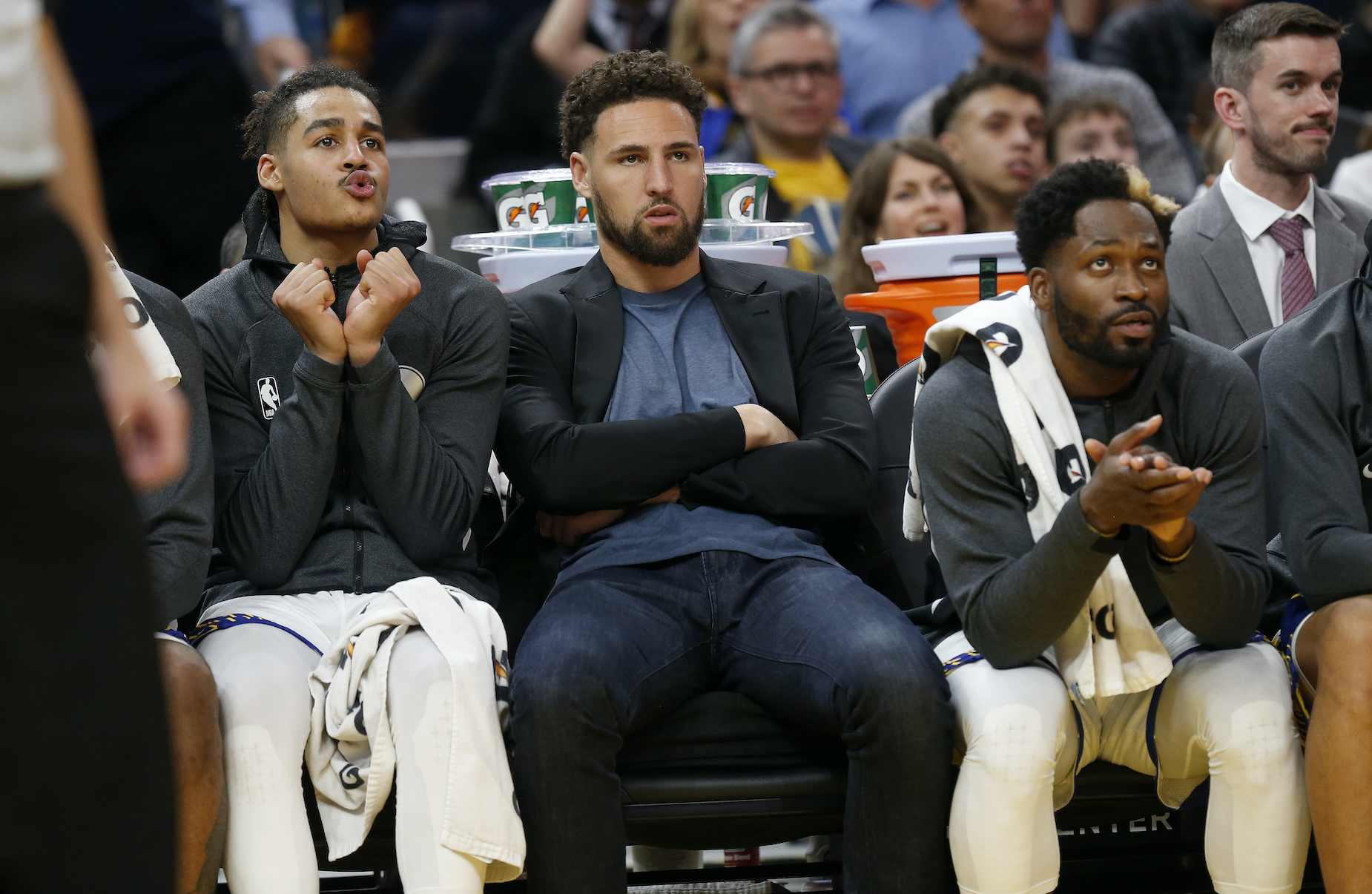 Golden State Warriors Guard Klay Thompson's Latest Comments About Basketball Are Equal Parts 'Admirable and Sad'
Golden State Warriors guard Klay Thompson made some interesting comments about his life without basketball.
While it's been a while since he's suited up for the Golden State Warriors, Klay Thompson is one of the modern NBA's top talents. During his time in the Bay Area, the guard has turned three-point shooting into an art form; he's also won three championships and made plenty of money along the way. Behind the scenes, however, his life isn't 100% perfect.
For all of his fame and fortune, Klay Thompson recently admitted that it's been tough for him to find happiness without hitting the hardwood. On one hand, those comments are admirable; on the other, though, they can also seem somewhat sad, especially when you consider the future.
Klay Thompson has found fame, fortune, and success as a legitimate NBA star
When you think of NBA stars, guys like LeBron James and Giannis Antetkounmpo probably spring to mind. Klay Thompson, however, has proven to be quite the talent during his time on the hardwood.
Thompson played his college ball at Washington State; while he arrived on campus as a deadly shooter, he quickly developed an all-around scoring threat. He spent three seasons with the Cougars, averaging 17.9 points per outing, before moving onto the NBA.
When the 2011 NBA draft rolled around, the Golden State Warriors snagged Thompson with the 11th-overall pick. Although he didn't see too much playing time at the start of his season, his offensive ability eventually made him an invaluable part of the team's rotation.
Since then, Thompson has grown into one of the NBA's brightest stars. He's formed a formidable one-two punch with Steph Curry, helping the Warriors win three championships. On a personal level, the guard's star status has also paid dividends; his fortune clocks in at approximately $60 million, according to CelebrityNetWorth.
Dealing with some brutal injuries and awful circumstances
When push comes to shove, no one can argue with Klay Thompson's NBA talent. Unfortunately for the Golden State Warriors, their guard hasn't seen the court in quite a while.
During the 2019 NBA Finals, Thompson tore his ACL; the Warriors, of course, went on to lose the series to the Toronto Raptors, and the guard missed the entire 2019-20 NBA campaign. The recovery process, however, didn't go according to plan.
In November 2020, Thompson was working out ahead of the 2020-21 campaign when he suffered another brutal setback. He tore his Achilles tendon, ruling him out for another season.
While the guard is making progress in his latest recovery, he still has quite a road ahead of him. According to Anthony Slater of The Athletic, Thompson has recently gotten his boot off and hasn't started running yet. Klay hopes to return for the start of next season, but, as of now, nothing is set in stone.
Klay Thompson admitted that it's been hard to find happiness without basketball
While dealing with two serious injuries can't be fun, it's still easy to think that Klay Thompson is living on Easy Street. In reality, though, things haven't exactly been perfect behind the scenes.
As tweeted by Connor Letourneau of the San Francisco Chronicle, Thompson recently admitted that "[he] genuinely [loves] the game so much that it's been kind of hard to find happiness without it." Slater also reported that Thompson said 2020 was the worst year of his life due to his injuries, the pandemic, and the death of his grandmother and Kobe Bryant.
Given the global context, though, the comments about finding happiness are especially poignant. As 2020 cost some people their jobs and forced others to work from home, there's been more thought about work-life balance and how one's identity is tied to their job. Thompson's comments raise a similar issue.
Bruce Arthur, a columnist for the Toronto Star, retweeted Letourneau's original quote, noting that it was both admirable and sad. On one hand, Thompson is supremely dedicated to his craft; sports fans love to sing the praises of players who will do anything it takes to improve. On the other, though, Klay Thompson simply can't play basketball forever. Even if he tries to stay close to the game as a coach or scout, he'll eventually have to live his life without stepping onto the hardwood.
If nothing else, Klay Thompson's comments should serve as a reminder of two fundamental truths: pro athletes are people too, and, at the end of the day, money can't buy happiness.
Stats courtesy of Sports-Reference