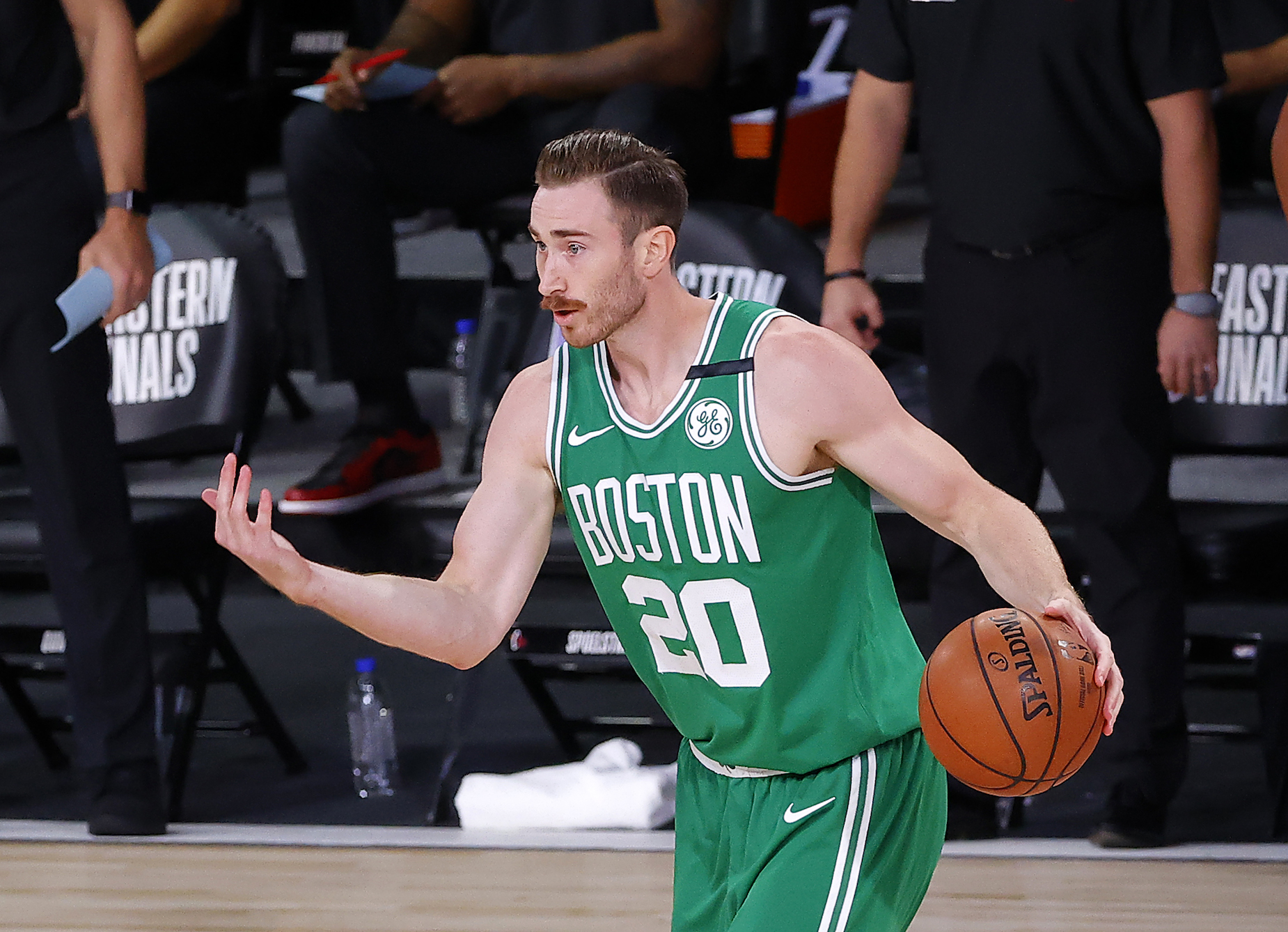 Gordon Hayward Just Signed a $120 Million Contract but Plays for Something Bigger Than Money
While Gordon Hayward reportedly inked a $120 million deal with the Charlotte Hornets, the forward plays for something bigger than a paycheck.
While guys like Giannis Antetokounmpo and Anthony Davis steal may steal most of the headlines, plenty of other players found a new home during free agency. Take, for example, Gordon Hayward. After running out his contract with the Boston Celtics, the forward hit the open market and signed a contract with the Charlotte Hornets worth somewhere in the neighborhood of $120 million.
Although that contract will drastically increase Gordon Hayward's bottom line, the forward doesn't hit the hardwood thinking about money. At the end of the day, the forward is playing for something much bigger than dollars and cents.
Gordon Hayward has been a solid player…when he's healthy
When you think of the Boston Celtics, stars like Larry Bird, Bill Russell, and Paul Pierce probably spring to mind. While Gordon Hayward might not be at the same level as those guys, he's still been a capable player during his time in Utah and Massachusetts.
Hayward played his college ball at Butler, where he famously led the Bulldogs to the NCAA title game. While his buzzer beater didn't complete the fairytale, the forward did average 14.4 points and 7.4 rebounds per game and earned a place on the NCAA All-Tournament Team before entering into the 2010 NBA draft.
When draft day rolled around, the Utah Jazz snagged Hayward with the ninth overall pick. Although he started out as a bench player, the forward eventually came into his own; by the end of his time in Salt Lake City, he was pouring in more than 20 points per game.
In July 2019, Hayward hit free agency and joined the Boston Celtics. Life in New England didn't get off to a good start, however, as the forward promptly fractured his tibia and dislocated his ankle. While he's worked his way back to form, the hasn't quite gotten back to his best
Cashing in with a $120 million Charlotte Hornets contract
While the Boston Celtics were hoping to make a run at the 2019-20 NBA title, the Miami Heat had other plans and eliminated them in the first round of the playoffs. Once free agency opened, they suffered another blow: losing Gordon Hayward.
Although there had been rumors that the forward wanted to leave Beantown, that move seemed pretty complicated. On paper, there weren't many teams who could give Hayward a raise; as you'd imagine, those few options weren't exactly contenders, either.
With all of that being said, though, a deal eventually materialized. Hayward opted out of his contract and, as reported by ESPN's Adrian Wojnarowski, decided to join the Charlotte Hornets. While the exact details of his new contract haven't reached the public just yet, it's expected to be a four-year deal worth somewhere in the neighborhood of $120 million.
Gordon Hayward is playing for something bigger than money, though
While it's impossible to know what Gordon Hayward was really thinking, it certainly seems like money played a role in his decision to leave Boston and sign with the Charlotte Hornets. The forward, however, has something more than dollars and cents on his mind when he hits the court.
According to the Baptist Messenger, Hayward's mother sends him a simple text before every game: "Remember Who you play for." The answer to that question is what keeps the forward going.
"It helps remind myself why I am doing this. I am playing for the glory of God," Hayward explained. "It makes life easier. It takes a lot of pressure off of you. My inspiration first and foremost always has to be God. I play every game for Him and after that my inspiration is my family."
Stats courtesy of Sports-Reference and Basketball-Reference