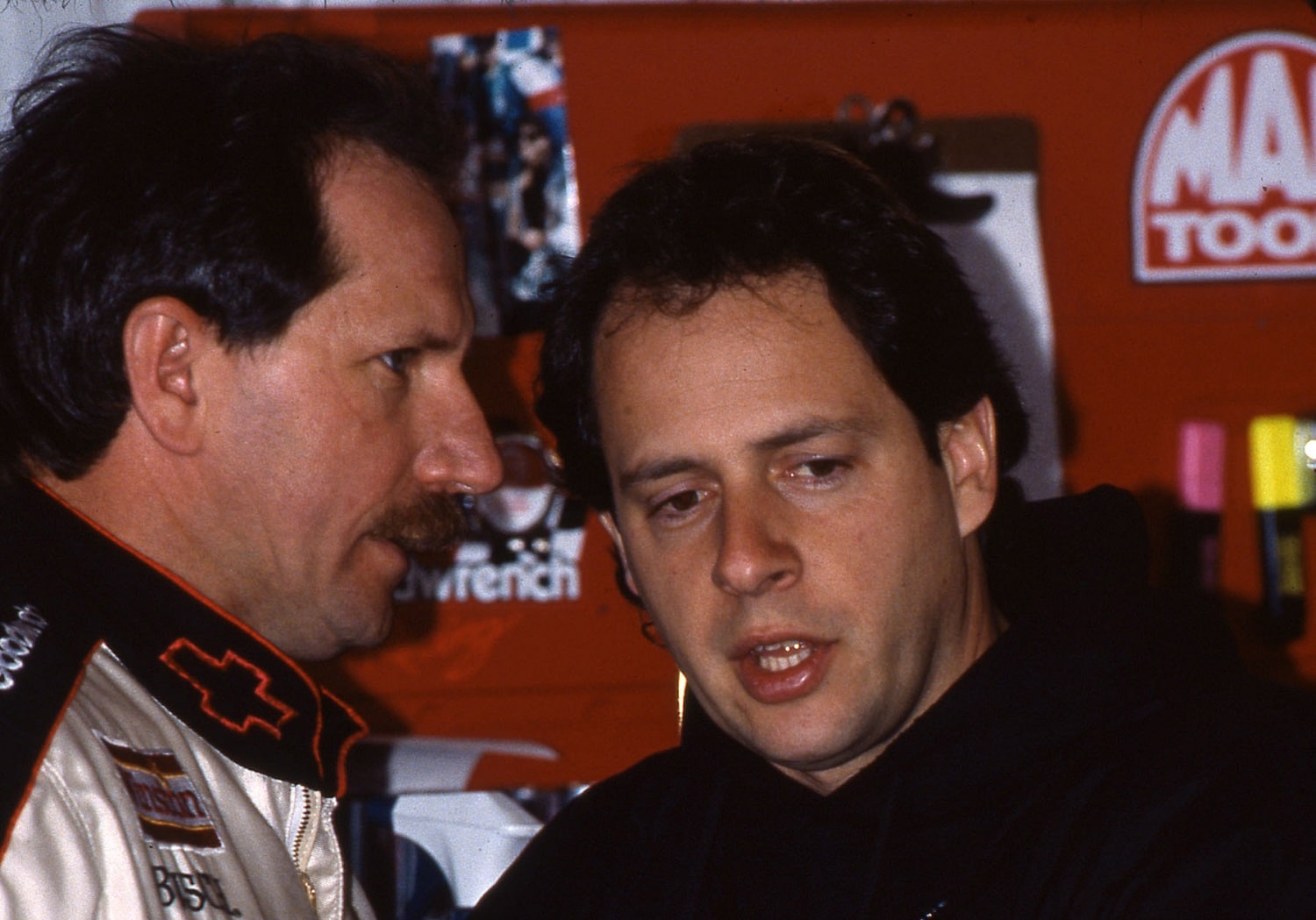 A Hall of Fame Crew Chief Reduced Dale Earnhardt to Silence as He Battled Mark Martin for a Championship
Kirk Shelmerdine is going into the NASCAR Hall of Fame in January. One of his former crew members shared a humorous story about how Shelmerdine handled Dale Earnhardt.
Kirk Shelmerdine got left behind while the selection committee worked through a decade of fine candidates, but the crew chief for most of Dale Earnhardt's Cup Series championships is finally going into the NASCAR Hall of Fame in January.
The stories about Shelmerdine will be plentiful between now and Jan. 20 in Charlotte, North Carolina. One of his crew members recently relayed one gem via social media that demonstrated the ability of his boss to put one of the toughest, gruffest figures in NASCAR history in his place.
Kirk Shelmerdine won four NASCAR championships with Dale Earnhardt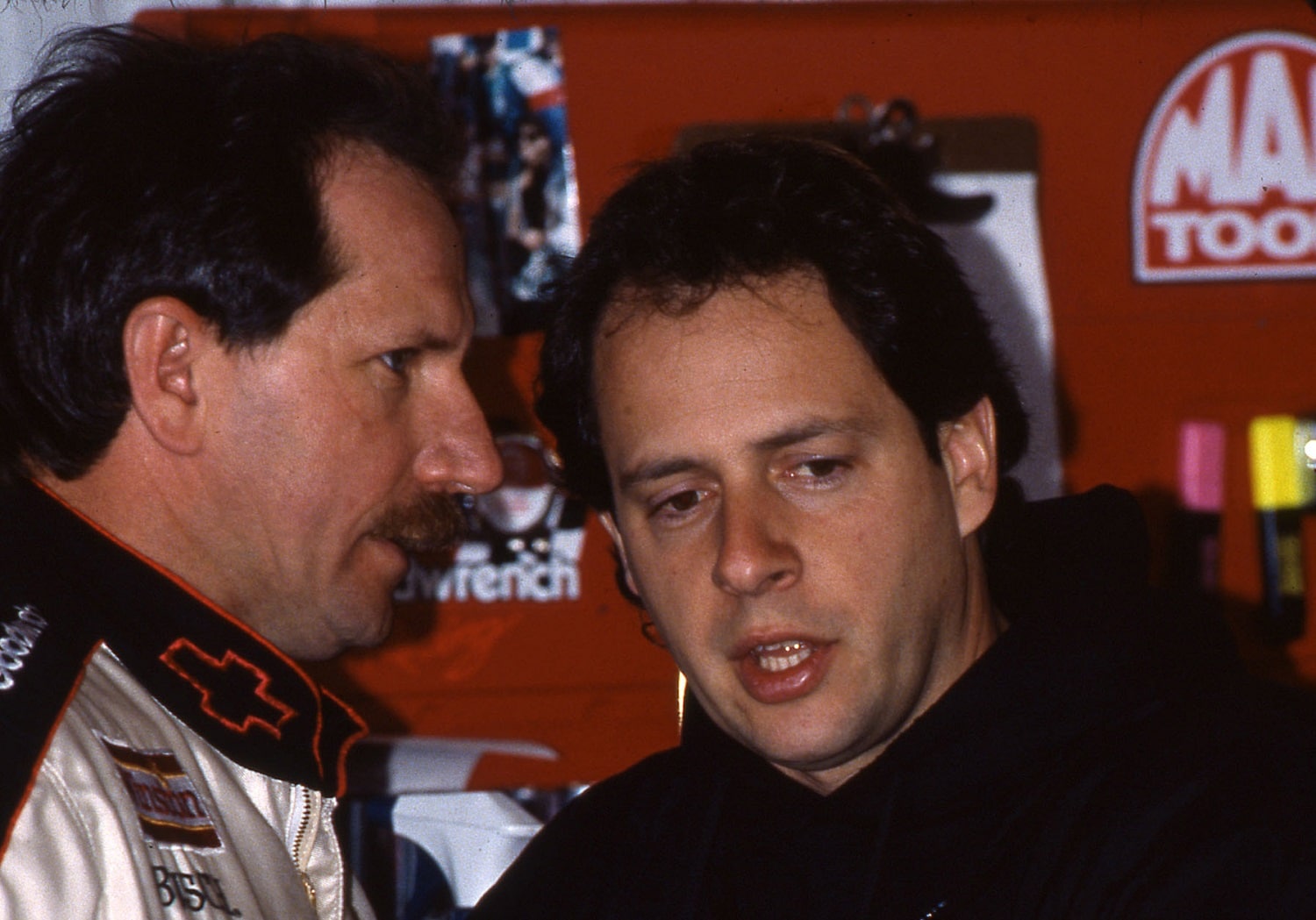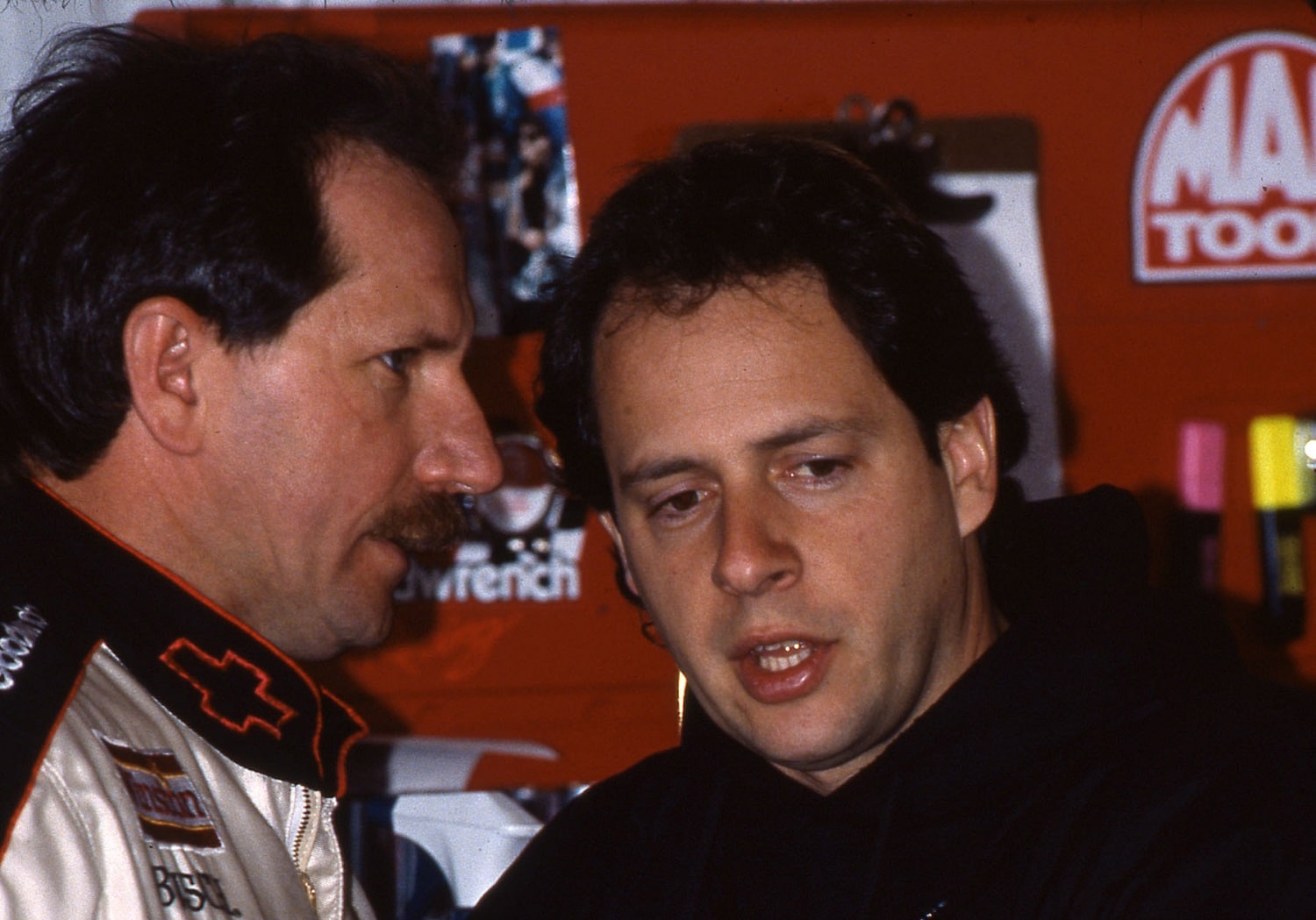 The fact that NASCAR will be celebrating its 75th anniversary season in 2023 is a reminder its Hall of Fame is still catching up to do when it comes to honoring past greats. The first class of inductees went into the Hall in 2010, and only 61 men have earned the honor thus far.
The number will grow to 64 in January with the induction of drivers Matt Kenseth and Hershel McGriff, along with crew chief Kirk Shelmerdine, who gained fame working alongside first-year inductee Dale Earnhardt.
Shelmerdine's resume is impressive, starting with four championships from 1986-91 as Earnhardt's crew chief. In all, he ran The Intimidator's car for 272 races over 10 seasons, and they made 44 trips to Victory Lane together.
Before that, he was the crew chief for James Hylton, Richard Childress, and Ricky Rudd, and the first two of Rudd's 23 victories came with Shelmerdine atop the pit box.
Shelmerdine gave up working the pits after the 1992 season to return to his first love. He drove extensively in the ARCA Series and the Xfinity Series through 2000 and even ran the full 2004 season in the Cup Series.
The 1990 NASCAR championship battle was tight
There wasn't much separating the legendary Dale Earnhardt from winning six straight NASCAR Cup championships beginning in 1986. After winning in 1986-87, he placed third to Bill Elliott and Rusty Wallace in '88, then second to Wallace the following year. He battled his way back to the top in 1990 and '91.
That 1990 season was a nail-biter much of the way. Though Earnhardt scored nine victories to just three for Mark Martin, he could not shake the driver of the Jack Roush No. 6 Ford until finally prevailing by a slim 26 points. The tension grew after Earnhardt finished a disappointing 25th in the Mello Yello 500 at Charlotte, the 26th of 29 scheduled races.
After a week off, the Cup Series arrived at North Carolina Motor Speedway, which later came to be known as Rockingham Speedway. Martin began that day with a 3,990-3,941 lead, and Earnhardt was feeling his potential fourth series crown slipping away.
Earnhardt finished 10th at Rockingham, only narrowing the deficit to Martin by four points, but one of Kirk Shelmerdine's crew members shared a memory from that October 1990 day that turned out to be pivotal for keeping Earnhardt focused.
Kirk Shelmerdine to The Intimidator: 'Stop in Martin's pit next stop'
John Mulloy, a longtime pit crew worker in NASCAR, goes by the Twitter handle "@SevenTimeChamp." As is the case with Kirk Shelmerdine, not all his seven championships came with Dale Earnhardt. However, he was on The Intimidator's crew for five titles, including 1990.
Mulloy shared on Twitter how Earnhardt got riled when Mark Martin beat him out of the pits during the AC Delco 500 at Rockingham.
"We hardly ever got beat out of the pits," Mulloy explained. "Well, Martin beat us out, and Dale came on the radio and started fussing about how Martin beat us. Kirk Shelmerdine came back on the radio and told Dale to stop in Martin's pit next stop.
"Dale never said another word about pit stops. We win together and we lose together."
Two weeks later, Earnhardt won at Phoenix and roared into the points lead as Martin finished 10th. The season concluded two weeks later in Atlanta, and Earnhardt wrapped up his fourth championship with a third-place finish.
Got a question or observation about racing? Sportscasting's John Moriello does a mailbag column each Friday. Write to him at [email protected].