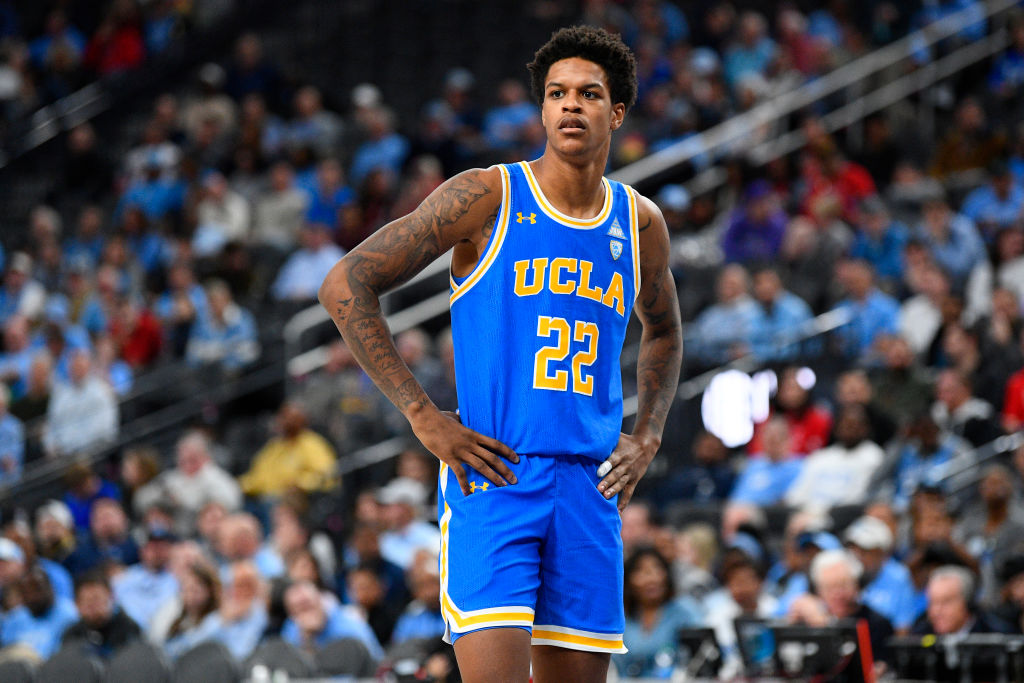 How Kobe Bryant is Still Inspiring Shaquille O'Neal's Son Shareef
The entire sports world was shaken by the death of Kobe Bryant. Shaquille O'Neal's son, Shareef, is still being inspired by Kobe.
In January, the entire sports world was shaken by the death of Los Angeles Lakers legend Kobe Bryant. While everyone in the NBA felt some degree of personal loss, things were especially tough for Shaquille O'Neal. The big man vowed to act differently in the future, but his son, Shareef O'Neal, is also making a change.
While Bryant has been gone for almost a month, his impact hasn't diminished. In fact, the late Lakers star is still inspiring Shareef O'Neal.
Shaq and Kobe's relationship
During their prime, Shaquille O'Neal and Kobe Bryant were two of the most dominant players in the NBA. Despite their combined star power, however, the two didn't always see eye to eye.
While both men were incredibly talented, they went about their business in different ways. Shaq is famously fun-loving, while Kobe always had an air of seriousness about him. Eventually, verbal barbs—and occasional blows—started flying.
O'Neal and Bryant seemed to put their differences aside in Phil Jackson's triangle offense, but, before long, tensions resurfaced. The pair resumed arguing over fitness, work ethics, and how they should co-exist on the court; eventually, O'Neal left California, leaving Kobe to shine alone in Hollywood.
After Bryant's death, O'Neal explained their relationship as one of mutual respect. "Our names will be attached together for what we did," Shaq said. "People always ask about our relationship, and I tell them it's just like me and Charles [Barkley]. You got two strong-minded people that are going to get it done that way. You're going to say certain things, [but] the respect will never be lost. When it comes to being inside the lines and winning, that's what me and him did."
Kobe Bryant's final message to Shareef O'Neal
At the end of January, Shareef O'Neal announced that he was transferring out of UCLA. While the move wasn't a complete surprise—after spending a year as a medical redshirt, O'Neal hadn't seen much playing time during the 2019-20 campaign—it did prompt a single message.
On the morning of January 26, Kobe Bryant sent a message to Shareef, simply asking, "you good fam?" O'Neal responded that he was just trying to figure out the next step in his career; the 20-year old, however, would never receive a response. Bryant, of course, tragically died in a helicopter crash that day.
"You've really been there for me all 20 years of my life," Shareef wrote in a tweet later that day," … been there for me since I was born .. love you."
Shareef O'Neal's lasting inspiration
A few weeks after announcing his plans to leave UCLA, Shareef O'Neal confirmed that he'd be following in his father's footsteps and heading to LSU. Kobe Bryant also played a role in the decision, though.
Shareef has since made that final message from Bryant his phone's wallpaper; it serves as a lasting reminder to take things seriously, both on and off the court.
I look at it every day," O'Neal told Robin Lundberg of Sports Illustrated. "It's a special moment. It's crazy that three hours before that he texted me asking if I'm good. He was always checking in on me. I was literally going, I would've seen him that day because I was going to the same place he was going. It's crazy. It's still unbelievable."
"There's always those people in life you look at like superheroes and that nothing bad can ever happen to them. It's still unbelievable to me, I still don't even want to believe it," Shareef continued. "It's just crazy to think about. It races through my mind, but it made me focus more. I feel like it's changed my basketball drive to times 10. I'm gonna do it for him because I know he'd want me to do well. He always told me he wanted me to do well. It's crazy, but I'm gonna play for him."
Based on his genes alone, Shareef O'Neal has plenty of basketball talent; if he combines that with some Mamba Mentality, he'll definitely do Kobe proud.