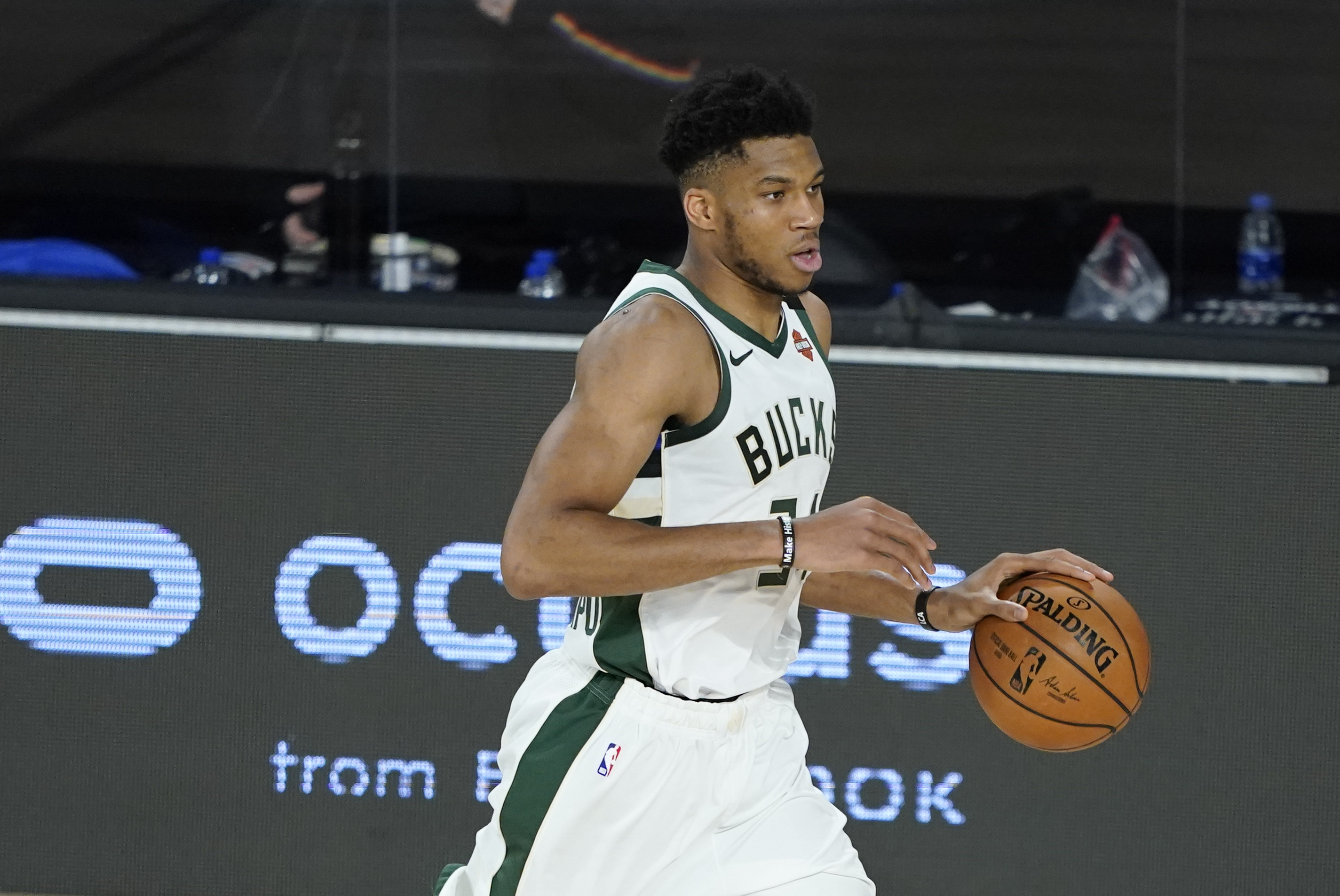 How Much Money Can Giannis Antetokounmpo Earn by Signing a Supermax Contract With the Milwaukee Bucks?
If Giannis Antetokounmpo signs a supermax contract extension with the Milwaukee Bucks, he'll earn himself quite a bit of money.
While we're in the midst of an abbreviated NBA offseason, certain stories never go away. One of those, for better or worse, is Giannis Antetokounmpo and his future with the Milwaukee Bucks. With the forward entering the final year of his current contract, we're theoretically entering make or break territory.
If Giannis Antetokounmpo does decide to commit his long-term future to the Milwaukee Bucks this summer, he'll do so by inking a supermax contract. If he does sign on the dotted line, though, how much will the forward earn?
The basketball world is patiently waiting for Giannis Antetokounmpo to decide his destiny
In 2013, Giannis Antetokounmpo made the decision to leave his native Greece and make the leap to the NBA. Years later, there's another decision looming.
In September 2016, Antetokounmpo signed a four-year, $100 million contract extension with the Bucks; that deal will expire at the end of the 2020-21 campaign. At this point, though, it's not clear that the forward will do in regard to his future.
It's a foregone conclusion that Milwaukee wants to keep Giannis on the roster; any team would gladly accept his services. It remains to be seen, however, if the Greek Freak wants to remain a Buck.
Should Antetokounmpo decide to sign a supermax extension this offseason, that will end any speculation. If he doesn't, though, things will keep going for another year. The Bucks don't seem prepared to trade Giannis; they'll want to use this final season of the contract to convince him that Milwaukee is a place to spend his career. As for the rest of the NBA, they'll be waiting with bated breath for free agency to formally open during the 2021 offseason.
What is an NBA supermax contract?
If you've spent any amount of time watching the NBA, you've probably heard talk of a supermax contract. There's a little bit more to that concept, however, than the name might imply.
As spelled out by NBC Sports, supermax contracts are officially known as "Designated Veteran Player Extension" and allow "teams to re-sign qualified players [to maximum five-year contracts worth up to 35 percent of the salary cap with eight percent escalation in each subsequent year." Those extensions last for four or five years, depending on when the player signs and how long he's been in the NBA.
As for the eligibility part, "a player that has (or will have) completed eight years of NBA service by the end of his current contract"; the team offering the extension also has to have drafted the player or acquired his rookie contract. Lastly, the player in question has to have recently been an all-star, Defensive Player of the Year, or NBA MVP.
How much money will Giannis Antetokounmpo make if he signs a supermax contract with the Milwaukee Bucks?
As the title and the above explanation would lead you to believe, a supermax contract comes with a sizable salary. Giannis Antetokounmpo's potential deal would be no exception.
If the Greek Freak signed a max contract extension during the 2020-21 NBA season, his 35% salary would be based on the overall $109,140,000 salary cap; each year, of course, would add an additional 8% increase. As noted by ESPN's Zach Lowe, that shakes out to "between $220 million and $250 million." If Giannis chooses to hit free agency, the most he could secure is "a four-year deal worth between $140 million and $160 million."
In theory, that extra year and money are supposed to give the Milwaukee Bucks the advantage in the race for Giannis Antetokounmpo's signature. Given what the forward has said about wanting to win, though, cold hard cash might not be enough to keep him in the midwest.
Salary cap numbers courtesy of Spotrac