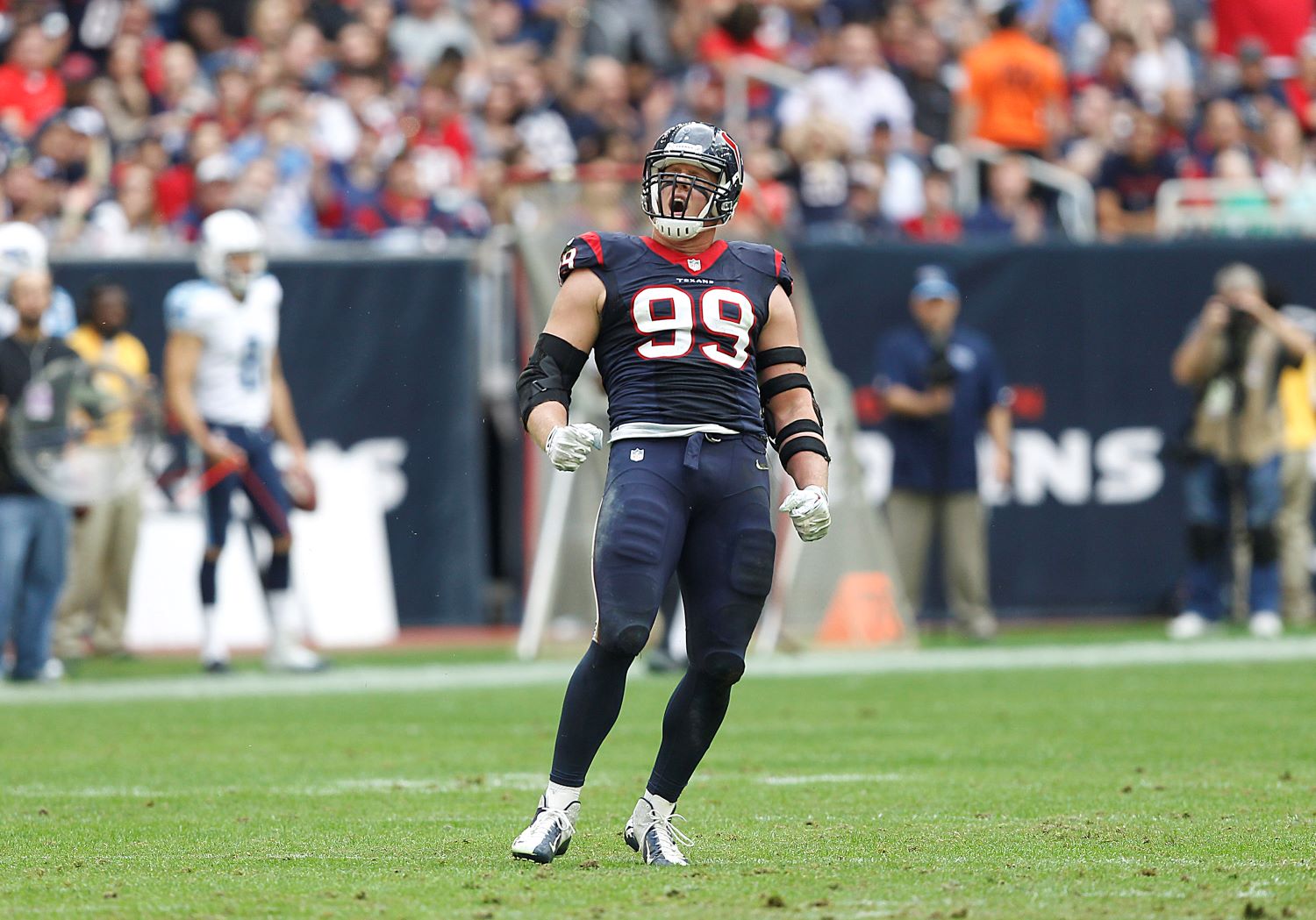 J.J. Watt Delivers High Praise for NFL Comeback Player of the Year Candidate Alex Smith
J.J. Watt delivered some high praise for NFL Comeback Player of the Year candidate Alex Smith after Washington defeated Pittsburgh on Monday.
J.J. Watt knows a thing or two about recovering from a major injury. After all, the future Hall of Famer played just 32 games from 2016-2019 due to a variety of health issues.
While the Houston Texans defensive end has bounced back from another abbreviated campaign, even Watt can admit that Alex Smith has a much more impressive comeback story. In fact, he delivered some high praise for the veteran quarterback on Monday.
But can Smith cap off his inspiring season by leading the Washington Football Team to a playoff berth?
J.J. Watt is no stranger to setbacks
J.J. Watt exploded onto the scene by leading the NFL with 20.5 sacks in just his second year in the league. From 2012-2015, he racked up 69 sacks, 190 quarterback hits, and 119 tackle for loss. The three-time NFL Defensive Player of the Year looked like a legitimate candidate to break the NFL's all-time sack record.
However, after playing all 16 games in each of his first five seasons, Watt started to experience major durability issues. He played just eight games between 2016-2017 due to back and leg injuries.
The superstar defensive end finally managed to stay healthy in 2018. In his age-29 season, Watt racked up 16 sacks and 25 QBH while playing all 16 games. He also led the NFL with seven forced fumbles.
Unfortunately for the five-time Pro Bowler, his 2019 season featured another brutal injury setback. Watt suffered a torn pectoral muscle in Week 8 and had to get placed on injured reserve.
The 31-year-old has bounced back with a solid campaign in 2020. Watt has totaled five sacks, 10 QBH, a pick-six, and seven passes defended in 12 games.
Watt has high praise for the NFL Comeback Player of the Year candidate
NFL players can be fans, too.
And by the sound of it, J.J. Watt is a huge fan of Alex Smith.
The future Hall of Famer delivered some high praise for the veteran quarterback in a heartfelt tweet posted Monday night.
"What Alex Smith has done is unbelievable," Watt wrote. "Comeback Player of the Year even before taking a snap. But playing winning football after everything he's been through is even more incredible."
Of course, Smith's comeback from a gruesome leg injury has been one of the best storylines of the 2020 season. The former No. 1 pick ironically suffered his career-altering injury against the Texans back in 2018. But after defeating death and working his way back to full strength, the 36-year-old took back his starting job in Week 10.
Smith has gone 3-1 since Ron Rivera elevated him to the QB1 role. And while his raw numbers won't blow anyone away, he deserves tremendous credit for even stepping on the field again. But can the three-time Pro Bowler lead Washington to a surprise playoff berth?
Can Alex Smith lead Washington to an NFC East title?
While J.J. Watt and the Texans will surely watch the playoffs from home, the Washington Football Team has a chance to win a division title for the first time since 2015.
And if Alex Smith leads his team to a postseason berth, it will only be Washington's third playoff appearance since 2008.
Despite having a 5-7 record, Smith's team actually sits in first place in the NFC East. But will Washington finish the season in that position?
Based on their final four opponents, that looks like a major challenge. This week, Washington has to take on a 5-7 San Francisco 49ers squad that still has a shot at making the playoffs as a wild card team.
In Week 15, Russell Wilson and the Seattle Seahawks will put Rivera's defense to the test. Can Washington slow down an offense that currently ranks fourth in scoring?
Smith and his team wrap up their season with matchups against the Carolina Panthers and the Philadelphia Eagles.
Let's see if Washington can extend its three-game winning streak this week and continue to build momentum as the regular season winds to a close.
All statistics courtesy of Pro Football Reference.