Jalen Rose Claims That Former Pacers Coach Larry Brown Tried to Get Him out of the NBA, Held a Trade Against Him
Jalen Rose is a successful ESPN anchor and was a hoops star for over a decade in the NBA, but things didn't always come easy for him. Rose struggled to put up consistent numbers in his first few pro seasons and even rode the bench once he joined the Indiana Pacers in 1996-97.
However, his lack of playing time during his first season in Indiana might not have been entirely his fault. Rose recently opened up about his career, and he claimed that former Pacers head coach Larry Brown tried to get him out of the league.
Jalen Rose went from Fab Five star to Pacers bench warmer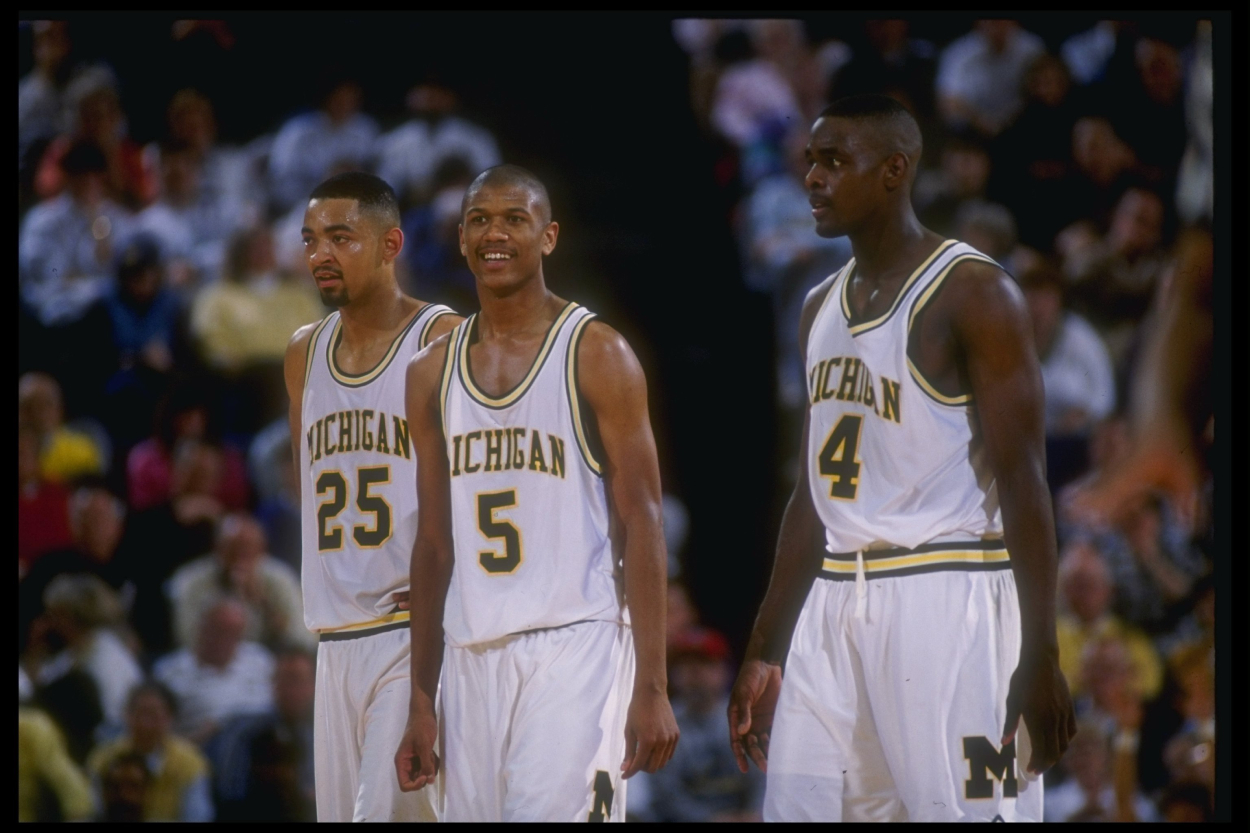 Jalen Rose was one of the most popular players in college basketball during his time at Michigan. Playing alongside Chris Webber, Juwan Howard, Jimmy King, and Ray Jackson, Rose was a part of the Wolverines' Fab Five that took the program to two consecutive national championship games in 1992 and 1993.
However, things weren't as glamorous once he entered the NBA.
The Denver Nuggets selected Rose with the No. 13 overall pick in the 1994 NBA Draft. He then played for the Nuggets in his first two seasons, averaging 8.2 points and 4.8 assists as a rookie, and 10.0 points and 6.2 assists in his second year.
During the 1996 offseason, though, the Nuggets traded Rose, Reggie Williams, and a first-round pick to the Pacers for Mark Jackson, Ricky Pierce, and a first-round selection.
At first, Rose was excited to go to Indiana, as he would team up with great players like Reggie Miller. But things quickly changed when his minutes went from 26.7 per game in his second season in Denver to 18.0 in his first year with Indy. He also had several "did not plays."
But, according to Rose, it wasn't because he couldn't hoop.
Jalen said Larry Brown tried to get him out of the NBA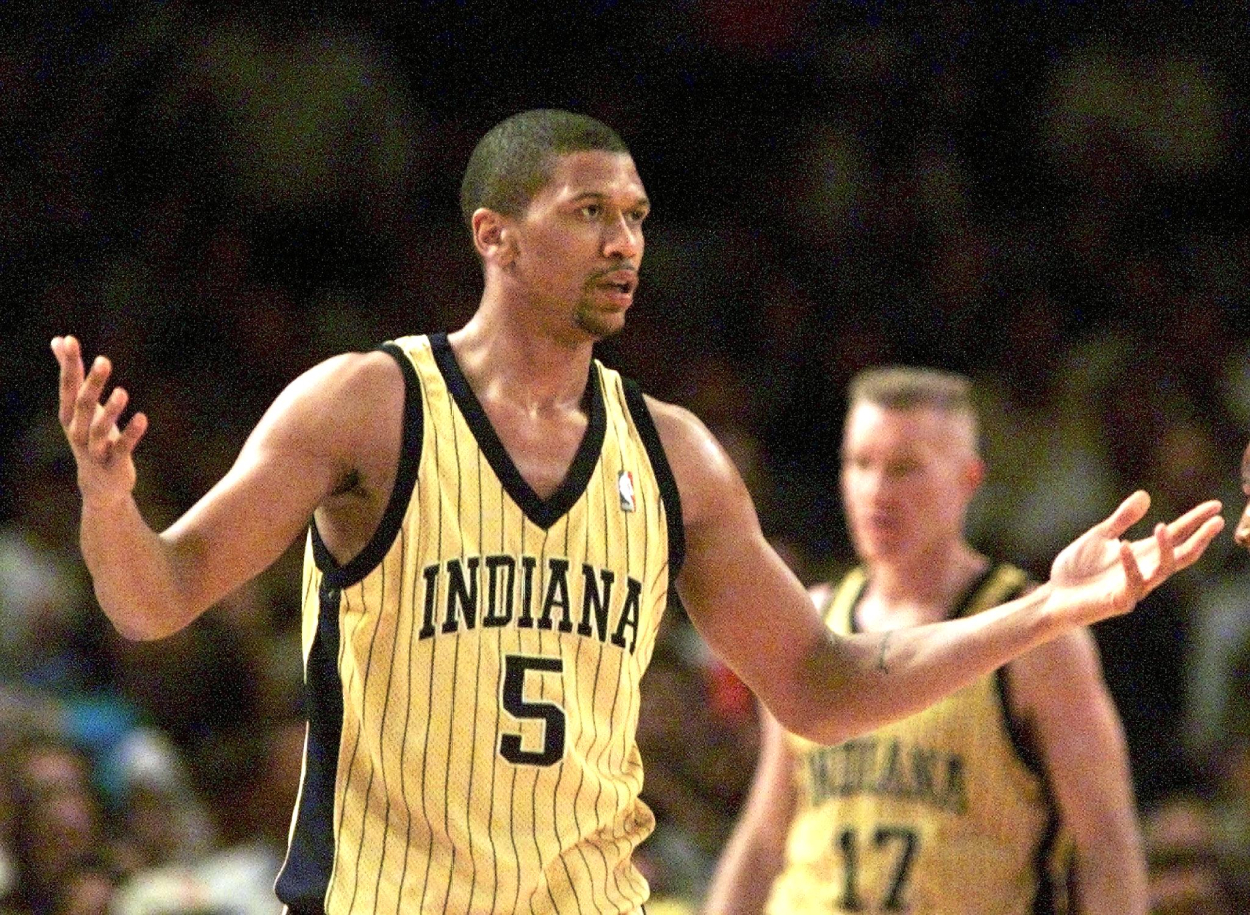 Larry Brown was the Pacers' head coach during Jalen Rose's first season with the team. He had already taken multiple franchises to the playoffs up to that point and led the Pacers to two Eastern Conference Finals in his first three seasons as coach.
But Rose said that Brown didn't like that Indiana had traded Mark Jackson for the Michigan product, so he claims that the coach held it against him.
"He tried to get me out of the league," Rose said on the Dec. 9 episode of All The Smoke.
He then recalled a time when Brown brought him into an office and compared his NBA career at that point to the careers of his fellow Fab Five members. Webber became an All-Star in 1996-97, while Howard had earned an All-Star selection the previous season. King, however, only played in two games in 1996-97 after scoring just 4.5 points per game the year before. He didn't play in the league again after that. And Jackson never player in an NBA game after his time at Michigan.
"He was like, 'Chris and Juwan are up here. Ray and Jimmy are down here,' and I [didn't] like that by the way," Rose said. "He was like, 'I will determine which way you go.' … I was like, 'No, you ain't.' I got up and walked right out the office."
The former wing player then doubled down on his earlier claim, saying, "He was trying to get me out the league."
Brown, a Naismith Memorial Basketball Hall of Famer, is now an assistant coach for the Memphis Tigers. The Memphis athletic department had not yet responded to our request for comment at the time of publication.
If Brown was indeed trying to get Rose out of the league, though, his attempts didn't work.
Jalen Rose went on to have a successful NBA career with the Pacers and other teams
Jalen Rose said on All The Smoke that former Pacers general manager Donnie Walsh eventually told him that he would likely be in Indiana longer than Brown. So, Walsh said he just needed him to be professional that season.
Indiana went 39-43 and missed the playoffs in 1996-97. But the franchise and Brown parted ways after that. The coach went to the Philadelphia 76ers, and the Pacers hired Larry Bird as head coach.
Bird then gave Rose a chance.
Jalen began playing more and more each season, and by his third year under Bird, he averaged 18.2 points in 37.2 minutes per game, and he won the NBA's Most Improved Player Award. The Pacers also made the 2000 NBA Finals that season, and Rose played a major role in their success.
The Detroit native then went on to have a long, successful career in which he averaged over 20.0 points per game in three separate seasons and as many as 22.1 in 2002-03. He walked away after the 2006-07 campaign — 10 years after Brown allegedly tried to get him out of the league — and finished with career averages of 14.3 points, 3.5 rebounds, and 3.8 assists per game.
It may have been a tough road initially, but Jalen Rose became a star. He just had to make it through his lone season with Larry Brown.
Stats courtesy of Basketball Reference