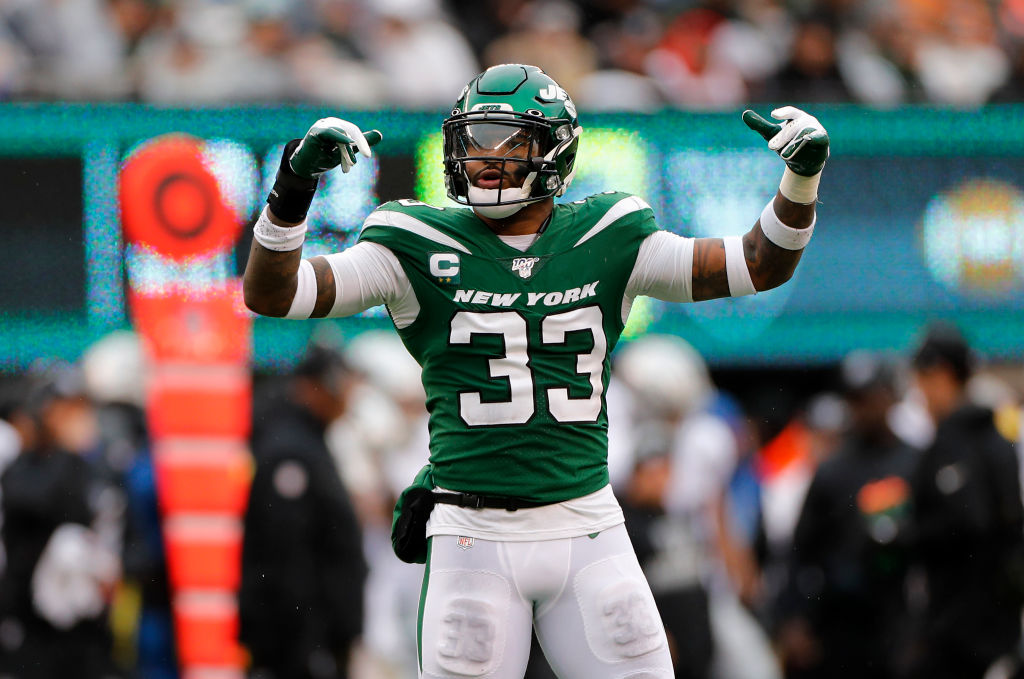 Jamal Adams Has an Outrageous Demand That Makes a Trade a Financial Disaster
Jamal Adams will never get traded from the Jets if he truly intends on becoming one of the highest-paid defensive players in the NFL.
Jamal Adams definitely deserves a new contract. After all, he's been one of the NFL's biggest bargains for the last three years. However, the star safety for the New York Jets made it clear he no longer wants to call MetLife Stadium home. Immediately, trade speculation started about which NFL team could be in the market for his services.
While Jerry Jones would probably love to add Adams, he shouldn't be burning the phone lines to make him the newest member of the Dallas Cowboys. In fact, if NFL teams consider Jamal Adams' outrageous contract demand, they should quickly realize that trading for the All-Pro safety simply doesn't add up.
Jamal Adams has quickly become one of the NFL's top safeties
Coming out of LSU, Jamal Adams looked like a generational prospect. Weighing in at 6-foot-1, 213 pounds with 4.56 speed, he possessed the perfect blend of size and explosion to dominate as a modern-day defensive back.
The Jets smartly selected the former SEC standout with the sixth overall pick of the 2017 NFL draft. While many members of his draft class have flopped, Adams has excelled. He immediately became the leader of a Jets defense desperate for playmakers.
In his rookie season, Adams recorded 83 tackles, two sacks, two fumble recoveries, and six passes defended. However, he failed to record an interception and has only recorded two in his short career.
Despite his pick drought, Adams still earned Pro Bowl berths in each of the last two seasons. In 2018, he earned second-team All-Pro honors before getting named first-team All-Pro last year.
Even with Adams ascending to elite status, the Jets haven't experienced much success on the field. New York has ranked 22nd, 29th, and 16th in points allowed over the last three seasons. And with an uncertain future under Adam Gase, Jamal Adams finally decided he needs to play for a new franchise.
Adams has a ridiculous price in mind for his next contract
With Adams officially requesting a trade, the rest of the NFL immediately got put on notice. Rarely does a player of his caliber become available on the trade market. However, the two-time Pro Bowler has a crazy contract demand that may preclude a trade from ever happening.
ESPN NFL insider Jeremy Fowler made an appearance on SportsCenter Saturday that gave viewers insight into what Adams wants (H/T 247 Sports).
"A lot of teams would love to have him, including the Eagles. Many teams are looking into (a trade offer) and are expected to, but the problem here is money," Fowler said. "It looks large. From multiple sources, Adams is expected to ask for top defensive player money, to be (paid) among the top defensive players, not just the top safeties. Then you're looking at $20-plus million a year."
Fowler added that teams don't want to give up high draft picks during the COVID-19 pandemic. He also said that the Jets love Adams and don't want to move him. Of course, they may not even get the chance to if NFL teams never pick up the phone.
Why NFL teams shouldn't trade for the Jets safety
On one hand, Jamal Adams definitely has a right to want a raise. The 2017 first-round pick will make just over $7.1 million this season. His fifth-year option comes in at just under $9.9 million, according to Spotrac. However, the highest-paid safeties make about $14 million per season.
Getting to that number makes total sense for a player of his caliber. What doesn't add up is how Adams thinks he's worth $20 million per year. Only five defensive players surpass that number. None of them play defensive back. In fact, the top-10 highest-paid defenders all play defensive line or linebacker.
The safety position simply doesn't bring enough value to warrant the type of contract Adams desires. Does it make sense to pay $20 million or more annually for a position that carries the fourth-lowest franchise tag number? Even the best safeties can go long stretches without making a tangible impact on the game.
Moreover, NFL teams also have to consider the draft capital involved in a trade for a player of Adams' caliber. You have to imagine the Jets will seek a minimum of a first-round pick. In all likelihood, general manager Joe Douglas will ask for more picks in return for his best player. Is a safety worth that type of draft capital plus an industry-changing contract?
Ultimately, you can't fault Jamal Adams for wanting a new contract and a new NFL team. But he's delusional for thinking he deserves top-five money. If that's truly the case, he better get used to playing for the Jets.