Jason Kidd Trash-Talked Gary Payton as a Rookie and Learned an Invaluable NBA Lesson: 'I Knew It Was a Mistake Right When I Said It'
These days, Jason Kidd plies his trade on the sidelines rather than on the NBA hardwood. Before he ever became a head coach, though, the California native carved out a reputation as one of the top guards in modern basketball history. That talent, however, didn't mean he arrived on the professional scene as the finished article.
During his rookie campaign, Kidd got ahead of himself and made the mistake of trash-talking Gary Payton. While calling out any established NBA player would have probably ended in disaster, The Glove was one of the worst targets imaginable.
Jason Kidd arrived in the NBA with plenty of potential
As noted above, it's easy to see Kidd wearing a suit on the sidelines and think he's always been an established NBA presence. That, of course, wasn't the case. At one point, the guard stood tall as one of the top talents in college basketball.
As a California native, Kidd stayed close to home and played his NCAA ball at Cal. While some were surprised that he chose to ignore the traditional basketball powers, the guard didn't miss a beat once the season began. He averaged 13.0 points, 4.9 rebounds, and 7.6 assists per outing as a freshman. Those numbers would only improve during his sophomore season, as Kidd earned First-Team All-American honors.
On the back of that success, the guard entered into the 1994 NBA draft. He ended up joining the Dallas Mavericks as the second overall pick, setting up an ill-fated meeting with Gary Payton.
Learning a lesson after trash-talking Gary Payton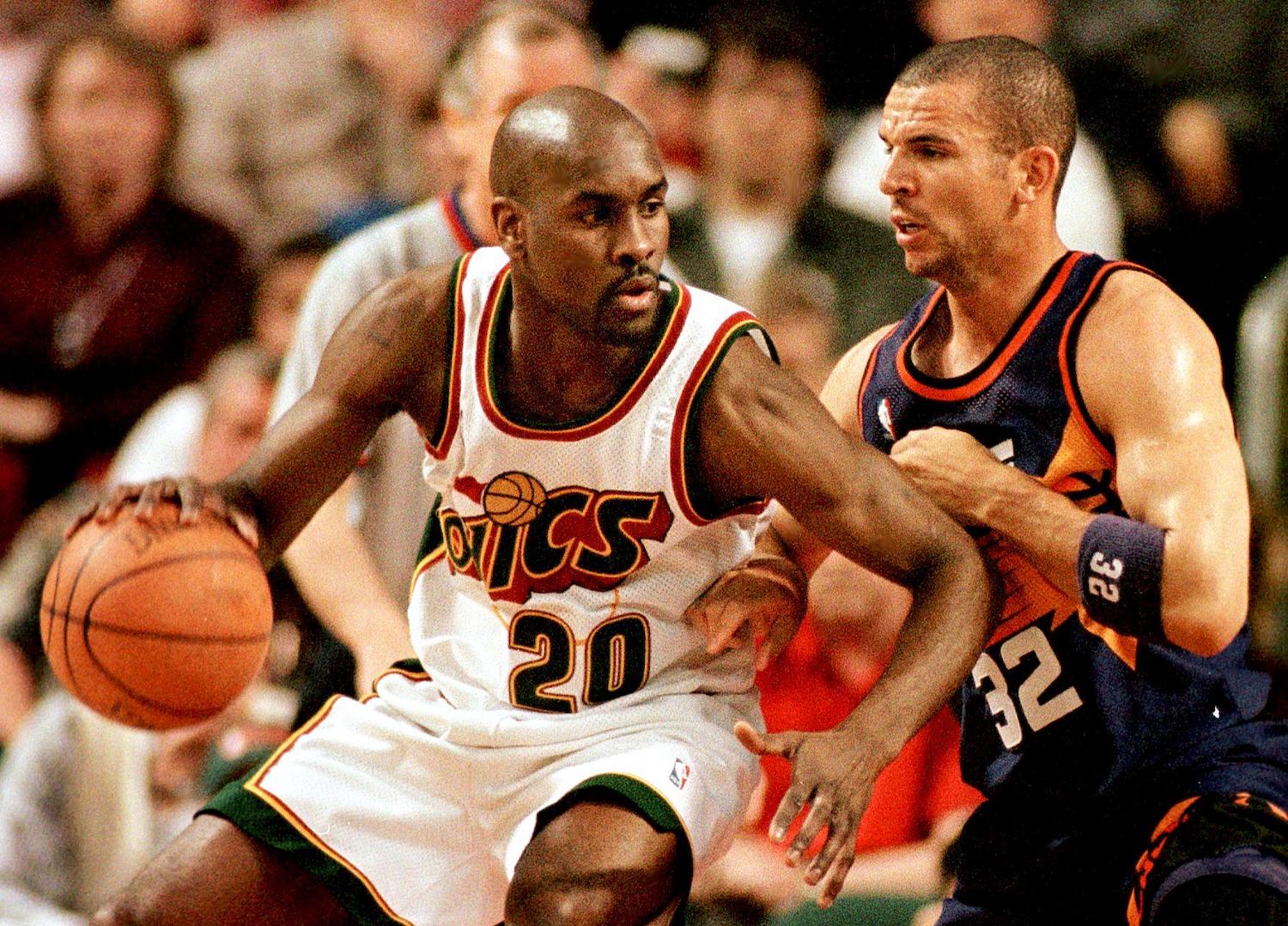 Thanks to that college success and his draft status, Kidd entered the NBA as a big-name rookie. Gary Payton, however, wasn't too concerned about anyone's reputation.
As Kidd explained in a Player's Tribune piece, he was familiar with The Glove from growing up in California. The young guard had also received some advice from a college-aged Payton, setting the stage for the Mavs rookie to make a statement.
"When I got to the NBA, we first faced off in a game my rookie year in Seattle. We weren't really friends, but he knew me from back in the day. Then I was guarding him in the game. I was jacked with energy. One play, he drove past me to lay it in and I caught up with him. I blocked his shot out of bounds," Kidd wrote. "It felt good. I was feelin' it. I turned to Gary and yelled in his face. 'Get that s— out of here.'"
For those who might not be aware, Payton could unleash some brutal trash talk when the situation called for it. On this occasion, though, he chose to let his game do the talking.
"I knew it was a mistake right when I said it. It wasn't my style," Kidd continued. "Gary scored the next 11 points, moving in silence as he worked on me from the post. Our assistant coach caught my eye from the bench. He was shaking his head, like he wanted to say, 'Don't you know not to get him going?'"
If we assume that Kidd trash-talked The Glove during his first trip to Seattle — he wasn't clear when it happened in his rookie year — Payton scored 28 points en route to a 103-101 victory.
In isolation, Kidd's experience on that fateful night seems like it could be a rather chastening experience. The young guard, however, came away with a valuable lesson in his back pocket.
"I doubt he'd remember that game, but I'll always appreciate what I took away from it," the guard explained in his Players' Tribune piece. "It took a few years, but I got better at controlling my emotions in games. I never got into trash talk very much after that. It's a strength for some guys, like Gary, but it wasn't for me. It's a real thing, you know — even at the NBA level, basketball is a head game first and foremost."
Jason Kidd, of course, went on to have a great NBA career
While it's impossible to know exactly what would have happened without that lesson, Kidd did put together quite the NBA career. The guard spent 19 seasons in the Association, averaging 12.6 points, 6.3 rebounds, and 8.7 assists per outing. He also won one championship, led the league in assists on five different occasions, and earned 10 All-Star nods.
These days, Kidd has moved to the bench, where, in theory, he can practice the emotional control he learned from Payton. The former guard spent time as the head coach of both the Brooklyn Nets and Milwaukee Bucks before serving as an assistant on the Los Angeles' Lakers staff. For the 2021-22 NBA campaign, he'll be returning to the top spot on the sidelines, taking charge of the Mavericks.
Years ago, Kidd started his NBA career in Dallas and learned an invaluable lesson after trash-talking Gary Payton. Now, nearly 30 years later, he'll to return to Big D as a coach and use that basketball knowledge to guide the Mavs forward.
Stats courtesy of Sports-Reference and Basketball-Reference