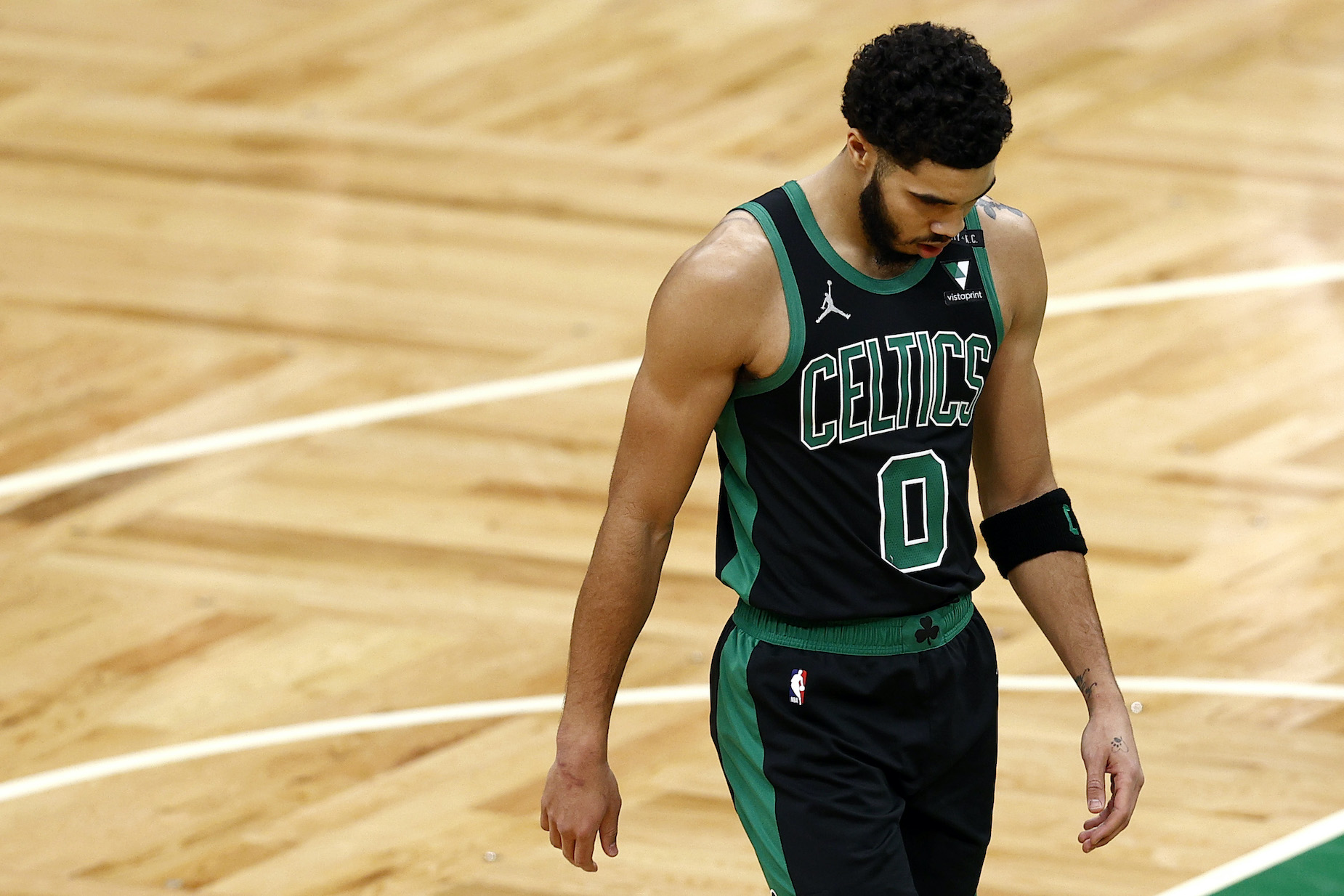 Jayson Tatum Is Facing an Uncomfortable New Reality That His $25 Million Net Worth Is Powerless to Change
Jayson Tatum's net worth clocks in at $25 million, but no amount of money can change the Boston Celtics star's uncomfortable new reality.
While he might not receive the same hype as the likes of LeBron James and Giannis Antetokounmpo, Boson Celtics forward Jayson Tatum has proven to be a pretty talented NBA player. During his time in the association, the Missouri-native has grown into a legitimate star; unsurprisingly, that's also helped him earn a nice salary and build up an impressive net worth. No amount of fame and fortune, however, can solve his current problem.
Earlier in 2021, Jayson Tatum tested positive for COVID-19. While the forward has since returned to action, he's still dealing with some after-effects from the virus.
Jayson Tatum has become a star with the Boston Celtics
Over the years, plenty of talented players have suited up for the Boston Celtics. While he's not quite a Larry Bird's level, Jayson Tatum has proven to be a star during his time in Beantown.
After making a name for himself on the youth basketball scene, Tatum committed to Duke University. While his only year on Durham was blighted by a foot injury, the forward still impressed during his time with the Blue Devils; he averaged 16.8 points and 7.3 rebounds per outing before entering into the NBA draft.
When draft day arrived, the Boston Celtics held the first-overall pick but ended up trading down to the third spot. They, of course, selected Tatum, hoping he could be a legitimate franchise player.
Although Tatum posted solid numbers during his first two professional seasons, he took things to the next level during the 2019-20 campaign. Thus 2020-21, the forward is still going strong; he's averaging 25.4 points, seven rebounds, and 4.6 assists per outing, and looks like a true two-way talent.
Building up an impressive net worth with the Boston Celtics
For better or worse, there's nothing surprising about a professional athlete building up a sizable net worth during his playing career. Jayson Tatum, however, is a bit more careful with his money than most.
Based on Spotrac's numbers, Tatum will have earned just under $30 million by the end of the 2020-21 campaign. While that might not sound like too much in the grand scheme of things, the forward is still playing on his rookie contract; next season, his five-year, $163 million extension will kick in.
According to CelebrityNetWorth, though, Tatum's fortune clocks in at approximately $25 million. That's also due to the forward's smart financial habits; he puts all of his NBA earnings into a savings accounts, allowing the money to mature, and lives off his endorsement checks.
No amount of fame and fortune can change the reality of Jayson Tatum's life after COVID-19, though
Under ordinary circumstances, NBA stars can get more or less anything they want thanks to their combination of fame and fortune. Things are a bit different for Jayson Tatum, though. COVID-19 doesn't care who you are or how much money you have in the savings account.
Earlier this year, the Celtics star tested positive for the coronavirus. While he's since returned to the court, the forward isn't exactly feeling 100% normal.
"I have experienced some games where, I don't want to say [I was] struggling to breathe, but, you know, you get fatigued a lot quicker than normal," Tatum explained, according to ESPN's Tim Bontemps. "Just running up and down the court a few times, it's easier to get out of breath or tired a lot faster. I've noticed that since I've had COVID. It's just something I'm working on."
At this point, situations like Tatum's seem to simply be the reality of COVID-19. We're still learning about the virus; some seem to shake it off without much issue, while others battle longer-term effects.
"I guess it's just a long process," Tatum continued. "I've talked to other guys that have had it, and they say they experienced the same thing, and it kind of just gets better over time. But as much as we play, I guess it takes a little bit longer."
Given their fame, fortune, and the fact that they play a children's game for a living, it's easy to forget that athletes are real people. Jayson Tatum's lingering COVID-19 issues, however, should serve as a reminder of that reality. It may sound cliche, but there are some things that money simply can't buy.
Stats courtesy of Sports-Reference and Basketball-Reference