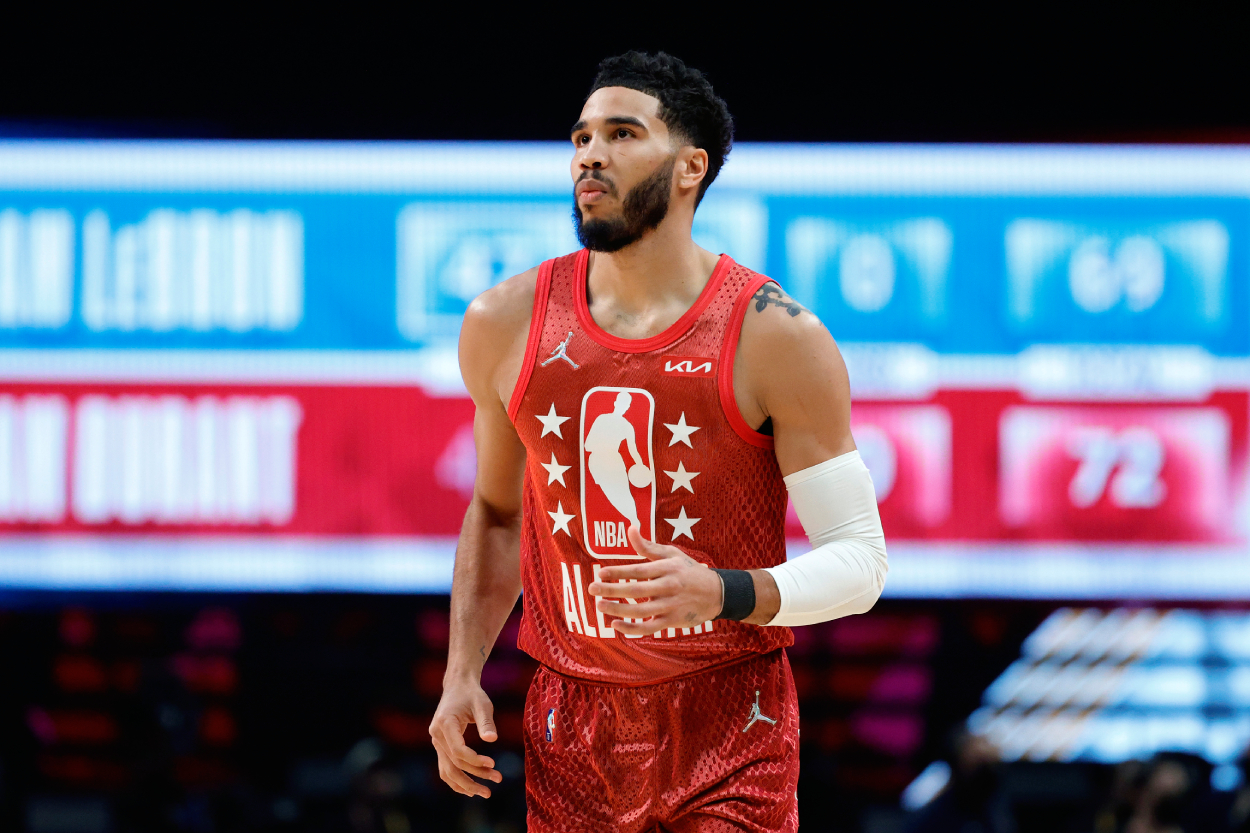 Jayson Tatum on Photo Shoot With Celtics Greats: 'I Kind of Felt Like I Didn't Even Belong'
Jayson Tatum wasn't quite sure he belonged during a photo shoot with former Celtics stars.
Three-time NBA All-Star Jayson Tatum felt like a little kid again this weekend. The fifth-year Boston Celtics forward was named an All-Star for the third straight season, yet he felt a bit out of place.
Tatum found himself mingling with many former NBA greats as the league honored its top 75 players on its 75th anniversary. Included among those players were former Celtics stars Robert Parish, Kevin McHale, Paul Pierce, and Kevin Garnett. Tatum came right out and said he felt a little out of place among those stars.
Jayson Tatum and the Celtics have heated up after a slow start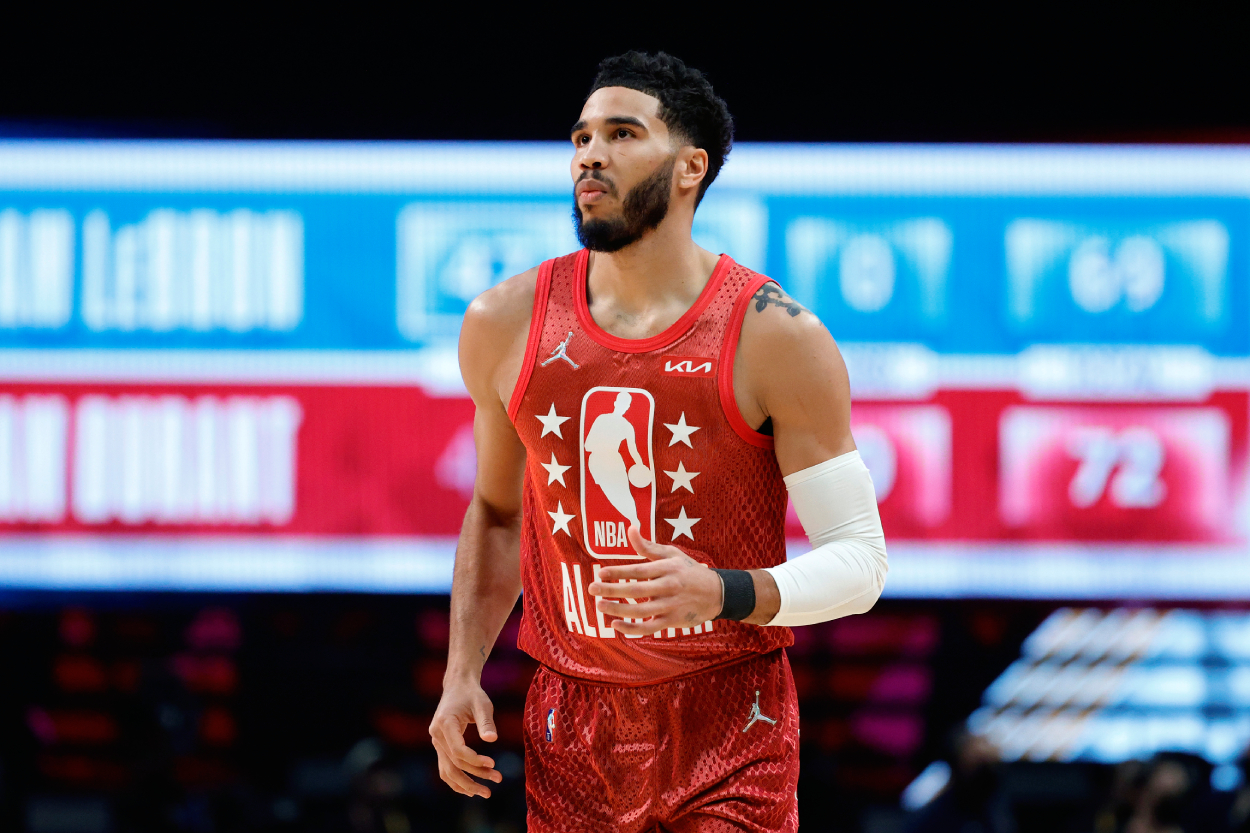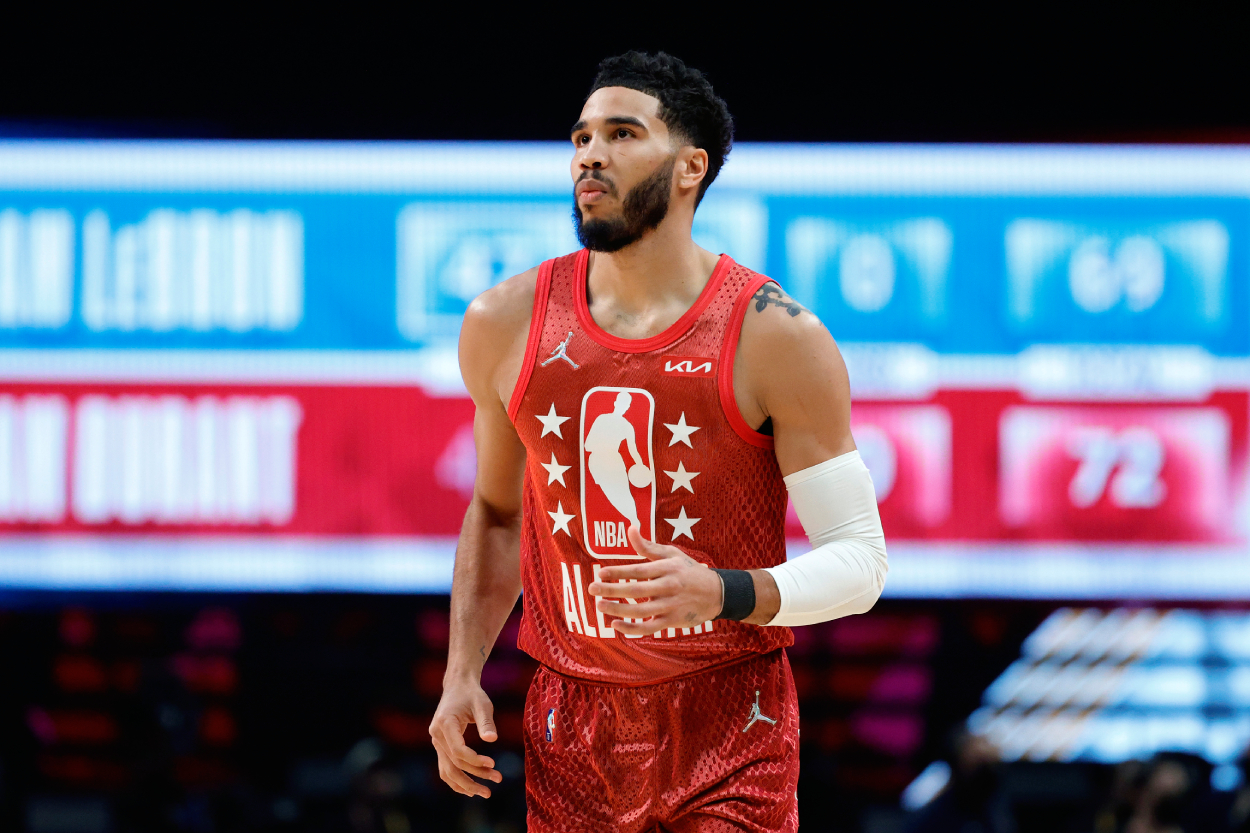 After an ugly 50 games to start the season, the Celtics have appeared to turn things around. Boston put together a nine-game winning streak before falling at home to the Detroit Pistons right before the All-Star Break. Despite the torrid stretch, the Celtics find themselves in sixth place in the Eastern Conference at 34-26.
Things didn't click early for the Celtics, who boast two young stars in Tatum and Jaylen Brown. Through January, the Celtics never put together more than three straight wins. They never got better than two games above .500 until they hit their nine-game streak.
Tatum struggled with his outside shooting, at one point missing 20 straight three-pointers during a four-game stretch. Marcus Smart publicly called out Tatum and Brown for not passing the ball. First-year coach Ime Udoka questioned the team's effort on multiple occasions.
On Saturday, Jan. 23, Boston got hot with a convincing win on the road against the Washington Wizards. Then they won by 53 points at home against the Sacramento Kings. After a loss to the Atlanta Hawks, the Celtics rattled off nine straight points with Tatum leading the way.
Jayson Tatum felt out of place at the All-Star Game
Tatum should now be used to playing with the best in the game when it comes to All-Star Weekend. This is his third straight season suiting up with the stars, but he was a little overwhelmed this time.
Before the game, Tatum was asked to take part in a group photo with some of the Celtics greats, including his favorite Boston player of all-time — Kevin Garnett. He jumped into the photo with Garnett, Pierce, Parish, and McHale and admitted he felt a little out of place.
"I kind of felt like I didn't even belong in that picture with all that they've accomplished and what they mean to the game, and especially to the Celtics," Tatum told reporters.
"That was my first time meeting Parish, and I know the other guys pretty well, but being in that picture with them was special. That was something I will frame, and a moment I'll always remember."
Although he might feel a little out of place at the moment, Tatum is well on his way to becoming a longtime Celtics star.
Tatum is maturing into a complete player
Tatum is settling in nicely in Boston. It's his fifth year in the league, yet he's only 23. It took him a while to grow up and get used to life in the NBA.
"I didn't lift, I didn't get massages, I didn't care about what I ate," Tatum said, according to Boston.com. "I was 19 and I was in a new city with a new team, I just had a kid, I had a lot going on.
"But I think start of my third year is really when I changed the course of watching what I eat, maintenance, massages, treatment, lifting more. The start of my third year is when I started doing that."
That just so happened to be his first year as an All-star. With Tatum locked up for the foreseeable future, the Celtics have themselves in a pretty good spot.