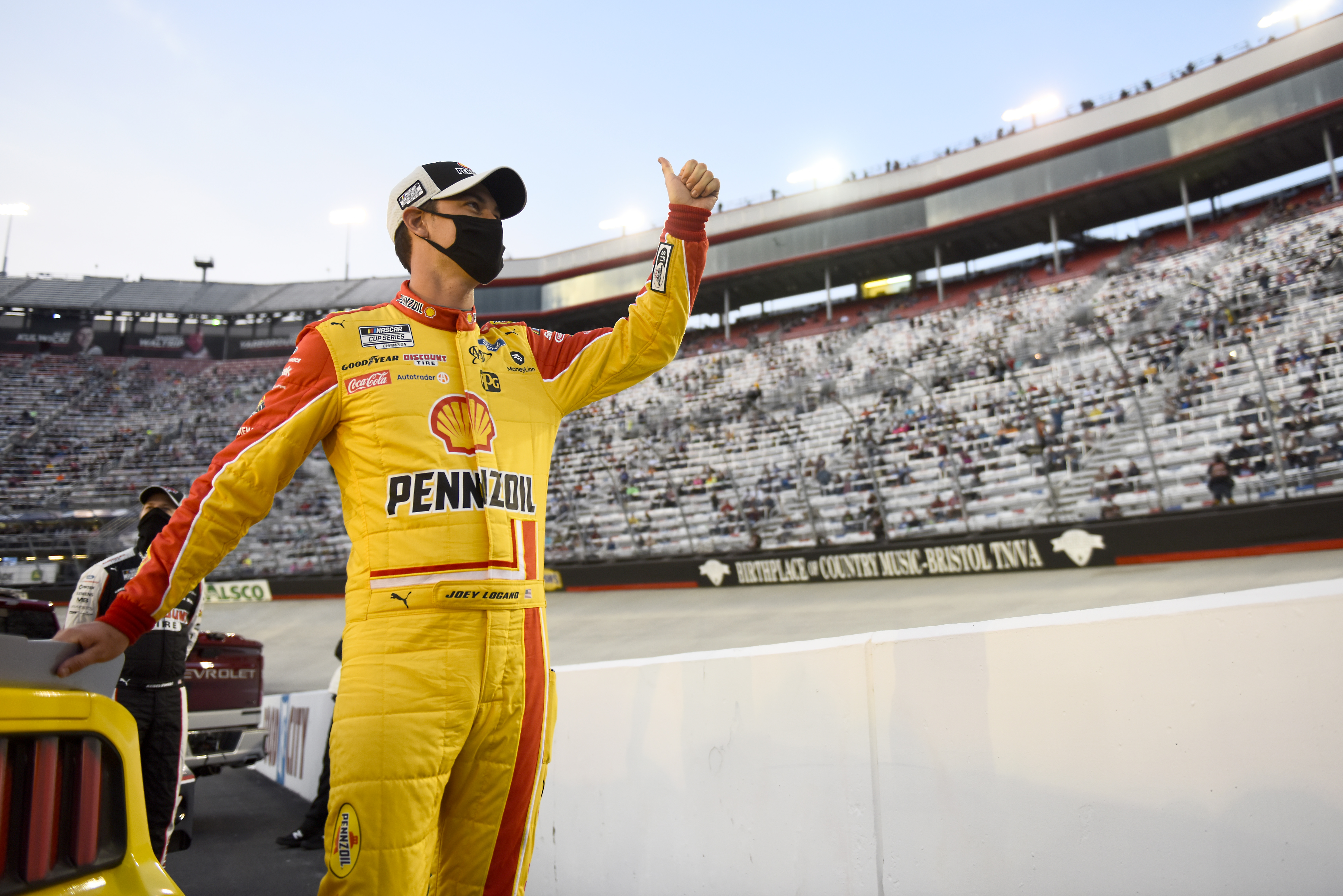 Joey Logano Isn't the Most Popular Man in NASCAR, But He Refuses to Let the Haters Get Him Down: 'This is The Coolest Thing Ever'
While Joey Logano might not be the most popular driver on the NASCAR scene, he thinks that it's pretty cool to be hated.
In the world of sports, popularity can be a funny thing. If you aren't any good at all, you'll fall off the radar; if you're too good, some fans will love you while others will hate you. NASCAR's Joey Logano knows all about toeing that line.
While Joey Logano is still pretty young, he's spent a good amount of time on the motorsports scene and earned his share of hate. That doesn't bring the driver down, though; if anything, he thinks it's pretty cool when racing fans are rooting for him to fail.
Joey Logano may be young, but he's already a NASCAR veteran
When you think of a veteran NASCAR driver, you probably think of someone like Richard Petty, who's been around the track more times they can count. Joey Logano is only 30-years old, but he still knows a thing or two about racing.
Although the Logano family is full of athletes, Joey wasn't destined for success in the 'conventional' sports. As a child, he fell in love with cars and racing; before long, he started competing and earned the nickname "Sliced Bread."
In 2008, the 18-year-old Logano made his NASCAR debut and, after taking part in a few Xfinity Series races, notched his first win; a year later, he secured his first Cup Series victory, becoming the youngest driver ever to do so.
While there have been some ups and downs along the way—Logano struggled after his early success and left Joe Gibbs Racing to join Penske Racing—the young driver is still going strong. He won the 2018 Cup Series title, has claimed 26 checkered flags and 221 top-tens during his Cup Series career, and, according to CelebrityNetWorth, built up an estimated $24 million fortune.
Success and popularity, however, don't go hand-in-hand
During his time on the NASCAR circuit, Joey Logano has proved himself to be a talented driver. Despite that skillset, though, he isn't the most popular man around.
Over the years, Logano has clashed with the likes of Tony Stewart, Ryan Newman, and Kyle Busch; the latter driver even explained why 'Sliced Bread' rubs his opponents the wrong way. "He wants to be this really, really cool, everything's always funny, laugh it up, have a good time kind of guy off the track," Busch said on Barstool Sports' Pardon My Take. "But then he puts his helmet on, and he's a complete d–k."
As for Logano, he insists that it's nothing personal. In his mind, other NASCAR drivers aren't his friends; they're co-workers and, if the race is on the line, he's not going to take it easy on anyone.
Joey Logano thinks that it's pretty cool to be hated
Joey Logano isn't just unpopular with other drivers; plenty of NASCAR fans don't care for 'Sliced Bread' either. That reality, however, doesn't get him down. In fact, he's come to think it's pretty cool.
"And then one day, Logano found himself in his car, driving to the winner's circle at Talladega, winner of his third race in a row, and it should have been exactly as he had hoped, exactly as he had dreamed ever since he was a little kid sleeping in his little race car bed littered with little Matchbox cars," Joe Posnanski wrote for NBC Sports. "Except for this: People were throwing beer cans at his car. The cans were exploding off the windshield like water balloons, and the sound was like gunfire."
While that experience was initially jarring, Logano eventually realized something: no one hates bad drivers.
"Why do they hate you?" he asked himself," Posnanski explained. "Why? I'll tell you why: It's because you won three races in a row! Cool!"
"I'm sitting there," Logano continued, "driving the car around, getting blasted in the windshield with beer cans, and it was … awesome! It all changed. I thought 'This is the coolest thing ever.' Some people, that might piss off. But I'm sorry, this is the ultimate, I feel, in any sport, when you can show up your critics and prove people wrong. When you're hated, really hated, you know? It's an unreal feeling."
So the next time you watch a NASCAR race, you might want to think twice about booing Joey Logano. While he'd prefer if everyone liked him, he's come to think that being unpopular isn't bad, either.