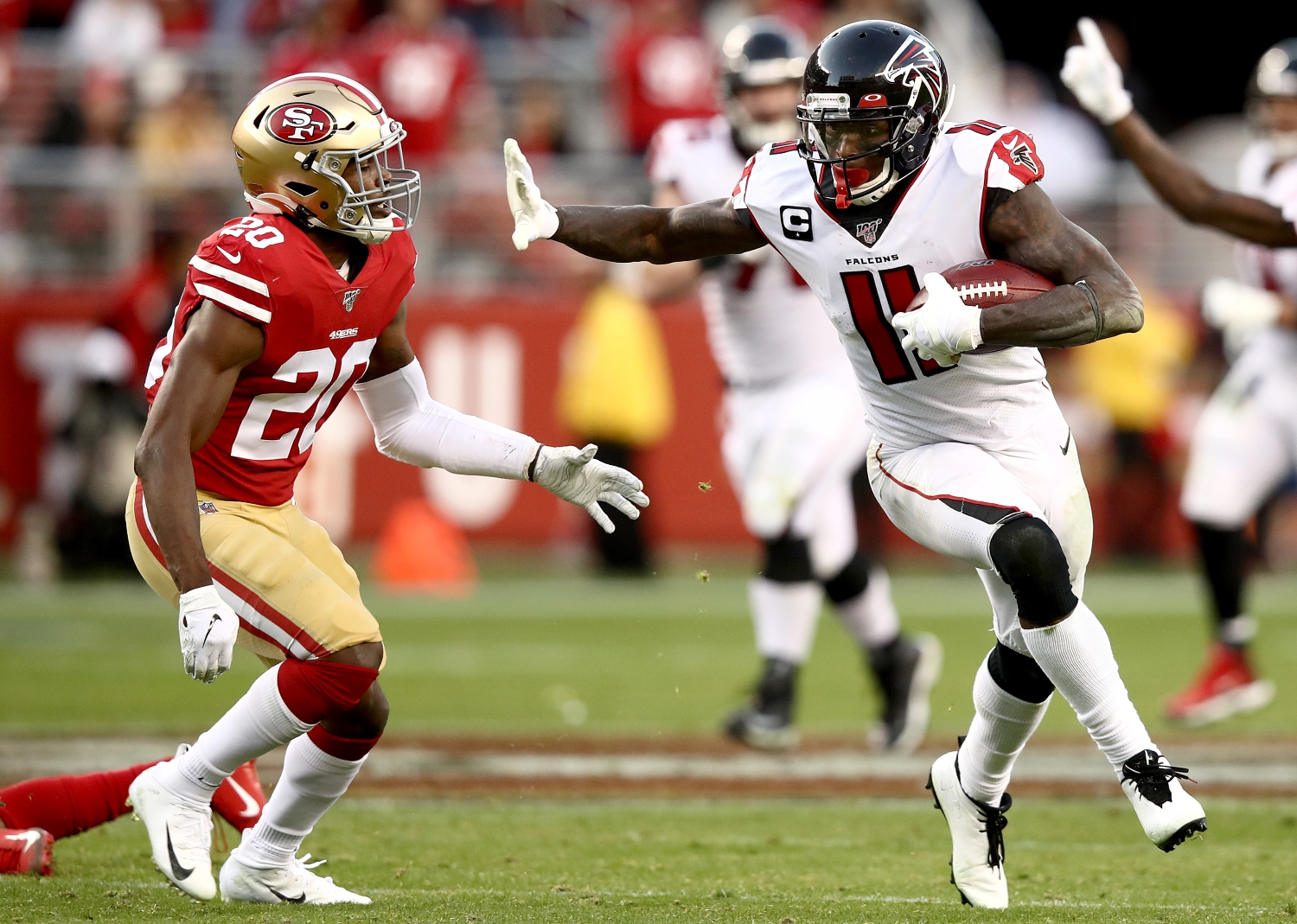 Julio Jones Trade Scenarios: Ranking the Best Fits for the Disgruntled Falcons Star
Trading Julio Jones seems like a foregone conclusion for the Falcons. Which team offers the best fit for the disgruntled wideout?
When healthy, Julio Jones has the ability to completely take over a game. And even at less than 100%, he can still make a major impact. So for teams interested in making an upgrade at receiver, it makes total sense to at least give the Atlanta Falcons a phone call.
But which NFL franchise represents the best fit for the disgruntled wideout?
When considering a team's chances of winning a Super Bowl title, Jones' projected role in the offense, and the situation at head coach and quarterback, his top landing spots rank as follows:
5. Indianapolis Colts
The Colts have a good thing going.
Frank Reich has made everyone forget about Josh McDaniels bailing on Indianapolis at the last second by leading the team to the playoffs in two of his first three seasons as head coach. Meanwhile, general manager Chris Ballard has built a roster that features a strong offensive line, a deep running back group, and an underrated defense. So in terms of strong leadership, the Colts definitely check off that box.
However, they lose some appeal as a potential landing spot because of their quarterback situation. Can Carson Wentz resurrect his career under his former offensive coordinator? Or will his struggles continue?
That type of uncertainty makes Indianapolis a risky fit for Jones. Wentz is simply too big of a question mark, which inherently drops the Colts down the list of Super Bowl favorites. Trading for the longtime Falcons star would certainly increase their odds of winning a title, but that might not be enough to put them over the top given the strength of the AFC.
Ultimately, the Colts wouldn't be a bad fit for Jones, but he could do better.
4. Baltimore Ravens
Not only do the Ravens have a head coach with a Super Bowl title to his name, but they also have one of the most dynamic quarterbacks in the NFL. So between John Harbaugh and Lamar Jackson, Baltimore definitely earns the nod over Indianapolis' duo of Reich and Wentz.
For Jones, the prospect of catching passes from the 2018 NFL MVP has to be exciting. Jackson possesses more than enough arm strength to launch deep balls to one of the league's most dominant downfield threats. And it's easy to see Jones fitting right in with a team that plays with a physical edge.
However, Baltimore doesn't offer the best fit from a system and opportunity standpoint. No team ran the ball more than the Ravens last season, so Jones may not get utilized as much as he would elsewhere. Plus, the team just invested a first-round pick on Rashod Bateman — a promising receiver prospect who could start right away.
At the end of the day, though, the Ravens still seem like a rock-solid fit for Jones. Because after putting together another excellent draft class, general manager Eric DeCosta has set his team up for success for years to come.
3. San Francisco 49ers
The 49ers check in at the No. 3 spot because of a few critical factors.
First, Kyle Shanahan might be the most brilliant offensive mind in football. He knows how to maximize a player's strengths and create space to operate. Considering Jones spent two seasons playing in Shanahan's system in Atlanta, he shouldn't need any reminder about what San Francisco's head coach brings to the table.
Secondly, Jones would provide the 49ers with a different type of weapon. Deebo Samuel and Brandon Aiyuk excel on short and intermediary routes thanks to their run-after-the-catch ability. So does star tight end George Kittle. Jones, though, has the speed and size (6-foot-3, 220 pounds) to excel as a playmaker on the perimeter. He can attack the deep parts of the field and command attention from multiple defenders.
Sounds like a recipe for success, right?
Of course, San Francisco's starting quarterback situation remains a bit of a mystery. Will Jimmy Garoppolo keep his job? Or will first-round pick Trey Lance play right away? While he has a lot to prove, the rookie has incredible upside. In fact, thinking about Lance making throws on the run to Jones seems downright scary. And based on their overall roster, the 49ers look like a viable Super Bowl contender, which makes them a great fit for the seven-time Pro Bowler.
2. LA Chargers
Does LA offer Jones the best chance to win a Super Bowl title right now? Absolutely not.
But are they a fantastic fit for his services? Without a doubt.
Justin Herbert looked like a future MVP candidate as a rookie. With his combination of skills, the sky is truly the limit for the Oregon product. Without a doubt, the Chargers easily beat out all the other teams on this list from a quarterback perspective.
Brandon Staley has to prove himself as a head coach, but he looks like a solid hire based on his work with LA's other NFL team. With the former Rams defensive coordinator in charge, the future looks bright for the AFC West franchise.
In fact, after finishing 7-9 last season due largely to their inability to close out games, it wouldn't be a surprise to see the Chargers in the playoffs this year. Add Jones to an offense that already features Keenan Allen and Mike Williams and it's frightening to imagine the type of damage Herbert and Co. could inflict.
Trading for the explosive playmaker could change the Chargers' entire outlook and put them in the mix to represent the AFC in Super Bowl 56, which will take place in LA.
1. New England Patriots
Even though the Chargers have the edge at quarterback, they still fall behind the Patriots when it comes to the best fits for Jones.
So what makes New England his ideal landing spot?
Obviously, Bill Belichick needs no introduction. He's easily the most accomplished coach on this list (and in the entire NFL).
From a roster standpoint, the Patriots look more than capable of competing for the Lombardi Trophy in 2021. Thanks to Belichick's expensive spending spree, Cam Newton (or Mac Jones) will have Jonnu Smith, Hunter Henry, Nelson Agholor, and Kendrick Bourne as available weapons in the passing game. The front seven got bigger, faster, and more physical with the additions of Matthew Judon, Davon Godchaux, Kyle Van Noy, Christian Barmore, and Ronnie Perkins. An improved pass rush should allow a talented secondary to make even more plays on the ball.
Belichick can add the final piece of the puzzle by trading for Jones. He would immediately become the team's No. 1 receiver and Josh McDaniels' new favorite toy.
In many ways, the Patriots need Jones as much as he needs them. He's played in the NFL for a decade and has never tasted championship glory. Meanwhile, New England has desperately needed a true alpha presence on offense for years.
Seems like a match made in heaven to me.
Like Sportscasting on Facebook. Follow us on Twitter @sportscasting19.