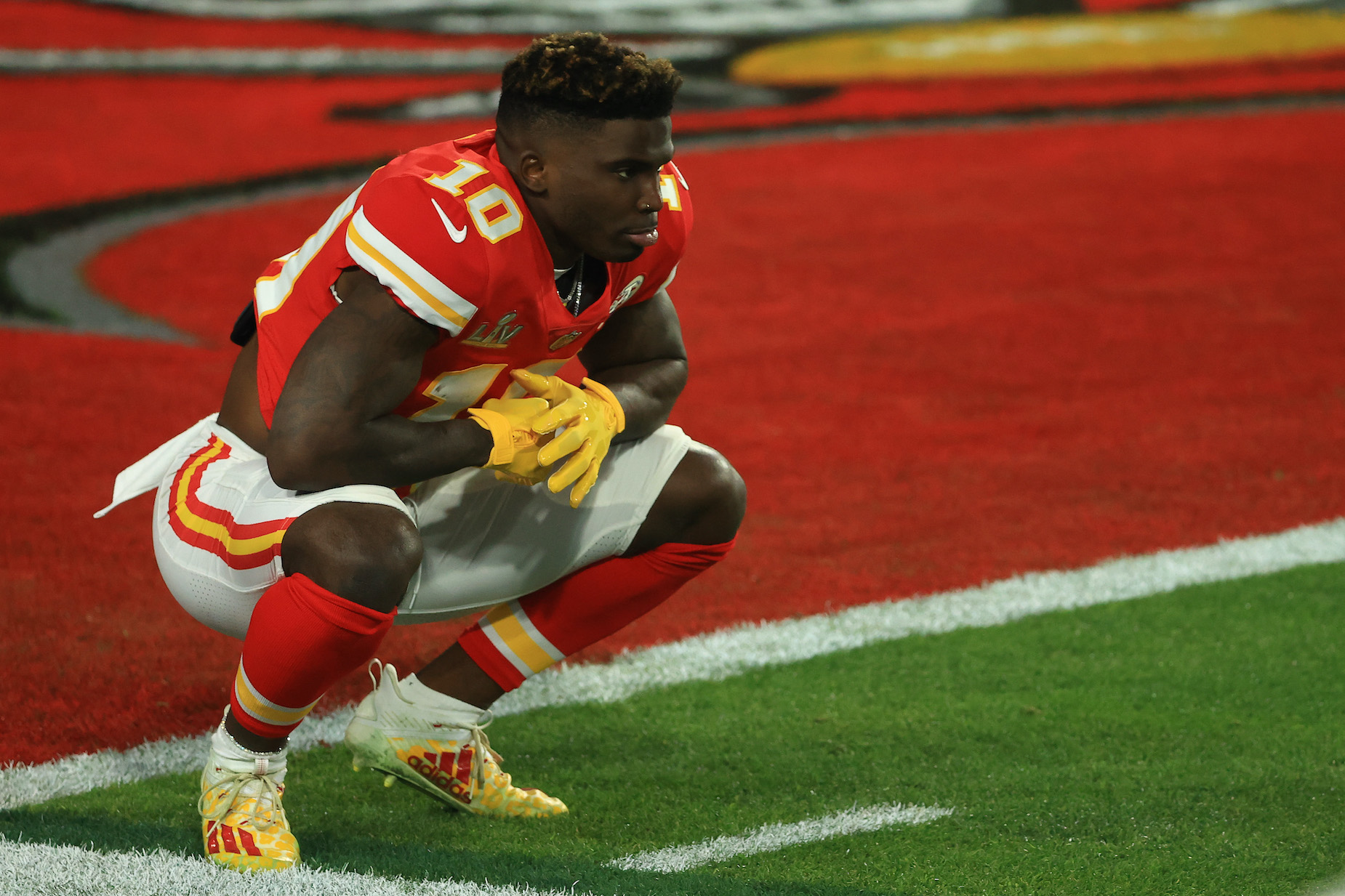 The Kansas City Chiefs Could Have a Problem With Their Offseason Plans Thanks to Their $54 Million Star
While the Kansas City Chiefs have been busy this offseason, their star receiver may have thrown a wrench into their remaining plans.
After an awful end to their season in Super Bowl 55, the Kansas City Chiefs have been trying to retool their roster on the fly. There have already been some major changes on the offensive line, and, on paper, there should be more acquisitions on the way. The front office, however, could be facing a major problem: Tyreek Hill.
According to Tyreek Hill himself, the Kansas City Chiefs' front office asked him to restructure his contract; he denied their request. While the receiver is perfectly within his rights to say no, that could make the AFC champ's offseason quite a bit tougher.
The Kansas City Chiefs can't exactly rest on their laurels this offseason
If you told any random NFL fan that their team had reached back-to-back Super Bowls, winning one of them, they'd probably be thrilled. The Kansas City Chiefs, however, can't rest on their past achievements right now.
The 2021 campaign, of course, ended in disaster; since then, the team's brass has been trying to repair the roster on the fly. Offensive linemen Eric Fisher and Mitchell Schwartz have since been released, with Joe Thuney and Kyle Long replacing them.
While the Chiefs started the offseason with limited cap space, they were able to move some money around to make things a bit easier on themselves. The team restructured Patrick Mahomes' contract, giving them roughly $17 million of extra cash; they also restructured Travis Kelce and Chris Jones' contracts, providing the front office with a bit more wiggle room.
Tyreek Hill wasn't willing to restructure his $54 million contract
While the Kansas City Chiefs restructured three sizable contracts belonging to their biggest stars, one name is missing from that list: Tyreek Hill. The receiver was unwilling to restructure his $54 million deal.
"Believe this or not, I'm not going to get too much into the details on it. The Chiefs did ask me to restructure," Hill explained to FOX 4's Pat McGonigle. "Me and my family, we just thought that [wasn't] the best situation for me. So, it is what it is. Like I said, I'm just here to play football. I just let my family and my agent deal with all that because I feel like if I get into that, then all the fun will be taken out of it for me. So I just want to play ball."
It goes without saying that Hill isn't doing anything wrong here; he signed a contract with the Chiefs and isn't under any obligation to change it. With that being said, though, his decision could still throw a wrench into his team's offseason plans.
The Kansas City Chiefs' offseason plans aren't done yet, despite their financial situation
Had Tyreek Hill agreed to restructure his contract and (presumably) converted his roster bonus into a signing bonus, the Kansas City Chiefs would have had a bit more cap space to play with. Without that boost, though, the club could be in a bit of a bind.
According to OvertheCap's latest projections, the Chiefs currently come in at roughly $400,000 under in cap space; while that's better than having to cut costs ASAP, it's still a less than ideal situation.
Even if they don't make any major moves, Kansas City still has some work to do before the 2021 NFL season kicks off. The team has been looking for a new wide receiver during the offseason; they've also been trying to bolster their defensive front and seem interested in Melvin Ingram. There's also room for some linebacker help on the roster, along with some extra depth signings.
Can the Kansas City Chiefs still follow their offseason plans and reinforce their already talented roster? Yes. The NFL is no stranger to creative accounting. Did Tyreek Hill make things a little tougher for his team by refusing to restructure his contract? Unfortunately for those in the front office, the answer is also yes.