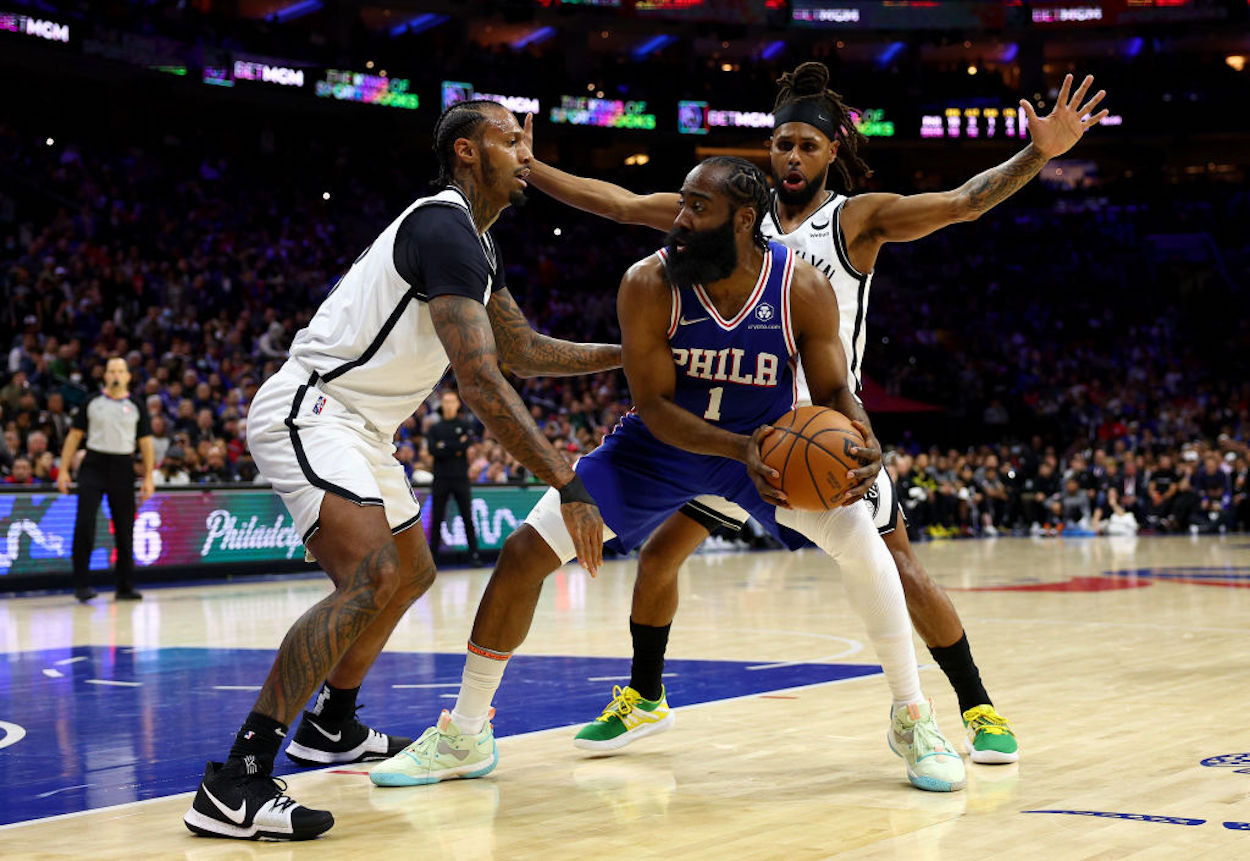 Kevin Durant's Postgame Press Conference May Have Revealed the Formula for Stopping James Harden
After the James Harden-Ben Simmons trade took place, basketball fans around the world circled the next meeting between the Brooklyn Nets and the Philadelphia 76ers on their calendars as must-see TV. While on-court action was a bit of an anti-climax, the game still produced plenty of storylines. One of the biggest, unsurprisingly, was Harden's poor …
After the James Harden-Ben Simmons trade took place, basketball fans around the world circled the next meeting between the Brooklyn Nets and the Philadelphia 76ers on their calendars as must-see TV. While on-court action was a bit of an anti-climax, the game still produced plenty of storylines. One of the biggest, unsurprisingly, was Harden's poor performance.
Although the likes of Charles Barkley focused on the bearded guard's inability to perform in a big spot, a more interesting comment appeared within another part of the postgame show. During his media availability, Kevin Durant shared some insight into how the Nets collectively slowed their old teammate down. While the devil is always in the details, his words could provide a blueprint for the rest of the NBA.
James Harden's hot start to life with the Sixers has cooled off
In the world of sports, a change of scenery can be all it takes to get a slumping player back to their best. James Harden wasn't exactly struggling with the Nets, but his move south to Philly still seemed to do him good.
During his first three games with the Sixers, Harden seemed like the perfect compliment for Joel Embiid. The guard scored 80 points and dished out 36 assists across those contests, helping Philly secure three victories. After missing a date with the Heat as part of his hamstring recovery process, though, things have cooled off.
When the 76ers hosted the Chicago Bulls, he finished the game with 16 points and 14 assists; it was a solid night but didn't match his previous standards. Then came the marquee matchup with the Brooklyn Nets.
On paper, Harden had the perfect chance to send multiple messages. While he could have shown his old club that they made a mistake moving him and told the league that the Sixers were a genuine threat, the Bearded One struggled. He finished the evening with 11 points, six rebounds, and five assists as Philly was embarrassed on their own court.
During his postgame press conference, Kevin Durant explained how the Nets slowed Harden down
While a poor performance in a nationally televised game is bound to make plenty of headlines, a single off-night probably isn't something to write home about. Kevin Durant's postgame comments, however, could make Harden's stat line a little more interesting.
After the contest, the KD was asked how the Nets managed to take their former teammate out of the game offensively.
"Well, he relies a lot on the free-throw line, so getting to the rim and getting to the free-throw line puts him in rhythm," Durant explained during his media availability. "And, you know, we didn't [let that happen.] Two free throws tonight for him, you know. 3-17 [from the floor], tried to get to the rim, but I think we were all there swarming. And, you know, he hit a few threes, open threes, but, you know, when he's getting to the rim, getting downhill, getting to the free-throw line, that's when they're tough to stop, and we eliminated a lot of that stuff."
While that's not groundbreaking insight, it does crystalize some of Harden's greatest strengths into a clean comment. The guard is an elite isolation scorer and, despite the league's best efforts, has a knack for earning trips to the charity stripe. If you can stop him from reaching the rim and taking free throws, that snaps the two biggest arrows in his quiver. There's no ideal way to face the Beard, but you'll take your chances if he's limited to shooting jump shots and passing the ball.
"3-17, [with] 11 points, that's a great formula for us to win," Durant concluded.
While it's easier said than done, Kevin Durant could have shared the blueprint to slowing down Harden and his Sixers
In fairness, trying to stop Harden's drives and limit his free throw opportunities isn't some tactical revelation. Hearing it clearly explained in a press conference, though, does feel a bit different.
Up until this point, it's safe to say the 76ers have been in a bit of a honeymoon period. They've been winning games, and Harden is a new face in the room. He's still developing relationships with his teammates, and, through that lens, things have probably been a bit more improvisational. Fans and, from a scouting perspective, opposing teams are still learning how his tendencies fit into a new situation. It's safe to assume Embiid is option one, but where is the ball going next?
Despite the change of scenery, the Nets showed that Harden still follows the same script in his new home. He wants to play in isolation, drive, and shoot free throws. Brooklyn knew that, collapsed the lane without fouling, and dared someone else to beat them. On Thursday night, no one else could, even as Embiid scored 27 points.
To be clear, all of this is easier said than done. Harden, for all of his flaws, is one of modern basketball's elite scorers; it's not like the Nets are the first team to try and force him to become a shooter. Last night's performance, however, does suggest there are still some flaws in Philly's early formula.
If teams collapse the lane and Embiid is the primary passing option, he'll be forced out of the paint. While the big man can still score from a bit further out, you'd really prefer to have him on the block. At that point, someone will need to step up as a tertiary scorer. On Thursday, Tobias Harris potted 16 points; that's not a bad haul, but it's not enough to mitigate Harden's poor night at the office.
At the highest level, sports is a series of adjustments. The Brooklyn Nets — and, moving forward, any copycat teams — made one and managed to take James Harden out of the game. Now, the 76ers have to return in kind. They have the talent. Now they have to figure out how to make it work before the playoffs arrive.
Stats courtesy of Basketball-Reference