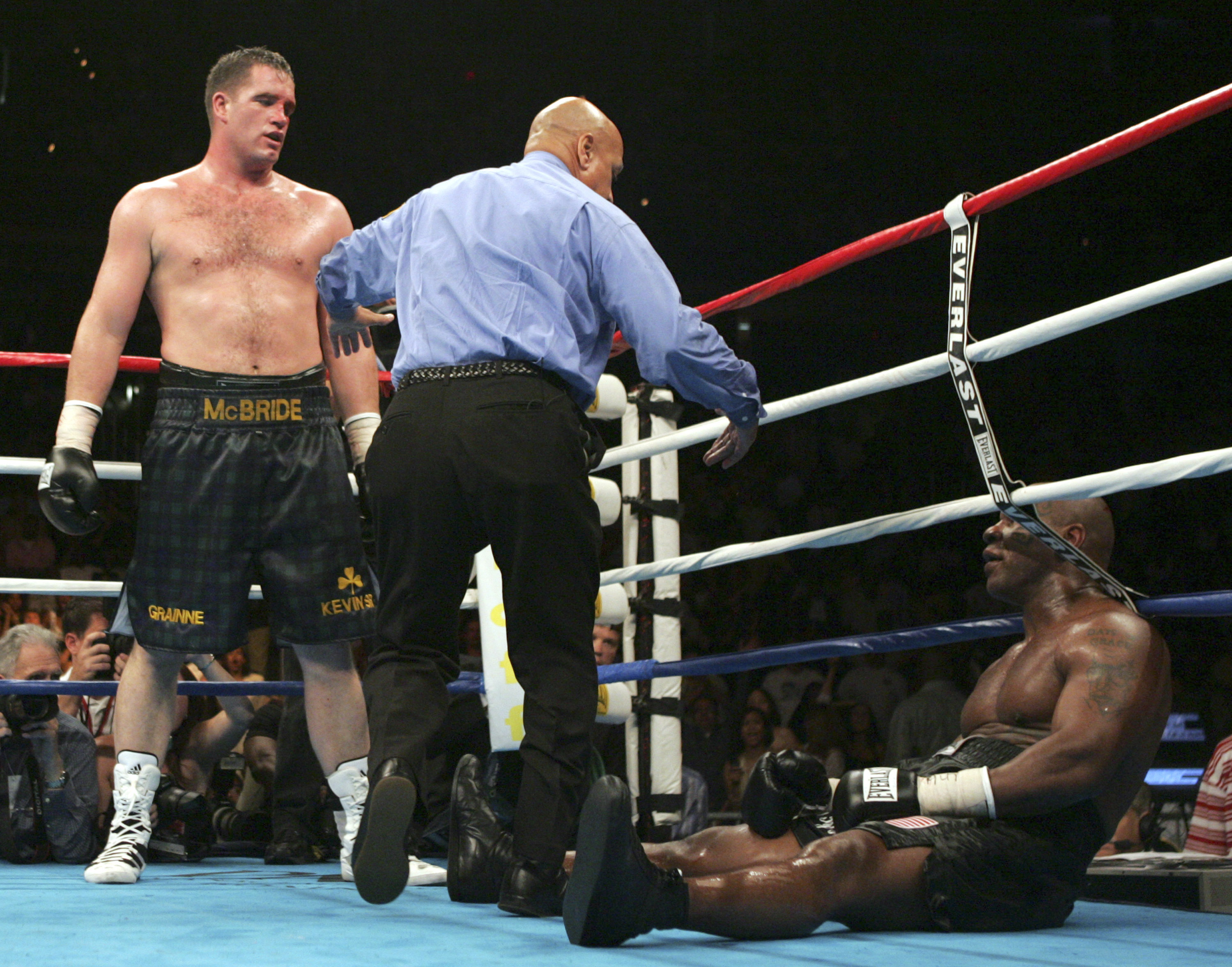 Kevin McBride Recalls Forcing Mike Tyson Into Retirement
It wasn't supposed to end this way. Mike Tyson was on the canvas with his back resting along the ropes. Kevin McBride, a relatively unknown boxer, had just put him there in the sixth round. Tyson never came out for the seventh and has never fought professionally since that day on June 11, 2005. Who …
It wasn't supposed to end this way. Mike Tyson was on the canvas with his back resting along the ropes. Kevin McBride, a relatively unknown boxer, had just put him there in the sixth round. Tyson never came out for the seventh and has never fought professionally since that day on June 11, 2005.
Who is Kevin McBride?
Kevin McBride is a retired Irish boxer. He competed for Ireland during the 1992 Olympic Games and then made his professional debut later that year. His debut against Gary Charlton ended up in a draw but then McBride won his next 19 fights, 16 via knockout. His dream was to box and he was told if he worked hard and wanted it bad enough, it would happen.
"When I was a kid growing up in Ireland, I trained with this guy, Gerry Rehill," McBride told ESPN in May. "So Gerry would say, 'Listen, you keep training and you'll get places,' and I did box in the 1992 Olympics. It was all surreal out there."
On June 11, 2005, McBride got his big break when he took his 32-4-1 record into the right against the most feared fighter, possibly ever, in Mike Tyson. Tyson was well past his prime, but he was still an intimidating presence. McBride shocked the world by defeating Tyson when the referee waved off the fight after six rounds. The victory over Tyson was the last hurrah for McBride, who had eight fights after that and lose six of them, including the final three. He finished his career with a 35-10-1 mark.
McBride vs. Tyson
Mike Tyson was clearly at the tail-end of his boxing career when he stepped into the ring on June 11, 2005, against Kevin McBride. McBride was in awe and he recalled the feeling in a 2020 ESPN story. "I was fighting other fights — that March I was on ESPN, I was the headliner versus Kevin Montiy," he said. "I won, then I got the chance to fight Mike Tyson. I got the call to fight him, and I said sure. All they were offering was $150,000. I said, 'Don't negotiate anymore, I just want to get in the ring with him.' It was a dream as a kid growing up to be able to fight him."
McBride admits to being intimidated when he stepped into the ring with more than 20,000 fans there. "What the hell did I get myself into?" he thought as he made his way to the ring. "He puts the fear of God in anybody. But that's the good thing about me, I have no fear because I love the sport. I would've fought Mike Tyson for nothing. Just to get in the ring and mix with him and hit him."
The longer McBride lasted in the ring with the former heavyweight champ, the better and more comfortable he felt. McBride said he felt stronger as the bout went on. In the sixth round, two points were deducted from Tyson for an intentional headbutt. Later in the round, McBride connected with Tyson, who wound up on the canvas, leaning against the bottom rope. Trainer Jeff Fenech told the referee that was enough and the fight was over. McBride defeated Tyson.
The reaction to the fight
Kevin McBride said Mike Tyson was getting dirty during the fight. "He hit me so hard in the sixth round," McBride said to ESPN. "I grabbed him, and I said, 'Is that all you got?' And that's when he tried to break my arm and he tried to bite my nipple off. Thank God he had his mouthpiece in. People don't understand the pain and suffering. You can just imagine him with a mouthpiece on, biting on it, pulling, and you're like, 'AHHHHHHHHH!!!' and it just slipped off in time. It's like this man's nuts, crazy. I know he wants to win at all costs."
According to dailymail.co.uk, Mike Tyson said he didn't have it anymore. "I am not going to fight again," said Tyson, "and I'm not going to disrespect the sport anymore by losing to this caliber of fighter. I could have continued but I thought I was getting beat on but I don't have it anymore. I've got the ability to stay in shape but I don't have the fighting guts anymore and I realized that early in the fight. I'm sorry I let everybody down, I just don't have it in my heart anymore."
"It's like a dream, a fairy tale," McBride said. "You can't imagine it, I had a big smile on my face. But I was sad in my heart because I know the guy's a legend, and I know the world loves him."