Kyle Busch Gets a Vote of Confidence That Might Worry 23XI Racing
Richard Childress managed to do in less than three months what Joe Gibbs couldn't do for Kyle Busch in more than a year. Don't hold your breath waiting for Gibbs or Michael Jordan and Denny Hamlin at 23XI Racing to be calling with congratulations.
Childress is likely about 75% of the way to funding Busch's entire 2023 Cup Series season. Locking five of last season's six most frequent sponsors into renewals despite much speculation that Busch's reputation might be a hindrance shows RCR to be a serious NASCAR organization.
Kyle Busch never had to worry about sponsors at JGR until this year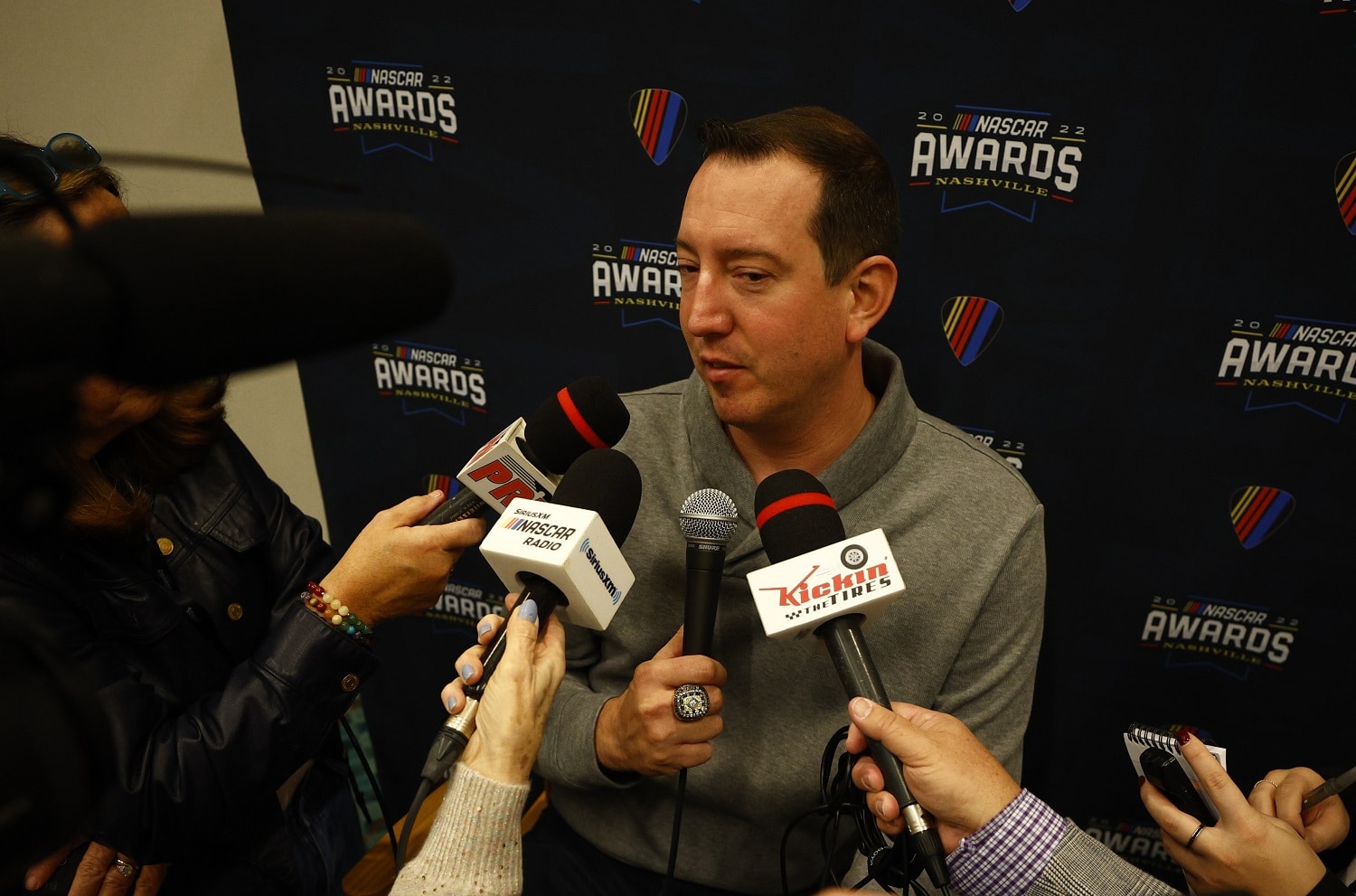 Kyle Busch found instant job security in two ways upon arriving at Joe Gibbs Racing from Hendrick Motorsports in 2008. First, he won eight NASCAR Cup Series races in that first season and finished in the top five in nine others. That has a way of making an impression on the people signing your paychecks.
Secondly, Mars, Inc., best known as the maker of M&Ms, signed on from the outset as the sponsor for roughly two-thirds of the No. 18 Toyota's races. Year after year, the deal was renewed despite the driver's at-times prickly personality, lining Busch's pockets and going a long way toward turning a profit for JGR.
Busch won consistently over the years, earned Cup Series championships in 2015 and '19, and became inextricably associated with the candymaker. The relationship officially came to an end at the conclusion of the 2022 season after Mars, Inc., had given JGR more than a year's notice that it was bowing out.
In all that time, the Gibbs organization was unable to line up new money that could pay both Busch and the team's bills.
Tyler Reddick's sponsors are sticking with RCR and Kyle Busch
Tyler Reddick's third full-time season in the Cup Series was a success on and off the track. The driver of the No. 8 Richard Childress Racing Chevy scored the first three victories of his career, and he did it with stable backing. 3CHI picked up primary sponsorship in 14 points races, Guaranteed Rate joined for six, and Lenovo and Cheddar's Scratch Kitchen both upped previous commitments.
It had the makings of a successful long-term partnership between driver and team. That is until Reddick pulled a mid-season shocker by revealing he would drive for 23XI Racing beginning in 2024. After back-and-forth between everyone involved, Reddick was able to leave a year early, but we're learning nearly all his key sponsors have chosen to stay behind.
RCR announced Thursday that the sponsorship of the No. 8 Chevy in Kyle Busch's first season will be similar to Reddick's backing. 3CHI, Cheddar's Scratch Kitchen, Alsco, Lenovo, and BetMGM are staying. It's not known if they'll sponsor the same number of races, but they accounted for 27 of the 36 points races this past season.
"Our business relationships are paramount to our organization and we're proud to confirm that our primary partners on the No. 8 team will be returning to RCR in 2023," said Torrey Galida, president of RCR. "Their commitment to our organization is a testament to our team's collaborative approach and the value it has delivered to so many great brands."
Whether the sponsors will stick with RCR and Busch for the long haul remains to be seen, but it's a good start.
23XI Racing or Joe Gibbs Racing might have some work to do
Tyler Reddick's move to 23XI Racing set off a chain reaction that included Ty Gibbs taking Kyle Busch's spot on the Joe Gibbs Racing Cup Series roster. Gibbs drove the No. 54 Toyota en route to the Xfinity Series championship, and Monster Energy was his primary sponsor for 21 of 33 races.
Monster Energy hasn't revealed sponsorships for 2023, and that's because it isn't as simple as just following Gibbs to the Cup Series. Kurt Busch drove 23XI Racing's No. 45 Toyota until a concussion at Pocono sidelined him after 20 points races. Gibbs, Bubba Wallace, and John Hunter Nemechek took turns in his car, which was sponsored by Monster 17 times. The energy drink maker also sponsored the No. 23 Toyota seven times.
In all likelihood, Monster must choose between one team or the other – presuming, of course, they don't leave NASCAR entirely or make a surprising switch to another driver.
If Monster chooses Tyler Reddick and 23XI, then Joe Gibbs Racing is starting from close to scratch on funding the owner's grandson, the same issue that ultimately led to Kyle Busch's departure. If Monster chooses Gibbs and JGR, then it's Michael Jordan and Denny Hamlin who'll be scrambling to fund two-thirds of the season for one of its cars.
Either way, Richard Childress and Kyle Busch come out in better shape.
Got a question or observation about racing? Sportscasting's John Moriello does a mailbag column each Friday. Write to him at [email protected]