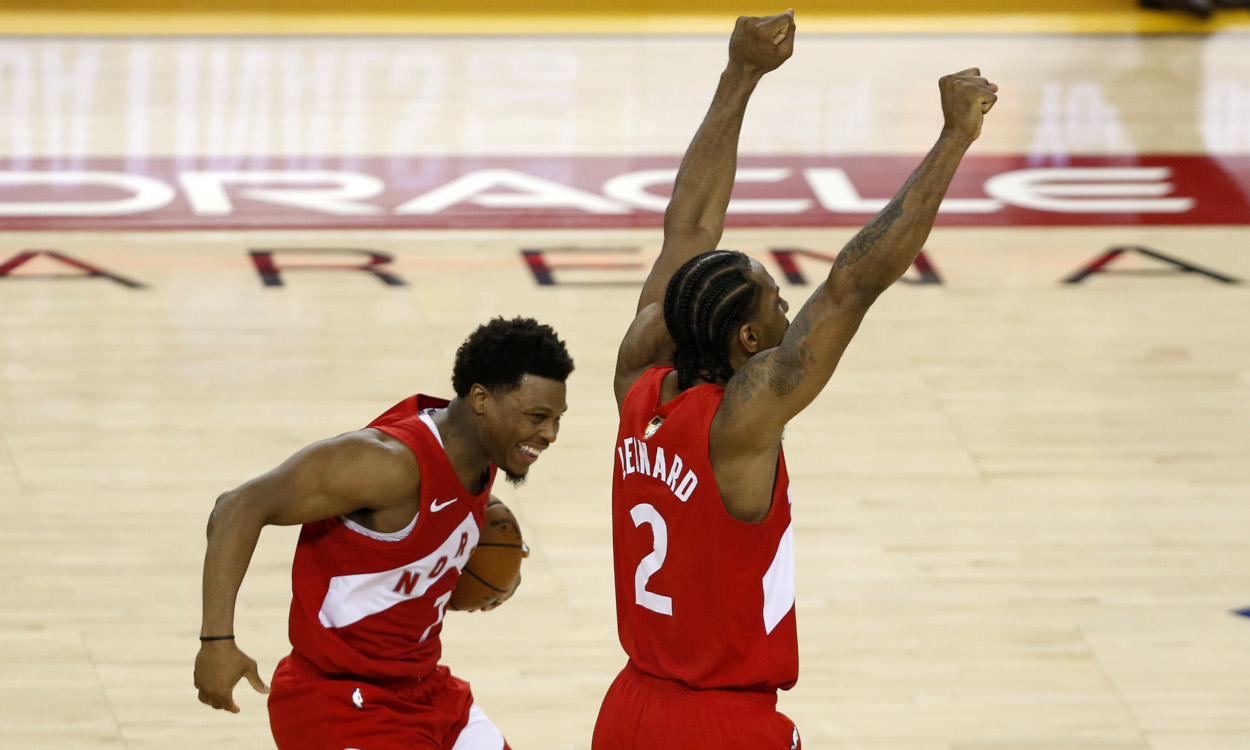 Kyle Lowry Dishes on Kawhi Leonard's Style of Play: 'Kawhi Rubs People the Wrong Way Because of the Way He Operates'
Kyle Lowry left the Toronto Raptors after nine seasons, but still has fond memories of his time in The North. He spoke about that and playing with Kawhi Leonard on CJ McCollum's podcast.
Kyle Lowry is an ex-Toronto Raptor. The franchise's all-time leader in assists, steals, made 3-pointers, and triple-doubles (!) is now with the Miami Heat. But as he indicated on a recent podcast appearance, you can take the player out of Canada, but you'll never take Canada out of Lowry. It's been an unlikely career for the former 24th overall pick. One of his favorite topics, as one might guess, is the 2019 NBA championship run by the Raptors. That was also his lone season of playing with superstar Kawhi Leonard.
Lowry appeared headed for a journeyman's NBA life. A backup after going to the Memphis Grizzlies in 2006, he had a similar role until his final two seasons with the Houston Rockets. But a 2012 trade to the Raptors changed everything. In nine years in Toronto, Lowry was a six-time All-Star, an All-NBA pick in 2015–16, an Olympic gold medalist, and won a title in 2019.
A change of venue doesn't mean a change of heart for Kyle Lowry
With the Raptors preparing for a rebuild after missing the playoffs last season, the 35-year-old Kyle Lowry no longer fit the franchise's timeline. Instead, the Raptors re-signed Lowry before trading him to Miami for veteran point guard Goran Dragić and promising young big man Precious Achiuwa.
But that doesn't sever Lowry's strong ties to Toronto. While on the Pull Up with CJ McCollum podcast, he told the Portland Trail Blazers guard that part of him will always be in Toronto.
"The city and the country, it means everything to me. Both my kids have grown up in Toronto. That's all they knew. That's home to them. Everything that has happened in my life, to the highest of basketball accolades, has happened in Toronto. All my All-Stars, my gold medal year, my championship. It means everything to me. And there's nothing anyone can tell me different, 'It's Canada,' it don't matter. It's home to me.
"I became a man there. That's where I grew to become the person I am now. To be a part of that organization, that country, that city, it means the world to me. I wouldn't be here without that opportunity and that chance that they gave me."
When his playing days are over, there's a pretty good chance Lowry will be back across the border, at least based on his strong sentiments. After all, there's always the memories of that shared title with Kawhi Leonard.
Lowry reflects on his season with Kawhi Leonard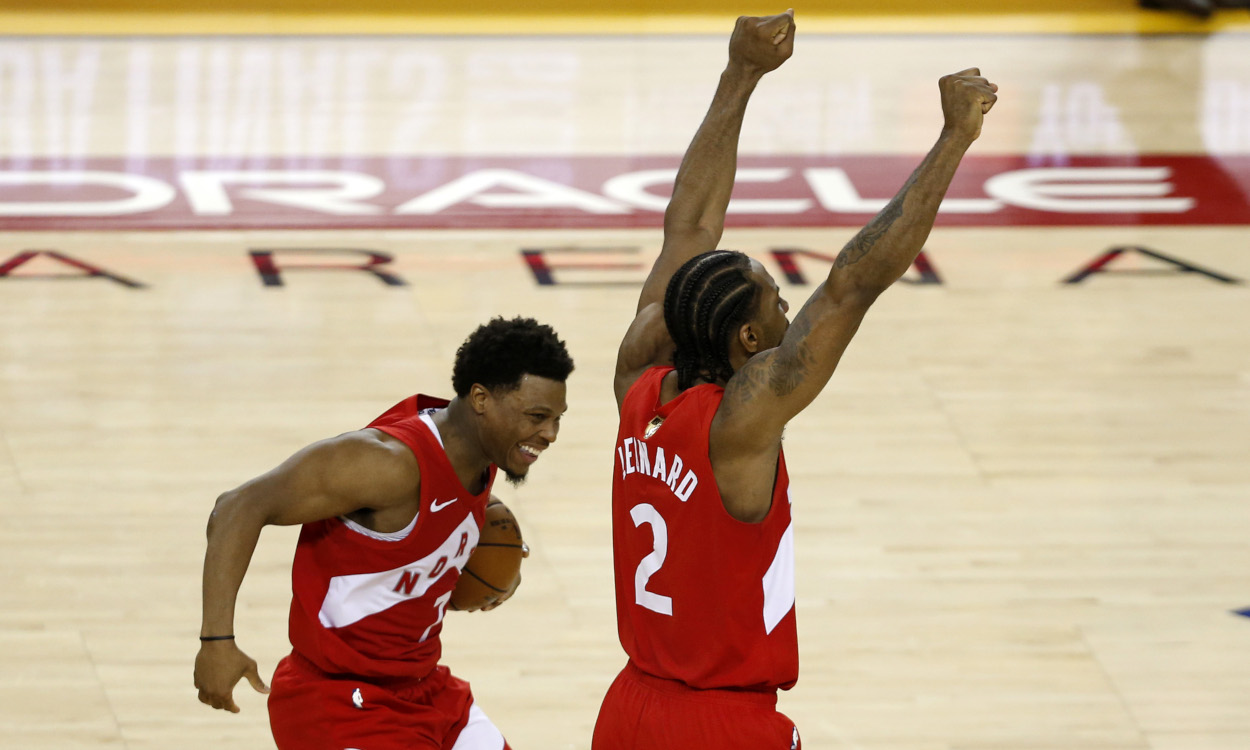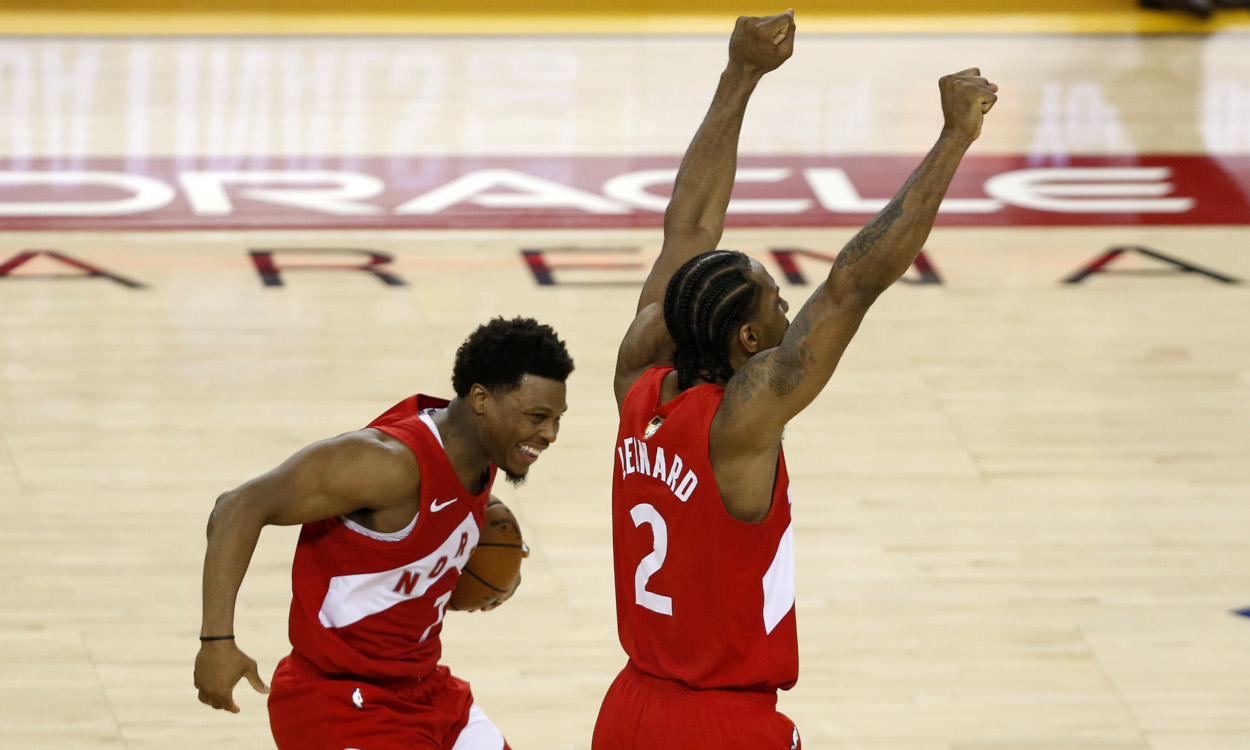 The Raptors enjoyed unprecedented success with Kyle Lowry running the point. From the first 50-win season in franchise history in 2015–16 to five straight years with 50 or more victories, Lowry was at the heart of it. And with the addition of Kawhi Leonard and Danny Green in 2018, Toronto added championship pedigree. It didn't take long to turn that into results.
Lowry lost his close friend, DeMar DeRozan, in the trade that brought Leonard to Toronto. He admitted The Klaw was an acquired taste.
"With Kawhi, you kind of take on his (personality) a bit. Because he's so quiet and stays in the moment. … Kawhi rubs people the wrong way because of the way he operates because he's like, 'Give me the ball, and I'm gonna get it done.' You might be like, "Kawhi, move (the ball),' but you understand that he's the best basketball player on your team and big dog gotta eat."
Lowry acknowledges his role changed to more of a facilitator than a scorer with Leonard in town.
"I wasn't worried about me; that goes back to being a bench player. I don't care as long as we win."
Lowry also said there were more similarities between DeRozan and Leonard than most would believe.
Kyle Lowry's measured departure from the Raptors
There was a great deal of discussion before the trade deadline last season that Kyle Lowry might move to a contender, but nothing came of that talk. Lowry was grateful to the organization its handling of his situation. He said he had clear signals from president of basketball operations Masai Ujiri and general manager Bobby Webster.
He said the decision to remain with the Raptors was his. And he knows the expectations in Miami.
"I didn't want to be traded and leave my guys. … And for me, it's championship or bust. Going to Miami, that was a situation where I felt like that's what they want to do. I have a close friend in Jimmy Butler there. And in Miami, that's what they want to do."
Kyle Lowry has come a long way from his youth in North Philadelphia, and he's gained an appreciation for each step on the journey as well.
Like Sportscasting on Facebook. Follow us on Twitter @sportscasting19.