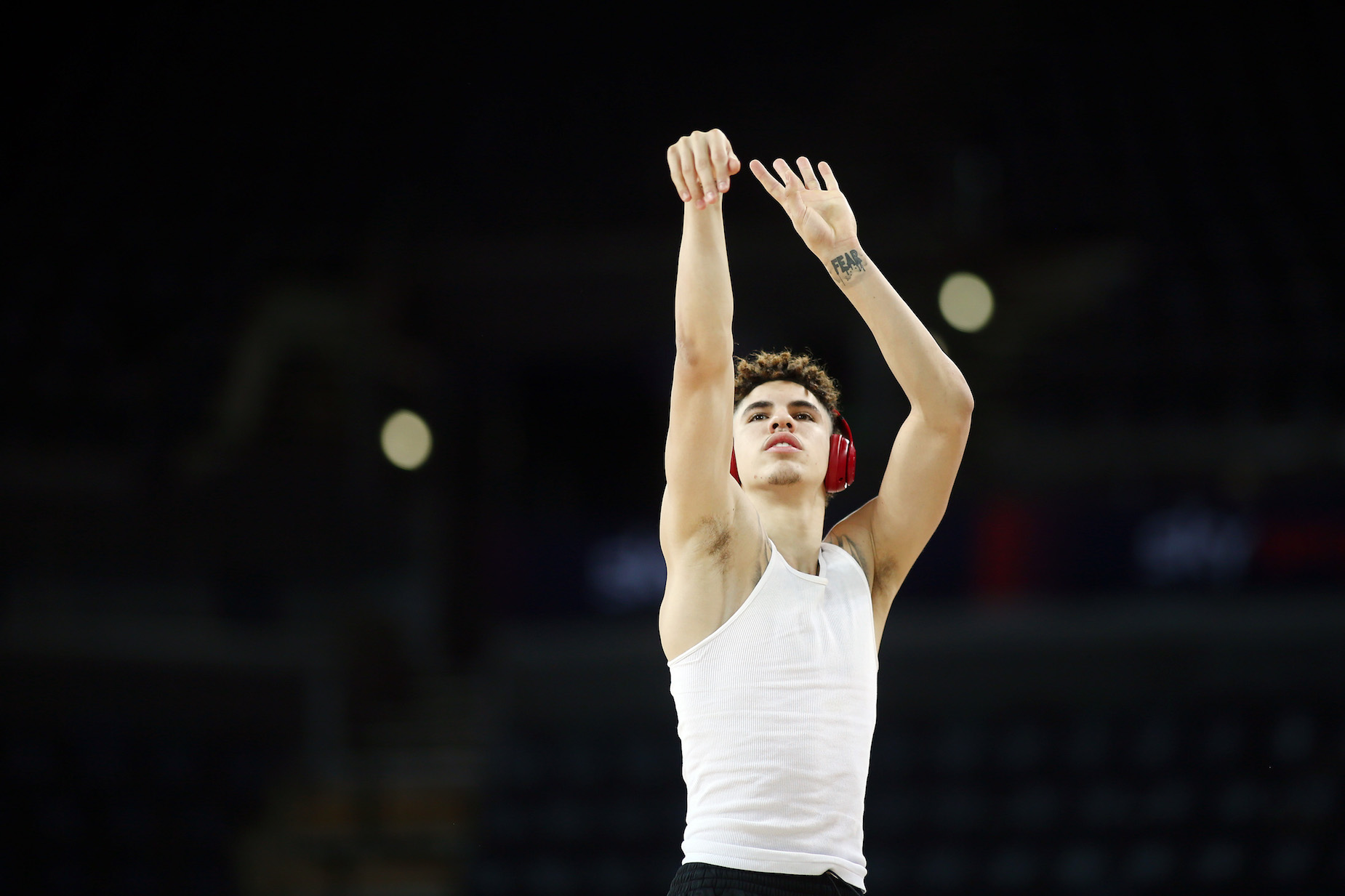 LaMelo Ball Is Already Celebrating $16 Million NBA Salary With a Diamond-Encrusted Splurge
While LaMelo Ball hasn't played NBA game yet, he's already put some of his $16 million salary to use on a diamond-encrusted grill.
Whether you love them or hate them, just about everyone who follows basketball knows the Ball family. While LaVar may grab most of the headlines, his basketball-playing sons are no strangers to making news, either. In recent weeks, most of the conversation has focused on the youngest of the brothers, LaMelo Ball.
In November 2020, LaMelo Ball joined the Charlotte Hornets as the third-overall pick of the draft. That move guaranteed the new NBA player a $16 million salary; he's already put a chunk of that cash to use on an expensive splurge.
LaMelo Ball took an unconventional road to the NBA
Ever since the NBA instituted the 'one and done' rule, the best players have graduated from high school, spent a single year in college, and then entered into the pros. LaMelo Ball, however, did things a bit differently.
Ball first made a name for himself at Chino Hills High School, where he played basketball alongside his brothers. After two seasons, though, LaVar pulled his sons from the program; LaMelo was homeschooled and headed abroad to play professional ball in Lithuania.
That European odyssey didn't end in success, though, and Ball returned to the United States. He hit the court in his dad's Junior Basketball Association and played his senior high school season with SPIRE Institute before heading abroad again, this time to Australia.
While Ball didn't see much playing time in the National Basketball League, his raw talent was too much to ignore. He entered into the 2020 NBA draft as one of the top prospects on the board, assuming you could overlook his father's antics.
Making big money as the third-overall pick
When the 2020 NBA draft arrived, LaMelo Ball joined the Charlotte Hornets as the third-overall pick. Not only did that selection make history and set up a potential grudge match between LaVar and Michael Jordan, but it made the teenager pretty rich.
Based on Spotrac's contract information, Ball is guaranteed to earn just over $16 million during the first two years of his rookie contract. If the Hornets decide to pick up both of their club options, LaMelo can take home another $19 million during his first four seasons in Charlotte.
The guard's earning power won't be limited to just salary, though. Given his status as a lottery pick and, for better or worse, the notoriety of the Ball family name, LaMelo shouldn't have a problem landing any endorsements. Before even being drafted, for example, he inked a sneaker deal with Puma.
LaMelo Ball spent some of that salary on a new grill
When someone comes into a large sum of money, it's understandable that they'll immediately want to spend some of it on themselves. Given LaMelo Ball's sizable salary and net worth, though, his splurge was a bit more lavish than most.
In an Instagram post from AP The Jeweler, Ball can be seen sporting a new set of grills. According to TMZ, "the finished product is a pair of 14k white gold chompers (8 top teeth, 8 bottom) with VVS diamonds in a honeycomb set." It also apparently includes "the most diamonds" that AP has ever put in a grill.
At this point, it's not clear how much LaMelo Ball spent on his new jewelry. If he lives up to the hype in the NBA, though, that cash will be in a drop in the bucket compared to his career earnings.